<! cd = 05/21/14 - extension of main page > <! MP3 05/21/14 - more to be listed > <! outside 00/00/00 > <! pix 00/00/00 > <! 208-pix: 00/00/00 > <! icons 05/21/14 > <! UPDATES: 01/29/12 05/21/14 - big re-org: broke out separate best-ofs page, listed all albums >
---
Guitarist Lester Flatt and banjo whiz Earl Scruggs first met in 1945 while working in Bill Monroe's band, the Blue Grass Boys. Scruggs showed up one night and blew everybody's mind with his newfangled, three-fingered banjo picking style, which was about twelve times faster than anything anybody had ever heard before: thus was born the bluegrass tradition of musical drag racing. Flatt & Scruggs were both star performers, helping define the aggressively flashy, instrumentally expansive sound of early classic bluegrass. Tasting the limelight, they teamed up in 1948, leaving Monroe's band to form their own group, the Foggy Mountain Boys. Flatt & Scruggs became one of the pillars of the golden era of bluegrass, and were one of the few acts to weather the storm when rock'n'roll swept the pop music landscape. Indeed, they enjoyed huge popularity in the early 1960s, particularly when the folk revival gave them a new audience, and surprising chart success after they provided the theme song for The Beverly Hillbillies TV show. They disbanded in 1969, with Flatt sticking to a traditional sound while Scruggs became a pioneer of progressive bluegrass and country-folk experimentalism.
Here's a quick look at their music as heard on "best-of" collections... I also have a separate page for info on their original albums
---
Discography - Albums | Best-Ofs
---
Flatt & Scruggs "Greatest Hits" (Columbia, 1966) (LP)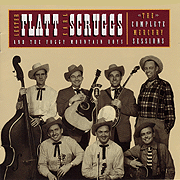 Flatt & Scruggs "The Complete Mercury Sessions" (Mercury-Polygram, 1992)



A killer collection of golden age gems. These are their first recordings, made with an ever-changing roster of top-flight super-pickers. The earliest tracks feature singer-guitarist Mac Wiseman, who sang super-sweet harmony duets with Flatt; later sessions include other, equally talented sidemen filling in after Wiseman left to form his own band. These 1948-'50 recordings are pure gold, and this CD gathers all 28 together in a tight set of nonstop bluegrass explosiveness. It's great stuff, absolutely essential for anyone who wants to check out the classics.


<! (also on Rounder SS 18/SS 19 The Mercury Sessions, vol. 1/2, reissued on Mercury B000070-02 in 2003) >

Flatt & Scruggs "The Essential Flatt & Scruggs" (Columbia Legacy, 1997)



Later on, the Foggy Mountain Boys moved to the Columbia label, a relationship that lasted for two decades, and brought Flatt & Scruggs into the American mainstream. This 2-CD set follows their career from 1950 to the end of the '60s, from hardcore bluegrass to the various folk- and country-flavored crossovers that the duo tried out in the '60s. Flatt & Scruggs hit the bigtime doing soundtrack work for the Beverly Hillbillies TV show (they played the theme song and made infrequent appearances as Clampett family "cousins"), as well as for the movie Bonnie And Clyde, which was also a big hit. From its inception, bluegrass had always been a consciously commercialized art form, but the mainstream success of Flatt & Scruggs opened up a whole new can of worms, prompting the same sort of agonized purism-vs-crossover debates that also raged in the Greenwich Village folk scene. This split became even more pronounced within the band itself, when Scruggs decided to go experimental and Flatt dug in his heels as a bluegrass traditionalist. In 1970, Scruggs left to form the fusion-oriented Earl Scruggs Revue, while Flatt went solo, retrenching musically and keeping it real for the folk festival faithful. This collection does a good job picking through their later years, but you can hear the creative strain on the group in some of the more commercial recordings. But for an overview of their Columbia years, this set is pretty hard to beat. Recommended!

Flatt & Scruggs "Flatt & Scruggs: 1948-1959" (Bear Family, 1991)


Now, for the truly hardcore, this 4-CD set of all the best Flatt & Scruggs material from their first decade together is probably a must-have. It's an awful lot of bluegrass, to be sure, but it's all awfully good. Like all Bear Family releases, this has great sound quality, handsome packaging, and a wealth of historical information... a real class act.

Flatt & Scruggs "Flatt & Scruggs: 1959-1963" (Bear Family, 1992)


This second box set tracks the duo through to their controversial commercial success in TV and film, but stops short of including the truly iffy stuff they did later in the '60s. Another nice Bear Family box and, again, if you're really hardcore, probably one you'll want to track down.
Flatt & Scruggs "Flatt & Scruggs: 1964-1969, Plus..." (Bear Family, 1992)


Another six CDs worth of Flatt&Scruggs-o-mania! Yow.
Flatt & Scruggs "Foggy Mountain Gospel" (Columbia Legacy, 2005)



A 2-CD set...
Flatt & Scruggs "20th Century Masters: The Millenium Collection" (Mercury Nashville, 2001)


---
Discography - "Twofer" Albums
---
Flatt & Scruggs "Folk Songs Of Our Land/Hard Travelin' " (T-Bird, 2010)

Flatt & Scruggs "Folk Songs Of Our Land/Fabulous Sounds Of..." (Wounded Bird, 2009)

Flatt & Scruggs "Breaking Out/A Boy Named Sue" (Wounded Bird, 2009)

Flatt & Scruggs "Town & Country/Changin Times" (Collectables, 2000)

Flatt & Scruggs "His Family & Friends/Nashville Airplane" (Collectables, 2000)

---
Links
---
---
Discography - Albums | Best-Ofs
---