<! MP3 04/22/09, 02/14/13 > <! outside 00/00/00 > <! pix 02/14/13 > <! 208-pix: 00/00/00 > <! icons 03/25/11 > <! UPDATES: 04/22/09 02/14/13 - general update, mostly pix, no new reviews >
---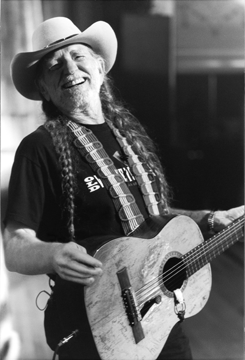 Lanky and grizzled, Willie Nelson is the original country "outlaw," a highly successful songwriter who ditched Nashville for the dim lights of Austin, so that he could make his own records the way he wanted to. This is the second page of an opinionated overview of Willie's best records, covering the decade of the 1980s. Other albums are reviewed on the pages listed below:
---
Willie Nelson: The 1960s & '70s | 1980s | 1990s & '00s | Best-Ofs & Links
---

Willie Nelson & Ray Price "San Antonio Rose" (Columbia, 1980)



(Produced by Willie Nelson) <! ? WP >
A sweet homage to the western-swing hits both men grew up on, and also one of Willie's best duet albums of the '80s. It's also a reunion album of sorts: Willie played in Ray Price's band in the early '60s, when Price was still a hard country hero, and the two men share a profound understanding of how to sing a heartsong the right way. The production and performances are solid, though notably laid back -- what's remarkable about this album, though, is how Willie pulled such a vigorous performance out of Price, who'd been in a sleepy country crooner mode ever since the '60s Nashville sound kicked in. This disc isn't electrifying, but it is quite nice, and quite classy. Worth checking out!


<! 130 x 130 >

Willie Nelson & Family "Honeysuckle Rose" (Soundtrack) (Columbia, 1980)



(Produced by Willie Nelson) <! ? WP >
One thing you gotta say about ole Willie: the guy sure knows how to throw a party. This jaunty, rowdy live album (the soundtrack to Willie's amiable and self-mythologizing life-on-the-bus tour movie) features Willie and a slew of his down-home Texas buddies, including western swing fiddle legend Johnny Gimble, songwriter Hank Cochran, local yodeller Henry Threadgill (from the famous Threadgill's venue) and out-of-towner Emmylou Harris, who duets with Willie on "Angel Eyes" and adds her own version of "So You Think You're A Cowboy," a minor masterpiece of its own. Some of these songs resonate powerfully in ways they don't in previous studio versions; others rush by at a dynamic clatter.. Overall, though it's the loose-limbed, good-timin' vibe that matters most: Willie's a masterful performer and a generous host, and his guests -- the performers on stage and the fans and stoners in the crowd -- reflect that open, adventurous spirit. The tracks featuring actresses Dyan Cannon and Amy Irving are nothing to write home about, but the album's opener, "On The Road Again," more than makes up for it. [Personal note: I remember seeing this film in the theatres when I was a kid, and I did, indeed, hum "On The Road Again" for several weeks afterwards...] A fun concert album!


<! Willie Nelson "Blue Skies" (CBS, 1981) perhaps a single or a budget-line release? > <! vinyl B004DXYGVE >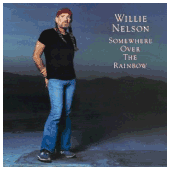 Willie Nelson "Somewhere Over The Rainbow" (Columbia, 1981)



Another stylistic follow-up to the much heralded Stardust standards album, with languid versions of "Mona Lisa," "Ride in My Little Red Wagon, "Over the Rainbow," "Twinkle, Twinkle Little Star," "Who's Sorry Now?" and others. Personally, I think he was laying it on a little thick with this one, but it hardly matters, since this album will still grow on you with every listen. Worth checking out.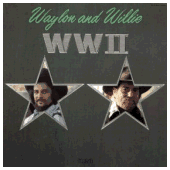 Willie Nelson & Waylon Jennings "WWII" (RCA, 1982)



(Produced by Waylon Jennings & Chips Moman) <! ? WP >
The Waylon & Willie franchise sort of sputtered to a stop on this sometimes-poignant, frequently preposterous reunion album. The opening track is a weirdly over-orchestrated disco-tinged pop number; a disasterous version of Otis Redding's "Dock Of A Bay" soon follows, and at last the lads (briefly) regain their hillbilly equilibrium on tunes such as "Last Cowboy Song." Mostly though, this album is a bit overblown and self-indulgent -- a little too artsy for their own good, if you ask me. Still, it's notable for atypically political material such as "Lady In The Harbor" and "Heros"... Not the best album either of these guys ever did, but certainly not the worst.
Willie Nelson & Roger Miller "Old Friends" (Columbia, 1982)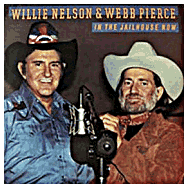 Willie Nelson & Webb Pierce "In The Jailhouse Now" (Columbia, 1982)


As far as I'm concerned, this is the best of Willie's long run of duet albums, an affectionate and well-deserved tribute to hard country hero Webb Pierce. This was the grand finale of Webb's musical career, capping off a decades-long career that made Pierce the biggest country hitmaker of the 1950s, but all-but-forgotten by the end of the 1970s. (It's also an unintentional classic in the country queercore genre, things get pretty campy pretty fast, as Webb and Willie swap sweet-nothing romantic verses on Webb's old weepers.) All snickering aside, though, this is also a very solid country album, a noble end to Webb Pierce's recorded legacy, and Willie Nelson deserves all the thanks that Webb fans can offer for bringing the old guy back for one last, great hurrah. It's a goodie!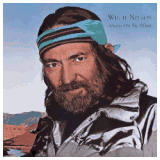 Willie Nelson "Always On My Mind" (Columbia, 1982)



(Produced by Chips Moman)
Although this was one of Willie's biggest-selling albums, it's also one of his most cringeworthy, with an echo-y emphasis on open-ended, syrupy vocals, and grandiose, airy arrangements. Not to be unexpected, with pop covers of pop songs such as Simon & Garfunkel's "Bridge Over Troubled Water" and Procol Harum's "Whiter Shade Of Pale" (low points), or even his drippy take on the Everly Brothers oldie, "Let It Be Me." There is some interesting material on here, such as "Staring Each Other Down," or "The Man Who Owes Everyone," a demo-y bonus track on the 2003 reissue edition, which seems to be about Willie's IRS-related woes. About half the songs on here were written or co-written by Muscle Shoals mover'n'shaker Chips Moman, who also produced the album -- seems that he might have left too much of a personal stamp on this disc... Anyway, I don't like it -- but, hey, what do I know?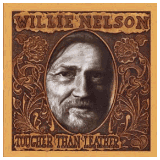 Willie Nelson "Tougher Than Leather" (Columbia, 1983)



(Produced by Willie Nelson & Bee Spears) <! ? WP >
Seeking to recreate the moody magic of the Red Headed Stranger album, Willie recorded this sombre, similarly themed concept album, which tracks the misfortunes of a young fella wrongly accused -- and cruelly convicted -- of murder, then sentenced by a harsh frontier judge... Many of the tracks are elliptic or fragmentary -- transition pieces rather than proper songs. There's nothing on here I could imagine as an actual single, but the album as a whole is very listenable and well constructed... It's certainly one of his best albums of the era, although it's unlikely there are many songs on it that you'll recognize offhand.

Willie Nelson & Merle Haggard "Pancho And Lefty" (Columbia, 1983)



(Produced by Merle Haggard, Willie Nelson & Chips Moman) <! ? WP >
A really nice collaboration which is somewhat dominated by Willie (but in a very good way). Willie and Merle share a certain geezerly grace, and a similar affection for old-fashioned heart songs. Here, they play up their bad-boy mythos, with a series of boozer-loser ballads that seem to lay it on a bit thick, but eventually bum you out into submission. The "Reasons To Quit"/"No Reason To Quit" double play packs a real wallop, and the rest of the album follows suit, including a sublime version of the old Bob Wills standard, "Still Water Runs The Deepest." Admittedly, the Townes Van Zandt title track was no big whoop for me -- I grew up listening to Emmylou Harris' 1977 version, and now, umpteen bazillion years later, I'm kinda sick of hearing about Lefty and the federales... Also, the arrangements, particularly the opening notes, are a little icky... Don't let that dissuade you, though -- get past that first track, and this is a great album. (The 2003 reissue, by the way, adds a couple of swell bonus tracks, with Willie singing "Half A Man" and "My Own Peculiar Way," which are pretty darn nice.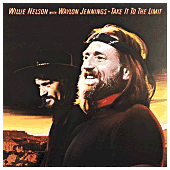 Willie Nelson & Waylon Jennings "Take It To The Limit" (Columbia, 1983)



(Produced by Chips Moman)
One of their lesser efforts. A fairly lethargic, soft-edged album, reverberating with the "punch-in" feel of modern studio multitracking. Mostly it's the limp, unenergetic arrangements and the sense that no one was really trying that hard that makes this album seem like so negligible. Includes covers of oldies by Roger Miller, Paul Simon, David Allan Coe and, yes, the title track by the Eagles. Only one (!) original tune by Willie.
Willie Nelson "Without A Song" (Columbia, 1984)



(Produced by Booker T. Jones) <! ? WP >



<! 1985? >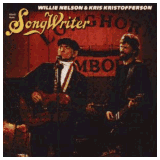 Willie Nelson & Kris Kristofferson "Songwriter" (Columbia, 1984)


The soundtrack to Kris & Willie's slapdash outlaw-themed hicksploitation film, Songwriter, which features them as a pair of road-weary country stars, one of whom tries putting on a suit to conquer Music City, and the other who stays true to his roots. It's not a great movie, but still kind of a fun glimpse into Willie's world, and a few of the songs are memorable. The album is divided into a Willie side and a Kris side, with Kristofferson's set sounding generally more hard-rock oriented, and Willie's more acoustic. His show-biz themed songs, "Songwriter" and "(Mr. Record Man) Write Your Own Songs" are both a bit blunt, but also kinda fun. Some of these tunes have made it out on best-of CDs, but the original album is still worth tracking down.


<! (Produced by Booker T. Jones) ? WP >

Willie Nelson "Portrait In Music" (Columbia, 1984)



<! actual album? >

Willie Nelson "City Of New Orleans" (Columbia, 1984)



(Produced by Chips Moman)

Willie Nelson "Angel Eyes" (Columbia, 1984)


(Produced by Willie Nelson)



<! 02/2013: B005BQUZIU ASIN is a twofer >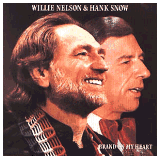 Willie Nelson & Hank Snow "Brand On My Heart" (Columbia, 1985)


Willie collaborates with the Singing Ranger on a slew of Snow's old hits from the 1950s and '60s, "Golden Rocket," "I'm Movin' On," etc. Sounds pretty darn good -- Hank Snow was in amazingly good form for such an old duffer, and while Willie's contributions are a bit subdued, this disc is still definitely worth checking out.
Willie Nelson & Faron Young "Funny How Time Slips Away" (Columbia, 1985)

Willie Nelson "Me And Paul" (Columbia, 1985)


(Produced by Willie Nelson)
A stripped-down, self-produced set...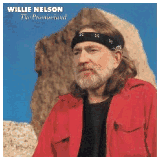 Willie Nelson "The Promiseland" (Columbia, 1986)


(Produced by Willie Nelson)
The opening tracks are terrible -- way-over-the-top, orchestrally arranged sappy pop ballads with saccharine string sections. Fortunately, Willie relents a few songs in, and although the disc retains an echo-y pop gloss, the remainder of the songs are basically standard-issue, stripped-down numbers with Willie and his guitar, crooning as he does in that wonderful way. Includes a nice Floyd Tillman cover, and even a little Bach minuet at the end.


<! ASIN is to 1990 edition OOP >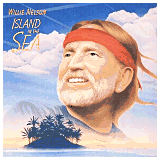 Willie Nelson "Island In The Sea" (Columbia, 1987)


(Produced by Willie Nelson, Grady Martin & Booker T. Jones)
From the album art, you'd figure this would be some big old, Jimmy Buffett-styled parrothead outing, but it's actually just another fine, late-vintage Willie album. He sings about the islands on the title track, and throws in a few Hawaiian riffs, but the rest of the album runs the standard mix of country, blues and standards-y jazz/pop. Side One is surprisingly vigorous, although some tracks are a bit too milky -- beware his super-cheesoid version of Tom Paxton's "Last Thing On My Mind" -- but the rest of the album is pretty lethargic and overproduced. Certainly not a classic, but not entirely a dud, either.
Willie Nelson & Merle Haggard "Seashores Of Old Mexico" (Columbia, 1987)


Willie Nelson "What A Wonderful World" (Columbia, 1988)



(Produced by Chips Moman)

Willie Nelson "Horse Called Music" (Columbia, 1989)



(Produced by Fred Foster)
A what called what, now...?? Willie, dude, what are you smokin'...?
---
Willie Nelson: The 1960s & '70s | 1980s | 1990s & '00s | Best-Ofs & Links

---



Hick Music Index


---
Top photo credit: Rahav Segev, courtesy of Lost Highway Records.
---