<! cd = 04/21/14 - posted separate best-of page > <! MP3 04/23/09 - not a whole lot... > <! outside 00/00/00 > <! pix 00/00/00 > <! 208-pix: 00/00/00 > <! icons 11/19/10 > <! UPDATES: 04/21/14 - changed main buck URLs, links, split off best-ofs & tributes >
---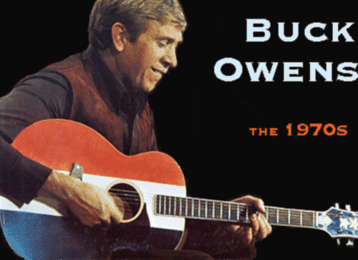 This is part of a larger discography of Buck Owens, the king of the "Bakersfield Sound." This page covers best-of collections, tribute albums and links to other Buck Owens sites.
---
Buck Owens Discography: 1950s/60s | 1970s | 1980s/90s/00s | Best-Ofs & Tributes | The Buckaroos
---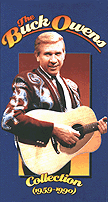 Buck Owens "The Buck Owens Collection" (Rhino, 1992)


So far, the best Buck CD edition best-of to hit the American market. I have to confess to having rather mixed feelings about Buck Owens... Although he is undeniably one of the greatest (and best known) popular country artists of the 1960s, his work is laced with an air of offhanded professionalism that verges on detachment and even cynicism. This was especially true in the early '70s, when he was mad at his record label (Capitol) and started phoning in his albums. Still, Buck recorded dozens of the best, most boisterous country hits of the 'Sixties and almost singlehandedly breathed life back into the genre, with his bouncy, rock-savvy "West Coast/Bakersfield" country sound. Plus, his band totally kicked ass. This 3-CD set dips a little too deeply into his more lugubrious contractual obligation albums (the third disc covers the early 'Seventies on...) but it's still a pretty worthy retrpspective. For folks looking for a purer dose of early '60s Buck, the numerous reissues of his original albums on the Sundazed label are also highly recommended.
Buck Owens "Act Naturally -- The Buck Owens Recordings: 1953-1964" (Bear Family, 2008)


Jinkies! A 5-CD box set covering the early years of Buck Owens -- not just the bouncy, Bakersfieldy hits that made him a coast-to-coast star in the early 'Sixties, but also all his journeyman work as a hotshot session picker, and random, under-the-radar indie recordings from the mid-1950s, in the years before Capitol got whiff of what he was up to. I'll never, ever, ever be able to afford this one, but it sure sounds cool.


<! 1965-69? >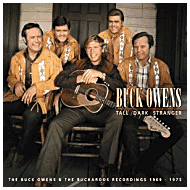 Buck Owens "Tall Dark Stranger -- The Buck Owens & The Buckaroos Recordings: 1969-1975" (Bear Family, 2012)


A long-overdue and much-welcome, 8-CD mega-box set gathering all of Buck Owens' remaining sides, recorded for Capitol Records between 1969-75. This has Bear Family's trademark sound quality and archival material, and includes all his duets with the underrated Susan Raye, some instrumental recordings by the Buckaroos band, an album's worth of material with Buck's son, Buddy Alan. True, Buck was on a creative decline and a lot of these songs represent his caving in to the forces of countrypolitan pop. In some cases, this meant doing country-folk material like his version of "Bridge Over Troubled Water," but there was also plenty of twang in there as well. After this, Owens went over to Warner Records, recording some fine material before he retired. Maybe someday Bear Family will gather that stuff together too (make a nice new box, along with his comeback records from '88-'91...) but there's already a swell collection of the Warner years that Rhino put together a while back, so basically hardcore fans can now get all the Buck they want.


<! (8-CD LP-sized Box Set + 108 page hardcover book) This 8-CD set chronicles every existing recording from Buck Owens' last years with CAPITOL RECORDS. Every week he was on the hugely popular 'Hee-Haw' TV show, his concerts were sell-outs, and he was building a business empire in his adopted hometown, Bakersfield, California. He recorded at his own studio and fans across the country had an insatiable appetite for his raw voice, his clever, snappy songs and the band's minimalist twang. It was success on a scale that every singer dreamed of, but few ever got and fewer still could handle. During his last years on CAPITOL, Buck tried to bring more variety to his sound. Acutely aware of changes in pop music, Buck admired rock bands' freedom to create and experiment with new and unorthodox sounds. This set includes a wider mix of styles than Buck had ever tried on record before. There are over 20 charted hits, beginning with Tall Dark Stranger and ending with Buck's exciting new version of The Battle Of New Orleans. In between are Buck Owens classics like I Wouldn't Live In New York City (If They Gave Me The Whole Dang Town), Bridge Over Troubled Water, Ruby, Rollin' In My Sweet Baby's Arms, Made In Japan, Ain't It Amazing Gracie, On The Cover Of Music City News, Monsters' Holiday, and the original version of Streets Of Bakersfield (later a #1 hit duet with Dwight Yoakam). This set also includes all the LPs, his bluegrass sessions, all the duets with Susan Raye, Buck's son, Buddy Alan, and an amazing unreleased duet with R&B singer Bettye Swann. Plus all the Buckaroos' albums! Alongside the hits, there are many previously unreleased songs. >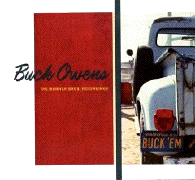 Buck Owens "The Warner Brothers Recordings" (Rhino Handmade, 2008)


While I'm at it, I may as well mention this fab set of late-vintage Buck Owens tracks that came out a while ago on Rhino's boutique "handmade" label. It's a collection of Owen's work on Warner Records from the late 1970s, drawing from two albums produced by Norro Wilson, Buck 'Em and Our Old Mansion, as well as several singles and even some unreleased tracks from an album that got shelved in '79. It's all surprisingly good, despite the absence of Buck's longtime bandleader Don Rich, who had died in '74, leaving Owens rudderless and adrift for a while. This 2-CD set gathers all of his Warner recordings together in one nice package -- cool beans!

Susan Raye & Buck Owens "The Very Best Of..." (Varese Sarabande, 2011)


A nice collection, particularly for fans of the early-1970s heyday of perky countrypolitan/sunshine country -- this set includes tracks from three albums released by Owens and Raye between 1970-73, and includes a half-dozen Top Forty hits, including their biggest charting single, "The Great White Horse," which peaked at #8 in 1970. Wholesome and earnest, Susan Raye was a protegee of Owens, who scored several hits on her own (heard on another Varese collection that's also worth checking out...) She didn't have the same hillbilly ooomph as Owens, but she held her own, and these duets, particularly the uptempo numbers, have some fun moments. There's an interesting mix of new songs and country oldies such as the old Browns hit, "Looking Back To See" and a remake of the Mickey Baker pop/R&B song "Love Is Strange." Most of the songs are Buck Owens originals, and they have a classic feel -- "Cryin' Time," "Together Again," "I Don't Care" -- with songs like this, how can you go wrong? Like many Varese releases, this disc fills a gap for country fans looking to hear long-neglected chart hits and album tracks that have languished in the vaults; it's another reissue that fans will want to snap up.


<! 144 x 144 >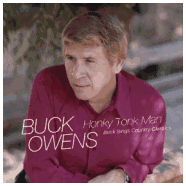 Buck Owens "Honky Tonk Man: Buck Sings Country Classics" (Omnivore, 2013)



Like many Americans, my introduction to classic country music came in part through hearing Buck Owens and Roy Clark singing on the Hee Haw TV program, and although Owens was known as a songwriter and stylistic innovator, he didn't just sing his own stuff on the show. Many fine country oldies found a new audience on Hee Haw, including the songs heard on this fascinating collection. It's fascinating because while Owens sang live while taping the show, the instrumental backup was prerecorded by his band, the Buckaroos, with Owens and his co-stars singing playback later on... But Owens, ever a perfectionist, would work out his vocal arrangements at the same time the Buckaroos did the instrumentals, and this album features not the songs as they were broadcast, but as they were demo-ed by Buck and his band. It's a testament to his high level of professionalism that these recordings, which were originally only meant as scratch tracks, sound so damn good. Plus, we get to hear Owens singing country classics from honky-tonk heroes such as Webb Pierce, Hank Williams, Johnny Horton, Hank Snow and even his Bakersfield buddy, Merle Haggard. There are a few real oldies, too, such as his renditions of Jack Guthrie's "Oklahoma Hills" and Jimmie Rogers' "In The Jailhouse Now," showing -- not surprisingly -- the depth of Buck's hard-country background. One real treat in this collection is hearing him sing a couple of then-more recent hit songs, "Is Anybody Goin' To San Antone" (a huge hit for Freddy Fender), and Johnny Russell's "Rednecks, White Socks and Blue Ribbon Beer," which closes the album. This is great stuff, with Buck and his band in fine form... (It should also be mentioned that the Buckaroos sometimes did kind of pepped-up versions of the songs on Hee Haw, less streamlined and economical than what they'd do on an Owens album, and it's fun to hear these tracks, with a little bit more rock'n'roll and show-offy picking added in the mix... You couldn't always hear this at home on '70s TV, but it's clear as a bell here.) Highly recommended... Hope they can find more stuff like this in the vaults soon!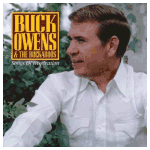 Buck Owens "Songs Of Inspiration" (Varese Sarabande, 2011)


If you like country gospel music, this is a nice collection of stuff from two of his old albums, Dust On Mother's Bible (1966) and Your Mother's Prayer, from 1970. Thank God they reissued this stuff!
Buck Owens "Buck 'Em" (Omnivore, 2014)


Buck Owens "The Best Of Buck Owens, v.1" (Capitol, 1964) [ST 2105]

Buck Owens "The Best Of Buck Owens, v.2" (Capitol, 1968) [ST 2897]

Buck Owens "The Best Of Buck Owens, v.3" (Capitol, 1969) [SKAO 145]

Buck Owens "The Best Of Buck Owens, v.4" (Capitol, 1971) [ST 830]

Buck Owens "The Best Of Buck Owens, v.5" (Capitol, 1974) [ST 11273]

Buck Owens "The Best Of Buck Owens, v.6" (Capitol, 1976) [ST 11471]

Buck Owens & Susan Raye "The Best Of Buck And Susan" (Capitol, 1972) [ST 11084]

Buck Owens "The Very Best Of Buck Owens, v.1" (Rhino, 1994)

Buck Owens "The Very Best Of Buck Owens, v.2" (Rhino, 1994)

---
Related Records
---

Buddy Alan "The Best Of Buddy Alan Owens" (Sundazed, 2007)



Buddy Alan, or Buddy Alan Owens as he was also known, was the son of Buck Owens and Buck's first wife, singer Bonnie Owens. Buddy Alan joined his dad's entertainment empire when he was a young man, released a handful of albums in the early 1970s, met with middling success, and appeared regularly on the Hee Haw TV show. This is probably the best best-of we'll ever see of his work, a good sampling of what are generally considered a string of so-so albums, on a par with folks like -- oh, I dunno, The Hagers, or someone like that. Anyway, if you want to check out this guy's work, here it is! Includes duets with Buck and Don Rich, and Buddy's handful of chart hits, as well as some of his work for indie labels later on...


<! 144 x 144 >
Don Rich & The Buckaroos "Country Pickin'" (Sundazed, 2000)



A nice set culled from the various "band" albums cut by The Buckaroos, putting together an authoritative collection of the best work by Buck's guitarist, the late Don Rich. Rich was the man who sculpted the Buck Owens sound, wielding a bright-toned Telecaster with the same ease as any number of blonde California surfer dudes -- here he even sings on a few songs, but it's mostly an instrumental affair... It helps to be a connoisseur of non-vocal tunes, but any fan of Buck's can find something to be excited about here. Rich died in a 1974 motorcycle accident, causing a loss that Owens and the Bakersfield sound never really recovered from; here you can hear the man in his prime, playing the fiddle and guitar like nobody's business.


<! 144 x 144 >
Don Rich "...Sings George Jones" (Omnivore, 2013)



A true master of twang, Don Rich was the consummate sideman, but other than the mainly-instrumental albums with the Buckaroos, he never emerged as a solo star. However, he did record one solo album, a George Jones tribute recorded in 1970, though sadly shelved by the label and left in the vaults for several decades. Finally, twangfans and Buckaholics can hear this robust, rootsy outing, where Rich blasts his way through a dozen bouncy old classics from the early Jones canon. As a singer, Rich isn't really on par with Owens, but he's got the same down-home charm and the music will have a familiar irresistible appeal. Good-natured, melodic honky-tonk with a few rough edges -- apparently just enough to scare off the record execs in the countrypolitan era, but definitely the right amount for the hard-country true believers of today. Highly recommended!
---
Tribute Albums
---
The Bakersfield Five "Buckaroo: Featuring Tiger By The Tail" (Alshire/Budget Sound, 196--)



Perky easy-listening covers of Buck's early-to-mid-'60s hits, rendered in sleek, polished electric guitar riffs and pretty clean, competent production. I dunno who the hired hands were, playing on this budget-line ripoff disc, but they were actually pretty talented. I'm sure the steam came out of Buck's ears when he caught wind of this one...


<! #S-5123 >
The Earls "Buckle Up! A Tribute To Buck Owens" (Big Bender, 2012)


Kenni Huskey "A Tribute To My Second Dad... Buck Owens" (Recall Records, 2006)



A heartfelt tribute to the late, great Buck Owens, from a gal who was a member of Buck's touring band from 1970-1975. Owens, who helped to sign Huskey as an artist on the Capitol and Warner Brothers labels - -she released a couple of singles, but mostly recorded for indie labels after retiring from the Nashville scene. While she was Owens' protege, he wrote material for her to record, much of which finds its way onto this CD. This album also opens with a demo recording of Buck teaching her one of his songs, which adds a sweet touch of history to the record. Her cousin, acoustic bass player Roy Huskey Jr., was one of the most prominent Nashville session players of the '80s and '90s...


<! 144 x 144 >
Billy Sherrill Quintet "Classical Country: Buck Owens' Famous Songs In A Drawing Room Setting" (Epic, 1966) (LP)

Dwight Yoakam "Dwight Sings Buck" (New West, 2007)



(Produced by Dwight Yoakam)
A lot of people have recently been busting loose with tributes to the late, great Buck Owens, who passed away in 2006... Few twangsters have as strong a claim to the mantle of the Bakersfield Sound as Dwight Yoakam, though: he brought the sizzling style back to life in the late 1980s, and even got Buck to come out of retirement and record some awesome new tunes. Here, Dwight pays homage to the master, with a super-twangy set of Owens oldies, made with the same live-wire, singalong fervor that Buck had back in the '60s. Yoakam also shares Buck's innate sense of how to mix rock and twang, although he's admittedly pushed it much further than Buck ever dreamt of doing. It's nice to hear dwight get back to his roots, though, and even with a little bit of over-the-top hick schtick that he just can't help throwing in there, this album is tailormade for cranking up and singing along. Mostly it's a high-tech update of the vintage Owens sound, though Dwight takes some chances that are pretty interesting, such as slowing the once-bouncy "Close Up The Honky Tonks" down to a morose, barstool crawl, dripping with slow, sad pedal steel licks and a rueful self-reflection that was absent in the boisterous original. If you these fellas, and the classic hard-country sound, you'll wanna pick this one up.


<! 163 x 144 >

Various Artists "HAPPY BIRTHDAY BUCK: A TEXAS SALUTE TO BUCK OWENS" (Texas Round-Up, 2002)



An all-star twagadelic tribute to the late Buck Owens, with musicians such as David Ball, Libbi Bosworth, Rodney Crowell, Cornell Hurd, Jim Lauderdale, The South Austin Jug Band and the Derailers (who backed Owens in his later years at his ginormous Bakersfield nightclub, the Crystal Palace...) About as rootsy and Buckalicious a compilation as you're likely to find!


<! 144 x 144 >

---
Links
---
---
Buck Owens Discography: 1950s/60s | 1970s | 1980s/90s/00s | Best-Ofs & Tributes | The Buckaroos
---