<! MP3 04/23/09 - not a whole lot... > <! outside 00/00/00 > <! pix 00/00/00 > <! 208-pix: 00/00/00 > <! icons 11/19/10 > <! UPDATES: 04/23/09 - didn't really check, or add stuff from reviews column... 11/19/10 - some pix added, some reviews. need to separate best-ofs & related records to new page? 02/03/13 - added LP and other ASINs >
---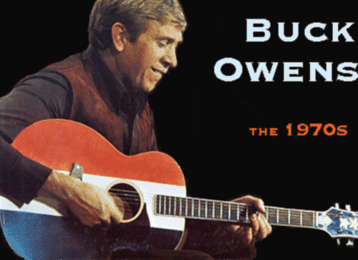 This is the second page of a discography of Buck Owens, the king of the "Bakersfield Sound." This page looks at his work from 1970s.
---
Buck Owens Discography: 1950s/60s | 1970s | 1980s/90s/00s | Best-Ofs & Tributes | The Buckaroos
---
Buck Owens "Big In Vegas" (Capitol, 1970) (LP)


Yeah, sure... that's what they all say.


<! [ST 448] > >

Buck Owens "Your Mother's Prayer" (Capitol, 1970) (LP)





<! [ST 448] >

Buck Owens & Susan Raye "We're Gonna Get Together" (Capitol, 1970) (LP)






<! [T 439] >

Buck Owens "Kansas City Song" (Capitol, 1970) (LP)


When in doubt, record a regionally-themed novelty song. Heck, it worked for Roger Miller, didn't it?


<! [ST 476] >

Buck Owens "A Merry Hee-Haw Christmas" (Capitol, 1970) (LP)





<! [ST 486] >

Buck Owens "Live In Scandanavia" (Sundazed, 1970/2008)


Here's a tasty reissue of one of Buck's rarest albums, a commemorative record of a 1970 Northern European tour, recorded "live" at Njardhallen Hall in Oslo, Norway and originally only released in that country. Devoted fans of the Bakersfield Sound will want to check this one out, for sure!
Buck Owens & Susan Raye "Great White Horse" (Capitol, 1970) (LP)





<! [ST 558] >

Buck Owens "I Wouldn't Live In New York City" (Capitol, 1970) (LP)


Heck, neither would I! Not with those rents, at least. (By the way, Columbus, Ohio's honkytonk hero, High Sheriff Ricky Barnes does a mighty fine cover version of the title song... worth tracking down as well...!)


<! [ST 628] >

Buck Owens "Bridge Over Troubled Water" (Capitol, 1971)


One of Buck's lesser albums, a perfunctory release in which he goes country-folk, doing Dylan, Donovan and a trio of Simon & Garfunkel tunes. It's silly, and there's no passion in the performance, besides which these songs were old-hat even by the time this came out. Buck contributes a few tunes as well and one of these, the "Detroit City"-ish "San Francisco Town," is the album's lone standout track. I suppose if you relish hearing Owens do kitsch, then this would be of interest -- there's a Moog riff on his version of "Catch The Wind," and the echo-y arrangements on "I Am A Rock" sound cool, even if Buck is sleepwalking his way through the vocals. But as an actual, true-blue country album, this is pretty weak.


<! [ST 685] >

Buck Owens "Ruby" (Capitol, 1971)





<! [ST 795] >

Buck Owens & Susan Raye "Merry Christmas From Buck And Susan" (Capitol, 1971)


Buck Owens "Live At John Ascuaga's Nugget" (Capitol, 1972) (LP)


Not merely "The Golden Nugget," mind you: it's at John Ascuga's Golden Nugget! Buck does Vegas (well, Nevada, at least...) and poses with a really cute elephant on the the album's cover. One imagines an interesting story about myriad gambling debts being settled by recording this big old product-placement-y album... but I doubt the real story behind this album is anything nearly so interesting. Pity, also, that it's not a theme album about gamblers, but oh well -- you can't have everything! (Actually, it's not a bad little record... and for some reason it's fairly easy to find on vinyl. Worth picking up.)


<! 11/10: unable to find GIF > <! spelling of Ascuaga's ? > <! [ST 11039] >

Buck Owens "Live At The White House" (Capitol, 1972)






<! [ST 11105] >

Buck Owens & Buddy Alan "Too Old To Cut The Mustard" (Capitol, 1972) (LP)


Buck records a goofy album with his son, Buddy Alan...


<! [ST 874] >

Buck Owens "In The Palm Of Your Hand" (Capitol, 1973) (LP)





<! [ST 11136] >

Buck Owens "Ain't It Amazing Gracie" (Capitol, 1973) (LP)





<! [ST 11180] >

Buck Owens & Susan Raye "The Good Old Days (Are Back Again)" (Capitol, 1973) (LP)





<! [ST 11204] >

Buck Owens "Arms Full Of Empty" (Capitol, 1973) (LP)





<! [ST 11222] >

Buck Owens "It's A Monster's Holiday" (Capitol, 1974) (LP)





<! [ST 11332] >

Buck Owens "41st Street Lonely Heart's Club" (Capitol, 1975) (LP)





<! [ST 11390] >

Buck Owens "Buck 'Em" (Warner Brothers, 1976) (LP)


(Produced by Norro Wilson)
Buck's two-album run on Warner brothers yielded some surprisingly strong results... For whatever reasons, he'd kind of stopped actually giving a fart about his releases on Capitol, and most of his '70s stuff is kind of a wash... But these records show some renewed vigor, perhaps with the help of produced Norro Wilson (whose touch I generally enjoy on albums of this era...) At any rate, this one's worth checking out. (Note: the songs on both Buck 'Em and Our Old Mansion, along with some bonus material, are available on a CD reissue, The Warner Brothers Recordings, reviewed below...)

Buck Owens "Our Old Mansion" (Warner Brothers, 1977) (LP)


(Produced by Norro Wilson)
A rock-solid, true-country gem! This one's pretty surprising, since Buck had been kind of phoning 'em in for a few years towards the end of his Capitol career... But here, his heart is clearly in it, and he's playing these songs for all he's worth... There's a heavy western swing vibe on many songs, but also a nice, sweet, fiddle-drenched honkytonk sound that recalls Buck's golden years. Hell, with a record like this under his belt, I guess he was still in his "golden years." Be nice if somebody could put this one back in print sometime so more folks could hear it in its full glory.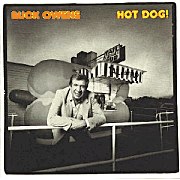 Buck Owens "Hot Dog" (Capitol, 1988)


His return from retirement and the release of his first album in over a decade was big news and real cause for celebration in 1988... Not only did Buck Owens give his fans a chance to see him again, he cut one humdinger of a record... The chart success of the single "Streets of Bakersfield," his fab duet with acolyte Dwight Yoakam spurred Owens back into greatness... This record features re-recordings of a bunch of oldies, but instead of the same old story of a former country star recording a sad little nostalgia disc, this isn't just a final wheeze from an old geezer, but a solid affirmation of his role in country music legend and his continuing artistic vigor. It's a fun record. The songs are solid and the performances are strong... Definitely worth checking out!

Buck Owens "Live At Carnegie Hall" (Capitol, 1989)


A fine live set from the 'Sixties, released for the first time nearly a quarter century after the fact, as a resurgent Buck was riding high on his late-'80s revival. Nice stuff, with the band in fine form.
Buck Owens "Act Naturally" (Capitol, 1990)

Buck Owens "Kickin' In" (Capitol, 1991)

Buck Owens "Live In Austin, TX" (New West, 2007)


Buck Owens "Live In Austin, TX" (DVD) (New West, 2007)

---
Buck Owens Discography: 1950s/60s | 1970s | 1980s/90s/00s | Best-Ofs & Tributes | The Buckaroos
---
---
Links
---
---