<! MP3 04/23/09 - not a whole lot... > <! outside 00/00/00 > <! pix 00/00/00 > <! 208-pix: 00/00/00 > <! icons 11/19/10 > <! UPDATES: 04/23/09 - didn't really check, or add stuff from reviews column... 11/19/10 - some pix added, some reviews. need to separate best-ofs & related records to new page? 02/03/13 - added LP and other ASINs >
---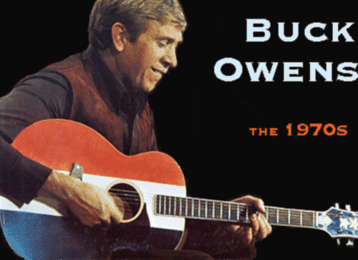 This is the third page of a discography of Buck Owens, the king of the "Bakersfield Sound." This page looks at his work from 1980s.
---
Buck Owens Discography: 1950s/60s | 1970s | 1980s/90s/00s | Best-Ofs & Tributes | The Buckaroos
---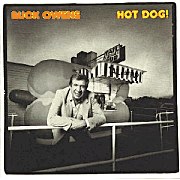 Buck Owens "Hot Dog" (Capitol, 1988)


His return from retirement and the release of his first album in over a decade was big news and real cause for celebration in 1988... Not only did Buck Owens give his fans a chance to see him again, he cut one humdinger of a record... The chart success of the single "Streets of Bakersfield," his fab duet with acolyte Dwight Yoakam spurred Owens back into greatness... This record features re-recordings of a bunch of oldies, but instead of the same old story of a former country star recording a sad little nostalgia disc, this isn't just a final wheeze from an old geezer, but a solid affirmation of his role in country music legend and his continuing artistic vigor. It's a fun record. The songs are solid and the performances are strong... Definitely worth checking out!

Buck Owens "Live At Carnegie Hall" (Capitol, 1989)


A fine live set from the 'Sixties, released for the first time nearly a quarter century after the fact, as a resurgent Buck was riding high on his late-'80s revival. Nice stuff, with the band in fine form.
Buck Owens "Act Naturally" (Capitol, 1990)

Buck Owens "Kickin' In" (Capitol, 1991)

Buck Owens "Live In Austin, TX" (New West, 2007)


Buck Owens "Live In Austin, TX" (DVD) (New West, 2007)

---
Buck Owens Discography: 1950s/60s | 1970s | 1980s/90s/00s | Best-Ofs & Tributes | The Buckaroos
---
---