<! * > <! MP3 00/00/00 > <! pix 00/00/00 > <! archived 08/13/14 > <! Laura Lackey's Rhythm Revue - berkleley farmers market Amy Phelps - via "Trail Mix" radio show >

---
Howdy, neighbors!
Howdy, folks! Here are some reviews of the new country, bluegrass and Americana records that I had the good fortune to listen to in March-April, 2014. This page gets updated throughout the month, so check back if you can... Also, check out my full Guide To Hick Music for a bazillion more record reviews and artist profiles.
New Stuff: March-April, 2014
Rae Billing & The Unpayables "Walls And Fences" (Hug Music)
Laura Cantrell "No Way There From Here" (Thrift Shop Recordings)
Carrie Ann Carroll "You Should Know" (Treehouse Productions)
Carlene Carter "Carter Girl" (Rounder) Johnny Cash "Out Among The Stars" (Sony-Legacy)
Cherlene "Songs From Archer" (FX)
Rodney Crowell "Tarpaper Sky" (New West)
Bob Dylan/Various Artists "30th Anniversary Concert Celebration" (Sony Legacy)
Hard Working Americans "Hard Working Americans" (Melvin Records)
Jon Langford "Here Be Monsters" (Bloodshot)
Lone Justice "This Is Lone Justice: The Vaught Tapes 1983" (Omnivore)
Shelby Lynne "Thanks" (EP) (Everso)
Janis Martin "My Boy Elvis" (Jasmine)
Chuck Mead "Free State Serenade" (Plowboy)
Midnight River Choir "Fresh Air" (Rambling Gypsy)
Ronnie Milsap "Summer Number Seventeen" (Sony Legacy)
Jake Owen "Days Of Gold" (RCA Nashville)
Ralph Stanley & Ralph Stanley II "Side By Side" (Rebel)
Rhonda Vincent "Only Me" (Upper Management)
The Whiskey Gentry "Holly Grove" (Rambling Gypsy)
Various Artists "COUNTRY MUSIC HOOTENANNY" (Capitol, 1963)

---
New Stuff: March-April, 2014
---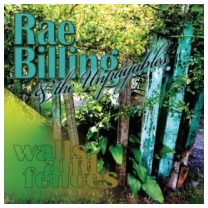 Rae Billing & The Unpayables "Walls And Fences" (Hug Music, 2013)



(Produced by Michael J. Birthelmer)
Canadian songwriter Rae Billing is one of a generation of alt-country gals who sound like Lucinda Williams in much the same way skinny white guys in the early '70s all sounded like Dylan. But, hey, if you're gonna sound like someone famous, go for the gold. This album has a heavier, folkier, more singer-songwriter feel than some of her earlier work, but even though it's not my cup of tea, some songs stand out, such as the rueful "Sacramento River" and the Neil Young-ish "Seven Days." The production on this one's a bit lush for me, but folk fans might dig it.
Laura Cantrell "No Way There From Here" (Thrift Shop Recordings, 2014)


Carrie Ann Carroll "You Should Know" (Treehouse Productions, 2014)



(Produced by Joe Carroll)
An enthusiastic though uneven set by a newcomer from Austin... Carroll sings poppy twang with angst-y, confessional lyrics, sort of spiral notebook/lonely diary type stuff. She gets strong backing from her band, particularly the delicate pedal steel and driving electric lead... The song that's designed to get the most notoriety, an jilted-lover-watching-her-ex-get-married anthem called "You Know What's Really F*cked Up?," is too loosely structured for me, but others, like "Call Me Darling," are a little subtler and more evocative. This set rides the edges of alt-country and confessional folk, and while she could probably have used a little more seasoning, Ms. Carroll may emerge as a potent force on the twang scene.
Carlene Carter "Carter Girl" (Rounder, 2014)



(Produced by Don Was)
I was pretty psyched by the prospect of hearing country-rocker Carlene Carter pay homage to the legacy of the fabled Carter Family, the legendary musical dynasty of which she is a member in good standing. Carlene is the daughter of the late June Carter Cash, and took part in a 1990's Carter Family reunion with her mom and aunts, and just generally speaking, she's been around the block a time or two and hearing her dig into the rich trove of songs identified with the Carters sounds like a pretty good time. That being said, this is an album that might take a little getting used to: the lavish, poppy production of studio whiz Don Was can be a bit much, and I found it frequently distracting, though better, I suppose than if she'd gone for a airy late-vintage Emmylou Harris/Daniel Lanois style of production, which also could have happened. At least there's some bounce in here! And then there's her vocals: Carlene Carter's voice has always been one of the stronger singers in her clan, with the rich, robust tones of her father, Carl Smith, and even as she's pushing sixty, she still sounds great. Singing with her are several well-chosen guests, including Vince Gill, Kris Kristofferson and Willie Nelson on a lovely version of "Troublesome Waters," as well as the voices of the late Johnny Cash, along with Anita, Helen and June Carter on a version of "Ain't Gonna Work Tomorrow," which closes the album out. The Carter Family sound has always been built around harmony, and Carlene Carter finds some new voices to bring into the fold, including alt-country's Elizabeth Cook, who is credited with one duet but sings on several songs and Carlene's cousin Lorrie Carter Bennett (Anita Carter's daughter) who sings on a couple of songs, including on a sweet three-part harmony with Carter and Cook, on "Gold Watch And Chain." The songs are mostly classics, but Carlene adds a couple of her own, "Me And The Wildwood Rose," and the sorrowful "Lonesome Valley 2003," in which she remembers attending her mother's funeral with her half-sister, Rosanne Cash, a heart-rending capstone to the Carter Family story which only a member of the family could have done justice. Even with the too-slick production, this is a powerful album, one which taps into the rural culture that still resonates so powerfully from nearly a hundred years ago, from daughter to daughter to daughter, and voice to voice to voice.


<! April 8 >
Johnny Cash "Out Among The Stars" (Sony-Legacy, 2014)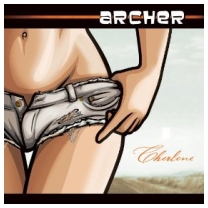 Cherlene "Songs From Archer" (2014)


Odd choice on the album graphics: both the front and back covers feature mildly porn-ish cartoons of a nubile, barely clad midsection bursting out of the teeniest-tiniest cutoffs imaginable, and this sleazy, redneck iconography leads you to expect a crass, unsubtle set of yee-haw, white-trash stereotypes which really doesn't match up with the soft-edged, melodic material on this album. Cherlene -- aka Jessy Lynn Martens -- is the musical voice of the Archer TV series, and she mixes twang and contemporary folk, even sounding like Amy Rigby on several songs. There are tunes where she tries on some Gretchen Wilson-esque tough-gal 'tude, and though this doesn't really ring true, it also doesn't really get in the way of enjoying this album. I've never seen Archer, so I don't get any of the inside jokes, but the music itself is fine... There's not a lot of heft to Ms. Martens voice, or the backing band, but they hit an understated groove that has a fairly unique feel in today's musical landscape, and thankfully doesn't echo any of the lavish overproduction or phony bluster of contemproary Nashville, while avoiding similar cliches from the pop and folk spectrum. Worth a spin.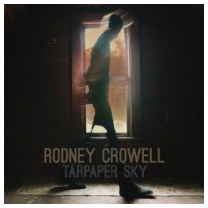 Rodney Crowell "Tarpaper Sky" (New West, 2014)



(Produced by Rodney Crowell & Steuart Smith)
I have to preface these comments, which are going to be critical, by telling you that when I was a kid I was a huge, huge, huge Rodney Crowell fan. I sang along to his first three albums with as much fervor as I had sung along to the Beatles when I was even younger. I really dug Rodney. But somewhere along the way, he started to lose me... There was that one really bad record in '86, then came his big commercial comeback on Columbia, where I breathed a sigh of relief, and then... well, I dunno. Crowell seems to have gotten bored with writing three-chord singalong songs, and became more and more hung up on his own status as a profound songsmith, crafting ever-denser lyrics, often wed to chunky, propulsive roots-rock arrangements. I'm not exactly saying that he's lost the ability to write a simple, catchy, memorable song, but he sure seems to misplace it from time to time. This album's a good example: many tracks have catchy melodies and strong choruses, but for me (at least) the overly-sculpted lyrics constantly pull me out of the music. ("Blood don't make yuh family, boy/and I've got news for you/rattlesnakes don't sing like speckled birds...") I'm often more conscious of Rodney Crowell asserting himself as a craftsman than of the songs themselves, and call me old-fashioned, but I think that's doing things backwards. The songs should be the focus, not the couplets or the clever rhymes, which often seem showy and unevenly strung together. Doubtless I'm in the minority, and listeners who appreciate the work of, say, Townes Van Zandt or Tom Russell, will dig this too. But as a critical voice (and a longtime fan) I feel it's right to speak my mind honestly. It should be said, though that this is a great-sounding album -- the backing music is uniformly resonant, sweet and gritty, and each of Rodney's new songs are generally right on the edge for me, with soulful melodies that draw me in, sadly balanced by lyrics that yank me out of my reveries. It seems liek the kind of record that'll grow on me over the years, but the initial reaction is a bit rough.


<! April 15 >
Bob Dylan/Various Artists "30th Anniversary Concert Celebration" (Sony Legacy, 2014)



The CD/DVD edition of 1992's big "Bobfest" concert, celebrating Bob Dylan's first thirty years in the music business, comes in two parts: a 2-CD audio set, and a 2-DVD video that captures the performances of a couple dozen rock, pop and folk greats... The review below is for the video edition, which is more dynamic and has mostly the same material.
Bob Dylan/Various Artists "30th Anniversary Concert Celebration" (Sony Legacy, 2014) (DVD)


This four-disc set documents a massive 1992 celeb-fest concert honoring Bob Dylan's career, with live performances by rock, pop, country and folk stars of the era, as well as numerous old-guard artists who were Dylan's contemporaries in the '60s. The stage is set by an excellent introductory sequence in which we see Dylan in a career-spanning montage, as well warm testimonials from many of the artists who played at the Madison Square Garden show, and then the concert is presented from start to finish with guitarist G.E. Smith leading the on-stage backing band and splitting emcee duties with Kris Kristofferson and others. How you see these performances will depend largely on how you viewed the music scene of the time, the early '90s representing an era when post-punk "grunge" had revitalized rock'n'roll, but the '80s vibe was still strong, as seen by performers such as Tom Petty, John Mellencamp, et. al. One way to view this is as a triumphal last gasp for the hippie-era rock elite: there's Dylan of course, but he wound up being timeless and immortal, but also Eric Clapton, who was riding high on his own "Unplugged" triumphs and Neil Young, who bangs through a couple of classics much to the delight of the crowd and one of the concert's biggest surprises is how Ron Wood brings the house down with his tight, dynamic version of "Seven Days," crisply summoning the intensity of his youth and showing the young folk how it's done. Another striking moment comes when Irish singer Sinead O'Connor comes out and is basically booed off the stage, appearing in concert shortly after she publicly criticized the Pope and the Catholic hierarchy for covering up rampant sexual abuse within the Church -- an issue on which she was resoundingly vindicated, two decades later. The instant O'Connor steps on stage, the crowd erupts into an epic battle of fierce cheers and persistent boos. Instead of singing a Dylan song, she defiantly and tearfully barks out a rough version of the adapted Bob Marley song she had sung on Saturday Night Live two weeks earlier that had caused all the controversy in the first place... One of the few differences between the CD and DVD versions of the "Bobfest" concert is her performance: on the CD we hear her in rehearsal, singing "I Believe In You," and the inclusion of concert video is certainly appreciated, though it is a bit jarring to see how quickly the show went on as if nothing had ever happened when one of their fellow performers had been so dramatically confronted by the audience. Dylan fans will dig this one, and students of pop culture will appreciate the snapshot of the rock'n'pop landscape in the early 1990s, whether your opinions run pro or con... Definitely a document of its time!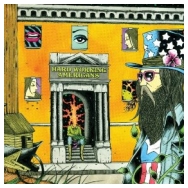 Hard Working Americans "Hard Working Americans" (Melvin Records, 2014)



(Produced by Dave Schools & Todd Snider)
Agit-folkie Todd Snider teams up with a bunch of roots-oriented rockers for a greasy, funky blues-rock outing, covering songs by some of the best composers the Americana genre has to offer: tunes by Hayes Caryll, Kevin Gordon, Kieran Kane, David Rawlings as well as oldies from Randy Newman and '50s hillbilly icon Frankie Miller. Sounds like they were having a good old time, injecting a little grit, sweat and big, fat, jam-band power chords into the comfy confines of the country-folkie-roots music scene. Sounds pretty sweet!
Jon Langford "Here Be Monsters" (Bloodshot, 2014)



Ex- and still-sometimes Mekon/Waco Brother Jon Langford is back with his latest rough-edged band, Skull Orchard... Aw, go for it... You know you want to!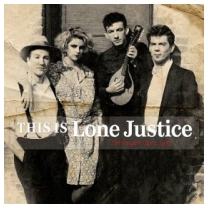 Lone Justice "This Is Lone Justice: The Vaught Tapes 1983" (Omnivore, 2014)



One of the most dynamic (and successful) bands from the LA cowpunk scene of the 1980s, Maria McKee and Lone Justice vaulted out of the local clubs and onto the national stage, yowling out homemade rockers like "Soul, Soup And Salvation," to the eager ears of twangfans and rockers alike. This album collects a dozen tracks recorded as demos in 1983, nearly two years before their 1985 major-label debut. The energy and audacity, the band's freshness and distinctive, sassy sound are all there, and fans will be pleased to hear how tight they sounded, even in the early days. What's not on display is much stylistic variety: the thumping bass/drum rhythm backbeats sound identical on pretty much every track, which in hindsight makes it easier for us to appreciate the interference of evil, meddling label execs who managed to take this explosive young band and give them a more subtle, varied sound. How much you "need" this new record depends on how devoted you were to the band in the first place: casual listeners who already own the first album might not find much new here, although diehard fans -- especially those who were turned off by the softer sound of their second album -- will delight in the pure twang on display here. A nice archival memento from an era when LA looked like it would revive West Coast country all by itself.
Shelby Lynne "Thanks" (EP) (Everso, 2014)



For years, Shelby Lynne has skirted the outer edges of mainstream country -- after her brief intital spash as a Top Forty hitmaker, Lynne fell off the Nashville radar, moving into a more varied, nuanced, more personal musical style, incorporating soul and jazz in ways that brought her closer to the worlds of jazz vocals or adult contemporary music. On this stripped-down, understated 5-song EP, she delves into rootsier acoustic tones, more deliberately "country," but also some uptempo gospel ("Walkin' ") and caps things off with a windswept country-rock ballad, "Thanks," that reminds me of Linda Ronstadt in her 1970's glory days. All in all, a nice, compact set -- love to hear an entire album like this, pitched at the same level of simplicity and elegance.
Janis Martin "My Boy Elvis" (Jasmine, 2014)


The late Janis Martin was one of early rock'n'roll's most sizzling singers, male or female, and left a great legacy in the two-dozen-plus tracks she cut for RCA in the late 1950s and early '60s. This fab, generously-programmed collection reprises the same material as Bear Family's The Female Elvis best-of, although Jasmine one-ups the Bear Family folks with the inclusion of several live tracks taken from a radio appearance, with versions of three songs, "Crackerjack," "Love Me To Pieces" and "Two Long Years," which are also heard in the studio versions. A must-have for rockabilly fans, particularly if you didn't already own the original Bear Family disc. (You might also want to check out the surprisingly robust Blanco Sessions album, recorded just before her death in 2007, made with help from Rosie Flores and a well-timed Kickstarter campaign. Also great stuff from one of rock's original rrriot grrls.)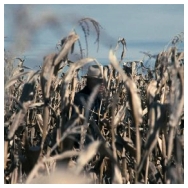 Chuck Mead "Free State Serenade" (Plowboy, 2014)



(Produced by Joe Pisapia)
A native of Lawrence, Kansas, ex-BR549er Chuck Mead delves into his heartland roots, singing songs that refer to local landmarks such as the Neosho Valley, the Wakarusa River, various remote counties, and to the infamous raids of Confederate terrorist William Quantrill, who burned most of Lawrence to the ground in 1863. The album shifts between historical and contemporary settings, in a storytelling roots-rock mode that recalls Joe Ely at his best. Among the musicians joining Mead's Grassy Knoll Boys on this album are his old bandmate from BR549, Don Herron, along with Critter Fuqua of Old Crow Medicine Show -- an able, amiable crew of seasoned twangsters who give just the right vibe to Mead's personal tour through his old stomping grounds... This is a strong, focussed album with an intriguingly personal feel. Even if you're not from Kansas, you might wanna give her a spin!
Midnight River Choir "Fresh Air" (Rambling Gypsy, 2014)


(Produced by Marty Byrom)
Although there are a couple of acoustic twang/Americana tunes on here, most of the album is loud, electric modern alt-blues/jam band type stuff... Not quite my cup of tea, though I'm sure it will resonate with fans of the style.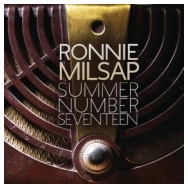 Ronnie Milsap "Summer Number Seventeen" (Sony Legacy, 2014)



(Produced by Richard Landis, Rob Galbraith & Ronnie Milsap)
This is the first album in years for this sophisticated '70s/'80s chart-topper, and though Milsap's voice isn't as supple as it once was, devoted fans may enjoy hearing him run through this setof oldies and standards such as "Mustang Sally," "It's All In The Game," "Georgia On My Mind," and "Mack The Knife." The new material includes the nostalgia-drenched title track and "Make Up," a duet with country gal Mandy Barnett.
Jake Owen "Days Of Gold" (RCA Nashville, 2013)



(Produced by Joey Moi)
Current Nashville star Jake Owen is about as good at singing prefab Top 40 dude-country as anybody these days... I guess... But the trouble with all these cookie-cutter, party-dude formula songs is they don't let artists do anything that's actually interesting or that showcases their individual talents. Owen, for example, seems to be a much better singer than all these factory-made songs let us hear; he just sounds like one of a hundred interchangeable guys with tight t-shirts and puppydog eyes whose personality emerges only when he's ranked along a continuum that has Toby Keith at one end and, I dunno, Keith Urban at the other. Apparently there's a strong market for facile songs about girls and trucks and doing shots on tropical beaches -- and while this stuff seems like easy pickings for professional songwriters, I can't help but wonder how many other country fans are getting as bored by it as I am. Are twenty-year olds on spring break really the only people buying country records these days? And if so, maybe the reason is because Nashville studios aren't giving the rest of us much else to listen to...
Ralph Stanley & Ralph Stanley II "Side By Side" (Rebel, 2014)



(Produced by Ralph Stanley II & John Rigby)
A heartwarming set with a father-son duo that has performed together for decades, usually with "Two" taking more of a background role. It's an interesting combination: on his own solo albums, Ralph, Jr. has indulged (pleasantly) in a tilt towards straight country music, but here he's strictly backing dad, and making room for the fragile, yet still commanding voice of bluegrass music's greatest living legend. The elder Stanley sings tenor but apparently doesn't play banjo on this album, with modest, gingerly accompaniment by John Rigby on fiddle, Steve Sparkman picking banjo and Ralph, Jr. on guitar. Like mant recent Stanley albums, this reflects the fragility and depth of Stanley's music -- it seems miraculous he's still with, much less still touring and making records. Another fine album with resonant material, both secular and religious... Keep 'em coming, Dr. Stanley!


<! Feb. 18 >
Rhonda Vincent "Only Me" (Upper Management, 2014)



(Produced by Rhonda Vincent)
A great collection of country-flavored bluegrass from bandleader Rhonda Vincent... A couple of funny things about this release: she splits the songs into two separate discs, though they'd probably all fit on one just as easily... Apparently this is to underscore that one set of songs is called the "bluegrass" side and the other the "country" side, though again, this is kind of funny, because they all sound about the same, which is to say they are all a rich, melodic mix of vintage country and truegrass twang, with sweet covers of '40s/'50s/'60s classics such as "Beneath Still Waters," "Bright Lights And Country Music," "Drivin' Nails" and Charlie Louvin's "Once A Day." Vincent has aften included country covers in her repertoire, but the last few years she's really been going for it, liberated perhaps by the freedom of running her own record label. She's joined on this album by village elder Willie Nelson on a plangent rendition of "Only Me," where they swap licks on mandolin and guitar, while honkytonker Daryle Singletary sings with her on a stunning version of the old Melba Montgomery/George Jones duet, "We Must Have Been Out Of Our Minds." Some tracks forego bluegrass instruments in favor of fiddle and pedal steel, and on these songs Vincent really goes for it with the rich, weepy vocals. Just like catnip for folks like me who are fans of good, old-fashioned heartsongs. Recommended!


<! "...Joining her on the album is Willie Nelson on the title track, Daryle Singletary featured on "We Must Have Been Out of Our Minds", and members of Diamond Rio." >
The Whiskey Gentry "Holly Grove" (Rambling Gypsy, 2013)



(Produced by Jason Morrow & John Keane)
Easily one of the most satisfying, twangiest alt-country albums of recent vintage... This Atlanta-based band centers around the husband-wife duo of Jason Morrow and Lauren Staley, who wrote a bunch of great original material for this album, augmented by some excellent cover tunes, including a bluegrass-baroque cover of Procol Harum's "Whiter Shade Of Pale," and a pleasantly rowdy rendition of Peter Rowan's outlaw classic "Lonesome LA Cowboy." Although the band is rock solid in a variety of styles, lead singer Lauren Staley really steals the show, projecting the same sort of soulful, rough-cut, modern-yet-rural authenicity as Natalie Maines or Maria McKee in their wilder days. The album opens with galloping, melodic alt-country honkytonk but also encompasses bluegrass and even a bit of Pogues-y Celtic twang. One of the sharpest and most appealing indie country records you're likely to hear this year -- highly recommeded!
---
New To Me
---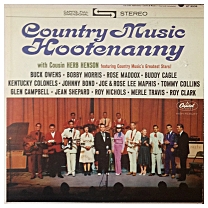 Various Artists "COUNTRY MUSIC HOOTENANNY" (Capitol, 1963) (LP)


(Produced by Ken Nelson)
Although the 1960s brought a flood of phony "live" albums, particularly from the orbit of the Grand Ole Opry, this one is the real deal: a fun recording of an awesome concert held in the Bakersfield Civic Auditorium on September 12, 1963, with the elite of the West Coast/Bakersfield country scene, including several now-obscure performers and big stars delivering some pretty entertaining material and plenty of hot licks. The show was emceed by Cousin Herb Henson (then the host of a popular country music TV show) introducing folks like Buddy Cagle, Tommy Collins, Rose Maddox, Joe and Rose Lee Maphis, Buck Owens, Jean Shepard and Merle Travis, Bob Morris, a little bluegrass from the Kentucky Colonels and some comedy and picking from a pre-Hee Haw Roy Clark. Glen Campbell delivers a richly rural honkytonk ballad, "You Took Her Off My Hands," and I suspect it's him in the house band (or maybe Roy Clark) delivering some slamming rock'n'roll lead guitar on a few tracks (notably Rose Maddox's "Down To The River"). Herb Henson also performs -- a rare opportunity to hear him on an LP -- and guitarist Roy Nichols does some fancy picking on the instrumental "Silver Bells." This is a great document of the West Coast country scene, though there are some notable absences, particularly crooner Wynn Stewart, who hadn't yet switched over to the Capitol label, and Merle Haggard, who was still an unknown at the time. Still: what a great record. Track her down, if you can!
---



Hick Music Index
Support Slipcue


---