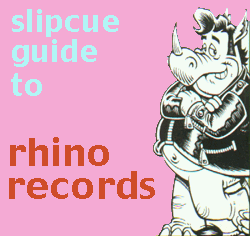 ---
America's sexiest reissue label...
Oldies, Rock, Soul, Country,
Folk, Blues, Jazz... and more!

Seeing as how Rhino has several bazillion titles in print, I can only scratch the surface here, with a few reviews of some of my all-time faves, or ones that strike me as particularly unique. But trust me, all these discs are pure gold! This page reviews Rhino's fabulous "various artist" compilation albums -- check out the next page over for a look at albums by individual artists.
---
Rhino Compilation Albums
---
Various Artists "BEG SCREAM AND SHOUT" (Rhino, 1997)

A fairly collosal, 6-CD collection of old '60s soul. The discs are organized thematically: the "Beg" CDs are slower, more pleadingly romantic (and dramatic) songs; the "Scream" and "Shout" discs get appropriately more rowdy, as their names would imply. The main thing, though, is that these are chock full of enduring R&B classics -- enough to keep you covered for a long, long time.
Various Artists "BLUES MASTERS" (series)
I think they've gotten up to about a bazillion volumes in this series by now... a half a bazillion, at least... Anyway, this is a tasty selection of blues compilations, mostly organized by subgenre -- harmonica players, steel guitarists, singers, etc. -- mostly pretty urban (electric or R&B) and mostly pretty good. I've had my quibbles about song selection, and lamented that some songs had been left off of various volumes... On the whole, though, if you're looking to explore the blues, this is a nice place to start.
Various Artists "CAN YOU DIG IT? THE '70S SOUL EXPERIENCE" (Rhino, 2001)

Another stunning Rhino coup, both musically and aesthetically. This 6-CD set includes like, a bazillion great, classic pop-soul tunes, big hits as well as less-well remembered gems from earlier in the decade. The Spinners, Bill Withers, Marvin Gaye, King Floyd, Charles Wright, Al Green, Betty Wright, Harold Melvin, The O'Jays, The Temptations, The Four Tops, Rufus & Chaka Khan, Earth Wind & Fire, BT Express... the list goes on. Basically, it's almost everything that a non-super soul fanatic would ever want to have, should the nostalgic mood hit them, or the right party come along in search of the right soundtrack. The packaging is a gas, too, with an exterior box built to look like an 8-track case, and booklets inside that mimic old '70s soul magazines. A class act that will renew your faith in Rhino's creative genius. Plus, they put the apostrophe in the right place on "The '70s..." My heroes!!

Various Artists "THE COLPIX-DIMENSION STORY" (Rhino, 1994)

In my humble opinion, this is one of the single best records that Rhino ever put out. Some of the most deliciously wimpy, whiny teenpop ever recorded , with absurd novelty tunes and boo-hoo ballads culled from the vaults of Columbia Pictures short-lived music operation. Sure, there are a few verifiable hits on here, such as "Blue Moon" by the Marcels, and "Loco-Motion" by Little Eva, but it's the super-dopey wannabee tunes that give this 2-CD collection its kitschy appeal. Even though most of these songs were produced on the Brill Building assembly line, with writers like Cynthia Weil, Barry Mann and Carole King seemingly trying to outdo each other in a quest for the inane, there's also something mysteriously and legitimately charming at work here. Sincerity somehow seeps out of these tracks, which were mainly cynical and off-handedly produced but still captured the gee-whiz Leave It To Beaver teen yearnings of the time. The best tracks, though, are a couple of ancient Carole King singles, including "He's A Bad Boy", from 1963, which I've always thought should covered by the queercore band Pansy Division.
Various Artists "DOO WOP BOX" (Volume 1)

Various Artists "DOO WOP BOX" (Volume 2)

Various Artists "DOO WOP BOX" (Volume 3)

These three box sets (3-CDs each) are about as super-sweet as you can get in the vocal groups tradition... Tons of hits ("Duke of Earl", "The Glory of Love," etc.) as well as an exhaustively researched catalog of songs that doowop collectors treat as the Holy Grail. And, yes, this is a collection intended to make a certain variety of collector nerd sweat profusely -- the best thing is that we mere mortals can enjoy it, too -- a lot. Well programmed and great sounding, this series is highly recommended.
Various Artists "HAVE A NICE DECADE: THE '70s POP CULTURE BOX" (Rhino, 1998)

Whether you're looking for some funky stuff, guilty pleasures or a little "Afternoon Delight," this 7-CD set has got it all. Meant to supercede the bazillion-volume soft rock series of the same name, this strays away (thankfully) from a diet of strictly wimpy AOR into a more comprehensive look back at the radio hits of The Me Decade, pairing Peter Frampton and David Bowie up with KC & The Sunshine Band, Diana Ross and ELO. Plus, it's got TV themes galore and novelty hits like "Disco Duck," "Kung Fu Fighter" and the disco version of the "Star Wars" theme... It's scary, sure, but it's also a blast. I dig this collection, but I sure wish I had one of the original promo copies that had a swatch of actual shag carpet on the front cover...!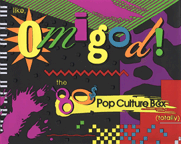 Various Artists "LIKE, OMIGOD! THE '80$ POP CULTURE BOX (TOTALLY)" (Rhino, 2002)

There are few moments in current popular culture as delicious as watching a washed-up Martha Quinn shilling on the late-night infomercial for Time-Life's 'Eighties collection and being asked what it was like to be an MTV VJ, back in the day. "Y'know," she sniffs, unconsciously rubbing a finger along the bottom of her nose, "we really had a lot of fun!" And then the videos roll. Like its only-sold-on-TV counterpart, Rhino's new seven-CD set, Like, Omigod!, concentrates on the kitschiest examples of Reagan-era vid-pop: the pretentious synth bands, goofy novelty hits and cheesy power ballads that dominated the early years of MTV. Rap and heavy metal are acknowledged only in passing, while punk, grunge, and college rock are excluded entirely. Inevitably, fingers will point and eyes will roll. "Alternative" fans should probably just leave the room right now Š these are the prefab hits that hip-hop and indie rock were created to combat, yet by cloaking itself under the banner of "pop" music, the Omigod box gives no quarter to its sworn enemies. Mainstream fans may also moan -- where's Wham? Or Madonna? What about Michael Jackson, Frankie Goes to Hollywood, or even the Police? Not surprisingly, there are glaring omissions, but like the '80s themselves, this retrospective is an event that has to be taken on its own terms -- you either resist it entirely or just give in and get, like, way psyched to party. For those who make the leap, Omigod is a satisfying and painfully Pavlovian experience. Even the most derisive hipster will be surprised to find out how much of their brain space is taken up with the lyrics to Grover Washington's "Just The Two Of Us," Bonnie Tyler's "Total Eclipse Of The Heart," or even -- god forbid -- the J. Geils Band's "Centerfold." Like it or not, all of these tunes are burned into our brains, and though we may hate to admit it, '80s pop shaped our world. Sincere Top 40 fans who probably bought this stuff on cassettes or vinyl the first time around should be pleased with the digital update, and for the opportunity to hear "Take On Me" again, without having to buy the A-Ha greatest hits CD single. Still, one is drawn back to that late-night infomercial, where Quinn sets up one goofy, glitzy clip after another, and the true shortcoming of the Omigod box is thrown into focus. Inter-label licensing issues aside, how is it, in this age of postmodern, multimedia super-luxury, that Rhino could compile an '80s "pop culture box" with so many of the hits and so much of the garish memorabilia, yet none of the actual videos that redefined the entertainment industry? In addition to seven CDs packed with Gary Numan, Moon Unit Zappa, Billy Crystal, and all the others, couldnÕt they have also rounded up a couple of DVDs worth of big hair videos and Miami Vice blooper reels? Now that would be, like, totally awesome!
Various Artists "MAMBO MANIA: THE KINGS AND QUEENS OF MAMBO" (Rhino, 1995)

The folks at Rhino do a slam-bang job on this one, collecting some of the funnest, richest latin dance tracks of the classic '50s/'60s era. It's all brand-name artists on here -- Machito, Perez Prado, Celia Cruz. Tito Rodriguez, and Co. -- yet this is hardly a by-the-numbers collection. The pacing of the disc is flawless, the material is entrancing. If you're looking for a single-volume introduction to this style of music, you'd be hard pressed to find one that's better than this. Recommended!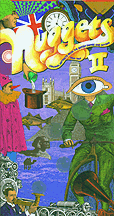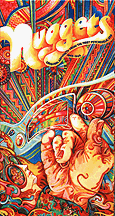 Various Artists "NUGGETS: ORIGINAL ARTYFACTS FROM THE FIRST PSYCHEDELIC ERA - 1965-1968" (Rhino, 1998)

The granddaddy of all rock reissues, the NUGGETS series dates back to 1972, when Lenny Kaye, Patti Smith's future guitarist, was tapped to assemble a two-LP collection of his favorite American garage rock. It was a wicked set of snotty, snarly '60s "punks," no-hit wonders who dedicated themselves to cranking their Voxx amps to "11" and popping as many eardrums as possible. NUGGETS later expanded to over a dozen volumes, albums that became '80s collector nerd staples, and helped paved the way for other series such as PEBBLES, DESPERATE ROCK AND ROLL, BACK FROM THE GRAVE, GIRLS IN THE GARAGE, etc. This 4-CD box set winnows through the series for the best half-bazillion tracks. And it's all pretty groovy - full of brand-name bands like The Sonics, Standells, Seeds, Beau Brummells and Remains, along with the lesser legends and luminary legions. Great material, and great sound quality... what's to complain about? Yow!
Various Artists "NUGGETS II: ORIGINAL ARTYFACTS FROM THE BRITISH EMPIRE AND BEYOND" (Rhino, 2001)

Okay, so maybe Rhino chickened out and backed off from the original concept of an "International Nuggets" collection -- including all the French ye-ye, crazy Asian rock, Brazilian jovem guarda and non-English language rock that we know and love so well... just wouldn't sell in Peoria, the higher-ups said. Still, that doesn't mean this Brit-centric 4-CD set doesn't completely kick ass... 'cuz it does! Lots of great hits and obscure, killer oldies from the heyday of the garage-psych era. This collection is also a must-have item... highly recommended. (And who knows? Maybe this set will sell well enough that Rhino will rethink its English-only policy when putting out Volume III...!!)
Various Artists "SAOCO: THE MASTERS OF AFRO-CUBAN JAZZ" (Rhino, 2000)

A nice companion disc to the MAMBO MANIA collection above, this veers into harder, more percussive territory... On one hand, I miss the swank melodic groove of the latin dance scene; on the other hand, the folks who compiled this collection also skip over the more irritating jazz-isms of the genre (so there aren't a bunch of piercing sax solos, for example...) In this median ground, the rhythm section predominates, and while this set is a little clave heavy, it's a nice look at some of the punchier latin-jazz of the '50s and '60s. Plenty of big-name artists such as Machito, et al., but also alot of folks off the beaten track, like Bobby Paunetto, Silvestre Mendez and Ocho... You could this disc as a starting point to delve deeper into the style, or just to sit back and groove out.
Various Artists "SONGS THAT GOT US THROUGH WWII, v.I" (Rhino, 1990)

Various Artists "SONGS THAT GOT US THROUGH WWII, v.2" (Rhino, 1994)

These two discs are so-o-o-o-o-o-o-o-o-o sweet! These really are the big hits of the wartime years... And you know why they were big hits? Because they were such great songs! If your appetite for the swing era extends further than the last Gap ad, then you owe it to yourself to check these CDs out. Not all of these songs were overtly war-related, but the ones that were (such as "Coming In On A Wing And A Prayer," "G.I. Jive" and "When The Lights Go On Again" are great. And "It's Been A Long, Long Time," a song about a soldier coming home to his sweetie's eager arms, is one of the most frankly erotic tunes of the era, sung in a whisper by the young Kitty Kallen. Both volumes of this series are highly, highly recommended.
---
Various Artists "TROUBADOURS OF BRITISH FOLK"
Ah, if only all compilations series could be of such high calibre as this! When I first reviewed this several years ago, I was totally blown away. Been thinking of checking out British folk music -- but you're just not quite sure if it's for you? This is how you find out.
Various Artists "Volume 1: Unearthing The Tradition" (Rhino, 1995)

This collection may be a bit stark for some, but it certainly shows who the founders of the British folk revival were. A.L. Lloyd, the grandpappy of the movement is here, along with his full court -- Ewan MacColl, The Watersons, Shirley Collins, as well as members of the nascent folk-rock movement -- Steeleye Span and the like. The absolute highlight of this set is Anne Briggs' "Blackwater Side" -- her voice is shimmering and mellifluous -- compelling enough to make me search high and wide for her other records. An excellent compilation!
Various Artists "Volume 2: Folk Into Rock" (Rhino, 1995)

In some ways the deck is stacked on this one -- hard to miss when you have bands like Steeleye Span, Fairport Convention and the Albion Band to pick and choose from. From there, all you have left is song selection, and while I *could* quibble, what's the point? There is an admirable emphasis on more obscure tracks and artists, as well as some proggy crossover stuff, such as Traffic's version of the trad tune, "John Barleycorn," and one song by Nick Drake, whose music is so elusive it can fit in here as well as anywhere else. As with the other two discs-- HIGHLY recommended!
Various Artists "Volume 3: An Evolving Tradition" (Rhino, 1995)

Ostensibly, this covers contemporary artists, but maybe it's more accurate to say that its scope is the post-70s scene. Richard Thompson I could live without ever hearing again, and similarly the Oyster Band have never done much for me... But most of the tracks on here are excellent. For one thing, this is the album that turned me on to Nic Jones. (And what a delight that was!) Plus Dougie MacLean's classic, "Caledonia," June Tabor's stunning "She Move's Among The Men," and the relatively unknown duo of Eliza Carthy and Nancy Kerr make this disc well worth picking up.
---
Links
---
The Rhino website is pretty cool, with music biz tidbits, regular updates on the latest Rhino goodies, easily navigable sections for all their various genres, and comprehensible, secure online mailorder... Wa-hoo!!
Rhino albums featuring individual artists are reviewed on a separate Slipcue page...
---


Favorite Roots Labels
Hick Music Index
Jazz & Blues



---
Copyright 1998-2006 Slipcue.Com. All Rights Reserved.
Unauthorized use, reproduction or translation is prohibited.
---