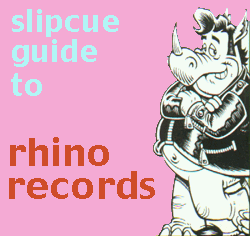 ---
America's sexiest reissue label...
Oldies, Rock, Soul, Country,
Folk, Blues, Jazz... and more!

Seeing as how Rhino has several bazillion titles in print, I can only scratch the surface here, with a few reviews of some of my all-time faves, or ones that strike me as particularly unique. This page is dedicated to albums of individual artists or bands -- reviews of Rhino's killer compilation albums are on a separate page.
---
Recommended Records
---
Laurie Anderson "Talk Normal - The Laurie Anderson Anthology" (Rhino, 2000)

At the dawn of the Reagan era, the elfin, frazzle-haired Laurie Anderson was the national poster child for the New York art scene -- a friendly, cartoonish character who played snippets of dialogue forwards and backwards on violin bows, wired her torso with contact mics, and recited long, goofy stories with pun-laden punch lines. A loft scene hipster who broke into the pop culture mainstream, Anderson was the performance art equivalent of painter Joan Miro, whose deceptively simple approach made folks naively think, "geez, even I could do that!" Her first single, "O Superman" embodied the antinuclear anxieties of the time, with a muted, electronically sampled laugh playfully wrapped around a sinister (yet droll) technophobic narrative. Other songs skillfully embraced the seductive repetitiousness of old-school minimalism and early electronic music, and pointed synthesizer fans in a different direction than the teenybopper New Wave pop of the time. What's surprising about this 2-CD retrospective is how well Anderson's music holds up, especially the early studio albums. In an era when techno dance music bounces around in shopping malls and TV ads worldwide, it seems like it would be easy to dismiss her work as passe, yet it is still quite engaging. It's mildly disappointing that this collection doesn't include any rarities, such as her early tracks on the 1977 New Music compilation, or her contributions to various poetry albums, and that her duets with William S. Burroughs are also mysteriously omitted. Also, both discs lean heavily on Anderson's concert albums, none of which fully capture the charm of her live multimedia productions. Still, until they start marketing decent home holographic projection systems, this will make a fine technological stopgap.
Gene Autry "Sing Cowboy Sing" (Box Set, 1997)

As Gomer Pyle might say, "Suhpraze, suhpraze, suhpraze!!" The singing cowboys -- B-movie actors who starred in the "oaters," and took stilted musical cameos with guitar in hand -- get kind of a bum rap in country circles... This 3-CD set might go a long way to correcting all those negative connotations -- each disc on here is chock full of great old material. OK, so the movie cowboys weren't necessarily all that "authentic," but there are far worse things than having all them city slicker Hollywood songwriters feeding you their material. Autry had a warm, calm voice and sweet back-up bands, and he wrapped himself inside these Tin Pan Alley tunes like nobody's business. Totally worth checking out -- highly recommended.
Celia Cruz "100% Azucar - The Best Of Celia Cruz" (Rhino, 1997)

A killer collection. Cruz's catalog is pretty chaotically distributed across the globe, so it's nice to be able to get ahold of a single disc which captures her artistic breadth so well -- from the thunderous to the melodically sleek.... plus, this has great sound quality, which isn't always the case with the zillions of other releases in the bins. This covers her career from 1951 to 1964, after she had emigrated to the States. As ever, Rhino is a class act -- and the liner notes here are even more breathless about Celia than I am! One of the best retrospectives of her early work currently available -- highly recommended!
Dr. John "Mos' Scocious: The Dr. John Anthology" (Rhino, 1993)

This is one of the best Rhino collections... ever. Two action-packed CDs worth of spooky voodoo blues from one of New Orleans' most talented artists. Mack Rebennack (aka Dr. John) got his start as a teenager, hanging around the various Louisiana-based independent studios, guitar in hand, just waiting for the chance to play on somebody's record. He didn't have to wait long, since he was one of the most talented kids around. Eventually he also started playing piano, and by the end of the 1960s had crafted a new image as the scratchy-voiced, haunting hoo-doo man who won over a devoted cult audience on the the fringe of blues and psychedelic culture. This set collects all the best material from well-know albums such as the classic Gris Gris... It also kicks off with some ultra-rare early recordings from the late '50s and early '60s, of Rebennack making his way up in the swamp pop scene. Highly recommended.
John Fahey "Return Of The Repressed: The John Fahey Anthology" (Rhino, 1994)

One of American music's great oddball geniuses, John Fahey is also probably the single most inventive acoustic guitarist to come out of the '60s folk revival. Although his individual albums each have an individual charm and magic to them (and should be experienced on that merit...), you certainly wouldn't be doing yourself a disservice by picking up this fab 2-CD retrospective. It captures the full sweep of his mastery and manipulation of blues and folk forms, and the fluidity with which he was able to shift from relatively simple hypnotic-repetitive traditional riffs into mind-blowingly complex, beautiful variations... and how LARGE a soundscape he could create using a single guitar! If you haven't heard Fahey before, then you should pick this collection up without a single second of debate... it's great stuff.
Tom Lehrer "The Remains Of Tom Lehrer" (Rhino, 2000)

Frolicking his way towards notoriety in the early 1950s, Tom Lehrer blasted the willful amnesia of the Eisenhower era, composing witty ditties about drug dealing, bomb testing, sado-masochism and various other hot topics that America had suddenly persuaded itself it knew nothing about. Meanwhile, he aimed a sardonic jab or two at romantic love, sentimentality, and the apparent vapidity of the budding folk scene, all while holding down a lowly job as a math professor at a place called Harvard. Lehrer was probably the most influential musical satirist of the postwar era, and everyone from Tom Paxton and Phil Ochs to Leon Rosselson strove to attain the heights that Lehrer had previously scaled, yet none were as consistently biting, as hilarious or as genuinely irreverent. This lavish 3-CD set collects everything Lehrer ever released, including several live albums, singles and unreleased rarities from the '70s children's show, The Electric Company. Where else can you learn about LBJ's sidelining of Hubert Humphrey, the American recruitment of Nazi Germany's scientific elite, about Vatican II or the ever-present obsession with The Bomb, yet find yourself humming along instead of stifling a yawn? Although he never actually earned his PhD, Tom Lehrer is still the Dean of Satire, and here's your chance to audit his course.
Little Feat "Hotcakes and Outtakes" (Rhino, 2000)

Another hippie-era legend who met an untimely death, Lowell George and his band Little Feat embodied the experimental tendencies of the time, and the uneasy fate of artists who don't fit neatly into one little niche. Founded in 1969 by two SoCal alumni of Frank Zappa's Mothers of Invention, Little Feat laid down a sleek mix of funk, fusion, country and Southern rock. They were also possibly the hippest, most versatile rock band of the 1970s -- as loose and rhythmic as the Meters, but also as loud and rowdy as the Allman Brothers. The band flourished on freeform radio during the '70s and established itself as one of the best live acts in the country. In the long run, its stylistic breadth may have been Little Feat's undoing. By the time of George's death in 1981, the music industry had re-rigidified, consigning musicians with pliable horizons to an unmarketable cult status. Ironically, Rhino's new four CD retrospective reflects this problem -- with two discs of classic material, a third of rarities and outtakes, and a fourth featuring the 1990s work of the reformed outfit, this is a lavish treat for longtime fans, but may be a hard sell for newcomers. The Feat hardly lacked in musical chops, but their far-flung interests may sadly still render them inaccessible to a modern audience weaned on fake teen bubblegum and soulless, slick R&B... then again, they might just be the perfect antidote.
Buck Owens "The Buck Owens Collection" (Rhino, 1992)

I have to confess to having rather mixed feelings about Buck Owens... Although he is undeniably one of the greatest (and best known) popular country artists of the 1960s, his work is laced with an air of offhanded professionalism that verges on detachment and even cynicism. This was especially true in the early '70s, when he was mad at his record label (Capitol) and started phoning in his albums. Still, Buck recorded dozens of the best, most boisterous country hits of the 'Sixties and almost singlehandedly breathed life back into the genre, with his bouncy, rock-savvy "West Coast/Bakersfield" country sound. Plus, his band totally kicked ass. This 3-CD set dips a little too deeply into his more lugubrious contractual obligation albums (the third CD covers the early 'Seventies on...) but it's still a pretty enthralling collection. For folks looking for a purer dose of early '60s Buck, the numerous reissues of his original albums on the Sundazed label are also highly recommended.
Perez Prado "Mondo Mambo! The Best of Perez Prado" (Rhino, 1995)

This is probably the best recent retrospective of Prado's work, although it sticks mainly to his most successful years as a hitmaker for RCA Records in the late '50s. The advantage to this is that these tunes are slicker and better produced than his earlier stuff, though perhaps less earthy. Swell disc, overall.
Roy Rogers "Happy Trails" (Box Set, 1999)

It's tempting to write Roy Rogers' music off as faux-country hokum, but this would totally miss the point. Roy Rogers was Mr. Showbiz back in the 1940s and '50s, a one-man entertainment industry, with dozens of movies, a weekly television show, a monthly comic book, and product endorsements out the wazoo. As with the Gene Autry box, this 3-CD collection reveals the depth of Rogers' mainstream pop sensibility -- in the middle of a schmaltzy version of "Pistol Packin' Mama," the orchestra bursts in with a full-on Tommy Dorsey-style swing arrangement. Dale Evans alternates between a Jo Stafford-style fake-hick twang and gorgeous, sotto voce Peggy Lee pop balladry. Rogers himself had a natural, easy delivery which is comparable to the suave sincerity of fellow icon, Bing Crosby, and he could croon or call a square dance with equal aplomb. Add to this the masterful harmonies and instrumentation of the Sons of The Pioneers (who accompanied Rogers on most of his best performances), and it's hard to go wrong.
More than anything else, though, this compilation of big hits, rehearsal outtakes, and broadcast transcriptions brings back the incredible cast of his ensemble. Even though the skits with Gabby Hayes and all the rest are blatant schtick, it's still vivid and enjoyable, perhaps even because it's so obvious and plain. This is the height of show biz slick, but way back when, before all the morphs, quick edits and bells and whistles of today. And it's a lot of fun. Plus, the typically lavish Rhino packaging makes this a real class act... just like Roy Rogers. (NOTE: A version of this review also appeared on the Country Standard Time website.)
The Yardbirds "Ultimate" (Rhino, 2001)

A killer collection of arguably the best British blues band of the '60s... Two CDs worth of hits, hits, and more hits... and some rare stuff as well. While the Rolling Stones, Animals and other bands sounded stiff and self-conscious while playing the blues, the Yardbirds were able to wail away and infuse their albums with a Mod-era cool that upped the ante . They were also one of the first "monster" rock bands, with guitar idols Jeff Beck, Eric Clapton and Jimmy Page alternately vying for the spotlight and for the chance to blow their adoring audiences away. In their later solo orbits, Clapton and Page went on to found Cream and Led Zeppelin and, by extension, created the heavy metal genre. It's hard to imagine a band more influential on the history of the rock guitar solo; yet the Yardbirds also had a sensuous edge, a sexiness and lusty enthusiasm that seemed less contrived than many of their contemporaries. That energy may account for their continued appeal over the decades, and is perfectly captured in this fab new retrospective. The collection is well-paced, tracking the band through its various incarnations, from the dynamic early singles through its psychedelic dissolution in 1968. Included are live performances, rare solo recordings, and classic studio tracks such as "A Certain Girl," "For Your Love," and "Over Under Sideways Down." Rarely do legendary dino-rock bands live up to the hype and so richly deserve our continued awe and veneration.
---
Links
---
The Rhino website is pretty cool, with music biz tidbits, regular updates on the latest Rhino goodies, easily navigable sections for all their various genres, and comprehensible, secure online mailorder... Wa-hoo!!
Rhino compilation albums are reviewed on a separate Slipcue page...
---


Favorite Roots Labels
Hick Music Index
Slipcue Main Index


---
Copyright 1998-2006 Slipcue.Com. All Rights Reserved.
Unauthorized use, reproduction or translation is prohibited.
---