<! MP3 10/21/08 > <! pix 00/00/00 > <! 208-pix: 00/00/00 > <! icons 11/20/10 > <! UPDATES: 04/21/14 - changed URLs, links >
---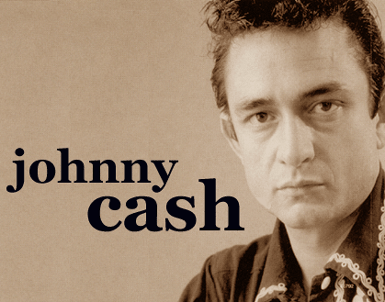 This is the third page of a larger Johnny Cash discography (and an even larger country music website), reviewing his albums made from 1980 to the present day. More album reviews can be found on the pages listed below, along with other Cash-related resources and links.
---
Johnny Cash: 1955-1969 | The 1970s | The 1980s - Present | Best-Ofs | Related Records | Resources & Links
---
Johnny Cash "Rockabilly Blues" (Columbia, 1980)


Johnny Cash "Classic Christmas" (Columbia, 1980)



You may be surprised if you're expecting a rugged, Cash-alicous country album like his earlier holiday offerings -- this album sticks to a lush, sweeping orchestral sound that may be a turn-off to fans of his more rough-edged material. But hey, how upset can you get about it? It's a Christmas album, after all! And it's Johnny Cash. Nice combo. (For more Christmas music, check out my Hillbilly Holiday section.)
Johnny Cash "The Baron" (Columbia, 1981)

Johnny Cash "Encore" (Columbia, 1981)

Johnny Cash/Jerry Lee Lewis/Carl Perkins "The Survivors" (1982)

Johnny Cash "A Believer Sings The Truth, Volume I" (1982)

Johnny Cash "The Adventures Of Johnny Cash" (Columbia, 1982)

Johnny Cash "Johnny 99" (Columbia, 1983)



Well, some folks will hold this up as one of his more vigorous albums of the era, and I suppose it's true... But it's still a pretty dispirited effort, with the band dragging its ass along the studio booth floor, and Cash sounding pretty low-energy himself. The title track is actually a Bruce Springsteen song, as is the album's opener, a fair rendition of "Highway Patrolman." Paul Kennerley is also well represented, with a couple of songs on here as well -- the duet with June Carter Cash on "Brand New Dance" is probably the album's highlight... All in all, this is an "A for effort" kinda album, with interesting song selection (including a Guy Clark cover...) but fairly weak delivery.
Johnny Cash "Songs Of Love And Life" (Columbia, 1983)

Johnny Cash "I Believe" (Columbia, 1984)

The Highwaymen "Highwayman" (Columbia, 1985)



The first Highwaymen album, an outlaw-legends collaboration between Johnny Cash, Willie Nelson, Waylon Jennings and Kris Kristofferson, has the sluggishness of a celebrity vanity project, yet several songs stand out, approaching, if not fully attaining, the epic scale implied by such an all-star lineup. "Jim, I Wore A Tie Today" has a nice soulfulness to it; the revamped arrangement on Cash's chestnut, "Big River" is also kinda nice, while "Last Cowboy Song" and "The Twentieth Century Is Almost Over" ably capitalize on the mythic status of the august quartet. It's nice to see that the repertoire also includes material by Guy Clark ("Desperados Waiting For A Train") and Woody Guthrie ("Deportee"), although these are not superior versions of either song. Not a stunning album, but certainly worth checking out.
Johnny Cash "Rainbow" (1986)

Johnny Cash/Jerry Lee Lewis/Roy Orbison/Carl Perkins "The Class Of '55" (Polygram, 1986)

Johnny Cash & Waylon Jennings "Heroes" (1986)

Johnny Cash "Believe In Him" (1986)

Johnny Cash "Johnny Cash Is Coming To Town" (Mercury, 1987)



Folks who were wowed and mystified by Johnny Cash's "big change" in the 1990s, when he started covering edgy rock tunes might notta been paying attention during the '60s when he avidly championed Bob Dylan... Or here, when he tackled Elvis Costello's "Big Light," and other markedly modern material. He also includes not one, but two songs by Guy Clark -- "Let Him Roll" and Clark's ode to construction machinery, "Heavy Metal." Admittedly, this isn't the high point of Cash's career, and the sometimes misguided production frequently falls flat, but it's still an interesting album, and worth checking out. A high point is his tribute to the founders of western swing, "W. Lee O'Daniel (And The Light Crust Dough Boys)" which thematically is a great country song, even if the horn arrangements and melodies are all wrong. Although Cash's work from this era typically doesn't get much respect, I found this album to be pretty engaging.
Johnny Cash "Water From The Wells Of Home" (Mercury, 1988)


Johnny Cash "Johnny Cash - Patriot" (Sony, 1990)

Highwaymen "Highwayman II" (Columbia, 1990)


Johnny Cash "Boom Chicka Boom" (Mercury, 1990)



Yeah, he's got that same old "boom chicka boom" rhythm going on behind him, but the songs sure veer off in some interesting directions. The opening track, "Backstage Pass To A Willie Nelson Show," affectionately makes fun of Willie and Waylon and their whole "outlaw" crew while "Farmer's Almanac," "Harley" and "Don't Go Near The Water" pursue political and environmental themes that are as pointed and on-the-nose as anything Johnny recorded in the Vietnam War era. The production is pretty simplified and stripped down, and it suits Johnny well. Good record... definitely worth checking out!
Johnny Cash "Mystery Of Life" (Mercury, 1991)



This album starts off a little shaky, with a couple of over-amped, rock-ish numbers that are just a little too loud and aggressive to match Cash's minimalist style. Things calm down fairly quickly, though, and the rest of the album may grow on you. There are some recycled oldies, like "Hey Porter," "Angel and the Badman" and Dylan's "Wanted Man," as well as some interesting new material, such as the Revelations-obsessed "By The Book," and a new duet with Tom T. Hall. The CD reissue also includes a bonus track of Cash's collaboration with U2 (originally from their Zooropa album)... None of this material is the best stuff Cash has ever done, but -- as ever -- he has a certain magnetism that will draw you in.
Johnny Cash "American Recordings" (American, 1994)



(Produced by Rick Rubin)
In a brilliant, career-reviving move, Johnny Cash expanded his trans-generational appeal, winning over Gen-Xers with a series of albums that paired irony-laden covers of songs by Tom Waits, Tom Petty, Glenn Danzig with more traditional material and the spooky religious tunes that struck the college rock crowd as particularly novel. This first album, recorded with rock producer Rick Rubin, sets the tone for the series, and in all honesty, it's fairly brilliant. Cash never shied away from rock-oriented material, indeed, his earliest work was pretty much rockabilly to begin with, so his adoption of newer, altie material wasn't entirely unexpected -- what's so striking about this disc (and those that followed) was how cannily packaged it was, and how well the chosen material fit and furthered Cash's personal mythos... It's a class act!

Highwaymen "The Road Goes On Forever" (Liberty, 1995)


(Produced by Don Was)
Even though Don Was sat behind the console to produce this one, I gotta admit it's pretty darn good, and a punchier, more compelling work than the first two Highwaymen albums on Columbia. This kicks off with a good version of "The Devil's Right Hand," written by Steve Earle, and also includes songs by Billy Joe Shaver, Dallas Frazier and the various fellers in the band. It's a pretty strong record, certainly worth checking out.
Johnny Cash "Unchained" (American, 1996)

Johnny Cash & Willie Nelson "VH1 Storytellers" (Universal, 2000)


Johnny Cash "American III: Solitary Man" (American, 2000)

Johnny Cash "American IV: The Man Comes Around" (Lost Highway, 2002)



In the 1990s, Cash expanded his trans-generational appeal, winning over Gen-Xers with a series of albums that paired irony-laden covers of songs by Tom Waits, Tom Petty, Glenn Danzig with more traditional material and the spooky religious tunes that struck the college rock crowd as particularly novel. American IV, again recorded with producer Rick Rubin, continues this pattern, placing Trent Reznor's "Hurt" and Depeche Mode's "Personal Jesus" alongside "Danny Boy" and "Desperado." The over-obviousness of the formula is accentuated by the album's melancholy, hagiographic aura, everyone concerned being all too aware of the 70-year old Cash's recent brush with the debilitating, degenerative effects of the Parkinsons-like Shy-Drager Syndrome. But it's also a great record; the video of Cash's version of "Hurt" actually won him a much-deserved Grammy, with its eerie echo of Cash's deteriorating health situation and imminent departure from this mortal coil... The video, as well as the album are well worth checking out.
Johnny Cash "Unearthed" (American/Lost Highway, 2003)



Clad in black denim (like Cash himself...) this postumously-released 5-CD box set gathers together four discs worth of previously unreleased material made over the course of the decade-long Johnny Cash-Rick Rubin partnership. Many of the recordings on here are simple acoustic renditions of songs Cash loved, while others are studio recordings that got shelved for one reason or another. The discs are organized thematically -- one disc of old favorites, one of classic gospel songs, etc. It's a classy package, worthy of Cash's life and career.
Johnny Cash "My Mother's Hymn Book" (American/Lost Highway, 2004)



This is a really nice gospel album, with simple acoustic versions of religious songs Cash grew up with, and the material is obviously close to his heart... It's the exact same material as Disc Four of the Unearthed collection, just broken off and given its own separate packaging, with the full liner notes reproduced intact from the box's booklet. It's certainly worth purchasing on its own, if you don't want to spring for the box set -- this is some of the strongest and most moving material on that package, and by itself it's equally if not more powerful. Cash is forthright and sincere, and the music is simple, stark and compelling. Recommended!
Johnny Cash "Personal File" (Sony Legacy, 2006)


The hype on these long-lost home tapes is that they were unheralded precursors to the stripped-down, raw-boned "American Recordings" series that sent Johnny Cash's cool quotient through the roof in the 1990s... In a sense that's true, although I would argue that these recordings are a different sort of creature altogether... Where the "American" albums were a calculated bid to present Cash as a back-to-basics country avatar, an icon for the college rock scene to revere, these earlier tracks were, as the title implies, a much more private affair. Back in the early 1970s, Cash kicked back and recorded copiously and at his leisure in his private home studios; the master tapes were apparently unearthed after his death and combed through for the best material, which has been issued for the first time as part of this 2-CD set. The first disc is secular material, with Cash singing solo over a sparse acoustic guitar, with some intriguing choices in repertoire, but a pretty subdued feel overall. The second disc is all gospel material, and this is where the real feeling comes in -- Cash recorded plenty of religious music, and these recordings are among some of his best. The song selection is particularly striking, with a bunch of songs that are way off the beaten track. Country gospel tends to favor certain standards, tunes that entered the popular culture after the advent of the recording industry, but many of the songs Cash selected were way off the beaten track, and demonstrated how deep his cultural roots ran... Likewise, the secular disc has some material on it that hearkens back almost to colonial times, showing how much of a student of American song he really was. These sessions were almost certainly made just for fun, without much hope of commercial release, and they provide a great glimpse into the kind of music Cash was interested in, separate from the advice of family, friends or record execs... It's pure, it's sincere, unpretentious, and certainly a must-hear for diehard Cash fans.
Johnny Cash "At San Quentin (Legacy Edition)" (Sony Legacy, 2006)


Well, just when you think you really know a classic album, along come some uber-reissue like this that makes you wonder: how much more cool stuff do them thar big record labels have hidden in the vaults? This time around, Johnny Cash's legendary prison concert has been given the super-deluxe expanded edition treatment, with two CDs worth of music and a third DVD disc that unearths a fascinating, if roughly produced documentary film that uses Cash's concert as a springboard to examine the inner life of one of America's most infamous penitentiaries. Clips of Cash and his caravan are interspersed alongside interviews with convicts and guards, all of whom are hard, hard men with surprisingly soft sides. While it's great seeing Cash and his crew performing live, the real emotional core to this film is seeing how these men react to the show -- guys who no doubt had led very violent and tense lives, wary of showing any sign of weakness, simply melt at the sight of this big country star who came in and met them at their level, becoming dewy-eyed little boys. On the other hand, the scenes where Cash eggs them on by making fun of the prison and their wardens -- what on record seems like a goofy bit of showbiz joshing around -- looks on film like a truly radical move, nearly setting off a riot among the jubilant prisoners. When he sings "San Quentin," a shockingly provocative song, they simply explode. Cash also lets the genie out of the bottle by bringing in his wife, June Carter Cash and her sisters (the latter-day edition of the Carter Family) to sing several songs. They may have been singing gospel tunes, but the sexual tension of the moment permeates the film, making the sense of danger and unpredictablity even that much more palpable. I'm sure Carl Perkins and the Statler Brothers, who were part of the show, could've helped Johnny fight his way out of the hall, but really, there was no need. Cash had those guys in the palm of his hand: his good humor, kind spirit and powerful presence won them over from the word go, and it's sure to zap you, too. This is an up-close look at Cash's charismatic power, as well as an interesting glimpse into the real underside of American society. Can't beat the tunes, either.
Johnny Cash "American V: A Hundred Highways" (Lost Highway/American, 2006)



(Produced by Rick Rubin)
An amazing epitaph, largely because it so clearly is an epitaph... These late-vintage recordings dwell on death, dying, reflection and spiritual redemption, with stark, forboding gospel material like "God's Gonna Cut You Down" alongside contemplative folkie material such as Gordon Lightfoot's "If You Could Read My Mind," Ian Tyson's "Four Strong Winds," and even Rod McEuen's "Love's Been Good To Me." Cash was clearly conscious of his impending departure from this mortal coil, and he used that awareness to fill these recordings with a gravitas and depth that's hard to match. His physical fragility (also heard on American IV and other later recordings) also invests these songs with a sad power: as his voice breaks and cracks on the softest songs, an emotional coloring that no one else could ever summon comes out -- who else but Johnny Cash, passing on, could sound like this? Even a facile song like Don Gibson's "A Legend In My Time" packs a wallop: Johnny Cash really was a legend, one of the biggest, and even if he sings the song with a little wink in his voice, the fact is, the lyrics take on a literal meaning in this context. This final offering might not appeal to everyone, but for country fans who have the time and mental space to take it in, it's quite an album. Recommended.
Johnny Cash "The Great Lost Performance" (Mercury Nashville, 2007)






<! AMAZON: On July 27, 1990, Johnny Cash took his revue to The Paramount Theatre in Asbury Park, New Jersey, and performed a truly unique and wonderful concert, captured on multi-tracks that lay dormant until recently mixed and edited for this near hour-long CD. Terrific performances of his greatest hits are here I Walk The Line, Ring Of Fire, etc. A wonderfully upbeat Cash and wife June Carter CashÕs stories and introductions punctuate the music; June contributes a boisterous Jackson duet with Johnny; local songstress Lucy Clark duets on the first performance anywhere at the time of JohnnyÕs What Is Man?; and the singer performs the only recorded version anywhere of the classic gospel song Wonderful Time Up There. A great lost performance is found. >

Johnny Cash "Live From Austin, TX" (New West, 2007)



Live on the Austin City Limits TV show, in 1987.
Johnny Cash/Various Artists "Best Of The Johnny Cash TV Show" (Sony-BMG/Columbia Legacy, 2008)


Johnny Cash "American VI: Ain't No Grave" (Lost Highway, 2010)



(Produced by Rick Rubin)
Yet another dip into the wellspring of Cash's unreleased recordings -- more stark, haunting, soulful demos and such. Admittedly, this might only be for true believers... But, hey: this is Johnny Cash we're talking about... Who isn't a true believer when it comes to him? In addition to the spooky, ragged renditions of various country oldies, his sincere reading of "Aloha Oe" will be a treat for fans of classic Hawaiian music, destined to be collected with other country-goes-Hawaiian recordings for many years to come. R.I.P., Mr. Cash.
Johnny Cash "Out Among The Stars" (Sony-Legacy, 2014)


---
Johnny Cash: 1955-1969 | The 1970s | The 1980s - Present | Best-Ofs | Related Records | Resources & Links
---