<! MP3 10/21/08 > <! update 00/00/00 - there are MANY more cash-related DVDs. Need to research. Add other tributes. > <! pix 00/00/00 > <! 208-pix: 00/00/00 > <! icons 03/12/11 > <! Nashville Fiddles "All Wrapped Up In Cash - Johnny Cash's Greatest Hits" (Certron, 1970) (LP) - great exploitation cover, with a blonde gal draped in a dollar-bill bikini The Golden Ring "A tribute to Johnny Cash" (ARC Records, xxxxx) (LP) - Canada >
---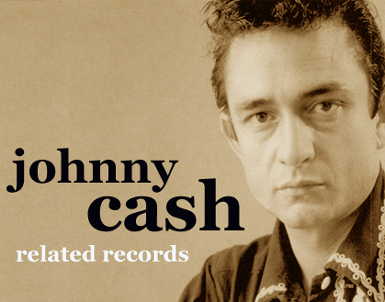 This is a partial discography of records related to the legendary Johnny Cash, including tribute albums, side projects and the like. I also have a Johnny Cash discography that concentrates on the Man In Black's records...
---
Other related pages:
---
Johnny Cash-Related Records
---

Highwaymen "Highwayman" (Columbia, 1985)


The first Highwaymen album, an outlaw-legends collaboration between Johnny Cash, Willie Nelson, Waylon Jennings and Kris Kristofferson, has the sluggishness of an celebrity vanity project, yet several songs stand out, approaching, if not fully attaining, the epic scale implied by such an all-star lineup. "Jim, I Wore A Tie Today" has a nice soulfulness to it; the revamped arrangement on Cash's chestnut, "Big River" is also kinda nice, while "Last Cowboy Song" and "The Twentieth Century Is Almost Over" ably capitalize on the mythic status of the august quartet. It's nice to see that the repertoire also includes material by Guy Clark ("Desperados Waiting For A Train") and Woody Guthrie ("Deportee"), although these are not superior versions of either song. Not a stunning album, but certainly worth checking out.
Highwaymen "Highwaymen II" (Columbia, 1990)


Highwaymen "The Road Goes On Forever" (Liberty, 1995)


Even though Don Was sat behind the console to produce this one, I gotta admit it's pretty darn good, and a punchier, more compelling work than the first two Highwaymen albums on Columbia. This kicks off with a good version of "The Devil's Right Hand," written by Steve Earle, and also includes songs by Billy Joe Shaver, Dallas Frazier and the various fellers in the band. It's a pretty strong record, certainly worth checking out.
Highwaymen "Super Hits" (Columbia, 1999)


This best-of compacts the first two Highwaymen albums, doing a pretty good job of weeding out the dross, although at a meagre ten tracks, it does seem a bit stingy. Still, if you just wanna check this supergroup out, this disc will probably do the trick.
---
Tribute Albums
---

<! Michael Charlette "In The Key Of Cash" B00198HUVE MP3 > <! Bill Dewey "My Tribute To Johnny Cash" (Nammics Records, 2004) B0014BZJ82 > <! Rusty Evans "A Tribute To Johnny Cash" (Supertone, 2006) B0013PJA9I > <! I Walk The Line "Renditions Of Johnny Cash" (Big Eye Music, 2008) B001E99KXY - MP3 > <! Matanza "To Hell With Johnny Cash" (Deckdisc, 2005) B000S9AFEY > <! Roland Riedberger & Barbara Clifford "The Johnny Cash & June Carter Tribute Show" (Blue Lake Record, 2007) B00196INGC > <! Bobby Wayne & The Country Gentlemen "Songs Made Famous By Johnny Cash" (Crownstar, 2006) B000S577TE > <! B00182LSMS lullaby album > <! B000S56A2E blues tribute > <! B000TQ0J1U "Pickin' On Johnny Cash -- The Ultimate Bluegrass Tribute" (CMH, 2006) > <! Various Artists "TRAIN OF LOVE: A TRIBUTE TO JOHNNY CASH" (CHM, 2005) B001DQF622 >

David Allan Coe "Johnny Cash Is A Friend Of Mine" (King, 1998)

Johnny Doe "The Million Seller Country Sound Made Famous By Johnny Cash" (Alshire, 1969) (LP)

Hushabye Baby "Lullaby Renditions Of Johnny Cash" (Hushabye Baby Music, 2008)


Various Artists "TIL THINGS GET BRIGHTER" (Rough Trade, 1986)
It's a shame this early alt.country-ish tribute album has been out of print for so many years, but maybe it'll come back around someday soon.
Various Artists "MISERY LOVES COMPANY: THE DARK AND LONELY WORLD OF JOHNNY CASH" (Bloodshot, 1998)

Various Artists "CASH ON DELIVERY: AN ALTERNATIVE COUNTRY TRIBUTE TO JOHNNY CASH" (??)
No info about this one, but apparently it was a charity album as well, to raise funds for Shy-Drager research...
Various Artists "AMERICANA: A TRIBUTE TO JOHNNY CASH" (Irregular)
A twangcore tribute album featuring a bunch of Seattle bands I've never heard of... Haven't heard the album yet, either, but if I do track track it down, I'll let y'all know how it sounds.
Various Artists "CASH FROM CHAOS: A TRIBUTE TO THE LEGENDARY MAN IN BLACK, JOHNNY CASH" (Invisible, 2000)


Various Artists "DRESSED IN BLACK" (Dualtone, 2002)



This sort-of-alt tribute to the Man In Black features his onetime son-in-law Rodney Crowell, on a fine version of the cornball classic "Teenage Queen," as well as a slew of eminently talented twangsters. Other artists include Dale Watson, Robbie Fulks, Rosie Flores, Kelly Willis and Bruce Robison, as well as the album's producer, Chuck Mead, one of the songwriters in BR549. For the most part, these folks play it pretty close to the vest, straying only slightly from the template Cash laid down all those decades ago. The song selection is also fairly standard-issue, although there are a couple of surprising choices, such as the frankly erotic "Flesh And Blood," covered here by Chris Knight, who digs right into the smouldering heart of the lyrics. High marks also go to Merle Haggard's old guitarist Redd Volkaert, who cuts loose on "Luther Played The Boogie," and to crooner Raul Malo, who has a good time with the mopey "I Guess Things Happen That Way." For the most part this disc holds few revelations, but if you love these songs already, these reverential new versions sound just dandy.

Various Artists "KINDRED SPIRITS" (Sony-Columbia, 2002)



Well, here's the big surprise of 2002: with two competing Cash tributes coming out within a week of each other (this and the DRESSED IN BLACK album above...), it turns out that the major label, packed-with-commercial-stars tribute is by far the better of the two. The reason why is that finally, for once, someone pays homage to Cash without simply aping his style and sound to a "T." Almost all of the songs on here take a markedly new approach to all the same old songs. Cash's trademark slap bass is left behind in favor of languid, drifting rhythms, and instrumental touches that Cash himself would rarely (if ever) approach, such as slide guitars and keyboards, dominate the album, creating entirely original takes on a dozen+ Cash classics. The album opens up with Dwight Yoakam's expansive reinterpretation of "Understand Your Man," followed by a mournful version of "I Still Miss Someone," by Johnny's daughter, Rosanne Cash. Other surprises include neo-Southern rocker Travis Tritt's authoritative reading of "I Walk The Line," here taken as a mellow, super-slow ballad, and blues picker Keb Mo's haunting and similarly slow version of "Folson Prison Blues." Bob Dylan sings "Train Of Love," one of his own songs that Cash covered back in the politically polarized '60s, acknowledges Cash's open-minded approach to music making in a brief but heartfelt introduction. A couple of artists, like Hank Williams Jr. and Steve Earle, fail to surprise us, and an Emmylou Harris/Mary Chapin Carpenter/Sheryl Crow team-up on "Flesh and Blood" sounds perky and bland on a song that is deeply, smoulderingly erotic. On balance, though, this is the Cash tribute album we've all been waiting years for -- respectful, but adventuresome, giving Cash's work new resonance and depth, teasing out nuances that were easy to miss in Cash's rollicking original performances. Check it out!
Various Artists "DEAR JOHNNY: A TRIBUTE TO CASH" (Hairball 8, 2004)


Hey, y'know... this is a pretty strong alta-billy set, with some heavyhitters, like Dale Watson from the hard-country camp and Eddie Spaghetti & The Supersuckers from the rock'n'roll side of things, as well as talented newcomers such as Stevie Tombstone and a slew of raspy younger psychoabilly types, many of whom might get on your nerves after a while. Still, even with the surplus of thrashy punk-flavored raveups, this disc has some really nice tracks on it, and overall has a lot of vitality and sincerity to it, and a sincere affection for ole' Johnny. Worth checking out! (This is also a charity album, with some of the proceeds going to the SOS Children's Villages, a foster care placement program that Johnny Cash was apparently a longtime supporter of...)

Various Artists "JOHNNY CASH: ROOTS AND BRANCHES" (Universal/Hip-O, 2006)


The premise sounds cheesy -- "songs that inspired the legend of" Johnny Cash (though not necessarily the artist himself) -- but the music sounds mighty fine. There are some very cool and somewhat surprising inclusions, such as the riotous gospel guitarist Sister Rosetta Tharpe and half-forgotten hillbillies like Roy Hogshead and Jimmie Skinner, as well as several more obvious choices, such as Jimmie Rodgers and Hank Williams. When the album shifts into musicians who were Cash's contemporaries and collaborators, the choices are more inevitable -- Anita Carter (who wrote "Ring Of Fire," and recorded it first), Peter LaFarge, who helped shape Cash's activist thinking on Native American rights issues, and songwriters like Tim Hardin and Kris Kristofferson, who Cash championed in the culturally conservative Nashville of the late 1960s. Also of interest are a couple of old, rockabilly-era Cash songs being covered by rock pioneers Roy Orbison and Warren Smith... This collection may be a bit opportunistic, but it's got its historical roots down right and the music sounds mighty fine. You'll enjoy this album from start to finish, and might find a few "new" artists whose work you'll enjoy for years to come.
---
Books & Film
---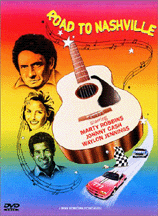 "Road To Nashville" (Crown International, 1967)



A treasure trove of late 'Sixties classic country! Although the film itself is lamentably rickety and shoddily produced, the wealth of talent, drawn from several major labels, is truly astounding: Webb Pierce, Johnny Cash, Porter Wagoner, Dottie West, Norma Jean, The Osborne Brothers, Bill Anderson and Bill Phillips all appear, just to mention a few. Co-producer Marty Robbins bankrolled part of this film and sings a few tunes (as well as racing his stock car at the track!)... Several fading 'Fifties stars are also seen, including Hank Snow, Lefty Frizzell, Faron Young, Kitty Wells, and the reconstituted folk-era edition of the Carter Family. Whew! Lemme catch my breath a minute and I'll tell you more... A clean-shaven, wolfish young Waylon Jennings has a great cameo; country cutie Connie Smith not only sings two numbers, she also has an extensive speaking role. There are also several noteworthy also-rans involved: Margie Singleton, Bobby Sykes, the Stoneman Family in full New Main Street Singers bluegrass-pop mode, and Don Winters as well -- one of the most underrated singers of the rock-to-countrypolitan era. Heck, radio DJ and full-time power broker Ralph Emery even makes an appearance... all that's lacking is a decent script. The flimsy plot involves the savagely unfunny Doodles Weaver as a bumbling idiot sent (inexplicably) by his grouchy Hollywood boss to organize a country music extravaganza; not only does Weaver appear in the between-song interludes, he also is frequently cut into the the performances themselves, doing unfunny things and staring in a vacant, unfunny way. The sound is poor; the video transfer cropped out a lot of the shots... but hey, this film ROCKS. Any devoted county fan will want to pick a copy as soon as they can. It's a doozy!
Johnny Cash "Man In Black -- Live In Denmark: 1971" (DVD) (Sony Legacy, 2006)


This is a great time capsule of the Johnny Cash show, circa 1971, when he had just adopted the "Man In Black" persona, wherein he declared his solidarity with the trampled and downtrodden. Politics don't figure that prominently in this performance, which was taped live on a Danish TV show, but Cash's tried-and-true country roadshow/revue offers plenty of fascinating historical highlights. Rockabilly legend Carl Perkins was working as Cash's guitarist, and Johnny gives him an early cameo... The Statler Brothers step forward as well, with muttonchops and hippie-ish hair, to sing "Flowers On The Wall" (what else?) and throw on some nice harmonies. June Carter Cash dominates the middle of the show, singing solos and choppy duets with Johnny, and then she introduces the late-era Carter Family, with Mother Maybelle, and sisters Anita and Helen, and they get the biggest response of the night, especially when June cranks up the volume with a shamelessly corny, sentimental homage to Mother Maybelle. The ever-earnest Danes, who sat at polite but rapt attention the whole time, go nuts for the goofily staged tribute, and it proves a rousing close to the show. Of course, there's Johnny Cash, too, and while he's super-laidback he also connects with the audience and with his songs, championing modern songwriters such as Kris Kristofferson (with three songs, including the then-scandalous "Sunday Morning Coming Down") and really hitting it home with his newly-minted personal anthem, "The Man In Black," which still packs a wallop today. The production values and pacing are quite modest, but that's mostly because that's how TV looked and felt back then (I remember) and if you want an accurate look at what Cash's act was like back then, this is a great video to check out. Recommended.
Johnny Cash/Various Artists "The Best Of The Johnny Cash TV Show" (Sony-BMG Legacy, 2007)


This two-disc set collects highlights of Johnny Cash's short-lived musical variety show, which aired on network TV between 1969-71. At the peak of the hippies-vs.-straights culture clash, Cash boldly invited guests from across the American musical spectrum -- longhairs, country traditionalists, Nashville insiders, jazz musician, rock stars, pop tunesmiths and folkies. The guest list is truly astonishing, given the tensions of the times. Bob Dylan -- one of Cash's favorite artists -- was on the first show in '69, tipping viewers off that this wasn't gonna be your typical country TV show. Appearances by Neil Young, Eric Clapton, Joni Mitchell, Linda Ronstadt, Stevie Wonder and John Fogerty followed, as well as master entertainers such as Louis Armstrong and Ray Charles. And of course, there was the cream of the country crop -- Waylon Jennings, Ray Price, Marty Robbins, George Jones, Loretta Lynn and Johnny's crew from his road show -- June Carter Cash & the Carter Family, the Statler Brothers, Carl Perkins and others. In the wings were some amazing sidemen: keep an eye out for Norman Blake plucking acoustic guitar, as well as the wealth of up-and-coming talent that Cash went out of his way to promote (notably Kris Kristofferson, who reminisces about the old shows in interview segments added in this DVD set...) Cash also didn't shy away from controversy and welcomed political content, which was really amazing given how tight TV censorship was at the time... He invited the once-blacklisted Pete Seeger onto the show, and Johnny's spine-tingling network debut of the politically blistering "Man In Black" was greeted with an electrifying standing ovation -- real history in the making. This is a great collection, generously programmed (the set list on the Menu goes on for page after page...) and many of the performances are pure gold (George Jones is awesome!) Some fans will complain that they'd rather see the original shows as broadcast at the time, and while I agree that that would be fun, I don't see any reason to give anything but praise to this set. The documentary format, with various Cash crew and compatriots interviewed and introducing different segments, is kinda cool, and for the most part they know when to get out of the way and let the music play. It's a pity they didn't shoot the whole TV show on film -- some of the video stock gets kinda flared out (the Dylan clips, in particular) but, hey -- that's history for you. Personally, I'm glad to see whatever stuff like this there is -- it's a great look back at an interesting cultural moment, when mainstream country was still pretty traditional, although the walls were starting to fall and new influences were coming into play. Cash fans and country fans alike will definitely want to check this one out!
Johnny Cash/Various Artists "The Johnny Cash Christmas Special: 1976" (Shout Factory/CMHF Archive Series, 2007)


By the mid-1970s, Johnny Cash was a veteran TV performer, and new how to keep a show humming. This seasonal special recalls the roasts and variety shows that were so popular at the time, packed with guests, gags and corny, prepackaged humor... But there's also the obvious sincerity that Johnny and June Carter Cash brought to their holiday cheer... Filmed in their spacious ranch home, the show is conceived of as a big Christmas party, with their friends coming over for dinner and for a round-robin "guitar pull," where each guest taking a turn pickin', singing or telling a story. The performers include Hee Haw star Roy Clark and pop crooner Tony Orlando, who harmonize with Cash on a long medley of Stephen Foster classics, as well as Johnny's brother Tommy, superpicker Merle Travis (who picks a mean version of "The Cannonball Rag") and Johnny's pastor, Billy Graham, who tells a grim little Christmas parable about a rough-and-tumble mining camp that gets civilized through Jesus, but only after all kinds of violent, bloody behavior. The biggest surprise, though, comes from countrypolitan queen Barbara Mandrell, then at the height of her fame, who Cash remembers as a little girl who played steel guitar when he first met her... And sure enough, she sits down at the pedal steel and plays an impressive version of "Steel Guitar Rag." Who knew?? Although the pacing of the show is clunky, it was in keeping with the standards of live TV at the time, and it's a marvelous time capsule in many ways (especially the fashion: dig those cowboy duds on Tony Orlando!) Cash fans will definitely want to check this one out... students of the 'Seventies as well!
Johnny Cash/Various Artists "The Johnny Cash Christmas Special: 1977" (Shout Factory/CMHF Archive Series, 2007)


The following year, Cash had a much glitzier, punchier production, trading his funky ranch home vibe for a big, shiny soundstage, decked out with a gigantic golden holly wreath and twenty-foot tall panels of frosted-glass snowflakes. This show, which broadcast on November 30, 1977, was also a tighter show, mainly featuring the seasoned cast of Cash's long-running road show: June Carter Cash, the reconstituted Carter Family, Carl Perkins and the ever-jovial Statler Brothers, and another appearance by Roy Clark, who helped anchor the previous year's Christmas show. Although there's plenty of holiday music and seasonal cheer, there's also a wealth of secular music -- Johnny and June sing a duet of "Darling Companion," and the second half of the show is devoted to a tribute to Elvis Presley, who had passed away a few months earlier. Along with Carl Perkins, Cash hosts other buddies from his Sun Records rockabilly years -- Roy Orbison is in fine form on "Oh, Pretty Woman," while Jerry Lee Lewis tears it up on a modernized "Whole Lotta Shakin' Going On," then slows things down for a sentimental reading of "White Christmas." Surprisingly, the Carter Family is kept mostly in the background -- Mother Maybelle wasn't in the show at all -- while Anita and the sisters only sang as part of a larger chorus. All in all, this is a lively, well-paced TV show, with a very sincere religious emotional core, sure to be a delight for Cash fans and country Christmas enthusiasts everywhere. Recommended!
---
Beware!!
---
Various Artists "THE ROOTS OF JOHNNY CASH" (Catfish, 2002)


Beware. This collection of songs that were covered by Johnny Cash has nice artwork, but a truly crappy sound transfer... Oh, it's not just the slight fuzziness of the dubs, which is audible, it's also the fact that several of these songs actually stutter as you listen to them... No, it's not my CD player skipping; it's a digital glitch in the original transfer itself. Yeah, sure, I realize that accidents sometimes happen and record pressings can go bad... But you don't then go out and sell those defective records... you scrap them, and try again. Avoid this disc -- it's a ripoff.
---
Johnny Cash: 1955-1969 | The 1970s | The 1980s - Present | Best-Ofs | Related Records | Resources & Links
---
---