<! * > <! MP3 10/21/11 > <! pix 10/21/11 > <! archived 08/11/14 >

---
Hey there! Welcome to my country reviews archive... This page covers records that came out (or were reviewed by me) in the year 2002. Other "new reviews" are archived here... Enjoy...!!
---
New Country Stuff! (circa: 2002)
---
Ryan Adams "Demolition" (Lost Highway, 2002)



Although this disc is billed as an odds-and-ends demo collection, it's actually much more cohesive (and satisfying) than his last album, Gold... (At least Adams isn't still trying to remake Sticky Fingers on this one...) One catchy, moody song after another, evenly balancing his country and poppy-melodic tendencies... There are a few stylistic surprises, such as the Cars-like introduction to the modern-rock "Starting To Hurt" and a strong streak of U2-ishness throughout, but nothing that should cause his loyal fans any real dismay. Lyrically, numerous fire-and-smoke references suggest the spiritual aftermath of September 11th weighed heavily on Adams, but he approaches the subject elliptically and skillfully, and it the metaphysics don't get in the way of the music. All in all, this is a very nice record, alluring and well worth checking out.
Bad Bob & His Good Friends "Bad Bob & His Good Friends" (Self-Released, 2001)


Good-timin' western swing and the local spirit of independent Texas music are alive and well, as heard in this fun album by fiddler and songwriter Bob Rohan. He pays dutiful homage to the spirit of Bob Wills in a rousing version of "Deep In The Heart Of Texas," and on his original tune, "When You Play The Fiddle In Texas (You Better Know All The Tunes!)" It was the charm of his original material that caught my attention -- especially on great novelty tunes like "She Took A Blowtorch To My Workbench" and the similarly-themed "Daddy's Pad (When Momma's Mad)," which extols the virtues of sleeping in the cab of your truck when domestic tension looms. Fans of humble, obscuro alt.country greats such as Deadly Earnest, Alvin Crow, Chuck Wagon & The Wheels, or Cornell Hurd will find a lot to celebrate in this album -- this ain't super-slick Nashville pop, it's just a guy with a friendly-sounding voice and a bunch of pals who can pick some nice country music, and it's pretty cool. This is the kind of independently-produced album you used to hear a lot more often; nice to know someone out there still has the magic formula. (As far as I can tell, the only way to get a copy of this album is to contact Bob Rohan directly, at: badbob1026@aol.com.... Tell him I said "howdy!" )
Kenny Baker "Spider Bit The Baby" (OMS, 2002)



Bluegrass/old-timey fiddler Kenny Baker is no spring chicken, but he still can saw with the best of them. As with most all-instrumental fiddle albums, you have to be a real fan to appreciate a whole record of this stuff, but for those who are down with the program, this is a nice album. Baker plays both sweet and hot, and has a deft melodic twist that will make your ears perk up on tune after tune.

Bill Parker And His Motherscratchers "United We Stand" (Wrecked Em Recordings, 2002)



Cowpunky-twangcore is alive and well, as evidenced by this dissheveled Michigander quartet, which rollicks through the usual, cliched drink-too-much and sing-too-loud conventions of the style. Although I'm not real big on the whole white trash stereotype-laden, sing-lousy-'cause-that's- "country" vibe (it's just way too played out), every once in a while some of these bands hit on a good song, or, if we're lucky, they stay together long enough to outgrow the aw-shucks Cletus phase. This album has a bunch of curse-laden, Cramps-y rave-ups (and even a shambling, Pogues-style Celtic number!), all of which kind slide by without making much of an impression. But there are some nice verbal turns, lyrics that hint at possible greatness. And then there's the slow waltz, "Keep My Glass Filled," which is actually a pretty nice song. I'm not wild about this album, but you Bloodshot types out there might like it a lot.
Norman Blake & Peter Oshtroushko "Meeting On Southern Soil" (Red House, 2002)



Predictably, this collaboration between two veterans of the '70s acoustic revival is flat out fabulous. As with Blake's other releases, it's the understated mastery and pervasive love of the music that come through, and these two fellows have as much command of the material as anyone on the face of the planet. A really nice album -- quiet, evocative, full of great old songs, and a nice sense of give-and-take between the musicians. Recommended!
The Blasters "Trouble Bound: Live 2002" (HighTone, 2002)



Dave & Phil Alvin patch things up for a series of shows recorded live at the House of Blues in LA. You can bet your booty that any fan lucky enough to have skunked their way into these fab reunion concerts was as happy as can be -- before, during and after the shows. This is a great live album, showcasing the Alvin brothers at their full strength. Sounds a lot better than most concert records, with fiery guitars, a powerful rhythm section and none of the sluggishness that often accompanies this type of just-one-more-time get-togethers. If you're a Blasters fan, you won't be disappointed.
Greg Brown "Milk Of The Moon" (Red House, 2002)



A friend of mine pointed out that in recent years folkie icon Greg Brown has started to take on some of the raspy-voiced gravitas of Tom Waits or Bob Dylan: maybe the old vocal cords don't have the same strength they used to, but nowadays the emphasis is more on expressiveness and phrasing. I also hasten to point out his guitar playing continues to mature as well. I still find Brown's work to be a bit too finely crafted and precise, but this is a top-notch album in its field.
Caitlin Cary "While You Weren't Looking" (Yep Roc, 2002)



A surprising, poppy outing for Ms. Caitlin... As a Whiskeytowner, Cary had a tendency to be a bit shrieky -- here, she takes a smoother path, following in the footsteps of Mekons frontlady Sally Timms who moved out of her twangcore phase into mistier pop balladeering. Like Timms, Cary appears to be chasing the ghosts of June Tabor and Linda Thompson, and likewise, it suits her well. The songwriting is also an improvement over her country-themed Whiskeytown material; without the WTS baggage, Cary proves capable of crafting fairly smooth, haunting pop material. She even dabbles in Phil Spector-style Brill Building pop. All in all, a nice record, although longtime fans may be a bit mystified. The CD also comes (or came?) with a 4-song mini-CD with much country-er material, including an excellent duet with Ryan Adams. Good record, worth checking out.
Kasey Chambers "Barricades And Brickwalls" (Warner, 2002)



Alt.country with a tinge of Lilith Fair singer-songwriter poetics and profundity. This album has some nice songs on it, although her vocal range -- a mix of Lucinda Williams-ish growling and Rosie Flores chirps -- doesn't hold up over the course of an entire album. Paul Kelly, Buddy Miller and the mighty Lucinda all drop in for guest spots. It's okay, though a little slick and predictable.
Elizabeth Cook "Hey Y'All" (Warner Nashville, 2002)



Although she kinda lays her aw shucks, down-home persona on a bit thick, this Nashville-based hillbilly rebel certainly made me sit up and pay attention... This album is a welcome throwback to the pop-savvy hick music of years gone by, twangy yet tightly crafted, and full of good-natured intelligence and a real sense of fun. Hey Y'All is an open challenge to the glitzy overproduction of today's Top 40 country. Cook's squeaky little voice draws swift comparison to Dolly Parton, a likening she eagerly welcomes, as heard on the clever tribute, "Dolly," which humorously details the sleazy come-ons and not-so-subtle harassment a country gal must endure en route to a record contract. Cook aligns herself with old-school hillbilly holdouts like Porter Wagoner and Melba Montgomery who stuck to their rural roots in the 1960s, even as the rest of the country world got slicker and slicker. There's a little hint of early '70s countrypolitan in Cook's work, particularly on tunes like the Lynn Anderson-styled "Everyday Sunshine" and the album's super-catchy, super-poppy opener, "Stupid Things," although by today's standards Cook is practically a musical Luddite. She might not top the Billboard charts anytime soon, but folks who like their country music pure and simple might want to check this disc out. Keep your eyes on this gal!
Deke Dickerson "In Three Dimensions" (Major Label, 2002)



Awesome. Deke opens this disc out with a brace of bouncy New Orleans-style '50s-ish rockers, material worthy of Gary U. S. Bonds or Freddie "Boom Boom" Cannon. It's a style that suits him well; his vocals never sounded more natural or relaxed, and his original material sounds like an echo out of Bill Haley's broom closet. Then he shifts gear into ripsnortin' rockabilly and then into good old-fashioned hillbilly music. Sometimes the lines between genres are a little blurry (which is only natural, really, given rock's mishmashy origins...) but he uses different bands for each style. Pianist Carl Sonny Leyland backs him up on the opening tracks, along with veteran Nawlins drummer Earl Palmer and a compact trio does the honors on the rockabilly tunes, while the steel & guitar duo of Biller and Wakefield are the backbone of the hillbilly tunes. Yup, it's true: Deke just keeps getting better and better; this album is oneof his most solid sets, with only a slight lull on the slow ballad, "Bitter Tears." Fans will not be disappointed. (By the way, nice to see he's finally been able to put out a Major Label release... Available on Deke's website.)

Deryl Dodd "Pearl Snaps" (Lucky Dog, 2002)



I like this guy! Coasting on the edge of "young country" Top 40 and Joe Ely-style bar band rowdiness, Dodd has a pleasantly un-perfect voice which makes him human enough to be a little "alt"... The title track to the best-of set is pretty irresistible and catchy... it's followed up by two other great tunes, "She's Have You Back" and a nice rendition of Tom T. Hall's "That's How I Got To Memphis." From there it's a steady slide into commercial formulae, but on the whole this is a pretty decent collection. Plus, I have to confess I've always been partial to Gordon Lightfoot's "Sundown..." Dodd's version ain't as great as Lightfoot's, but that's a tough standard to live up to, and Dodd does alright. This is definitely the pop side, but worth checking out.

The Drive-By Truckers "Southern Rock Opera" (Lost Highway, 2002)



This really is not my kind of music... A twangcore/white trash stereotypes outfit that's gone for an even louder, more balls-out southern-fried sound, these guys lack the subtlety and songwriting skill that I personally look for in my hick music. This is, apparently, a song-cycle about Lynryd Skynyrd and the '70s glory days of Southern rock... It would help, though, if the Truckers could play half as well as their idols. Still, if you dig bands that are all about attitude, and little else, then this might be just your speed.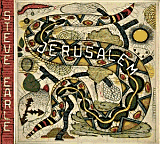 Steve Earle "Jerusalem" (E-Squared, 2002)



Earle gets all political with social commentary about the emptiness of American culture, highlighted by the controversial single, "John Walker's Blues," a first-person narrative sympathetic to the "American Taliban," John Walker Lindh. Lindh was captured as a combatant along with the El Queda army in America's post-September 11th coup in Afghanistan, and after an aggressive PR campaign by the Justice Department, became the poster child for traitorous anti-Americanism and "misguided youthful zeal." From one vantage point, Earle's song is simply another broadside in the long folk tradition of story-songs about contemporary events, including outlaw ballads about the likes of Jesse James, or tragedies such as the "Wreck Of The Old '97." But given the prevailing political climate in a jumpy, jingoistic U.S. of A, recording a song that presents a sympathetic view of Islamic jihad is an act as foolhardy as it is ballsy. The lyrical content is interesting, although there are several songs on the album that pack more musical punch. Like many of the alt.country elders, Earle is increasingly chasing a more ornate production style, with synth-rock touches surrounding his still-Dylan-y, mannered drawl. Some of it's pretty nice -- the roller-rinky "What's A Simple Man To Do?" is good bouncy fun, and other tunes like "Shadowland" recall Earle's the guitar-heavy Tom Petty-isms of his early years. This album might not be for everyone, but it's still pretty good. Vintage Earle, that's for sure.

Dave Gleason's Wasted Days "Wasted Days" (Well Worn, 2002)



A nicely-textured, soulful alt-country jam-fest, featuring veteran picker Dave Gleason, of the now-glamorously-defunct Bay Area Mod-punk outfit, the Loved Ones. Backed by a rock-solid ensemble, Gleason blends a sleazy rock vibe into soul-tinged hillbilly romps, tipping his thrift-store Stetson towards British R&B acts like the Stones and Small Faces, and even American southern rockers like Dickie Betts and the Allman Brothers, who are normally verboten in the current canon of cool. The inevitable Gram Parsons comparisons are borne out by the inclusion of "Funky String Quartet," a rarely-heard Parsons demo tune that Gleason learned off of a friend's tightly-guarded tape. The shambolic song wards off the possible objections of rock fans or hillbilly purists, defiantly declaring, "how can you really say what's country music?" as the band performs with the relaxed assurance of savvy players who could care less whether the kids think they're cool or not -- precisely the right attitude needed to make music that matters. Pedal steel player Joe Goldmark anchors the band with an authentic country touch, delivering one of the most elegant, compact performances of his career. There are a few iffy moments, but on the whole this is a very satisfying, richly pleasant album, one of the strongest roots records of recent years. Recommended!

Andy Gorwell "Uprooted" (Cavalier, 2001)



Kasey Chambers, look out! This alt.country Aussie has a major Wilco/Jeff Tweedy, Beggar's Banquet-era Stones jones, but is a real good way. The style is familiar, derivative even, but completely pleasant, with smooth, sweet guitar picking throughout. Gorwell's whole band is pretty on the ball, but his dobro playing and the pedal steel work by Ed Bates are particularly strong. The songwriting is a little predictable -- filled with American-styled nostalgic themes, songs about trains and diesels and the like -- but not in an unpleasant way. It's nice to hear such solid, good old, for-real hard country music coming out of Oceania, it's certainly better than a lot of likeminded bands here in the States. Apparently this is Gorwell's second album; with this kind of success so far, I'd say this fella is an artist to keep an eye on.

The Gourds "Cow Fish Fowl Or Pig" (Munich/Sugar Hill, 2002)



Listening to this album, I think I've finally put my finger on what, exactly, it is that I don't like about the Gourds, and why. It leaps out at you with the opening tune, "My Name Is Jorge": the trouble with the Gourds is that they are simply too glib. They're obviously talented musicians, capable of creating an irresistibly perky bounce, but with a few random exceptions, their music lacks substance or emotional resonance -- it's mostly just a cobbling together of various clever affectations, each of which is designed to draw attention to itself, and when properly combined, produce a cute, catchy country bubblegum narcosis. Yet the songs themselves, the lyrics buried underneath the bouncy melodies and the Band-ish hillbilly vocals, are insubstantive and fluffy, parades of weird-sounding words, goofy catchphrases, strange references and seeming non sequitors. It's easy to get why their playfulness and humor, combined with their instrumental aplomb, draw people in... It's music that's easy to fall into, and it's not as if the songs are completely formless or bland -- the Gourds are "quirky" and "nutty" as can be, so they get "interesting artist" points without really having to do much at all. If you're already inclined to be on their wavelength, then they can be a lot of fun, like an alt.country They Might Be Giants. But their techniques are repetitive, and I'm sure there must be more than a few people out there like myself who, once having been drawn in, start to feel a little resentful that there's not more really going on behind the the twangy dog and pony show. And plenty of others who find them just plain pretentious and irritating. If you like the Gourds already, then you'll love this album; it's one of their best to date. But if you've been waiting for them to do something different, then this disc ain't gonna surprise you much.
Nanci Griffith "Winter Marquee" (Rounder, 2002)



Nanci has always excelled at her live performances, connecting with each audience in a way that seems impossibly intimate, yet with a winsome self-affacement that bowls them over every time. Although recent albums -- both studio and live -- have slowly crept towards a by-rote professionalism, this concert album is a decisive return to form, showcasing all that is best about Griffith's live persona. Its acoustic roots run deep; the tinkling piano riffs are held in check, her vocals are impassioned and direct. After gliding through some of her best love songs, Griffith gets a little bogged down in earnest folkie political material -- maybe a song or two too many in that direction, but you do get that she's really sincere about this stuff. Anyone who's seen her live will be enchanted by this new album; it really conveys that certain something that sets Nanci above the crowd. Recommended!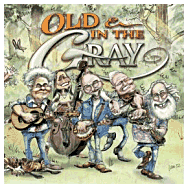 David Grisman/Old & In The Gray "Old & In The Gray" (Acoustic Disc, 2002)



A swell get-together of some of mandolin whiz David Grisman's grizzled, goofy bluegrass buddies. The lineup includes Grisman, Peter Rowan, Vassar Clements and Herb Pedersen, along with young'un Bryn Bright, who plays a might fine bass fiddle. The vibe here is playful and relaxed, running through some old favorites and crowd pleasers... highlights include the album opener, "Good Old Boys" and the spine-tingling story-song, "The Flood," which details a river rising and a community rallying to meet the crisis. If you enjoyed the Retrograss album from a few years earlier, then you oughtta love this one, too!
Corey Harris "Downhome Sophisticate" (Rounder, 2002)



Fans of Harris's sublime acoustic blues work may be a bit surprised to hear him cutting loose on this rollicking set of loudly amplified funk, electric blues and outright psychedelic guitar tunes (!) To call it a change of pace is definitely an understatement, but Harris is clearly doing a big "artistic growth" move. How much you like or dislike it is entirely a matter of taste -- the album is well produced, albeit often quite self-indulgent and excessive. But it may capture the ears of many modern blues and roots-oriented pop fans. An interesting career shift, to be sure!
John Hartford "Hamilton Ironworks" (Rounder, 2001)



The late John Hartford's last studio album may turn out to be a litle too raspy for many listeners -- filled with craggy fiddling, but less balanced by "poppy", melodic material. It's also filled to the gills with daffy digressions along the lines of his recent Good Old Boys album, oddball asides and reminiscences of various old friends and fellow musicians. As a personal epitaph these tracks may wind up being increasingly meaningful and emotionally rich, but they do tend to interrupt the flow of the album -- there are just too many of them in one place at the same time. It's interesting, though -- Hartford seems to have chosen to transform his last few records into a kind of updated version of the old folkloric recordings of the Lomaxes and Seegers, with the microphone taking down the ramblings of some charmingly eccentric old coot with a story to tell. It may take a while for this album to grow on us, but it's certainly full of rich and interesting material.

Hot Club Of Cowtown "Ghost Train" (Hightone, 2002)



Whether bold or foolhardy, these innovative Austinites have penned a slew of new acoustic swing tunes with a heavier-than-usual dose of Tin Pan Alley jazziness, much of it almost Brechtian in its thickness and lyrical density. I gotta say, even though it makes me feel smallminded to admit it, most of this doesn't really work for me -- it feels belaboured and the band sounds overly-conscious of its own efforts. Besides lacking the spontaneous-sounding bounce of earlier efforts, it also feels like each of the bandmembers are trying to prove themselves as individuals, with Elana Fremerman and Whit Smith competing to sound more "original" than each other, rather than working as an ensemble. Dave Stuckey (of Dave & Deke fame) cowrote a few tunes, although this time they asked Gurf Morlix to produce the album. Still, ya gotta give 'em credit for trying something new, and for pushing themselves as artists... I just wish they could sound a little more relaxed about it. Worth checking out, though!

Hot Rize "So Long Of A Journey: Live At The Boulder Theatre" (Sugar Hill, 2002)



A nice posthumous concert album from one of the big bluegrass supergroups of the 1980s. This album features Hot Rize at their best, professionally plowing their way through a powerful repertoire of original tunes and well-chosen oldies. This set was recorded during a 1996 reunion gig, and band gets a little looser and a little more playful than on some of their studio albums, as all concerned, including the late guitarist Charles Sawtelle, play the good stuff, all sweet and fine. Recommended!
---
---



Hick Music Index
Shop Amazon, Support Slipcue


---