<! cd=6/10/03> <! MP3 04/27/09, 06/14/13 > <! outside 00/00/00 > <! pix 06/14/13 - major overhaul > <! 208-pix: 00/00/00 > <! icons 03/19/11 > <! update 01/01/05 - didn't look up new best-ofs 06/14/13 - new pix, bigger pix, link to tributes page >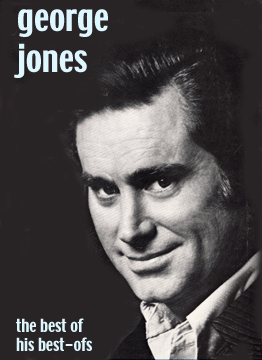 ---
As with many great artists, George Jones's original albums are for the most part sadly out of print, and the easiest way to discover his work is through best-of collections. Thankfully, there are many excellent retrospectives out on the market and, while they sometimes aren't really adequate substitutes for hearing the original albums, they are all George Jones records, and that means they kick ass. I'm not going to try and track down every George Jones reissue in the world here, but these ones are all definitely worth checking out. Long live King George!
---
George Jones Discography: 1955-67 | 1968-79 | 1980-1989 | 1990-Now | Best-Ofs & Links Tributes
---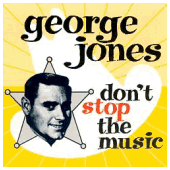 George Jones "White Lightning" (Ace, 1984) (LP)


George Jones "The Lone Star Legend" (Ace, 1985) (LP)


George Jones "Don't Stop The Music" (Ace, 1989) (CD)


These fine collections originally came out on vinyl in the UK in the early '80s, when American labels were still criminally neglecting George's back catalog. These discs concentrate on Jones's early years as a honkytonk firebrand, and even include the rockabilly numbers recorded under the goofy pseudonym, "Thumper Jones." Killer stuff, from start to finish, with definitive early versions of some of his best songs. I've also always liked the way Ace remastered this material, with a sharp sonic edge that accentuates the dynamic, explosive qualities of George's formative years. Highly recommended!
George Jones "Live At Dancetown, USA" (Ace, 1986)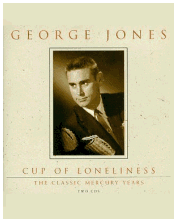 George Jones "Cup Of Loneliness" (Mercury-Nashville, 1994)


WOW. Nipping fast at the heels of Lefty Frizzell came young George Jones, whose first recordings in the mid-1950s had the same sizzle as rockabilly, but were hard country all the way. It's hard to describe just how incredibly awesome this 2-CD set of his old stuff is. Recorded between 1954-61, these are some of the rawest, liveliest, and yet most soulful honkytonk tunes ever burned into vinyl. Over the years, Jones became rightly known as country's greatest heartbreak balladeer, but these early uptempo tunes are also pretty amazing. This collection is pure gold, and if you don't yet possess it -- well, hey... what are you waiting for???
George Jones "Burn The Honky Tonk Down" (Rounder, 1983) (LP)


Back in the States, roots music dynamo Rounder Records also helped pick up the slack, with this fine set of 'Sixties weepers, lovingly culled from his Musicor years. Great stuff, with an excellent song selection. Highly recommended, even if it only has a dozen or so songs... It's all killer, no filler.

George Jones "Ragged But Right: The Starday Years Plus..." (Future Sounds, 2011)


A 3-CD budget-line reissue of his earliest work on Starday (apparently all his Starday recordings? Can anyone confirm or deny?) along with some rarities, such as his "Thumper Jones" rockabilly singles. Cool music, but the sound quality is pretty bad. This overlaps with other reissues, so you'd probably be better off searching those out, instead.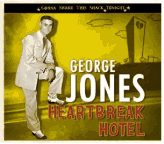 George Jones "Heartbreak Hotel: Gonna Shake This Shack Tonight" (Bear Family, 2011)


Leave it to Bear Family: a sizzling set of oldies, including a bunch of rockabilly-flavored tracks from the '50s and '60s, including rare singles from the Starday label's Dixie imprint, and a notorious Pair of rock'n'roll numbers released under the pseudonym Thumper Jones, "Rock It," and "How Come It." Heck, yeah!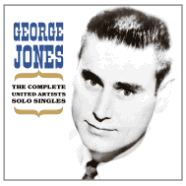 George Jones "The Complete United Artists Solo Singles" (Omnivore, 2013)


After establishing himself in the 1950s as a near-rockabilly firebrand, George Jones became a hotly sought-after artist, moving from Starday to Mercury Records, then briefly to United Artists, where he recorded several excellent albums and a lot of great singles. This collection includes the A and B-sides of all his solo singles for the label, and includes a lot of great songs that aren't often remembered as part of the George Jones canon. Things kick off with one of his best and best-known hits, the sublime "She Thinks I Still Care," and also includes a nice version of the rollicking, uptempo "The Race Is On," the heartbreaking "Just A Girl I Used To Know," as well as the gothically dark murder ballad, "Open Pit Mine," a sombre melodrama worthy of Porter Wagoner. But it's the more obscure tracks that make this album such a gem, with soulful ballads, Christmas tunes and gospel songs that show his depth and range. Looking back at Jones' career, his work for UA melts together with his many albums on Musicor, a period that many fans mistakenly see simply as a middle period between his blistering early work and his chart-topping countrypolitan epics recorded with Billy Sherrill in the '70s. But his work in the '60s is equally compelling, with Jones deepening his skills as the best song stylist in country music history, and delivering one understated gem after another. This compilation unfortunately omits a bunch of great duets with Margie Singleton and Melba Montgomery -- perhaps we'll see a collection of that stuff someday as well? Well, we can dream. In the meantime, this disc is a doozy -- highly recommended!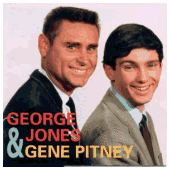 George Jones & Gene Pitney "Gene Pitney & George Jones" (Bear Family, 1994)


Amid all the business wrangling and horse trading that went on during the history of the Musicor label, which was intertwined with United Artists in the early '60s and then went indie mid-decade, poor George Jones was batted about like like a ping-pong ball in a typhoon. In 1965, he was moved decisively over to the Musicor label, and one of his first projects was a duets album with cricket-voiced teen idol Gene Pitney, who was then the hottest act on the label. It seemed an unlikely pairing, but it produced two albums, both cut the same year, George Jones And Gene Pitney and It's Country Time Again, each of which produced some moderate chart hits, and led to a third LP of hillbilly material by Pitney, The Country Side Of Gene Pitney. This CD gathers all the material off those albums, and while a few songs, like the novelty-tinged version of "Mockingbird Hill," sank to the kitschy depths many naysayers predicted, other tracks have surprising resonance and grit. It's hard to shake Pitney's image as a chirpy, melodramatic teenpop crooner, but after a while, his country side seems fairly plausible: after all, he sounds quite a bit like Hank Locklin in his youth, so what's to get riled up about, really? This is clearly not Jones' best work -- Pitney overshadows him on all but a few tracks -- but this disc is still worth picking up, if nothing else, for its sheer convenience and historical value.

George Jones & Gene Pitney "The Complete '60s Duets" (Varese Sarabande, 2005)


An affordable, domestic US version of the Bear family set listed above. This version only includes their duet numbers, and leaves out several solo vocal tracks. It's still pretty cool, though, a nice chance to hear this unlikely but quite pleasant pairing... Good stuff with some surprisingly strong performances.
George Jones & Melba Montgomery "Vintage Collections" (Capitol Vintage Series, 1995)



A fairly definitive retrospective of George's work with Melba Montgomery, one of the all-time greatest female honkytonk singers. I'm a huge, gigantic fan of both these artists, though I have to confess their 1960s duets do little for me. Still, this is Montgomery's only classic work that I'm aware of which is in print, and since she is an artist who is seriously in need of being "rediscovered", I'll recommend it on that basis alone. If you're interested in discovering cool country women, check this out, or look for other old Melba Montgomery records. (Please, Capitol... Bear Family.. somebody... PUT OUT A MELBA RETROSPECTIVE!)
George Jones "The Best Of George Jones: 1955-1967" (Rhino, 1991)


Another nice sampler of Jones's Musicor years, and again, an indie-produced set that came out before the major labels had wised up and mined George's back catalog in any meaningful way. I think the Razor & Tie collection (reviewed below) outdoes this one, but either one will do the trick.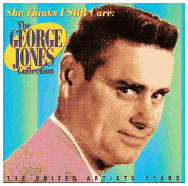 George Jones "She Thinks I Still Care" (Razor & Tie, 1997)


Most people see Jones as having two periods of real greatness: his early ripsnortin' Mercury and Starday years of the late 'Fifties, or the complex, overblown, but emotionally resonant countrypolitan recordings he did with Billy Sherrill in the early '70s. Traditional wisdom discounts the value of his in-between work, recordings done for the Musicor and United Artist labels -- but what a error in judgement that is! Sure, during that time there was plenty of studio sleepwalking on Jones' part, and forced gimmickry on the part of the labels. But there was also George Jones -- capital "G", capital "J" -- and that should speak for itself. Ole Possum is a brilliant stylist, no matter what's going on around him, and this retrospective of his late-'60s stuff is well worth checking out!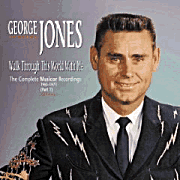 George Jones "The Complete Musicor Recordings, v.1: 1965-1971 -- Walk Through This World With Me" (Bear Family, 2009)


Following up after their jaw-dropping box set of George Jones' complete early 1960s recordings for the United Artists label, comes this lavish pair of boxes collecting all his work for producer Pappy Daily's independent Musicor label. It starts off with this 5-CD set, which is quickly followed by the 4-CD collection listed below. It's really great stuff, perhaps not as raw as his early work on Mercury, or as majestic as his countrypolitan classics recorded for Columbia/Epic, but great stuff, nonetheless. Here's George Jones, perfecting his craft as a ballad singer, still singing a few lightweight novelty songs, but mostly the man's breaking the heart of the world, summoning sorrow and pathos that is almost unmatched by any other singer in any other genre. Even when doing journeymanlike work, he was a transcendent balladeer, and this collection is a completist's dream...


<! These were George Jones' truly classic years. After more than a decade as one of country music's top stars, newfound maturity and soulfulness augmented what was already the greatest voice in country music. The six years from 1965 to 1971 that Jones spent on Musicor Records were marked by personal turmoil and unprecedented success, but through it all he kept minting one country standard after another. This is the second part of Bear Family's comprehensive two volume edition of Jones' complete Musicor recordings, covering all sessions from 1965 until 1971. Until now, the Musicor sides were randomly packaged and many were unavailable, but the two Bear Family boxes (plus one CD of duets with Gene Pitney available elsewhere on Bear Family) will tell the complete story. It was during these years that George Jones married Tammy Wynette and this set includes his earliest duets with Tammy... plus a rare duet with Johnny Paycheck! And then there are the original versions of such all-time George Jones standards as 'When The Grass Grows Over Me' 'I ll Share My World With You', 'As Long As I Live' and one of the greatest ever country classics, 'A Good Year For The Roses'! They re all here in stunningly restored sound together with 20 previously unissued recordings. In 1971, George Jones broke acrimoniously from Musicor s co-owner, Pappy Daily, who d discovered and nurtured him, to join Tammy Wynette on Epic Records. The hits would continue, but George Jones would never sound as good again! This set includes liner notes by Rich Kienzle and a complete discography by Don Roy, Kittra Moore, and Richard Weize. >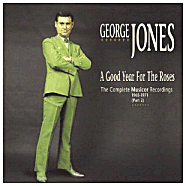 George Jones "The Complete Musicor Recordings, v.2: 1965-1971 -- A Good Year For The Roses" (Bear Family, 2009)


In this second volume, we hear, among other landmarks, George's first duets with his wife, Tammy Wynette, and the prototypical originals of classics such as "Good Year For The Roses," etc. Ignore it at your own peril.

George Jones "The Great Lost Hits" (Time-Life, 2010)



A nice, budget-priced 2-CD collection of George Jones' recordings for the Musicor label, middle-period material than some devotees say is his finest work, and which has been in reissue limbo for many, many years. For folks who are Possum-curious but unable to spring for last year's massive Bear Family box sets, this provides a good glimpse into a classic era from the man who may possibly be the greatest country singer to have ever lived. Of course the liner notes aren't as lavish or the source recordings as pristine as the import version, but the music is what matters most, and if you want to hear oldies but goodies such as "I'll Share My World With You," "A Good Year For The Roses," and "Walk Through This World With Me," this is a pretty good consumer option. The album title makes it sound like this is a treasure trove of lost demos and such, and while that is not the case -- these were all commercially available recordings from 1965-72 -- there are nonetheless a lot of less-well known songs included here, which I personally find to be a plus. I think this is the first US domestic release to feature this material since the (fab) Razor & Tie collection from over a decade ago, so longtime Jones fans and newcomers alike will find cause to celebrate this release.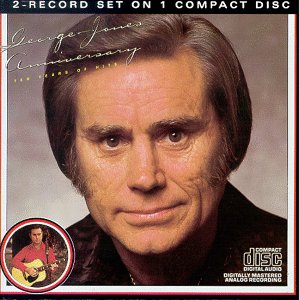 George Jones "Anniversary: Ten Years Of Hits" (Sony/Columbia, 1982)


One of the all-time greatest George Jones collections, covering the first ten years of his stint with Columbia/Epic Records, and his most stunning collaborations with countrypolitan producer/mastermind Billy Sherrill. The range of material is as impressive as Jones's soulful vocals, ranging from dumb-but-great novelty songs such as "Nothin's Ever Hurt Me Half As Bad As Losin' You" to cornball concept pieces like "The Tour," "The Battle" and other sappy duets with Tammy Wynette. The real stunners here, though are "Bartender's Blues," with its incredible chorus, and "He Stopped Loving Her Today," which will remain, unchallenged, as the most over-the-top contry concept song of all time. Both songs are also prime examples of Jones at his utmost peak, heart-wrenching hard country that just plain gits ya every time. This is a flawless, must-have collection... Highly recommended!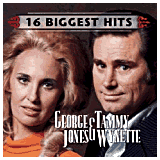 George Jones & Tammy Wynette "16 Biggest Hits" (Epic, 1999)



This CD is notable because it has several fine middle-ranked '70s hits that didn't make it onto standard-issue George Jones best-ofs, including "Take Me," "Jet Set," "Let's Build A World Together," "God's Gonna Getcha For That" and "Southern California..." These may not be the most classic works to have ever come from the Sherrill studios, but they're definitely worth tracking down. There may be slightly grey sound quality on the mastering of this disc, though.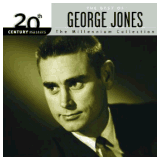 George Jones "Millennium Collection -- The Best Of George Jones" (MCA Nashville, 2000)



George Jones "Millennium Collection -- The Best Of George Jones v.2: The '90s" (MCA Nashville, 2002)



Volume One of this series is too much of a cheapie budget line disc -- thirty minutes for one CD hardly seems worth the shelf space, especially for an artist as prolific and influential as George Jones. But Volume Two is a little more interesting... This modestly-programmed collection is a good overview of his final work for the MCA label from 1991-98. The disc opens with Jones struggling to feign interest in the rock-oriented "young country" sound; the problem was with the formula, not with his singing, which remains great to this day. Still, there are some notable songs, such as "Wrong's What I Do Best," but where things really started to click is on "High-Tech Redneck" and "Walls Can Fall," songs that marked the start of a commercial and creative renaissance that finally got George engaged on an emotional level again. This may be about as much of his music from the period as most folks would need, although diehard fans will also want to track down the original albums.
George Jones "The Essential George Jones" (Sony-BMG Legacy, 2006)


Making the most out of their recent mega-merger, the Sony-BMG conglomerate has culled through George Jones's multilabel catalog on Mercury, United Artists and Epic records, combining them on this one 2-CD set. This encompasses his underrated 1960s work as well as the earthshaking, soul-rending, super-sad countrypolitan classics made with producer Billy Sherrill in the early 1970s, then finally traces the tapering off of George's hitmaking years. The thing about George Jones, though, is that he started out great, and remains that way to this very day. This is a good overview of his career; future retrospectives can only get better.
George Jones "Hits" (Vanguard, 2011)


In honor of his 80th birthday(!) what could be better than an avalanche of groovy George Jones reissues and best-of collections? This 2-CD best-of set has plenty of great stuff for fans old and new... And if you think you've heard it all on other albums, well, apparently there are two previously unreleased tracks here, just to make your mouth water and your palms sweat... Must... hear... more... George!!
George Jones "George Jones/I Wanta Sing" (Raven, 2011)


A straight reissue of two Epic Record releases, 1972's George Jones, which includes the #2 hit, "Loving You Could Never Be Better," and "We Can Make It," which cracked the Top Ten. The by-rote I Wanta Sing, from 1977, was a less successful record, but as with almost all George Jones albums, there are hidden nuggets that are worth checking out.


<! And, George, I don't think there's anyone here that wants to try and stop you...! In a certain sense, this is Jones doing it by rote again, but damn, if he didn't do it so well. This album is worth tracking down because so little of it wound up on the definitive Epic Anniversary collection (and the song, "Old King Kong," is hardly his greatest effort...) Plenty of hidden nuggets here, as well as some iffy novelty tunes, like the CB-er trucker song, "It's A 10-33 (Let's Get Jesus On The Line)," but also plenty of fine, over-the-top weepers. Just the way we like 'em. >
George Jones "Who's Gonna Fill Their Shoes/Wine Colored Roses" (Raven, 2011)


Another twofer reissue, 1985's Who's Gonna Fill Their Shoes and Wine Colored Roses from 1986 -- both albums were modest successes, recorded when Jones life was at an ebb, but as always, there's plenty there that's worth checking out.
---
George Jones Discography: 1955-67 | 1968-79 | 1980-1989 | 1990-Now | Best-Ofs & Links Tributes
---
---