<! MP3 04/27/09, 03/17/11- added some LP ASINs > <! update 04/27/09 > <! outside 00/00/00 > <! pix 00/00/00 > <! 208-pix: 00/00/00 > <! icons 03/17/11 >
---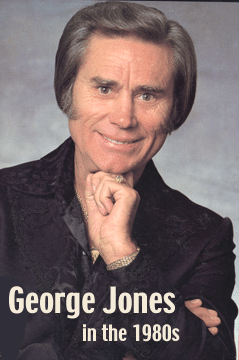 This page looks at the records made in the 1980s by country legend George Jones. That nervous, eager-to-please look Jones had back then comes from a life lived hard, and a precipitous career slide that saw him starting the decade at a commercial peak, followed by a swift descent into personal and professional disarray, due to heavy drinking and drug abuse. Still, the amazing thing about George is that, even when his world was falling apart, he was able to make some of the most amazing country music you'll ever hear. Here's a quick look at a few of his records that may have fallen off the radar a bit. Where noted, these albums have been issued on CD.
---
George Jones Discography: 1955-67 | 1968-79 | 1980-1989 | 1990-Now | Best-Ofs Tributes & Links
---

George Jones "I Am What I Am" (Epic, 1980)



George Jones & Tammy Wynette "Together Again" (Epic, 1980)



Even with all the years of bad will and bad vibes, sometimes it pays to stick with a winning formula. Some sappy stuff, some classics. And man, could they harmonize!
George Jones "Still The Same Old Me" (Epic, 1981) (LP)

George Jones "Encore" (Epic, 1981) (LP)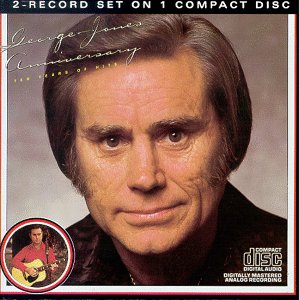 George Jones "Anniversary: Ten Years Of Hits" (Epic, 1982)


An absolutely colossal anthology of George's best work on the Epic label. Oh, sure, no single CD, even one that was originally a 2-LP set, is gonna get everything you should hear by George Jones (that's why you should also own all the albums!) but for my money, this is the best best-of of his that's available. Other collections seem a little too long, and none are as well paced as this, balancing pathos and comedy, from soul-wrenching schmaltz like "He Stopped Loving Her Today" and "Bartender's Blues," to dopey wonders such as "Ole King Kong" and "Nothin's Ever Hurt Me (Half As Bad As Losing You)" (which remains one of my all-time favorite George Jones songs...) The other reason to pick this up is that this is the only place that some of these songs have made it onto CD... And they are all definitely worth hearing! Not a lot of Goerge & Tammy material, but that stuff has a different vibe, and besides... what's wrong with a little unadulterated, 180-proof Possum? Highly recommended.
George Jones & Merle Haggard "A Taste Of Yesterday's Wine" (Epic, 1982)


George Jones "Shine On" (Epic, 1983)


George Jones "Jones Country" (Epic, 1983) (LP)





<! is there a CD ASIN? hard to track down b/c of generic album title >

George Jones "You've Still Got A Place In My Heart" (Epic, 1983) (LP)

George Jones/Various Artists "Ladie's Choice" (Epic, 1984)

George Jones "By Request" (Epic, 1984)


George Jones "Who's Gonna Fill Their Shoes?" (Epic, 1985)


George Jones "First Time Live" (Epic, 1985)


George Jones "Wine Colored Roses" (Epic, 1986)

George Jones "Too Wild Too Long" (Epic, 1987)


George Jones "One Woman Man" (Epic, 1989)



A fine, funny, unpretentious album that kicks off with a rollicking version of the title track -- a cover of an old Johnny Horton hit -- and just gets better from there. There are some great mopey weepers, like "Burning Bridges" and "Don't You Ever Get Tired Of Hurting Me," but the album's most distinctive material may actually be over-the-top novelty songs like "The King Is Dead," in which George laments the demise of an Elvis-shaped whiskey bottle, and "Pretty Little Lady From Beaumont, Texas," a fantasy tune where he bags a foxy oil heiress... That one's a little more strained, but still thoroughly enjoyable. I know it's fashionable to write off George's late '80s material, but albums like this sure sound fine to me.
George Jones/Various Artists "Friends In High Places" (Epic, 1989)



Emmylou Harris, Buck Owens, Randy Travis and Vern Gosdin are some of the guest artists pitching in on this decade-closing album, as well as some young'uns such as Shelby Lynne and Ricky Van Shelton.
---
George Jones Discography: 1955-67 | 1968-79 | 1980-1989 | 1990-Now | Best-Ofs Tributes & Links
---



Hick Music Index



---

<! cd=6/10/03>