<! MP3 04/27/09 > <! update 04/27/09 - need stuff after '03 > <! outside 00/00/00 > <! pix 00/00/00 > <! 208-pix: 00/00/00 > <! icons 03/19/11 >
---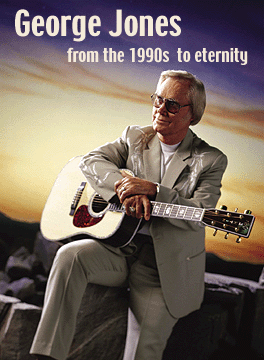 The 1990s were are a remarkably productive, innovative period for country legend George Jones. He started off a little on the slow side, but album by album he picked up steam, and passed through the millennium not only alive and kicking, but seriously kicking butt as well. Anyone who'd written George off as a raspy old-timer whose golden years had come and gone really oughtta take another look at these albums.. y'all might be surprised!! And he just keeps on going... Go get 'em, George!
---
George Jones Discography: 1955-67 | 1968-79 | 1980-1989 | 1990-Now | Best-Ofs Tributes & Links
---
George Jones "You Oughta Be Here With Me" (Epic, 1990)


George Jones "Hallelujah Weekend" (Epic, 1990)





<! originally recorded in 1979? 1. Mama's Family Bible Listen 2. Picture from Life's Other Side Listen 3. Me and Jesus Listen 4. We Oughta Be Ashamed Listen 5. Devil Is Gathering Firewood Listen 6. Would They Love Him Down in Shreveport? Listen 7. Swoop Down, Sweet Jesus Listen 8. (It's the Bible Against the Bottle) The Battle for Daddy's Soul Listen 9. Hallelujah Weekend Listen 10. Jesus Saves Today Listen 11. We Love to Sing About Jesus [*] - George Jones, Tammy Wynette Listen 12. Old Fashioned Singing [*] - George Jones, Tammy Wynette Listen 13. Let's All Go Down to the River [*] - George Jones, Tammy Wynette Listen >

George Jones "And Along Came Jones" (MCA, 1991)


George Jones "Walls Can Fall" (MCA, 1992)


George Jones "High Tech Redneck" (MCA, 1993)


George Jones "Bradley's Barn Sessions" (MCA, 1994)


Tammy Wynette & George Jones "One" (Epic, 1995)


George Jones "I Lived To Tell It All" (MCA, 1996)


George Jones "It Don't Get Any Better Than This" (MCA, 1998)



George Jones "Cold Hard Truth" (Asylum, 1999)



George Jones is, without doubt, one of the great all-American screw-ups... as well as one of our all-time greatest singers. A relentless, legendary drunk and a once-flaky performer with the nickname of "No-Show Jones," his career has been a blurry series of burning bridges and frustrated record labels. Yet, Jones is also a unlikely survivor born under a remarkably lucky star. Over the last decade, his cleaner, more sober lifestyle has led to a string of excellent albums, but has also made him the country music poster child for substance abuse/recovery & reflection. Rueful ballads about alcoholics and hard-bitten losers have become his trademark, which is fine, since when a guy like George Jones sings one of those songs, you're forced to pay attention. Still, when he smashed his SUV into a highway railing early in '99 -- demolishing several yards of concrete, puncturing a lung, and slipping into a two-week coma -- it looked as if George had finally run out of luck. Although he recovered, this album was cloaked with an aura of reverence and remembrance that's a little worrisome. The booklet contains dozens of scrapbook photos from throughout his life, and the liner notes use hushed tones which border on an epitaph. The ten new tracks, which were all that Jones was able to record for his new label before his accident, are all excellent -- better, even, than the material on his recent top-notch albums for MCA. Whereas in the 1960s and '70s he was famous for brilliantly sleepwalking his way through his albums, here it's clear that George Jones was putting his all into the music, and this is a fine album full of heartbreak and misery which will not disappoint the hard country fan.


<! also MP3: B001OGTOQA >

George Jones "The Rock" (BMG/BNA, 2001)



Ol' George has adapted pretty well to the "young country" style, so much so that this slick new album is a little less striking than his last few albums, although it's still a lot of fun. One highlight is the Vietnam War tribute, "50,000 Names," which for George is an unusual dip into political material. There are some good weepers, too, but the uptempo material is generally the strongest stuff on here. The hit single, "Beer Run," a duet with Garth Brooks did surprisingly well on the Nashville charts... (yay, George!)... and put ol' Possum back in the public eye. Though a little on the slick side, this disc is well worth checking out, particularly if you're a Jones fan to begin with.


<! 04/09: B00138CXUS MP3 link not really active, but there is a listing >

George Jones "The Gospel Collection" (BMG/BNA, 2003)



Another amazing late-career album by the indefatiguable George Jones. His old pal, Billy Sherrill, came out of retirement to helm the production of these two dozen tracks, and it's all top-notch material, striking just the right balance of solemnity and schmaltz. These are mainly old gospel standards, from "Amazing Grace" and "What A Friend We Have In Jesus," along with some newer songs, such as "When Mama Sang (The Angels Stopped To Listen)," all delivered with the seriousness and soulfulness that are George's trademark style. Anyone, from a true Southern Gospel aficianado to a diehard honkytonk fan, should be able to jump on board with this one. Talk about heavenly!
George Jones "Hits I Missed... And One I Didn't" (Bandit, 2005)


George Jones/Merle Haggard "Jones Sings Haggard, Haggard Sings Jones: Kickin' Out the Footlights... Again" (Bandit, 2006)

George Jones "God's Country: George Jones And Friends" (Category Five, 2006)


Weird record. There's one new song from George -- the title track -- but mostly these are some of his old songs -- "Walk Through This World With Me," "Window Up Above," "White Lightning," etc. -- sung by other artists -- Mark Chesnutt, Tracy Lawrence, Joe Diffie, Tanya Tucker and others. It's sure not a gospel album, either: the one actual duet on here is "Beer Run," sung with Garth Brooks. It's an odd collection, with misleading packaging, but hey, it's still got a new George Jones song on it! That's gotta count for something.
George Jones "Burn Your Playhouse Down: The Unreleased Duets" (Bandit, 2008)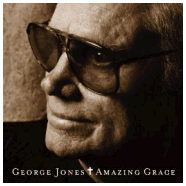 George Jones "Amazing Grace" (Welk Music Group/Bandit Records, 2013)



(Produced by Billy Sherrill & Brian Ahern)
It's fitting that one of the first George Jones records to come out after his passing is a set of gospel songs... He may have lived a hard life, but Jones could sing about heaven and Jesus and redemption and really put some feeling into it. These were the last recordings Jones made with his old producer Billy Sherrill, and are fine examples of the level of emotion Jones could put into gospel music, even when he was getting kinda long in the tooth himself. Also included is a bonus track produced by Brian Ahern during the 1993 "Bradley Barn" sessions, that features guest vocals from Jessi Colter, Waylon Jennings, Ricky Skaggs, Marty Stuart and Connie Smith... pretty nice company! Definitely worth checking out.


<! This album is from sessions originally recorded in the early 1990s, a period when Jones set a lot of people back on their ears, at least anyone that was paying attention at the time. WHEN WAS THIS MADE??? >

---
George Jones Discography: 1955-67 | 1968-79 | 1980-1989 | 1990-Now | Best-Ofs Tributes & Links
---



Hick Music Index



---
Top photo by Jim Shea, courtesy of BMG/BNA Records.
---

<! cd=6/10/03>