<! MP3 04/27/09 > <! update 04/27/09 > <! outside 00/00/00 > <! pix 00/00/00 > <! 208-pix: 00/00/00 > <! icons 03/17/11 >
---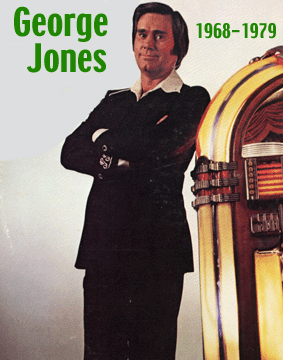 The 'Seventies was a glorious, dismal decade for George Jones. At the end of the 1960s he met and married up-and-coming country singer Tammy Wynette, and was lured along with her to the Epic record label, where he recorded what was perhaps the best material of his career. Countrypolitan producer Billy Sherrill took Jones's raw talent and polished it into a radiant jewel of pure, soul-drenched, concentrated misery. Sherrill was perhaps the first record producer to really realize Jones's full potential, framing him more as a soul balladeer than as a hillbilly nut (which is the image the suits as Musicor tended to steer him towards...) The result was a true renaissance of the art form, the emergence of an artist who brought country crooning to soul-trembling heights. George also recorded his fair share of wimpy material (mainly with Tammy, who often had a saccharine effect on his work) and toss-offs, but his classics from this time period are real stunners, material that can go up against the best music in any other pop style. Of course, by the end of the decade his life was falling apart, but then again, it pretty much always was... So here's a quick look at George's great, golden era...
---
George Jones Discography: 1955-67 | 1968-79 | 1980-1989 | 1990-Now | Best-Ofs Tributes & Links
---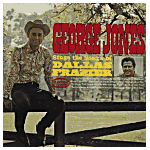 George Jones "Sings The Songs Of Dallas Frazier" (Musicor, 1968) (LP)


An early homage to songwriter Dallas Frazier, who was just starting to make a name for himself in the country scene... Actually one of George's better albums from the end of his Musicor tenure...


<! LP - B000LZCO6M >

George Jones "If My Heart Had Windows" (Musicor, 1968)



<! LP - B001IDF7PQ >

George Jones "The George Jones Story" (Musicor, 1968)
A fine 2-LP set, and one of the easier-to-find Musicor best-ofs. A typically slapdash production, but awesome music.


<! LP - B001EEHW9I >

George Jones "My Country" (Musicor, 1968)





George Jones "I'll Share My World With You" (Musicor, 1969)
Tammy Wynette appears on the album cover along with George, an glimpse of things to come, particularly their move to Epic Records, and their immortalization as the king and queen of country music during the early '70s countrypolitan boom. Another nice record for George, even with the lackluster Musicor backings.


<! LP B001MSC750 >

George Jones "Where Grass Won't Grow" (Musicor, 1969)





George Jones "Country Heart" (Musicor, 1970)
Another best-of.


<! LP - B001AW980A >

George Jones "Will You Visit Me On Sunday?" (Musicor, 1970)



<! LP - B001IDEZHW >

George Jones "The Great Songs Of Leon Payne" (Musicor, 1971)


A fine collection culled from various '60s Musicor albums and singles, gathering George's versions of the songs written by master tunesmith Leon Payne, one of the most underrated postwar honkytonk composers. Of the albums thrown together after Jones left for Epic, this is definitely one of the most thoughtfully assembled, and least opportunistic... definitely worth owning!
George Jones "George Jones" (Epic, 1972)

George Jones & Tammy Wynette "We Go Together" (Epic, 1971)








George Jones & Tammy Wynette "Me And The First Lady" (Epic, 1972)



<! LP - B000FWAVYS >
George Jones & Tammy Wynette "Let's Build A World Together" (Epic, 1972)



George Jones & Tammy Wynette "We Love To Sing About Jesus" (Epic, 1972)



Yup. You sure do.
George Jones "A Picture Of Me Without You" (Epic, 1972)


George Jones "Nothing Ever Hurt Me" (Epic, 1973)



George Jones "In A Gospel Way" (Epic, 1973)

George Jones & Tammy Wynette "We're Gonna Hold On" (Epic, 1973)

George Jones "The Grand Tour" (Epic, 1974)

George Jones "The Best Of" (Epic, 1975)
Well, in the time-honored tradition of Jones's record labels, it didn't take Epic long to roll out a best-of collection as well... And it's an okay set, but maybe a little preamture. A good way to assess his progress early on in the decade, which was certainly strong, but nothing compared to the successes to come.
George Jones "Memories Of Us" (Epic, 1975)


Recorded in the wake of his divorce to Tammy Wynette, and at the peak of his most reckless drinking and drugging years, this is, undeniably, another one of the great George Jones/Billy Sherrill collaborations.
George Jones "The Battle" (Epic, 1976)

George Jones & Tammy Wynette "Golden Ring" (Epic, 1976)

George Jones "Alone Again" (Epic, 1976)



It's almost physically painful to hear Jones sings semi-autobiographical songs such as "A Drunk Can't Be A Man" and "I Can Stand On My Own Two Knees..." On one hand, it's easy to write this stuff off as schtick, but if you know enough about George's private life -- or if you really listen to him sing the words -- you can kinda tell George really meant it. Harsh, harrowing tunes of serious, country-themed self-loathing, taken to an extreme that makes it both high camp and high art. This is another Jones album that's worth tracking down so that you can hear the non-hits as well.

George Jones "All-Time Greatest Hits" (Epic, 1977)



What, again? Oh, okay. I'm not complaining. These are snappy '70s re-recordings of old hits such as "White Lightning," "The Race Is On," "Why Baby Why," etc. Pretty darn nice, but also kinda contractual-obligation-y.
George Jones "I Wanta Sing" (Epic, 1977)


...And, George, I don't think there's anyone here that wants to try and stop you...! In a certain sense, this is Jones doing it by rote again, but damn, if he didn't do it so well. This album is worth tracking down because so little of it wound up on the definitive Epic Anniversary collection (and the song, "Old King Kong," is hardly his greatest effort...) Plenty of hidden nuggets here, as well as some iffy novelty tunes, like the CB-er trucker song, "It's A 10-33 (Let's Get Jesus On The Line)," but also plenty of fine, over-the-top weepers. Just the way we like 'em.


<! LP - B001OXOZBC >

George Jones "Bartender's Blues" (Epic, 1978)



The title track, a duet with soft-pop balladeer James Taylor, is one of Jone's greatest, stone-cold classics. It's backed up by other lowkey gems, such as "I'll Just Take It Out In Love" (a fine example of an iffy novelty song that George makes ring with gutwrenching emotion), "If You Loved A Liar" and "Ain't Your Memory Got No Pride At All." The second side of the album lightens up a bit, with goofy tunes like "Ain't Got No Business Doing Business Today" and "(When Your Phone Don't Ring) It'll Be Me," as well as "Leaving Love All Over The Place," which is one of the raunchiest and (pardon the pun) spunkiest country tunes ever written... truly an audacious piece of hillbilly literature. The best songs on this album have been consistently anthologized over the years, but like many of his records from this period, it's worth owning the original album so you can hear the other tunes as well. Highly recommended!
George Jones "My Very Special Guests" (Epic, 1979)



George may have hit rock bottom in his personal life when this duets album was being made, but it still has its magical moments. Epic not only capitalized on the commercial success of his collaboration with James Taylor, but also paired him up with country stalwarts such as Emmylou Harris, Waylon Jennings, and Willie Nelson (on "I Gotta Get Drunk," naturally), as well as a few unlikely guests such as gospel singers Mavis and Pops Staples and -- get this -- punk-era tunesmith Elvis Costello (!), a music industry newcomer whose tounge-in-cheek country epic, "Stranger In The House" was rightfully pegged as a song well suited to George's ouvre. The Johnny Paycheck tune was a misfire (a mistake amplified on George's next release...) but the rest of this album's has a slapdash feel, yet this is definitely worth checking out.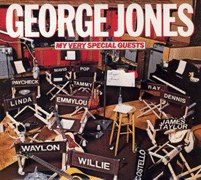 George Jones "My Very Special Guests" (Sony Legacy, 1979/2005)



An expanded, 2-CD set with tons of extras. Trust me: you gotta get this one. By the end of the 1970s Jones rounded a corner artistically, rekindling the magic in his relationship with producer Billy Sherrill, and delivered stellar singles such as "Bartender's Blues," a 1978 duet with James Taylor (which is included on this set) and -- in 1980 -- the weepy single that may be his greatest recording ever, "He Stopped Loving Her Today." When it first came out in 1979, this 10-song celebrity guest-fest My Very Special Guests was greeted with skepticism and disparagement and, indeed, the project was rife with what could charitably be called missed opportunities. The teamup with Waylon Jennings that kicks off the album -- a cover of Willie Nelson's "Night Life" -- is a musclebound disaster, and other tracks, such as clunky pairings with a coked-up Johnny Paycheck and the mumbly, too-cool Elvis Costello, also fall flat. But then there are the gems, like "Bartender's Blues," and a number with his ex-wife Tammy Wynette, or a surprisingly strong collaboration with the guys from Dr. Hook, as well as a soul-piercing duet with Emmylou Harris ("Here We Are") that'll just make you melt, it's so damn pretty. So much for the original album... Now let's talk about the super-groovy, expanded, deluxe reissue that adds an extra disc-and-a-half of "new" material, gathering some of the finest duets Jones has sung in the last twenty-five years. Disc One rounds off with eight extra tracks, all of which are pretty solid, except for a painful trainwreck involving bluesman B.B. King and a shrill, horribly misguided cover of Clarence carter's old hit, "Patches." Other than that, though -- Randy Travis? Ricky Van Shelton? Ralph Stanley? Ricky Skaggs? All these guys tipping their hats to the master of the country heartsong? Count me in. Plus, it's got the fab Patty Loveless hit, "You Don't Seem To Miss Me," which is just one of the finest country ballads ever recorded, so I'm happy. Disc Two is even better. "Yesterday's Wine" with Merle Haggard was a deservedly big hit back in '82, and there are some fine, lesser-known tracks like those with Lacy J. Dalton and Deborah Allen that're also kinda fun... Appearances by Johnny Cash, Buck Owens and Ray Charles are okay -- they do the job, but that's about it -- while a series of tracks featuring 'Nineties neotraditionalists like Mark Chesnutt and Alan Jackson will knock your socks off. Of course, more than a few singers have styled themselves after Jones's soul-rending style, so it's particularly fun to hear him hanging out with folks like Vern Gosdin and Sammy Kershaw, who might be imitators, but who also had the real stuff. The Kershaw track, "Never Bit A Bullet Like This," is a real earbender: Jones and Kershaw sound so much alike that you really couldn't tell who sang which part if it weren't for them dropping each other's names as the song fades out. This is a nice reissue, a real class act, although the decision to limit its scope to the 1980s and '90s is a little unfortunate, since it leaves out a few great tunes that would've made the package complete. ("Beer Run," with Garth Brooks and "Bag Of Bones with T. Graham Brown come to mind for starters...) But overall, what's to complain about? This is a nice collection that'll help you hear a lot of fine material that'd take a bit of effort to track down otherwise... Recommended!

George Jones & Johnny Paycheck "Double Trouble" (Epic, 1979)



Blechh. A drug-ridden George Jones teams up with another notorious ne'er-do-well, his former bandleader and drinking buddy Johnny Paycheck, to sing a hurried, messy series of rock oldies covers and so-so novelty tunes. This is one of the very few George Jones albums that could be called outright bad. In fact, this hyperactive, coked-up frolic is such a terrible, unthoughtful, soulless effort that it's probably the only George Jones album that simply isn't worth owning. It's that bad. Really.
---
George Jones Discography: 1955-67 | 1968-79 | 1980-1989 | 1990-Now | Best-Ofs Tributes & Links
---



Hick Music Index



---

<! cd=6/10/03>