<! MP3 09/21/09 > <! outside 00/00/00 > <! pix 00/00/00 > <! icons 12/16/10 > <! UPDATES: 09/21/09 - no adds 04/16/21 - de-Amazoned > <! Union Springs >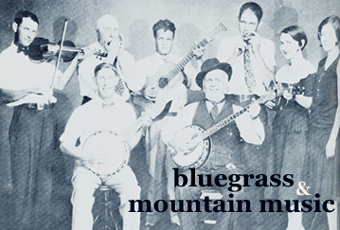 ---
Hi, there... This page is part of the Slipcue guide to various bluegrass artists, which is part of a much larger Hick Music website. This "guide" is not meant to be comprehensive or authoritative, just a quick look at a few records I've heard recently, as well as some old favorites. Comments or corrections are invited... and recommendations are always welcome!
This page covers the letter "U"
---
A | B | C | D | E | F | G | H | I | J | K | L | M | N | O | P | Q | R | S | T | U | V | W | X, Y & Z | Comps | Other Country Styles
---
Donna Ulisse - see artist discography
Uncle Earl "She Went Upstairs" (2002)

Uncle Earl "Raise A Ruckus (EP)" (2005)


Uncle Earl "She Waits For Night" (Rounder Records, 2005)
Cool stuff. There's some overlap between this all-gal bluegrass/old-timey band and other eclectic modernists such as Be-Good Tanyas, et al., but the Earlies also dig deep into the spookier, darker, more inaccessible side of mountain music -- not so much the craggy, "bent" rhythms of the old-time crowd as the eerie, mournful, pre-bluegrass melodies that were channelled directly from the Celtic isles into the Appalachian tradition. Mostly, I'm thinking here of the fiddle work of Rayna Gellert, who lingers where other players might have the urge to gallop, and whose rich-toned, graceful bow work is one of the most striking elements of this noteworthy album. The song selection is also great, including a few nice original songs and a slew of traditional tunes, and the vocal harmonies add a nice, joyful quality as well. The soulful/bluesy vocals bring the Tanyas to mind, which a lot of people is a good reason to run out and track this record down... What caught my attention, though, was the glowing praise from Dirk Powell, one of the finest traditional musicians in America... If he's on board, so am I! Check this one out.


<! 144 x 144 >

Uncle Earl "Waterloo, Tennessee" (Rounder Records, 2007)
Oh. My. Goodness. Now, see, I kinda liked this quartet's previous album, but I am completely floored by this one. A lovely set by one of the freshest-sounding, most creatively engaged combos on the bluegrass/old-timey scene today. The four gals in Uncle Earl -- Kristin Andreassen, Rayna Gilbert, K.C. Groves and Abigail Washburn -- dig deeper into the pre-bluegrass stringband tradition than anyone this side of Dirk Powell, but they do it without getting caught in the more-unlistenable-than-thou, stylistic purity trap. Unafraid to smooth out the rough spots, they've crafted a wonderfully, delightfully listenable album, cohesive and continually revelatory, admirably diverse but cannily programmed, so that one song flows easily to the next. But just when you started getting lulled into the fuzzy zone, some new surprise leaps out at you -- Washburn yodeling in Chinese, the quartet harmonizing on a sweet, archaic shape-note tune, the g'Earls knocking a Carter Family tune clean out of the park. I dunno... I suppose I could go on and on, but suffice it to say this disc is a winner. Run, don't walk, down to your local record hut and snap this puppy up. You'll be glad you did.


<! 144 x 144 > <! Uncle Earl "Going To The Western Slope" (EP) (2004) >

Uncle Henry's Original Kentucky Mountaineers "Uncle Henry's Original Kentucky Mountaineers" (BACM)





Jay Ungar & Molly Mason "Brother's Keeper" (Soundtrack) (Angel Records, 1993)
Re-released under the title, Waltzing With You.




Jay Ungar & Molly Mason "The Lover's Waltz" (Angel Records, 1997)





Jay Ungar & Molly Mason "Civil War Classics: Live At Gettysburg College" (1994)





Jay Ungar & Molly Mason "Harvest Home: Songs For All Seasons" (Angel Records, 1999)





Jay Ungar, Molly Mason & James Galway "Song Of Home: An American Musical Journey" (RCA, 2002)





Jay Ungar & Molly Mason "Waltzing With You" (Soundtrack) (Angel Records, 1998)
Music from the film, Brother's Keeper. Previously released under the title of the movie.



Jay Ungar & Molly Mason "Relax Your Mind" (Angel Records, 2003)
A perfect mix of all that is great and good about American acoustic music. The album title is a nostalgic nod towards the old Jim Kweskin/Leadbelly anthem, and like the early '60s jug bands, this disc is a model of versatility and stylistic depth, mixing bluegrass, blues, folk and acoustic jazz with equal ease. On my first listen I thought I'd heard the influence of guitarist David Bromberg: turns out it wasn't just his influence: Bromberg plays on several tracks, and the album is drenched with his good-natured, boozy bonhomie. There are soft, melodic fiddle tunes and waltzes, a bit of Bob Wills swing, goofy folk-club novelty songs like Mason's "Bad Attitude" and Guy Clark's "Homegrown Tomatoes," and touches of sheer genius such as the New Orleans jazz woven into the old Delmore Brothers hit, "Blues Stay Away From Me." The band, Swingology, is playing at the top of its game, yet has that aw-shucks, front porch informality that the bluegrass/old-timey crowd so wisely values. This is a really sweet record, well worth picking up.


<! 144 x 144 >


Union Station -- see artist discography


<! Dick Unteed "...And The Pine Mountain Boys" (Rural Rhythm, xxxxxxxx) Dick Unteed "More Country Comedy Songs" (Rural Rhythm, xxxxxxxx) Today, the spotlight is on the late Dick Unteed, a Country/Bluegrass singer from Ohio, known as the "Singing Emcee". He was also a record producer and affiliated with the legendary, now-defunct ROME RECORDING STUDIO in Columbus, Ohio. In this post I am presenting two albums Dick cut with the Pine Mountain Boys, a group of local musicians which included, among others, Jack Casey on Guitar and Danny Milhon on Dobro. Dick Unteed - Rural Rhythm RRDU 2113 - Presents The Pine Mountain Boys (1967) Dick Unteed: guitar, lead vocals Edd Clay: banjo, tenor vocals Jack Casey: guitar, tenor vocals Dick Brickles: bass Danny Milhone: dobro guitar Herb Collins: fiddle 01 - Never Hit Your Grandma With A Shovel 02 - Peggy O'Neal 03 - Zeb Tourneys Gal 04 - Did You See My Daddy Over There 05 - Steamboat Bill 06 - Dreaming With Tears In My Eyes 07 - Little Box Of Pine On That 729 08 - Whe The Sun Goes Down 09 - Will The Angels Play Their Harp For Me 10 - Wreck Of the Titanic 11 - Big Ball In Nashville 12 - That's How I Got My Start 13 - Irish Totem Pole 14 - Outcast 15 - Golden River 16 - Don't Let Your Deal Go Down 17 - Good Old Country Town 18 - Oh How I Miss You Tonight 19 - Kentucky Home 20 - Wait Till The Sun Shines Dick Unteed - Rural Rhythm RRDU 212 - More Country Comedy Songs (1968) Dick Unteed: lead vocals, guitar Ross Branham: banjo Danny Milhon: dobro Red Hartley: bass Jack Casey: rhythm guitar Sid Campbell: guitar 01 - 11 More Months and 10 More Days 02 - Alabama Jubilee 03 - I Want My Rib (Lost Rib) 04 - Sweet Talking You 05 - Pray For The Lights To Go Out 06 - Lady's Man 07 - Silver Dollar 08 - Ace In The Hole 09 - Pat Malone Forgot He Was Dead 10 - Papa's Getting Old 11 - That Crazy War 12 - Take It Back and Trade It For A Boy 13 - Going Down Grade 14 - Same Old Sheleleligal 15 - Why Do You Girl Wear Britches 16 - Cheating On You Baby 17 - It Cain't Be Done 18 - Tight Wad 19 - Devil On My Shoulder 20 - Please Hang My Boy (The Dream) >
Upland Express "Upland Express" (Leather Records, 1979) (LP)


(Produced by Gene Elders)
No muss, no fuss progressive bluegrass, with lots of rock and country covers played in a straightforward traditional picking style... Not dazzling, but easy on the ears and a nice document of a regular-folks local band playing their little hearts out. Highlights include their versions of Jerry Irby's "Drivin' Nails In My Coffin" and the Band's "Up On Cripple Creek"; they also cover the Beatles, the Rolling Stones, Michael Nesmith and Buffalo Springfield, along with hoedown standards such as "Pig In A Pen," "Turkey In The Straw" and "Little Cabin On The Hill." This Virginia-based band included brothers Rickie and Ronnie Simpkins on fiddle and bass, banjo picker Barry Collins, Ken Farmer on guitar, and a 15-year old girl singer, Tonya Gibson, who sings lead on several tracks and harmony on others. (I think she may have gone on to sing or write some Southern Gospel music later on, but I'm not sure if she played in many other bluegrass bands...)


<! - #LBG 7709 >

Upland Express "Country Boy's Dream" (Cascade Records, 19--?) (LP)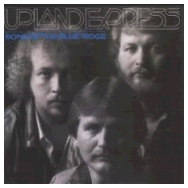 Upland Express "Song Of The Blue Ridge" (1984) (LP)
(Produced by Upland Express)
A nice, straightforward, unpretentious set of gentle progressive bluegrass which coasts into softer, John Denver-ish/Dan Seals-y folk-rock material. There are a trio of original tunes on here by singer Barry James -- "Cry And Try Again," "Oklahoma Someday" and "Song Of The Blue Ridge" -- as well as covers of stuff by Dan Fogleberg, Bernie Leadon, Randy Newman and a nice version of Michael Martin Murphy's "Carolina In The Pines."


<! no label name provided > <! Rickie Simpkins on fiddle and mandolin >

---
Bluegrass Albums - Letter "V"
---