<! MP3 09/15/09, 12/30/11 > <! update 09/15/09 - need Earl Scruggs disco, other expansions > <! outside 00/00/00 > <! pix 00/00/00 > <! icons 00/00/00 > <! icons 12/30/11 > <! Sand Mountain Boys Schankman Twins Southern Rail >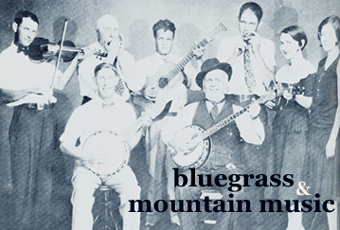 ---
Hi, there... This page is part of the Slipcue guide to various bluegrass artists, which is part of a much larger Hick Music website. This "guide" is not meant to be comprehensive or authoritative, just a quick look at a few records I've heard recently, as well as some old favorites. Comments or corrections are invited... and recommendations are always welcome!
This is the first page covering the letter "S"
---
A | B | C | D | E | F | G | H | I | J | K | L | M | N | O | P | Q | R | S / S-2 / S-3 | T | U | V | W | X, Y & Z | Comps | Other Country Styles
---

Jerry Salley/Various Artists "New Songs/Old Friends" (Mountain Home, 2007)



An all-star homage to songwriter Jerry Salley... Features performances by bluegrassers such as Larry Cordle, Rob Ickes, Sonya Isaacs, Carl Jackson, Doyle Lawson, Del McCoury, Ricky Skaggs, and Rhonda Vincent, as well as a few Top Forty stars such as Vince Gill and Darryl Worley... Whew!!
Jack Sanbower & George Garris "Same Ole Fools" (Buck Hollow, 2002)


Although they're a little shakey around the edges, this Maryland-based band has plenty of fun new, original tunes to offer the bluegrass community, courtesy of of songwriter George Garris, who kicks things off with the fine and funny "Same Ole Fool," and adds nearly ten more compositions to the tally by album's end. DIY bluegrass with plenty of nice, rambunctious spirit.

The Sauceman Brothers "On WYCB, Bristol" (Copper Creek, 1994)



Vintage live performances from this little-known 1940s/'50s ensemble. The Saucemans, brothers Carl and J. P. Sauceman, had a powerful band backing them up, including veteran pickers Joe Stuart and Curley Seckler (who had worked with Flatt & Scruggs and Bill Monroe) and two brothers, Arville and Carmen Freeman, whose careers peaked during this early 'Fifties stint with the Saucemans on Tennessee border radio. Nice stuff, with a raspy, unruly quality that is too often missing in modern bluegrass albums. This disc captures two live sets on Bristol, Tennessee's WCYB radio station, working through a variety of secular and religious material, and keeping things rolling along with charming, down-home patter. The first set is best, with crackling musicianship and a fluid, familiar relationship between the bandmembers (although Sauceman's habit of introducing vocalist Curly Seckler as their "kinky, dark-haired boy" is a little disconcerting...) On the second set, they seem a bit more ragged -- maybe the WCYB engineer forgot to brew some coffee that morning -- but it's still fun to hear true, blue, old-school bluegrass in its purest, rough-edged original form, just the way folks would hear it at home back then. The liner notes don't give exact dates for these performances, but it must've been somewhere between 1950-52...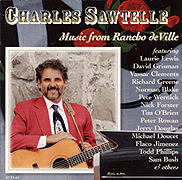 Charles Sawtelle "Music From Rancho DeVille" (Acoustic Disc, 2001)



An absolutely gorgeous album with and all-star cast of newgrass/acoustic revivalists. The late Charles Sawtelle was a veteran of one of my favorite bluegrass bands from the '80s, Hot Rize, who infused their albums with a driving but subtle country and pop sensibility. This record, recorded over a long period of time while Sawtelle battled with leukemia, covers a lot of musical territory. It includes good old-fashioned hi-speed bluegrass breakdowns, sentimental ballads and sweet instrumentals, old-time classic like the Carter Family standard, "Storms Are On The Ocean", and even a cajun tune or two. with folks like Norman Blake, Michael Doucet, Peter Rowan and Vassar Clements on board (to name only a few...), how can this go wrong? Mostly, it's the mellow, relaxed atmosphere that label head David Grisman seems to promote which helps make this such a delightful album -- it's so great to hear these super-talented folks just taking it easy and enjoying themselves, rather than trying to sculpt a Grammy-winning album, or whatever. Sawtelle's Hot Rize pals, Pete Wernick and Tim O'Brien also pitch in, as well as album producer Laurie Lewis. Great stuff -- highly recommended!
The Scenic Route "The Scenic Route" (RCH, 2001)
A sweet set, released in honor of the late John Duffey, co-founder of the Seldom Scene. Duffey appears on here, as well as Mike Auldridge, Ben Eldridge, Jimmy Gaudreau, Chris Eldridge and others, as well as lead singer R. C. Harris, who self-released this album on his own label. Not sure exactly when this was recorded -- the liner notes mention sessions in 1985, '93 and 2000 -- but with a lineup like this, you'd expect this to sound every bit as sweet as it does... A lovely album which really lives up the tradition laid down by the Seldom Scenesters... Nice!
Tracy Schwarz "Learn To Fiddle Country Style" (Folkways, 1965)


Tracy Schwarz "Look Out! Here It Comes" (Folkways, 1975)


Tracy Schwarz & Dewey Balfa "Traditional Cajun Fiddler: Instruction By Dewey Balfo And Tracy Schwarz" (Folkways, 1976)


Tracy & Eloise Schwarz "Down Home With..." (Folkways, 1978)


Tracy Schwarz "Dancing Bow And Singing Strings" (Folkways, 1979)


Tracy Schwarz "Tracy Schwarz's Fiddler's Companion" (Folkways, 1981)






<! Tracy Schwarz "Dancing Bow And Singing Strings" (Folkways, 1979) Tracy Schwarz "Learn To Fiddle Country Style" (Folkways, 1965) Tracy Schwarz "Look Out! Here It Comes" (Folkways, 1975) Tracy Schwarz & Dewey Balfa "Traditional Cajun Fiddler: Instruction By Dewey Balfo And Tracy Schwarz" (Folkways, 1976) Tracy Schwarz "Tracy Schwarz's Fiddler's Companion" (Folkways, 1981) Tracy Schwarz "A Cajun Practice Music Tape" The Tracy Schwarz Cajun Trio "The Tracy Schwarz Cajun Trio" (1993, Swallow) B000001ZNL The Tracy Schwarz Cajun Trio "Mes Amis!" (1996, Swallow) B00000JPA6 with Matt Haney and Lee Blackwell Tracy Schwarz & Marc Savoy "How To Play The Cajun Accordion" - video and booklet >

Tracy Schwartz & Ginny Hawker "Good Songs For Hard Times" (Copper Creek, 2000)



Beautiful! '50s/'60s folk scene veteran Tracy Schwartz has, of course, been one of the great champions of old-timey music ever since his days in the New Lost City Ramblers, and Ginny Hawker has been rising through the ranks in recent years... On this early album, they sing fifteen lovely, understated duets, presenting some of the finest, most heartfelt songs in the mountain music canon, including tunes of aching beauty such as "Your Lone Journey" and gospel tunes galore. Their approach to the material is just so right, and so wonderfully unpretentious and filled with sweet, simple harmonies that this disc is a real gem. In later years, Hawker started to exaggerate her twang a bit too much; here she sings in a much sweeter, less craggy style than you may have heard on subsequent releases. Anyway, this album's a keeper, as far as I'm concerned. Highly recommended!

Tracy Schwartz & Ginny Hawker "Draw Closer" (Rounder, 2004)



(Produced by Dirk Powell)
Once again, these two deliver as fine and understated a set of old-timey ballads as you're likely to hear... Really fine stuff! The accompaniment is a delight: straightforward and no-frills, but also very melodic and sweet, a perfect match for their plainspoken vocals. Dirk Powell pitches in playing mandolin on a couple of tunes, but fancy picking isn't the point of this new record, the songs are and that's the way it should be. Includes some standards such as "Poor Willie" and "Katie Dear," as well as a bunch of well-chosen obscurities, and some wonderful gospel tunes. Highly recommended!
Barry Scott & Second Wind "In God's Time" (Rebel, 2009)



This is an absolutely stunning, top-flight set of bedrock bluegrass gospel music - beautiful melody and harmonies, heartfelt performances and uncompromised lyrics about preparing for the Judgment Day. It's the kind of stuff that can send shivers up the spine of even the most agnostic listener. And you certainly don't have to share the band's theology to recognize the beauty of the music -- there's plenty of sweet picking and great vocals, particularly Scott's high, pure lead. This album ranks up there along with the best gospel works of Doyle Lawson, the Stanley Brothers, the Bluegrass Album Band, or Paul Williams. It's first-rate stuff: if you like the style, this record is a must-have.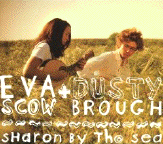 Eva Scow & Dusty Brough "Sharon By The Sea" (Adventure Music, 2009)



Drawing equally on Latin-American and bluegrass traditions, this is perfect melding of the acoustic jazz style pioneered by David Grisman and his pals, and the dynamic Brazilian improv genre called choro. The California-based duo of guitarist Dusty Brough and mandolinist/fiddler Eva Scow -- along with modest accompaniment of a tune or two -- produce a large, expansive sound that will appeal to fans of the original "spacegrass" scene of the late 1970s and early '80s. This album is surely the kind of record Mike Marshall was dreaming of when he started the Adventure Music label: inventive, eclectic and engaging.





Earl Scruggs -- see artist discography


<! Randy Scruggs >


Mike Seeger -- see artist discography




Seldom Scene "Dream Scene" (Sugar Hill, 1996)



A mighty fine album by these bluegrass/newgrass old-timers... This is the last Seldom Scene album featuring the band's co-founder, the late John Duffey, and his presence lifts and guides the project... Fine harmonies, crisp, smooth picking and a nice, sincere feel for the material. This edition of the band features Dudley Connell on guitar, Ben Eldridge on banjo, Ronnie Simpkins on bass and Fred Travers on dobro... They sound completely in synch... this is a mighty fine album, with a warm mix of secular and gospel material, traditional and new tunes. Recommended!

Seldom Scene "Scene It All" (Sugar Hill, 2000)



This is the band's first album following the passing away of founder John Duffey... It's a fine album, featuring most of the same guys who were on the previous album, with mandolinist Lou Reid coming in to fill the void left by Duffey's departure, and banjoist Ben Eldridge as the lone original member left on board. I'm not sure, though, if I see the point of continuing the franchise without Duffey there; he added a unique personal warmth to the band, and these guys sound like just another crackerjack modern 'grass outfit. They retain the folkie feel of the old Seldom Scene, but possibly not the same magic. Anyway, as far as the music goes, this is still quite nice... It might not be the top of my list, but it sure ain't anywhere near the bottom. Worth checking out!


<! Seldom Scene "Act I" (Rebel, 1972) Seldom Scene "Act II" (Rebel, 1973) Seldom Scene "Act III" (Rebel, 1973) Seldom Scene "Old Train" (Rebel, 1973) Seldom Scene "Live At The Cellar Door" (Rebel, 1975) Seldom Scene "The New Seldom Scene Album" (Rebel, 1976) Seldom Scene "Baptizing" (Rebel, 1978) Seldom Scene "The Best Of The Seldom Scene, v. 1" (Rebel, 1987) Seldom Scene "Act IV" (Sugar Hill, 1979) Seldom Scene "After Midnight" (Sugar Hill, 1981) Seldom Scene "At The Scene" (Sugar Hill, 1983) Seldom Scene & Jonathan Edwards "Blue Ridge" (Sugar Hill, 1985) Seldom Scene "15th Anniversary Celebration" (Sugar Hill, 1986) Seldom Scene "A Change Of Scenery" (Sugar Hill, 1988) Seldom Scene "Scenic Roots" (Sugar Hill, 1990) Seldom Scene "Scene 20: 20th Anniversary Concert" (Sugar Hill, 1992) Seldom Scene "Like We Used To Be" (Sugar Hill, 1994) Seldom Scene "Dream Scene" (Sugar Hill, 1996) Seldom Scene "Scene It All" (Sugar Hill, 2000) Seldom Scene "Scenechronized" (Sugar Hill, 2007) Seldom Scene "Different Roads" (Sugar Hill, 2007) >

Alan Senauke "Old Songs From The Southern School" (Native & Fine, 2002)


A sweet set of Antebellum-flavored old-timey (and moderately bluegrassy) story songs, featuring Berkeley-based picker Senauke and a slew of super-talented pals such as Jon Scholle, Eric & Suzy Thompson, Kate Brislin, Jody Stecher, and others. Senauke, who has been picking and singing in various back-porch bands ever since the early days of the 1960s bluegrass revival, has a very soulful, expressive feel for this material. This wonderful little album (affectionately designed to look like an old Folkways LP) might be easy to miss if you don't know what to look for, but it'll be a gem for those who manage to pick it up. Recommended!
James Alan Shelton "Road To Coeburn" (Copper Creek, 1997)



Guitar picker James Alan Shelton has a real smooth touch on the Martin flattop; here he steps out from his supporting role helping anchor Ralph Stanley's band to lead on a swell all-instrumental album of his own. Features top-flight contributions by a bunch of Shelton's buddies -- particularly noteworthy are James Price's fiddle and Steve Sparkman's well-punctuated banjo work. Recommended!

James Alan Shelton "Song For Greta" (Rebel, 2002)



Another top-notch, mostly-instrumental album from this light-fingered guitar whiz. Ralph Stanley II, mandolinist John Rigsby, banjo picker Steve Sparkman and others join in; Gillian Welch and David Rawlings sing on the gorgeous gospel tune, "Fifty Miles Of Elbow Room," which is certainly one of the album's highlights. Sometimes Shelton's "cross-picking" style may seem a little too formal and less fiery than many bluegrassers might like, but it's still lovely stuff, with flawless musicianship throughout.
Karl Shiflett & The Big Country Show "Karl Shiflett & The Big Country Show" (Rebel, 1999)



Karl Shiflett & The Big Country Show "In Full Color" (Rebel, 2001)



Wow! What a stunner...!! These Texas fellas have the old-style bluegrass sound down so well that when this disc starts belting out your speakers, you might do a double-take wondering if you bought an old Flatt & Scruggs album or some old Bill Clifton by accident. No fooling -- they're really that good, and they have that old-time sound. Recording through vintage equipment explains part if it, but how anyone in this day and age can sound so durn authentic is still pretty impressive! If you like the traditional, driving classic sound of late-'40s bluegrass, then you owe it to yourself to check these guys out!

The Karl Shiflett & Big Country Show "Worries On My Mind" (Rebel, 2003)



Yup... no doubt about it: Karl Shiflett is one of modern bluegrass's most underrated secret weapons -- his bluesy country approach doesn't seem to ring the right chord with a lot of the bluegrass purist crowd, but for folks like me, who just loved Jimmy Martin's old crossover records, Shiflett's style is a real blast. This new album is a doozy -- maybe less 'grassy and more country than ever, but packed with one great losin,' boozin' heartsong after another... For the traditionalist truegrass crowd, there are still a few dazzlers such as his zippy "Hoss Fly" instrumental and the equally dazzling, '50s rock-tinged "Bobo's Boogie." If you're willing to branch out a little, Shiflett and his crew can't be beat!
George Shuffler "Cross Picking" (Freeland, 1998)


George Shuffler & James Alan Shelton "The Legacy Continues" (Copper Creek, 2000)


Pleasant, but unchallenging, instrumental guitar duets, in Shuffler's trademark "cross picking" style, which he introduced to the Stanley Brothers band in the early 1960s. Shelton, who is now Ralph Stanley's lead guitarist, is the style's major exponent... It's pretty and all, softer than the standard flatpicking style, and in some ways more expressive. Still, I guess I need a little singing to go along with it... this album didn't floor me.
George Shuffler "Aged To Perfection" (Copper Creek, 2000)



Likewise, this all-instrumental album highlighting Shuffler's fairly reserved approach is a bit on the sleepy side. Nice to listen to, but a little bit goes a long way.
George Shuffler & Laura Boosinger "Mountain Treasures" (Copper Creek, 2003)



Shuffler in duets with banjoist Laura Boosinger...
Cody Shuler & Pine Mountain Railroad "Pickin', Praisin' & Singin' " (Rural Rhythm, 2008)






<! also: Cody Shuler & Pine Mountain Railroad >

Mark Simos "Race The River Jordan" (Self-Released, 1995)


Mark Simos "Crazy Faith" (Devachan, 2003)


Contemporary folk sung in an old-timey musical meter, with a dash of Celtic music thrown in for good measure. Songwriter Simos comes very much from the coffeehouse folkie tradition, but with pals like Bruce Molsky, Tom Rozum, Sally Van Meter and Ronnie Simpkins backing him up (and glowing encomiums from Alice Gerrard and Alison Krauss on the album art), this is a record that should attract a fair amount of attention within the bluegrass/folksinger communities. Molsky produced this album, and his deep old-timey influence is deeply felt, and most welcome... the mix of styles is pretty interesting and unique. Many of Simos's songs have been covered by the likes of Laurie Lewis, Del McCoury, and Union Station; here's a chance to hear him perform them in his own voice and style. Sweet guitar work by Simos, too!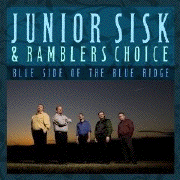 Junior Sisk & Rambler's Choice "Blue Side Of The Blue Ridge" (Rebel, 2008)



(Produced by Ronnie Bowman)
Slam-bang, real-deal bluegrass, the way I like it! Every song on here rings true, with solid songwriting and powerful, confident, understated musicianship. It's the calibre of the songwriting that really knocks my socks off: this album is packed with one great song after another, kicking off with "The Wolf Is At The Door" (about economic hard times) and numerous spunky, country oriented tunes of the kind that Jimmy Martin and Hylo Brown did so well back in the 1950s and '60s: "You Let The Dog Off The Chain," "Leaving Baker County," "Little Bit Of This, Little Bit Of That"... Pure gold. There are also a nice gospel tune (a cover of "Dust On The Bible") and a sweet, folky romantic number, "The Man In The Moon," which is sure to be a sentimental favorite for years to come. Really, this album floored me. Easily one of the best bluegrass albums of '08!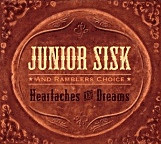 Junior Sisk & Rambler's Choice "Heartaches And Dreams" (Rebel, 2010)



(Produced by Wes Easter & Rambler's Choice)
Another fine set of modern "high lonesome" traditionalist bluegrass, with some fine uptempo tunes in the country-tinged Jimmy Martin style. Highlights include a bouncy recession-era anthem, "Working Hard Ain't Hardly Working Anymore" and some of the heart-songs like "The Laugh's On Me" and "Don't You Cry," as well as several fine gospel numbers, particularly a haunting number called "The Lowest Valley." A couple of more novelty-oriented songs didn't work for me -- "Bullets Always Win" and "Guns, Coins And Jewelry" have a tough-guy crime element that seems too forced and disconnected from the vibe of the rest of the record. But overall, this is another strong effort from this powerhouse crew -- solid picking and soulful singing throughout.

Junior Sisk & Rambler's Choice "The Heart Of A Song" (Rebel, 2011)



A real stunner! Great traditional bluegrass with pure, simple harmonies and solid musicianship. The album starts out with a wistful homage to the golden age of bluegrass, "A Far Cry From Lester And Earl," and after that Sisk doesn't deviate from his path -- a beautifully performed set of heartsongs, gospel tunes and sweet, straight-ahead picking. Rhonda Vincent sings a duet, "The Sound Of Your Name," though I also enjoy Sisk's plainspoken vocal style. All the right stuff - highly recommended!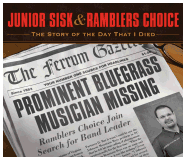 Junior Sisk & Rambler's Choice "The Story Of The Day That I Died" (Rebel, 2013)



(Produced by Wes Easter)
Fun, traditionally oriented melodic bluegrass with a slight country tinge, played in the style of the great Jimmy Martin. This time around Sisk is specializing in novelty numbers, including the oddly-named title track, which is about a guy who fakes his own death and cashes out his insurance policy as a way to get back at his cheating ex, as well as "Old Bicycle Chain," which is the device what he's gonna whup somebody with if they don't start doing like he wants them to do. On the other side of the coin are several high-quality gospel songs, the most resonant of which is "Prayers Go Up" (and blessings come down), as well as several fine, straightforward trad-grass numbers about the old folks back home and true loves we can't forget. Another solid set from one of the best bands around... Recommended!

Charlie Sizemore "Singing With The Angels" (Old Homestead, 1989)


An all-gospel offering featuring bluegrass bandleader/vocalist Charlie Sizemore...
Charlie Sizemore "Back Home" (Rebel, 1994)

Charlie Sizemore "In My View" (Rebel, 1996)


Charlie Sizemore "The Story Is... The Songs Of Tom T. Hall" (Rebel, 2002)



A fine, bouncy truegrass tribute to songwriter Tom T. Hall, with clean, bright playing and warm vocal interpretations of over a dozen of Hall's tunes. The song selection includes some of his less well-known tunes, as well as old hits like "Pamela Brown," "The Year That Clayton Delaney Died," "Ballad Of Forty Dollars" and others. Along with Sizemore's core backup band, several high-power guest artists are featured on here -- J.D. Crowe, Ralph Stanley, Kathy Mattea and Tom T. Hall himself, delivering the introduction to "Old Dogs, Children And Watermelon Wine." It's interesting to hear Hall's work in the hands of someone else -- his voice and delivery are so distinctive, it's hard to imagine these songs being sung any other way... But Sizemore does a fine job, really getting into the sentimental side of the material, which Hall does as well, though with him it's harder to sort out what's ironic and what's sincere... Anyway, this is a nice record; good example of someone making the most of someone else's work.

The Charlie Sizemore Band "Good News" (Rounder, 2007)



(Produced by Buddy Cannon & Charlie Sizemore)
A rock-solid bluegrass set from singer-guitarist Charlie Sizemore, known in his teens as the kid who sang lead in Ralph Stanley's band after Keith Whitley split for Nashville, and now a forty-something tunesmith revered as a songwriter of high standing in both the country and bluegrass fields. This is his first album in five years, and fans are well-primed for its delights... Like many great craftsman, Sizemore appreciates the work of others, and in addition to several of his own fine compositions, and here he includes gems from Paul Craft, Tom T. Hall and a hillbilly boogie oldie from Eddie Noack. There are songs about the Civil War, drinking, love lost and life lived, all delivered with a soulfulness and restraint that's kind of refreshing in the drag-racing world of super-picking bluegrass bands. Highlights include Hank Cochran's sombre "My Dying Day," Sizemore's "The Less That I Drink" (one of three tracks co-written with Buddy Cannon) and a pair of clever tribute songs -- "Alison's Band" (where Sizemore cheerfully fantasizes about hitting the road with Alison Krauss) and "Blame It On Vern," which pays homage to Vern Gosdin, one of the finest honkytonk singers ever... All in all, this is a fine offering from an old pro -- hopefully it won't take so long for the next one to come out!
Charlie Sizemore "Heartache Looking For A Home" (Rounder, 2011)


---
Bluegrass Albums - More Letter "S"
---