<! MP3 08/12/09, 12/15/10, 08/19/12 > <! outside 00/00/00 > <! pix 00/00/00 > <! icons 12/15/10 > <! updates: 08/12/09 - some, not all 12/15/10 - added Baugus > <! The Bailey Brothers Junior Blankenship Butch Baldassari >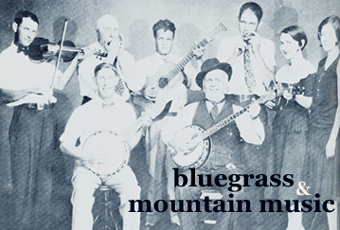 ---
Hi, there... This page is part of the Slipcue guide to various bluegrass artists, which is part of a much larger Hick Music website. This "guide" is not meant to be comprehensive or authoritative, just a quick look at a few records I've heard recently, as wella s some old favorites. Comments or corrections are invited... and recommendations are always welcome!
This page covers the letter "B"
---
A | B / B-2 / B-3 / B-4 / B-5 | C | D | E | F | G | H | I | J | K | L | M | N | O | P | Q | R | S | T | U | V | W | X, Y & Z | Comps | Other Country Styles
---
The Bad Livers -- see artist discography
The Bailes Brothers -- see artist discography
Kenny Baker & Joe Greene "High Country" (County, 1967) (LP)

Kenny Baker "Portrait Of A Bluegrass Fiddler" (County, 1969) (LP)

Kenny Baker "A Baker's Dozen" (County, 1971)



A dazzling all-instrumental set featuring fiddler Kenny Baker (a long-time collaborator with Bill Monroe) and an able quartet of sidemen, including bassist Harry Shelor, guitarist John Kaparakis, Butch Robins on banjo and a young Sam ("Sammy") Bush, on mandolin, in what was only the second full-album recording session of his career (!) As ever, Baker is a marvel, building off of an indisputably traditional foundation, and injecting a unique livliness and sparkle that sets his work apart from countless other traditionally-oriented fiddle albums. His work isn't explicitly jazz-oriented, but the influence is there, with a bright, full tone and modern melodic approach. This is pretty spectacular playing, but it's enjoyable not just as a piece of technical virtuosity, but also as a really lovely set of music. Highly recommended!
Kenny Baker & Josh Graves "The Puritan Sessions" (Rebel, 1989)



A lovely reissue of two albums originally recorded for the Puritan record label, something Different, from 1972, and 1973's Bucktime, pairing fiddler Kenny Baker up with dobro guru Josh Graves. These sessions are notable not only for the fluid, sympathetic interplay between two mellow-minded old-timers, but also for the chance to hear Baker playing guitar -- which he had to stop doing after an accident in 1977 that damaged the nerves in his left hand. And lemme tell you: it sure sounds sweet! A great mix of songs and rather adventurous instrumentals... well worth tracking this disc down!
Kenny Baker "Frost On The Pumpkin" (County, 1976)



A welcome reissue of one of the great bluegrass instrumental albums of all time... Featuring the venerable fiddler Kenny Baker, a longtime pal of Bill Monroe's, backed up by a small set of superpickers able to follow his lead on these ingenious tunes. Baker's sense of melody and sweetness as saws around the beats on these tunes is really remarkable -- few fiddlers can sound so old-fashioned and yet so fluid and inventive at the same time. This is some real pretty playing. Highly recommended.
Kenny Baker & Bill Monroe "Kenny Baker Plays Bill Monroe" (County, 1977)






<! "1977 album now on CD. A selection of tunes composed by or part of the repertoire of Monroe. With Joe Stuart, Vic Jordan and Bill himself who takes a mandolin break on almost every tune!" >
Kenny Baker & Bobby Hicks "Darkness On The Delta" (Rebel/County, 1980)



Swell fiddle duets by two of the best bow-stretchers in the business... This is one of Hicks's strongest albums ever, while Kenny Baker remains a force of nature. If you like sweet, fancy fiddlin', you'll want to check this one out!
Kenny Baker "Cotton Baggin' 2000" (OMS, 2000)



Bluegrass/old-timey fiddler Kenny Baker is no spring chicken, but he still can saw with the best of them. This was his first album in many a moon, and it shows him still in top form, playing sweet, sweet licks, with Bobby Osborne, Jesse McReynolds, Josh Graves and others backing him up, and Blaine Sprouse playing a fine twin fiddle behind him. Pretty nice stuff.
Kenny Baker "Spider Bit The Baby" (OMS, 2002)



Another fine set by this soulful old-timer. As with most all-instrumental fiddle records, you have to be a real fan to appreciate a whole record of this stuff, but for those who are down with the program, this is a nice album. Baker plays both sweet and hot, and has a deft melodic twist that will make your ears perk up on tune after tune.
Kenny Baker "Master Fiddler" (County, 1994)



A collection of some of his best work on the County label.

Butch Baldassari "A Day In The Country" (Pinecastle, 1994)



A sweet, all-instrumental album. Some of the more modern-sounding tunes coast into the saccharine style that predominates these days, but the more relaxed, twangier front porch-y stuff is pretty nice. Good album to chill out to.
Butch Baldassari "New Classics For Bluegrass Mandolin" (Soundart, 1998)



Another nice set of inventive instrumentals, some that drift into "new acoustic" territory, but mostly in a relative traditional bluegrass mode. Nice for fans of instrumental music, though somewhat underwhelming overall.


<! ALBUMS http://countrydiscography.blogspot.com/search/label/Baldassari%20Butch Butch Baldassari "What's Doin' " (Cactus, 1987) B000T2MFGQ - MP3 Butch Baldassari "Evergreen: Mandolin Music For Christmas" (Cactus, 1990) B0000010R2 B000VL8Q9K Butch Baldassari "Old Town" (Rebel, 1990) B00000026S B001GXXICC Butch Baldassari "A Day In The Country" (Pinecastle, 1994) B000JQI6QA B000QR1OV6 Butch Baldassari "Smoky Mountain Hymns" (Brentwood, 1994) Butch Baldassari & John Mock "Cantabile: Duets For Mandolin And Guitar" (Sound Art, 1997) B00000DI36 B004GFNHFK Butch Baldassari "New Classics For Bluegrass Mandolin" (Sound Art, 1998) B00000DI37 B000TDIFXW Butch Baldassari "Ozark Memories" (Green Hill, 1998) Butch Baldassari & The Nashville Mandolin Trio "American Portraits" (Sound Art, 1999) B000294SCA B000TERJNS Butch Baldassari & John Carlini "Reflections" (Sound Art, 2000) B00000JC95 B004GOCYYG Butch Baldassari & Jack Jezzro "Romance In Venice" (Green Hill, 2002) B0001GMT2K B003K5COR4 Butch Baldassari "Bluegrass Jamboree" (Green Hill, 2003) Butch Baldassari/Robin Bullock/John Reischman "Travellers" (Sound Art, 2004) B00000JRL3 B004CBOTGY Butch Baldassari "Mandolin Hymns" (Sound Art, 2005) B000BHN7KM B000QQXMQW Butch Baldassari & David Schnaufer "Appalachian Mandolin & Dulcimer" (Sound Art, 2006) B000CRR36U B000QR3GLM Butch Baldassari "The Vespa Love Festival Sessions" (Sound Art, 2007) xxxxxxxxxxxxxx B00270CNTM Butch Baldassari & John Mock "Music of O'Carolan - Ireland's Bard" (Sound Art, 2007) xxxxxxxxxxxx B0047R2N3O Butch Baldassari & Van Manakas "Leavin' Tennessee" (Sound Art, 2010) B003VRO2XA B004CBQTO4 > <! RUSS BARENBERG http://en.wikipedia.org/wiki/Russ_Barenberg from Country Cooking Russ Barenberg "Cowboy Calypso" (Rounder, 1980) B00005RYBJ oop imp Russ Barenberg "Behind The Melodies" (Rounder, 1983) B00006LHUV imp Russ Barenberg "Halloween Rehearsal" (Rounder, 1987) B0000003ML Russ Barenberg "Moving Pictures" (Rounder, 1988) B0000002IK B0010VATSG Russ Barenberg/Jerry Douglas/Edgar Meyer "Skip, Hop And Wobble" (Sugar Hill, 1993) Russ Barenberg "When At Last" (Compass Records, 2007) B000QEILH4 B0012N1DFU Fiddle Fever "Fiddle Fever" (Flying Fish, xxxxxxx) (LP) B000QUFN92 Fiddle Fever is Jay and Molly Ungar, Matt Glaser, Evan Stover, and Russ Barenberg with guests Tony Trischka, Toby Stover, and Lyn Hardy. TRACKS: Big John McNeal; Roxanna Waltz and Scotland; Calling Jesse; Smith's Reel; Party for the Old Folks; Daybreak in the Mountains; You Low Down Dirty Dog; The Rags; MacPherson's Fiddle and Macpherson's Strus; Melt Down at Indian Point; The Sidewalks of New York; Stay All Night and Going to the Barn Dance. Fiddle Fever "B002KGV81C" (Flying Fish, xxxxxxx) Fiddle Fever "The Best Of Fiddle Fever" (Flying Fish, 1990) B000000MH5 B00108LW9O >

Russ Barenberg, Jerry Douglas & Edgar Meyer "Skip, Hop & Wobble" (Sugar Hill, 1993)


Russ Barenberg "When At Last" (Compass Records, 2007)


Danny Barnes "Dirt On The Angel" (Terminus, 2003)



The Bad Livers' resident bluegrass bad boy Danny Barnes cuts loose on a genre-defiant, rambling, grime-flecked mix of bluegrass, old-timey and acoustic-blues-flavored alt.country, reminiscent in spirit to them unruly old Cheap Suit Seranaders albums. Barnes seems to have an axe to grind here -- on the opening track, "Life In The Country," he slags the Nashville scene with an offhand slap: "New country music ain't worth a dime/and the radio plays it alla the time..." while on "Bluegrass Today," he admits the difficulties of thumbing one's nose at showbiz conventions (even inside of an artistic refuge such as the bluegrass scene...) It took a while for this disc to grow on me -- even with musical assist by Darol Anger, Bill Frisell and others, the jagged, chaotic Dock Boggs-ish vibe makes it a little hard to latch onto -- but after a while I came to consider it a minor masterpiece, in that loosey-goosey, iconoclastic ne'er-do-well style pioneered by John Hartford, back in the goodle days. If you're a Livers fan, or just looking for an album that steps out of the norm (while still maintaining a high level of musicianship), then this disc is definitely worth checking out.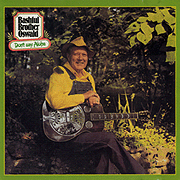 Bashful Brother Oswald "Don't Say Aloha" (Rounder, 1972)



An interesting confluence of old-time country, traditional bluegrass and 1930s-style Hawaiian music. Oswald Kirby, (aka Bashful Brother Oswald) once a key member of Roy Acuff's old band, was a veteran radio performer way back in the Depression era, whose career was revitalized by the '60s/'70s folk revival... Here he works through a nice slice of his wide repertoire -- clompy old banjo tunes, gospel recitations and Hawaiian ditties, as well as over-the-top sentimental weepers, such as "Should I Tell My Wife I'm Dying?" They just don't make 'em like this anymore! Oswald was pretty long in the tooth when he made these recordings, but it's still nice stuff, delivered with a simplicity and sincerity that stands the test of time.
Bashful Brother Oswald "Brother Oswald" (Rounder, 1972)


A classic dobro instrumental set, made with young'uns Tut Taylor and Norman Blake in tow, as well as another former member of Roy Acuff's Smoky Mountain Boys, Charlie Collins, also pitching in. Sweet stuff, also with a healthy odes of old-fashioned Hawaiian music in the mix. Recommended!

Bass Mountain Boys "Carolina Calling Me" (Pinecastle, 1992)


A real winner!! Good old-fashioned truegrass in the grand Stanleys/Flatt & Scruggs/Jim & Jesse mold. Sharp, aggressive picking, with equally assertive, authoritatively craggy vocals. Top-flight stuff: well worth tracking down!
Terry Baucom, Lou Reid & Carolina "Carolina Moon" (Sugar Hill, 1993)



Baucom, Bibey & BlueRidge "Come Along With Me" (Sugar Hill, 2002)



A nice mix of gospel and secular bluegrass by this sleek ensemble led by banjoist Terry Baucom and mandolinist Alan Bibey -- late of Quicksilver and IIIrd Tyme Out -- and their new band BlueRidge. Included is guitar picker Junior Sisk, who also contributes a couple of nice tunes to the mix -- more great truegrass for fans to gobble up...!
Riley Baugus "Life Of Riley" (Yodel-Ay-Hee, 2001)





<! Riley Baugus began playing in 1976 at age 10. Met fiddler Kirk Sutphin around the same time and they began learning and playing Old-Time music together. Later they started visiting Famous North Carolina Fiddler, Tommy Jarrell. There Riley honed his craft as a banjo player, singer, guitarist and fiddler. Riley has traveled and taught throughout the US and Europe. In 1997 and 98, he toured Germany and France with The Farmer's Daughters, a Grayson County, VA based band and in 2000 he toured Ireland with Dirk Powell and Tim O'Brien, and England with The Konnarock Critters. Riley will tour England and Wales with dancer, Ira Bernstein in Fall 2000. > <! Also in Polecat Creek and a number of other bands: http://www.rileybaugus.com/discography.html >

Riley Baugus & Ira Bernstein "Appalachian Roots" (Yodel-Ay-Hee, 2002)

Riley Baugus & The Lonesome Sisters "Going Home Shoes" (Tin Halo Music, 2004)



Riley Baugus "Long Steel Rail" (Sugar Hill, 2006)


(Produced by Tim O'Brien & Dirk Powell)
A strong, salty set of hardcore old-timey music, much of it played solo by Baugus, accompanying himself on fiddle or banjo, and even singing a capella with a hard-won, ultra-traditionalist, nails-on-a-chalkboard, keening wail. If you're into rugged, uncompromised old-time music from the likes of Hazel Adkins, Bruce Molsky or Dirk Powell, then this disc is definitely for you. Indeed, Powell, along with Tim O'Brien, is a co-producer of this album and they both play on many of the tracks. This album's a real treat for the faithful, each and every song suffused with the craggy, live-wire intensity that best defines the genre. Definitely recommended!
Riley Baugus & Laurelyn Dossett "The Music Of Brother Wolf" (Triad Stage, 2006)

Riley Baugus & Kirk Sutphin "Long Time Piedmont Pals" (Old Blue, 2010)


---
Bluegrass Albums - More Letter "B"
---