<! MP3 02/23/09, 09/15/10 > <! pix 02/23/09, 09/15/10 > <! archived 00/00/00 > <! icons 01/07/11 >
---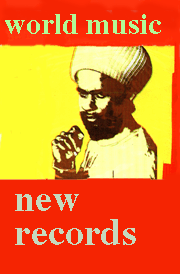 Welcome to my "Recent World Music" reviews page, which highlights new(ish) African, Asian, Latin American and Celtic records, as well as your plain old "miscellaneous" categories... Basically, whatever catches my interest amid the roar and thunder of our global music marketplace...

These records were reviewed in the year 2002.


---
Recommended Records: 2002 | Review Archives | World Music Index
---

Alexandra Youth Choir "South African Choral" (Naxos, 2002)



I've never been a huge fan of South African choral music, but I have to admit that this group, recorded early in 2002, with some rhythm players added to the mix, has a pretty creative approach to the style. Their songs are original and complex, with dynamic arrangements and swooping vocal interplays... It's a nice new twist on a genre that had gotten kind of static over the years. Worth checking out, particularly if you were already a fan of this sound.

The Allenko Brotherhood Ensemble "The Allenko Brotherhood Ensemble" (Shanachie, 2002)



Tony Allen was the much-revered drummer for Fela Kuti's legendary Africa 70 ensemble; as such he was largely responsible for crafting the relentlessly infectious, driving marathon beat of the Nigerian afrobeat supergroup. This remix project features a host of artists, from soul-oriented rappers to electronic mixmasters. Several tracks, particularly the instrumentals, are appropriately hypnotic and captivating, while some of the vocal numbers seem a bit off the mark. Maybe that's because Allen's genius was rhythmic and nonverbal, and by wedding his work to flavor-of-the-day lyrics, it pulls the listener in unnecessary directions. Anyway, keep in mind that's just my reaction, and I'm pretty picky. Afro-beat fans will not be disappointed by this album.

Antibalas Afrobeat Orchestra "Talkatif" (Ninja Tune, 2002)



America's finest Afrobeat band, with a fab follow-up to its debut album. Here they shift, appropriately enough, from the harder-edged Afro-Beat of Fela Kuti into something closer to the sleek juju highlife of King Sunny Ade, who became Nigeria's next superstar, when Fela's star faded. This is a beautiful record, and probably a lot more accessible to the casual listener who might have been put off a bit by the squonking saxes and rugged rhythms of the first Antibalas album (or the entire Fela catalog!). Hyponotic and graceful, this is a superior space-out groove album. Highly recommended. (For more info on this band, check out the Antibalas website.)

Battlefield Band "Happy Daze" (Temple, 2001)



Scotland's finest trad band unleashes their new secret weapon -- vocalist Karine Polwart, who emerges as one of the most striking new faces on the Celtic music scene. Warm, inviting, and capable of an easy glide between classic and contemporary forms, Polwart brings a softness to the Battlefield's normally somewhat austere sound. There seems to be a sympathetic response from her new bandmates, tempering the shrillness of their accordion-and-bagpipe led instrumentals, while accenting Alan Reid's mellower side as a singer. This is easily one of their best, most accessible albums... HIGHLY recommended!
Tarun Bhattacharya "The Art Of The Indian Santoor" (Arc Music, 2002)



Bhattacharya is the master of the santoor, sort of an Indian cross between a harpsichord and a xylophone... This is a lovely all-instrumental album, perhaps a little less mystically charged than his other recent releases, but still quite beautiful and lulling. Recommended!

Bohola "Bohola" (Shanachie, 2002)


Irish trad from the mean streets of Chicago... This young American trio has a relatively rough-hewn sound, which is alright by me, considering how goopy modern Celtic music has become. They mix both songs and instrumentals, with the unusual habit of mixing both styles into longer medleys. They make pretty big sound for such a small ensemble. Besides, anyone who gives a nod in the direction of Christy Moore (with their version of "Moving-On Song") is alright by me!

Paul Brady "The Liberty Tapes" (Compass, 2002)



Longtime fans who have despaired of Irish folk legend Paul Brady ever returning to his trad roots can at least take heart in the release of these classic concert recordings made in 1978, celebrating the release of his first solo album, the traditionally-oriented Welcome Here, Kind Stranger. It's a lovely set, with warm, sympathetic backing by the likes of Noel Hill, Matt Molloy and Donal Lunney. Brady was in fine form, with that beautiful, lilting voice of his. It's definitely worth tracking down a copy of this little gem!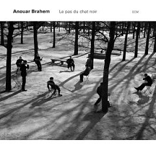 Anouar Brahem "Le Pas Du Chat Noir" (ECM, 2002)



Oudist Brahem branches out to embrace a mellow form of Parisian street music, improvising along with pianist Francois Couturier and accordionist Jean-Louis Matinier. Although the trio often echoes the Argentine tangos of Astor Piazolla, they shy away from the forceful grandeur of the style, mining a mellower, slightly Shadowfax-y, New Age-ish sound. Muted strains of Arabic classical, Argentine tango and Parisian musette mix with equal ease, and while the overall sound may be a bit goopy, it's also quite engaging. Relaxing, amorphous music with considerable richness and depth.

Liz Carroll "Lake Effect" (Green Linnet, 2002)



Another lovely, all-instrumental album by this outstanding Irish-American fiddler. This is one of those precious few albums that gets past my disinclination towards Celtic instrumentals -- leaning heavily towards the lighter, more lyrical melodic side, Carroll here concentrates on dreamy airs, waiting until the album's end to get into the more typical, bouncy jigs and reels. Fine by me; after the warmth and ease of the album's first half, I was totally sated, happy to hear something softer and easier on the ears than the usual manic breakdowns that fill the Irish soundscape. Gets a little bongo-y and ornate on a few tunes, but mostly this is pretty down to eart. Worth checking out.

The Chieftains "The Wide World Over: A 40 Year Celebration" (BMG/RCA Victor, 2002)



One of Ireland's longest-lived and most beloved trad bands, the Chieftains have both revived and expanded the scope of traditional Celtic music, as this anthology album ably demonstrates. Packed with an impressive set of all-star collaborations, this shows the Chieftains at their most creative, working with guests as diverse as Elvis Costello, Diana Krall, the Rolling Stones and bluegrasser Ricky Skaggs. Naturally, many hometown (Irish) guests are included as well, including Van Morrison, Sinead O'Connor and bouncy popsters, The Corrs. Some tracks -- particularly the orchestral Irish-classical crossovers -- fall flat, but on the whole, this is an impressive and engaging collection. One surprising entry is Joni Mitchell's "The Magdalene Laundries," as scathing denunciation of how Irish convents are often used as a dumping ground for unwanted or problematic young women... Although heavy-handed, the song definitely packs a punch, and I can only imagine the furor it must have caused in Ireland when it was first released. Nice retrospective.

Stella Chiweshe "Talking Mbira: Spirits Of Liberation" (Piranha, 2002)



If Zimbabwean pop star Stella Chiweshe has ever made a bad album, I certainly haven't heard it. This latest collection, recorded mostly in 1998, is another delight, full of her beautiful work on the mbira finger piano, and the searching, impassioned vocals that are Chiweshe's trademark. While this record has a few upbeat, chimurenga pop songs, it's mostly made up of more brooding, oddly mystical numbers, challenging tonal explorations that might even give John Zorn, Zoviet France and their difficult-music crowd pause for thought. This is the best kind of world music: odd, mysterious, compelling because of its mix of beauty and otherness. Instead of adapting herself to easily digested, cookie-cutter formulas, Chiweshe makes the music she feels, taking what her Shona culture taught her and then crafts art so persistently alluring that it urges our curiousity, compelling us to learn what's going on inside all the pretty sounds. She's been making music for decades now, and shows no sign of slowing down or diluting her music's considerable power. Recommended!

Danu "All Things Considered" (Shanachie, 2002)



Solidly old-fashioned Irish trad, tailormade for those who long for the glory days of Planxty or the Clancy Brothers. Indeed, the great Liam Clancy seems to have been an early patron of the group, and this album was recorded at his studio in Waterford. Singer Ciaran O Gealbhain certainly has the goods -- despite his youth, he has that lovely, old-man throatiness that makes Andy Irvine and the Clancys so lovely to listen to. The band also has a light, melodic touch. Great record with a nice mix of songs and tuneful instrumentals... If these young fellows represent the future of Irish trad, then I'm quite happy for the future!
Roger Espinoza "Cafe Fuego" (New World Music, 2002)



A lively set of pepped-up, Afro-Cuban-flavored flamenco tunes. This is in the same general style as the Gipsy Kings, though not as glitzty and more melodically direct. If you're into that style, this is a pretty decent album, made by a Nicaraguan expatriate who now lives in LA. Worth checking out!

Dick Gaughan "Outlaws And Dreamers" (Appleseed, 2001)



An excellent new album by this great Scottish leftie-folkie balladeer. One of Gaughan's most stripped-down sets in years, this comes closer to the power of his live performances than his more ornate recent recordings. In the fine old folkie tradition, Dick renews his faith in rebels, free thinkers, and nonconformists. His partner on this outing, fiddler Brian McNeill, contributes three fine songs, and their version of Kimmie Rhodes' "Wild Roses" is also quite nice. Also included are songs by leftie stalwarts Phil Ochs, Si Kahn and Woody Guthrie; it's particularly nice in this day and age to hear someone infuse a song like Guthrie's "Tom Joad" with such passion and earnest conviction. It's also nice to hear Gaughan return to a simpler, more direct acoustic presentation -- his strengths shine through much more clearly. A moving piece of work -- definitely recommended!

Hassan Hakmoun "The Gift" (Triloka, 2002)


Sleek, modern Arabic pop from this Morrocan gnawa superstar... I wrestled briefly with this album, thinking to myself, "oh, this is too slick and poppy for my tastes!" and then continually being drawn back in by the hypnotic rhythms and lush arrangements. Yes, it's lavishly overproduced, but for the most part it works. Depending on your temprament (or the particular song you sample), you might find this album either cheesy or absolutely engrossing... Worth checking out... if you can manage to avoid the Paula Cole vocal on the title track!

Andy Iona "Hawaiians In Hollywood v. 1: Smooth, Sweet And Swinging" (The Old Masters, 2002)


A great collection of classic Hawaiian guitar tunes recorded by multi-instrumentalist Andrew Aiona Long (he shortened his Hawaiian name when he moved to California in the late '20s). Great stuff recorded when Iona was working in Hollywood on films such as Rhythm Of The Islands and Hawaiian Buckaroo. This disc concentrates on Iona's sessions for the Columbia label; he also recorded extensively for several other companies before and after these mid-thirties dates. As with other Old Masters releases this has superior sound quality and informative liner notes... Highly recommended!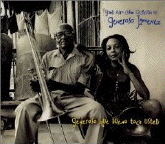 Generoso Jimenez "Generoso Que Bueno Toca Usted" (Pimienta/Universal Latino, 2002)



In the early 1960s, trombonist Generoso Jimenez was the lead arranger and bandleader for legendary Cuban vocalist Beny More Now, decades later, Jimenez is still holding his own and banging out some tasty Cuban dance music, even at this late date. Ths is a very good record, although if I had to complain about anything on here, it would be the repetitive "Cherry Pink"-styled brass sting, which crops up all over this album, and seems a bit overused. Otherwise, this is pretty solid stuff!

Nic Jones "Unearthed" (Mollie's Music, 2001)


Celebration and exultation! The landmark release of this fabulous 2-CD set of live and studio recordings is certainly one of the most significant new releases to hit the UK trad circuit for many years. At last, Jones has prowled through his attic and compiled the master tapes of various BBC and folk club outings, recordings which perfectly capture his resonant vocals and dazzling guitar work as heard at his very peak. Several of these songs, such as "The Jukebox As She Turned" and "Warlike Lads Of Russia" have long been whispered about in trad-folk circles, and recently bounced around the Internet as Napsterized MP3s, coveted by fans who could not hear them anywhere else. These recordings sound as fresh today as they were decades ago, and Unearthed is easily one of the most satisfying folk releases in years -- a prized plum for old fans, or a perfect introduction for Nic Jones initiates. Don't let the gruesome cover dissuade you... get this album now, while you can!

Laito Jr. & Laito Sr. "Siempre Juntos" (Ahi-Nama, 2002)



Jose de Jesus Hernandez Boza (better known as "Laito, Jr."), is the charismatic heir to the band and sound of the late Cuban cancionero, Estanislao Sureda Hernandez (aka "Laito," one-time star of the fabled Sonora Matancera, and founder of La Sonora Sonora...) Laito Jr.'s approach to this old-style romantic dance music is only fractionally less traditionalist than his predecessor... This is another great, rock solid album, featuring their combined talents and plenty of great, eminently dancable music. Recommended!
Lo-Jo "Au Cabaret Sauvage" (World Village, 2002)



Francophone gypsy-Balkan world beat, mixing stringband musette with Argentine tango and more modern, jazzish leanings. This isn't entirely my bag, but it's a very accomplished mix -- if this sounds at all up your alley, you might want to check this out!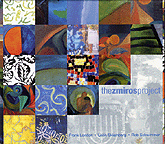 Frank London/Lorin Sklamberg/Rob Schwimmer "The Zmiros Project" (Traditional Crossroads, 2002)



A glorious exploration of Jewish zmiros, an informal style of Sabbath songs with a rich historical tradition. Frank London and Lorin Sklamberg of the Klezmatics are joined by pianist Rob Schwimmer to lovingly embellish these religious songs with an distinctive modern twist. These tunes have a playfulness and a melodic repetitiveness that draws you in, yet what makes this album particularly striking is the expansive, richly innovative approach taken by the trio. The Zmiros Project weaves art song, haunting electronica and subtle avant garde jazz with the rabbinical tradition in a fashion that is both lullingly pleasant and musically quite complex. They've managed to modernize Jewish music yet completely avoid the numerous cliches and traps of contemporary "world music" crossovers. This album is truly unique -- a precious commodity in a world as awash with commercial drek and iffy experimentation as ours. Recommended... definitely worth checking out!
Tejendra Narayan Majumdar "Raga Ahiri" (India Archives, 2001)


Tejendra Narayan Majumdar & Shujat Khan "Raga Lalit" (India Archives, 2001)

More solid, meditative Indian classical music from the India Archives label. Nice to see them back in action: this label has always had the highest quality releases, and these two albums of longer ragas will not disappoint.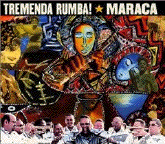 Maraca "Tremenda Rumba!" (Ahi-Nama, 2002)



Rock-solid, somewhat relentless, traditional-sounding Cuban salsa/son from this talented Havana ensemble. Flautist and bandleader Orlando Valle (aka "Maraca") embraces multiple musical styles, ranging from good old-fashioned Cuban danzones and son montuno to Columbian and Caribbean rhythms such as cumbia and even a hint of reggae. It's pretty sharp, lively stuff... definitely worth checking out.
Stephan Micus "Desert Poems" (ECM, 2001)



A gorgeous modern classical/Arabic mix... The Middle East isn't exactly virgin territory for Western classical composers, but it's really been in recent years that the greater subtleties have come out. Stephan Micus' latest work is rich in hush and silence, delving into the lulling, harmonic richness of various Eastern traditions, rather than simply borrowing the belly-dancer melodies. If you'll pardon the stereotype-laden metaphor, this isn't the type of music that would be used to whip the harem girls into a whirling silk scarf frenzy -- rather, it's what a particularly enlightened caliph might relax to, late at night when the palace is alseep and his favorite composer is passing a pipe around. Although Micus primarily draws on Arabic traditions, he also features some typically spectral Japanese shakuhachi flute work, and pushes the mixed tonalities of various non-European scales in unexpected directions. What's most striking about this album is the skill with which he tempers seeming dissonance into smoky melodic accessibility... Although this album is much less ornate, I'm reminded in places of Amitava Chatterjee's equally rich modernizations of Indian classical music. Highly recocommended!
Oliver Mtukudzi "Vhunze Moto" (Putumayo, 2002)


Mellow guitar music from Zimbabwe -- more nuanced, relaxed and varied than their music tends to be. A pleasant surprise!

Eddie Palmieri "La Perfecta II" (Concord, 2002)



This disc starts off with several good, old-fashioned salsa sizzlers, and gradually works its way into jazzier terrain. Even on the Latin Jazz tracks, Palmieri keeps a certain muscular aggressiveness to his work, super-swinging and melodically rich -- all in all, pretty nice stuff!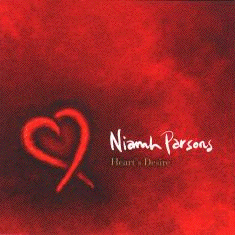 Niamh Parsons "Heart's Desire" (Green Linnet, 2002)



Bless this husky-voiced traditionalist Irish lassie...! Most folks in her position would have gone overboard by now, capitalizing on their success as acoustic balladeers to dip into lavish pop crossover efforts, but instead Parsons heads in the opposite direction, stripping her music down even further and making it more pure. Although this album does have some sparse instrumentation, it feels almost entirely a capella, with each song peeled bare to its bare-boned roots. It might not help her top the charts in the US or the islands, but fans on either side of the ocean are sure to be pleased.

Cesar Pedroso "Pupy, Y Los Que Son, Son" (Pimienta/Universal Latino, 2002)



Rock-solid Cuban-style "timba" son, recorded with strong, tight arrangements throughout. I was never a big fan of Los Van Van, whose music I found kind of goopy and more inclined towards the softer end of the jazz-latin fusion. But out on his own, pianist Pupy Pedroso keeps things tough, bringing in elements of rap and other, harder modern styles, rather than the soft-jazz colorations favored by the Los Van Van crew. This is a pretty nice record, especially considering how long Pedroso has been around -- he first made his mark as the composer of Celia Cruz's hit song "Azucar," which was originally recorded in the 1960s(!). Worth checking out.

Mohammad Reza Shajarian & The Masters Of Persian Music "Without You" (Harmonia Mundi/World Village, 2002)



Master vocalist Mohammad Reza Shajarian evokes Iran's ancient classical tradition, as well as its deep love of poetry. This fluid performance wraps improvisational, exploratory musicianship around the mystical texts of several medieval Persian poets. Shajarian is once again joined by Kayhan Kalhor, of Ghazal, as well as tar virtuoso Hossein Alizadeh and percussionist and co-vocalist Homayoun Shajarian, Mohammad Reza's son. This album is a searching effort, at times a little formless, while at others haunting and incandescent. Worth checking out, particularly if you liked any of the earlier Kalhor/Shajarian collaborations.

Gino Sitson "Song Zin... Vocadelic Tales" (Piranha, 2002)



Hailing from Cameroon, world-jazz vocalist Sitson has been compared to American a capella experimentalist Bobbie McFerrin; you might also want to toss in a comparison to Brazil's Milton Nascimento to round things off, with music that mixes indigenous themes in with jazz-derived ulualtions and vocal meanderings. This disc is a little too spacy and jazz-oriented for my tastes, but world music fans on the mellower end of the spectrum might want to check it out.
Son Sublime "Gran Reserva" (LASEMCo, 2002)



New York's Son Sublime is a reconstitued, 10-piece version of a sucessful mid-'70s charanga band, led by vocalist Jesse Leandro Herrero. While their last album, Irresistible, was a welcome return to the good old days of NYC-style '70s salsa, this disc polishes and perfects that classic sound. The group sounds more relaxed and fluid here, as if they had found their feet in the studio and were more comfortable just kicking back and enjoying themselves. The disc is punctuated throughout with a dancing, birdlike flute that dapples most songs in that lovely, timeless, classic island style. This is a really sweet album, definitely worth checking out!

Tabla Beat Science "Live In San Francisco At Stern Grove" (Palm/Axiom, 2002)



Zakir Hussain, Bill Laswell, Karsh Kale and pals in a spirited live Indian classical/electronic funk jamfest. Recorded live at an outdoor venue in San Francisco, this 2-CD set has remarkably good sound, with Hussain's amazing tabla playing dominating the beginning of the album. Laswell is pretty far in the back, which I guess is understandable, once he's been taken out of his studio kingdom. The turntabulism by DJ Disk and tweaky mixing by the Midival Punditz also work in pretty well... For mix'n'match modernists, this is an album well worth checking out.
Ziroq "Ziroq" (Triloka, 2002)


Blending aggressively perky flamenco-derived guitars with slinky Arabic rhythm, these guys pick up where Gipsy Kings left off, albeit with a smoother, mellower, more diverse sound that takes some of its cues from modern rock production. Yeah, it's multi-culti "world music", but not in a goopy overproduced way. Worth checking out! Plus the lead singer is a total hunk. Woo-woo!
---
---



World Music Compilations
World Music Index
Other Recent Reviews


---