! MP3 02/04/11, 03/04/12 > <! update 00/00/00 > <! outside 00/00/00 > <! pix 00/00/00 > <! icons 02/04/11 >

<! Rez Abbasi >
---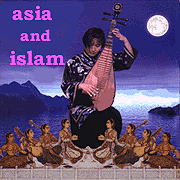 ASIAN & ISLAMIC MUSIC
Miscellaneous Albums
---
Hi there... This is just the merest sampling of the huge amount of music available east of NATO territory... I can hardly claim that this is a comprehensive, or even representative, sample of what's available. Nonetheless, these are some of the albums which have leapt out at me over the last few years -- hopefully you will find these records as striking as I have. And keep checking this site for more reviews-- it is sure to expand rapidly. Several record labels are profiled on a separate page.
---
A | B | C | D | E | F | G | H | I | J | K | L | M | N | O | P | Q | R | S | T | U | V | W | X, Y & Z | Comps

---

Abdelli "New Moon" (Real World, 1995)



A sometimes-spooky set by an Algerian expatriate (who was living in Belgium when this disc was made...) Abdelli sings and leads the set on the lute-like mandole, but the driving force of this disc is its insistent, hypnotic rhythmic strains... There's an appealing emotional directness, making this a compelling album from start to finish... definitely worth checking out!
Abdelli "Among Brothers" (Real World, 2003)


Abdelli & & Thierry Van Roy "Au-Dela De Gibraltar" (Soundtrack)

Abdelli "Destiny" (Zimbraz, 2011)


Kiran Ahluwalia "Kashish Attraction: Ghazals And Punjabi Folk Songs" (Kiran Music)


Kiran Ahluwalia "Kiran Ahluwalia" (Triloka, 2005)



A very pleasant, very listenable record which blends Punjabi ghazals and folk songs with modern pop and world music, with quite satisfying results. Ahluwalia lays claim being a torchbearer of tradition, as a formally trained ghazal singer, but I think it's her strengths as a moderizer that really make her stand out. There's a strong Celtic streak to this album, notably on the tracks where Canadian fiddler Natalie McMaster pitches in, but also laced throughout, where a gentle acoustic guitar helps shape the sound of many songs, along with the Indian flutes, percussion, and Ahluwalia's own work on the tanpura. This is a lovely record, one which you'll enjoy coming back to time and again.

Kiran Ahluwalia "Aam Zameen/Common Ground" (Avokado, 2011)



(Produced by Rez Abbasi)
A real stunner! Indo-Canadian singer Kiran Ahluwalia is no stranger to cross-cultural experiments -- on previous albums she has worked with musicians such as Celtic guitarist John Doyle (of Solas fame) and her husband, producer/musician Rez Abbasi crafting a canny mix of folk, pop and jazz touches into classical Indian music. On this album, she takes it to another level, matching the giddy rhythmic bounce of Punjabi traditional music with the hypnotic pulse of Tuareg rock. Members of two Tuareg bands, Tiniarwen and Terakaft perform on several songs, notably the album's mind-blowing opening track, "Mustt Mustt," which she revisits in two remixes. The musical alloy is seamless, the beats identical and both traditions nurture drones and mesmerizing repetitions; above it all, Ahluwalia soars, her crystalline, gorgeous voice in the same keening pitch as Indian icons such as Lata Mangeshkar, et. al., but without the grating edge of some classical vocals. Ahluwalia takes the softer romantic tones of bhajans and brings them into a beautiful modernity. Am I gushing? Yes I am: this is easily one of my favorite records of the year. Highly recommended.

Salma Al Assal "Women Singers Of Sudan -- Songs Of Al Sabata" (Arc Music, 2005)



Stark, soul-piercing vocal chants with simple percussive accompaniment on the Sudanese dalloukas, or clay drums. Al Assal, who has sung with the Mahmoud Fadl ensemble, takes a markedly traditional approach, and the purity of her performances makes them quite compelling, despite the lack of stylistic variety. Folks who like the similarly stark gnawa style will probably also enjoy this type of music, known as "Al Sabata." Recommended.

Daoud & Saleh Al-Kuwaity "Masters Of Iraqi Music: Original Recordings Remastered" (Arc Music, 2008)



Fascinating historical recordings taken from the golden era of Arabic music. The Al-Kuwaity brothers were born (naturally) in Kuwait, but emigrated to Iraq when quite young, and swiftly rose to the top ranks of that country's musical elite during the 1930s and '40s. They were favorites of King Faisal, and wrote hit songs for the great Egyptian diva, Um-Kulthoum, including one of her signature pieces, "Galbak Sacher Jalmud." The Al-Kuwaitys were also, interestingly enough, Jews, although they went to great lengths to hide their Jewish identity, so as to not alienate their fans and the wider Arabic public. Nonetheless, when Israel achieved statehood, the brothers left behind their life of wealth and privilege in Iraq in order to live in the Jewish state. Eventually they became celebrities again, and were broadcast widely on the Arabic-language channel of Israeli state radio. These recordings capture the Al-Kuwaitys in their prime, playing hardcore traditional Arabic music -- unfortunately the liner notes do not pinpoint when these recordings were made, but since they originally came out on an Israeli label, one imagines they date back to the 1950s or '60s (they also sound of that general vintage... ) Fans of classic Middle Eastern music will delight at this strong, assured performances and the melodic richness of the Al-Kuwaity compositions. Definitely worth checking out!

Altaf Gnawa Group "Gnawa Music From Morocco" (Arc Music, 2005)



I'm not totally up on the rarified charms of the hypnotic tribal music known as gnawa... For the most part the style seems a bit static and sparse to my untrained ears, although this was one of the most alluring and pleasant of the few gnawa records I've heard. There's a softness to this disc that's hard to put your finger on... And even hard to hear at times -- some passages are so quiet that on multiple occasions I've had this disc on at a moderate volume and was fooled into thinking that the disc had ended, so quiet and so subtle was the performance. I'd recommend this album as an introduction to the style: it is perhaps more melodically accessible than some of the starker and more droning gnawa albums... I leave it up to the true fans to say which albums are more "authentic" or whatever... All I know is, this disc brought me on board!
---
Asian & Islamic Albums: Letter "B"
---



Asian Music Index
World Music Index


---