! MP3 02/04/11, , 03/05/12 > <! update 02/04/11 - cleaned up some weird zapding coding glitch... > <! outside 00/00/00 > <! pix 02/04/11 > <! icons 02/04/11 >
---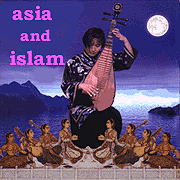 ASIAN & ISLAMIC MUSIC
Miscellaneous Albums
---
This is just the merest sampling of the huge amount of music available east of NATO territory... I can hardly claim that this is a comprehensive, or even representative, sample of what's available. Nonetheless, these are some of the albums which have leapt out at me over the last few years -- hopefully you will find these records as striking as I have. And keep checking this site for more reviews-- it is sure to expand over time. This is the first page covering the letter "H"...
---
A | B | C | D | E | F | G | H | I | J | K | L | M | N | O | P | Q | R | S | T | U | V | W | X, Y & Z | Comps

---

Andre Hajj "Amaken: Instrumental Music From Lebanon" (Arc Music, 2009)



(Produced by Andre Hajj)
A gorgeous set of traditional Arabic music drawn from the Lebanese tradition. Lute player Andre Hajj is a master of his instrument and though the emphasis of this music is on ensemble performances, he has some fine moments as a soloist. This is particularly true on the gorgeous, meditative solo excursion, "Dafa," in which he shifts delicately from theme to theme, showing an absolute mastery of the repertoire an style. This is a very beautiful album, confidently performed and satisfying on every level. Highly recommended!


<! also with his brother, Raymond Hajj >

Ofra Haza "Yemenite Songs" (Warner Brothers, 1987)



I remember this album making a huge impact at the college station I worked at in the 1980s... It was a landmark "work music" album, melding modern dance music with traditional, Arabic-influenced Yemeni-Jewish melodies... and, above all, such beautiful, beautiful vocals by the late Ms. Haza. The "Yemenite" tag was slightly misleading: Haza was actually an Israeli pop singer who decided to go the "ethnic" route and broaden her audience to beyond the Middle Eastern audience. A couple of years after this came out, I managed to track down one of her earlier albums, eagerly brought it home and was much chagrined to find out how wimpy an artist Ofra Haza originally was... she sounded like a second-rate Olivia Newton-John imitator!! No matter, though: this disc is a gem, thoroughly haunting and evocative, and highly recommended.

Ofra Haza "Kirya" (Shanachie, 1992)


Having established herself in the minds of world-music fans as a tradition-oriented Middle Eastern artist, Haza slips back into a more "pop" mode, mixing jazz, hip-hop and soft-pop motifs in, along with the Arabic-influenced vocals and instruments. Her voice is still pretty nice, but the production, courtesy of Don Was, is a bit glossy for me. Still, this album is better than some of her others, where she was trying to ride the world-beat techno-dance wave she'd helped pioneer. Worth checking out, though I didn't think it was a keeper.
Joji Hirota "The Gate" (Real World, 1999)


Takashi Hirayasu & Bob Brozman "Jin Jin/Firefly" (Riverboat, 2000)



(Produced by Kenichi Takahashi)

Takashi Hirayasu & Bob Brozman "Nankuru Naisa" (Riverboat, 2001)



(Produced by Kenichi Takahashi)
While their first album was a more formal, ornately produced affair, for their second collaboration, Brozman and Hirayasu let it all hang down, with an informal jam session held in Brozman's California home... After the success of Jin Jin, the duo toured together extensively and deepened their mutual musical interests. These slightly raucous acoustic performances reveal hints of classic jazz and swing, and other revivial styles Brozman cultivated over the years, but with original material sung in Japanese, much of it written by Takashi Hirayasu and his Okinawan co-composer Osami Okamoto. It's complex but sometimes unruly material, and definitely has a different vibe than the previous album... For many listeners this may be pretty inaccessible, but it's cool stuff, nonetheless.


<! Osami Okamoto co-writer >

Joji Hirota & Pete Lockett "Taiko To Tabla" (Arc Music, 2004)



A Pan-Asiatic percussive fusion, featuring Joji Hirota, one of the superstars of the Japanese taiko drumming scene, in collabotation with multi-instrumentalist Pete Lockett. The approach is decidedly not hidebound or overly traditional -- one song is even built around the sound of a digital alarm clock going off, if that gives you a sense of where these fellas are headed. Some songs are goofy and playful, others have a deep resonance and plenty of fine drumming. The mix of Japanese and Indian modalities is particularly nice. Definitely worth checking out, if you want to explore the more experimental side of modern taiko performance.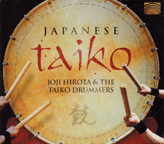 Joji Hirota & The Taiko Drummers "Japanese Taiko" (Arc Music, 2004)



Another fine album by one of the major stars of the modern taiko drumming scene... Hirota's innovative compositions are audacious and ambitious; the skill and precision with which his ensemble perform them is nothing short of amazing. There are modernizations and meter shifts that may be questionable -- depending on your personal tastes or inclinations -- but for taiko fans, even those who prefer a more traditional style, this disc is a must. This is the music being played at its highest and most challenging level... Recommended!
Joji Hirota "Japanese Folk Songs" (Arc Music, 2007)


---
Asian & Islamic Albums: Letter "I"
---



Asian Music Index
World Music Index


---