! MP3 02/04/11, 03/05/12 > <! update 00/00/00 > <! outside 00/00/00 > <! pix 03/05/12 - several need new GIFs to match HTML dimensions > <! icons 02/04/11 >
---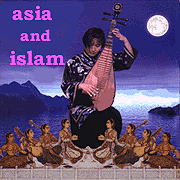 ASIAN & ISLAMIC MUSIC
Miscellaneous Albums
---
This is just the merest sampling of the huge amount of music available east of NATO territory... I can hardly claim that this is a comprehensive, or even representative, sample of what's available. Nonetheless, these are some of the albums which have leapt out at me over the last few years -- hopefully you will find these records as striking as I have. And keep checking this site for more reviews-- it is sure to expand over time. This is the first page covering the letter "S"...
---
A | B | C | D | E | F | G | H | I | J | K | L | M | N | O | P | Q | R | S | T | U | V | W | X, Y & Z | Comps

---

G. S. Sachdev "Two Moods" (Chandi Productions, 1993)


Punjabi-born flautist G. S. Sachdev is a master of the North Indian bamboo flute known as the bansuri, an ancient instrument that had fallen out of common use for several centuries before being reintroduced into the Indian classical community in the 1800s. The bansuri is a long, thin flute that has a deeper tone than those used in the South, and in the hands of Sachdev, it is a sublime, soft-toned lead instrument, with a lulling, purring quality. This record features Sachdev in collaboration with tabla master Zakir Hussain, a longtime associate in Marin County's close-knit Indian classical music community. The tone of this performance is uptempo and joyous -- Sachdev describes these songs as "dances" in the album's liner notes -- and yet even with the bouncy rhythm, there is an underlying elegance and calm. Nice record... recommended! [Includes "Kaushik Dhwani" (25:55) and "Purya-Kalyan" (25:26)]

G. S. Sachdev "Spirit" (Audiorec, 1995)



Another fine collaboration with Zakir Hussain, with three ragas of the utmost softness and delicacy. The measured, contemplative tone of these performances is similar to the shakuhachi flute playing of Ronnie Nyogetsu Seldin (below), making the kind of album you can slowly, steadily settle deep down into. Nice! [Includes "Rag Bihag" "Rag Kalavati" and "Rag Chandrakauns"]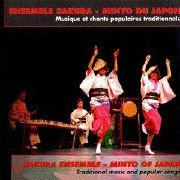 The Sakura Ensemble "Minyo Du Japon/Minyo Of Japan" (Fremeaux, 2008)


A delightful album of traditional Japanese folk songs, performed with the "genki" (high energy, enthusiastic) spirit that is highly valued in the style. This all-female group features a trio of singers and a modest array of traditional instruments -- shamisen, koto, mokkin, and percussion such as small taiko drums -- all played with a lively mix of authority, reverence and giddy abandon. Some tunes, such as "Awe Odori" and "Owase Bushi," may be familiar to folks who are into the taiko revival, while other songs follow in the same path. This is a delightful record, perhaps a little stark or shrill at times, but pleasantly captivating nonetheless. If you are into Japanese folk culture, you will be delighted by this album.

Ronnie Nyogetsu Seldin "Ichi On Buttsu" (Lyricord, 1997)



Stellar, transcendent Zen music played on the Japanese shakuhachi, a long bamboo flute. Seldin is an American master of the instrument, bringing out tones and movements which are alternately haunting, evocative, ethereal and contemplative. Despite its starkness of presentation, this is one of the most soulful and moving records I've heard in recent years. Highly recommended.


<! 108 x 108 >

Mohammad Reza Shajarian & Kayhan Kalhor "Night Silence Desert" (Traditional Crossroads, 2000)



Fans of Kayhan Kalhor's work on the fab recent Ghazal albums will not be disappointed by this new collaboration with Iranian vocal legend, Mohammad Reza Shajarian. More purely in the Persian classical tradition, these songs open instrumentally and build slowly and steadily towards their moody, evocative lyrics. Best of all, Shajarian's vocals are much softer and more subtle than one might anticipate -- while much Middle Eastern music is relatively inaccessible to Western ears, you may find family and friends more willing to have this disc spin in the carosel for a while. Nice stuff -- highly recommended.


<! 124 x 108 >

Mohammad Reza Shajarian & The Masters Of Persian Music "Without You" (World Village, 2002)



Master vocalist Mohammad Reza Shajarian evokes Iran's ancient classical tradition, as well as its deep love of poetry. This fluid performance wraps improvisational, exploratory musicianship around the mystical texts of several medieval Persian poets. Shajarian is once again joined by Kayhan Kalhor, of Ghazal, as well as tar virtuoso Hossein Alizadeh and percussionist and co-vocalist Homayoun Shajarian, Mohammad Reza's son. This album is a searching effort, at times a little formless, while at others haunting and incandescent. Worth checking out, particularly if you liked any of the earlier Kalhor/Shajarian collaborations.

Ananda Shankar "Ananda Shankar" (Reprise, 1970)


A kooky kitsch classic, featuring sitarist Ananda Shankar -- a nephew of Ravi Shankar -- playing psychedelic rock-fusion covers of pop hits like "Jumpin' Jack Flash" by the Rolling Stones and the Doors' "Light My Fire," as well as several original tunes. The backing band is mainly made up of American pop studio pros, pumping out punchy, high-test muzak, with a monstrous Moog synthesizer competing with Shankar's energetic, boing-boing-boinging sitar. Obviously this isn't the most subtle or profound Indian music around, but it was a landmark album of sorts... There were zillions of sitar-laced rock songs that came before this in the late 'Sixties, with every hippie and their brother following the lead of George Harrison and the Beatles, but this was one of the first crossover records that was of full album length and that came at the music from the Eastern side of the East-West equation, rather than the other way around. I'm not sure it really transcends novelty status, but there's certainly a through-line from here to artists such as Ashwan Batish, Monsoon and Cornershop. Worth checking out, although it is pretty silly.

Anoushka Shankar "Anourag" (Angel, 2000)



It's probably no surprise to hear that Ravi Shankar's daughter can thrum a mean sitar... and this album (on which Ravi duets for one number) showcases her considerable talent. On my first listen, I wasn't overly blown away -- I thought it was technically sharp, but undistinctive -- but with repeated listenings it grew on me quite a bit. Like her father, Anoushka Shankar takes liberties with the form, introducing touches which could be considered "Western", although in the case of this album these variations are rather subtle, more of a nudge than an actual digression. For the most part, this is a straightforward, traditionalist Indian classical album, and it holds up rather well.


<! original wxh = 110 x 108 - needs new GIF, update >

Anoushka Shankar "Live At Carnegie Hall" (Angel, 2001)



Only twenty years old at the time this album was released, Ravi Shankar's daughter, Anoushka, had become the clear standardbearer for his musical legacy. This live set (featuring three Ravi Shankar compositions recorded at Carnegie Hall, and one at a concert in England) is her third solo album and shows her a technically adept -- if unelectrifying -- performer and able bandleader... It didn't completely entrance me, but it was nice enough, solidly within the Indian classical tradition. Worth checking out, though other sitar-based albums may move you more deeply.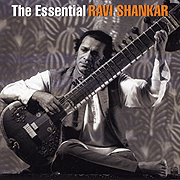 Ravi Shankar "The Essential Ravi Shankar" (Sony Legacy, 2005)



I have a terrible, terrible, terrible confession to make, one that make cause me to be drummed out of the League O' World Music Geeks... I... uh... (...let me take a breath here...) I, um... well... I've never really been all that big a fan of Ravi Shankar's music. Aaaagh! There...! I've said it!! Whew. That feels better. Whew. Okay, I mean, I know he's a big grandaddy of the "world music" scene, and that he's one of the greatest popularizers of Indian classical music that the world has ever known... He's a total mack-daddy show biz superstar, partied with the Beatles and thus brought the sitar into the international rock scene in the 1960s and is said to be the instrument's #1 virtuoso... That being said, I have still often found his perfromance style to be rigid-sounding and somewhat severe, and lacking in the sweet, sensuous side that I so deeply appreciate in Indian and Pakistani music. Anyway, there it is. I'm not with the program when it comes to Ravi. So, this 2-CD collection actually turned out to be a nice surprise... Disc One kicks off with an amusing historical curio: Shankar's 1957 monologue on how to best appreciate Indian music (in which he sternly warns that it is not "Indian jazz..."), and includes numerous tracks from early in his career, most of which fit into the rigid-sounding template I describe above. Disc Two is where the real surprises come in, arcing into his later work in the 1980s and '90s, where Shankar's rigorous musical purism gives way to a looser-sounding crosscultural experimentation, and the results of these raga-pop-world-jazz fusions are often quite delightful. This is a fine retrospective of his work, gathering material from a number of labels, presenting in in a brisk yet expansive format. Recommended!

Shivkumar Sharma/Brijbushan Kabra/Hariprasad Chaurasia "Call Of The Valley" (EMI, 1968/1995)



A groundbreaking set of contemplative Hindustani instrumental that sounds as modern (and timeless) now as it did in the 1960s... Flautist Hariprasad Chaurasia established his career largely on the strength of this recording, providing firm, subtle accompaniment for santoor (dulcimer) player Shivkumar Sharma, who was a strong exponent of his instrument at a time when it was largely looked down on or ignored. A gorgeous set of moderate-to-long songs, the shortest being six minutes, the longest nearly thirteen. All of them beautiful, and intricately linked, in a well-planned album that unfolds from track to track. Recommended!

Baluji Shrivastav "Shadow Of The Lotus: Classical Indian Ragas" (Arc Music, 1994/2007)


A nice solid set of Indian classical music, performed by multi-instrumentalist Baluji Shrivastav, who has done quite a bit of world-fusion material, notably with the group called Re-Orient. Shrivastav plays sitar, pakhavaj, surbahar, dilruba, and tablas. On this album, which first came out in 1994, he's pretty mellow and reserved, digging into the meditative, droning groove of formal, traditional Hindustani ragas. Nice stuff!

K. Sridhar & K. Shivakumar "Shringar" (Real World, 1989)



Amid all the late-'80s flutter over Nusrat Fateh Ali Khan, it was nice -- and somewhat bold -- of Peter Gabriel's RealWorld label to put out such a calm, stately Indian classical album. Two longer ragas featuring sarod and violin, along with some understated percussion. Nice record; certainly worth tracking down!

O.K. Subramaniam "Inde De Sud: Nagaswaram In The Carnatic Tradition" (Inedit, 2004)


Southern India's Carnatic musical tradition is a wellspring of rich melodic depth and improvisational virtuosity, particularly those performances that are built around the sweet violin style of the region. This record, however, spotlights the nagaswaram, an open-faced, oboe-like instrument similar to the Northern shenai but with a harder, more taxing tone. The nagaswaram is played here by Mr. Subramaniam with dazzling skill, but the somewhat harsh, shrill tone that may be offputting to the casual listener. The reed line is doubled by a violin, but not significantly softened, and with this harder edge, these recordings may be less accessible than the soft, elegant Carnatic styles that are often presented to the outside world. It's sort of like listening to bebop jazz: you can be floored by the technical aspects, though the music itself may be a bit rough on your ears. I have a pretty high tolerance for "otherly" music, but after a while I couldn't handle it... just too damn squeaky.

Suarasama "Fatas Di Atas Awan" (Drag City, 2008)



A weird and wonderful, spacy modern mix of styles from Indonesia, featuring multi-instrumentalists Irwansyah Harahap and Rithaony Hutajulu, who blend rambling, folkie acoustic guitar (in a Devendra Banhart/Tim Buckley/Sandy Bull kind of vein...) with various styles of Indonesian regional music. The vocals, male and female, have echoes of Indian bhajan and Sufi quawwal -- I'm not sure what the connections are, or if the similarities are coincidental, but it sure is wild. I some ways this is a very relaxing, mellow record, although the keening vocals may throw some Western listeners off a bit; they can grate against the dreaminess of the music. Overall, though, this is a very intriguing and rewarding record, and very distinctive. (Note: this was apparently originally released in 1997 on a European label, but finds a new audience in the US a decade later...)

Sur Sudha "Images Of Nepal" (Domo, 1997)


One of my favorite albums! Another gorgeous, lushly melodic album, this time from Nepal. Fans of Indian classical may find this familiar -- yet oddly dissimilar. Although the instruments are similar -- sitar, tabla and flute -- the music is not quite as langourous and deliberative; this has a more pronounced melodic drive which may actually make it more accessible to Western ears. Wonderful stuff. Highly recommended!
---
Asian & Islamic Albums: Letter "T"
---



Asian Music Index
World Music Index
---