! MP3 02/04/11, 03/04/12 > <! update 00/00/00 > <! outside 00/00/00 > <! pix 02/04/11 > <! icons 02/04/11 >
---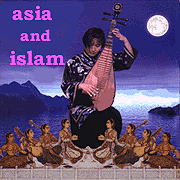 ASIAN & ISLAMIC MUSIC
Miscellaneous Albums
---
This is just the merest sampling of the huge amount of music available east of NATO territory... I can hardly claim that this is a comprehensive, or even representative, sample of what's available. Nonetheless, these are some of the albums which have leapt out at me over the last few years -- hopefully you will find these records as striking as I have. And keep checking this site for more reviews-- it is sure to expand over time. This is the first page covering the letter "G"...
---
A | B | C | D | E | F | G | H | I | J | K | L | M | N | O | P | Q | R | S | T | U | V | W | X, Y & Z | Comps

---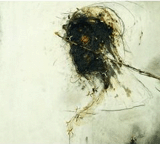 Peter Gabriel "Passion" (Real World/Geffen, 1989/2002)



The soundtrack to Martin Scorsese's controversial (yet sometimes leaden) film, The Last Temptation Of Christ. This inventive, spectral album takes its inspiration from Middle Eastern traditional and popular music, using Gabriel's electronic wanderings to weave together contributions by many of the best "world music" players around, including Hossam Ramzy, Nusrat Fateh Ali Khan, Baaba Maal, and Youssou N'Dour. For many eager American listeners, this was the first introduction to these giant figures in international pop.. The companion album, a world music compilation called Passion Sources is also worth checking out, still one of the best collections of its kind.

Gentra Pasundan Degung Group "Degung - Bulan Dagoan" (Interra, 1996)


Gorgeous Javanese flute-and-gong music... dreamy, ethereal (inject favorite cliched adjective here)... But, hey, believe me, this is a very unique-sounding, very lovely album. Like other Interra releases, it has the disadvantage that it programmed as one long track (even though there are eight distinct tunes on here). Also no liner notes, which is unfortunate, since this label obviously knows its stuff. Regardless, this is highly, highly recommended.

Ghazal "Moon Rise Over The Silk Road" (Shanachie, 2000)



Rapture! Over the years, the music of India has become pretty familiar to Western ears, Persian classical has never had the same sort of tremendous crossover exposure, and still retains much of the austerity and mystery that Indian ragas once had. The group Ghazal interweaves the two styles, and is made up of sitar player Shujat Husain Khan, tabla master Swapan Chaudhuri and Kayhan Kalhor, who plays the Persian kamancheh, an early ancestor of the modern violin. Their third album, "Moon Rise" is their most beautiful and most accomplished to date. Although the members of Ghazal don't completely stick to the strict rules of either tradition, this album follows many of the compositional conventions of Indian and Persian classical music. The first track sets the tone in a prolonged improvisation, experimenting with melodic ideas while establishing a dialog between the unique instrumental voices. The musicians take turns developing and gently pushing the music along, until they join together in a mad dash toward the main theme. The second track, "Pari Mahal", is a bouncy, light celebration of this central melody, and the last track develops it even further, although with a warm, rich wholeness that was only hinted at as the record began. While the album is nearly an hour long, it passes by in a trancey, timeless style, without feeling too short or too long. This is one of the most sensuous, deliciously nuanced, records to hit the world music bins for quite some time.


<! 110 x 108 >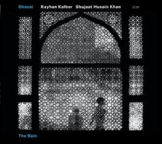 Ghazal "The Rain" (ECM, 2003)



Another exquisite Ghazal album, comprised of a 53-minute live performance, with the build, swell, manic release, gentle slide back down to melodic beauty and re-crescendo that typifies the best sitar music. Kamancheh master Kayhan Kalhor has recently worked with Persian vocalists, music that may be less accessible to Western ears; here, the ensemble stays in a mainly instrumental mode, which, as before, closely resembles Indian classical music. The technical virtuosity of these musicians is underscored by the absence of audience noise -- not until the closing seconds of the album are any applause heard, at which point the astute listener would respond by thinking, "Holy @!#*! That was a live concert?? Indeed. This is a lovely and captivating album, and also a stunning musical display. Highly recommended.

Sankar & Vikram Ghosh "Drums Of India" (Biswas, 1997)


An otherwise very inventive album of tabla-based Indian music is marred by poorly-recorded vocals. Both the Ghoshes (father and son) have worked with Ravi Shankar, and their percussive interplay is quite a delight. A restrained sitar and mildly intrusive keyboards are also part of the mix; on the whole this is a fine set, which makes the distortion on the vocals all the more lamentable. Worth checking out, though.


<! 130 x 130 >

The Gnoua Brotherhood Of Marrakesh/Master Musicians Of Joujouka "Moroccan Trance II: Sufi" (Sub Rosa, 2005)



More weird, wonderful music from Morocco, raw, captivating performances of a musical style that sounds foreign and strange, passionate and dark. I'm not sure I entirely buy into the whole marketing of gnawa as "trance music" -- seems a little trendy to me -- but the style's diehard fans don't seem to mind... so let's let it pass. Anyway, this is a fine set of recordings from the mid-1990s, featuring two of the best-known gnawa groups, in a series of odd, unadorned, untamed recordings, stark-sounding tribal music that seems pure and uncompromised, and which features unique, alluring rhythms and patterns... If you like gnawa, you'll want to check this out!
M. S. Gopalakrishnan "Violin" (RPG/Gramophone Company Of India, 1998)



Carnatic instrumentals, featuring dynamic solo work by violinist Gopalakrishnan, a master of a fingering style known as gamaka, in which the tone is kept continuous throughout long, extended passages. For the most part this is too sharp and fitful for me, not as quiet and contemplative as, say, similar albums by Dr. N. Rajam and others. Still, once you get in on Gopalakrishnan's wavelength, this is a rich and rewarding album. I still have my copy...! (www.saregama.com)
---
Asian & Islamic Albums: Letter "H"
---



Asian Music Index
World Music Index


---