! MP3 03/05/12 > <! update 00/00/00 > <! outside 00/00/00 > <! pix 03/05/12 - lots of adds > <! icons 02/04/11 >
---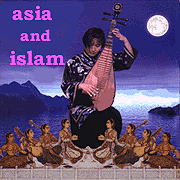 ASIAN & ISLAMIC MUSIC
Compilation Albums
---
This is just the merest sampling of the huge amount of music available east of NATO territory... I can hardly claim that this is a comprehensive, or even representative, sample of what's available. Nonetheless, these are some of the compilation albums which have leapt out at me over the last few years -- hopefully you will find these records as striking as I have. And keep checking this site for more reviews-- it is sure to expand rapidly. Several record labels are profiled on a separate page.
---
A | B | C | D | E | F | G | H | I | J | K | L | M | N | O | P | Q | R | S | T | U | V | W | X, Y & Z | Comps

---

Various Artists "ANTHOLOGY OF INDIAN CLASSICAL MUSIC: A TRIBUTE TO ALAIN DANIELOU" (Smithsonian-Folkways/EMI-France, 1955/2009)






<! First released in 1955 by Ducretet-Thomson (EMI), the LP anthology is said to be the "first of this music to become available in the West in which the recorded pieces were not presented as 'folklore' but as 'serious' music." In 1997 it was digitally re-mastered and issued by AUVIDIS-NAIVE as a 3-CD set in homage to Alain Dani'lou (1907-1994), the prime mover of the legendary UNESCO Collection of Traditional Music. The set includes the first recordings published in the Western world of Ravi Shankar and Ali Akbar Khan. In addition to a short biography of Dani'lou and his influence on Asian music and cultural heritage, liner notes include detailed explanations of the scales, rhythmic ideas, and instrumentation used in each song.This title, courtesy EMI France, is part of the UNESCO Collection of Traditional Music. >

Various Artists "ARABIAN TRAVELS" (Six Degrees, 2001)


Kudos to Six Degrees for putting this album out, even in the wake of the World Trade Center bombing when, presumably, all things Arabic would be held in low regard in the Western world. This is a nice set of Middle and Near-Eastern remixes, featuring world beat stalwarts such as Banco De Gaia, Dissidenten and newcomers like mixmaster Karsh Kale. As with other Six Degrees releases, this is primarily dance material pitched towards the club kids, but with the graceful, arcing, Arabic oud and violin riffs that fill out many of the tracks, this album is also completely enjoyable as background music, sure to elicit a head bob or two from even the crustiest old-timer. A couple of tracks, such as "Blue Turban" by Arabic Breakbeats, are monotonous, but on the whole this is an album well worth checking out. Recommended.

Various Artists "THE BEST OF BOLLYWOOD" (Hip-O/Universal, 2003)


The whole Bollywood/filmi thing is a pretty broad topic, but this is a good sampler, geared towards a (relatively) mainstream American audience, and with a fair dose of more modern material. The major touchpoints are there, including well-known vocalists such as Kishore Kumar and Lata Mangeshkar, as well as the ubiquitous R.D. Burman... No Mohammed Rafi or Asha Boshle however (!) although there are several tracks by lesser-known artists such as Sapna, Alka Yagnik and Sonu Nigham, whose presence makes for a welcome change of pace from the usual-suspects character of oh, so many of these Bollywood comps. Not bad... worth checking out; it'll probably pique your interest and get you to track more stuff down...

Various Artists "BHANGRA BEATZ" (Naxos, 2002)



Admittedly, I haven't heard that many "bhangra" records, and the few that I have heard have all been so wildly different that I would hesitate to even try and define the genre or the term. That being said, I do like this record, and think it's pretty catchy. This is modern-style bhangra (there's also a rougher traditional style), that has some of the mix'n'match elements of Indian soundtrack music, but with that distinctive Punjabi bounce that I love so well. I'm sure some bhangra connoissuers could find fault with this disc, but I thought it was pretty nice. Recommended!

Various Artists "BHANGRA: THE BEST ASIAN BEATS FROM THE STREETS" (Manteca, 2003)


An hour's worth of Euro-Asian dance music, mostly by artists popular inside the UK, folks such as Anakhi, Avtar Maniac, Panjabi MC, Surinder & Manjit and Saqi. Some of it's catchy, but for the most part this particular set was too much on the disco-y, "techno" side of things for me, with an additional gloss of raggamuffin reggae and sundry hip-hoppisms that also made it less than attractive. Sorry: I'm a square. So, sue me. This may be a good introduction to the style, but I found it a bit monotonous.

Various Artists "DEVOTION: RELIGIOUS CHANTS FROM INDIA" (Arc Music, 2006)


Sweet! Very nice, eclectic set of devotional music from the Indian subcontinent, including bouncy Northern styles as well as elegant classic Hindu bhajans and expansive modern world-pop. I found this disc very listenable and compelling... Definitely worth a spin!

Various Artists "FESTIVAL IN THE DESERT" (World Village, 2003)



A fine selection of modern artists, taken from concert performances at the Festival In The Desert, in Essekane, Mali. The artists range from old-timers like Afel Bacoum and Ali Farka Toure to newer groups such as Tinariwen and LoJo, as well as fellow travelers like Robert Plant and Justin Adams, with music that spans rap, pop and super-traditional Sub-Saharan styles. About half the acts are from Mali; France, Italy, Mauritania, the UK and Niger round out the bill, along with one group of Native American performers, Blackfire, from the Navajo nation. Well, hey -- a desert is a desert, right? Good variety, solid performances. Worth checking out.
Various Artists "HAYDAR HAYDAR: MASTERS OF TURKISH MUSIC" (Rounder, 2003)



An authoritative collection of classic Turkish music, with recordings dating from 1906-53, and including many of the masters of the genre such as Udi Hrant, Tanburi Cemil Bey, and others... For my tastes, the older the recordings the better; you might be happier just picking up one of Rounder's other excellent records of similar material, such as its set of vintage material from Udi Hrant, which has a marvellously antique sound to it. On the other hand, it's also nice hearing a wide variety of artists and getting a wider picture of the style. This collection may be pretty inaccessible for the average listener, though -- you really have to want to hear this kind of music to gravitate towards a set like this... But for the right people, I'm sure this collection is a goldmine.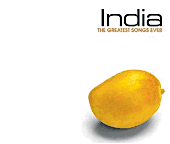 Various Artists "INDIA: THE GREATEST SONGS EVER" (Time-Life/Petrol, 2004)


Despite numerous aesthetic strikes against it -- the obvious lowest common demoninator approach (i.e. an 11-song collection that promises the "greatest songs ever!" from a civilization that's thousands of years old; generic artwork that invites speculation that this series was designed to be sold at the Pottery Barn and Starbucks; a perky little sticker that informs us there are also Indian food recipes inside and, when you open the disc, brief liner notes from some guy who wrote a book about easy listening music...) -- this album actually delivers pretty well on the musical end. It's all modern, world-beat-y, electronicalicious stuff... The closest it comes to classical music is a track by Sufi qawwali singer Nusrat Fateh Ali Khan (and hey, waitaminute... isn't he actually from Pakistan?) and a couple of songs by Bollywood singer Lata Mangeshkar (not classical, but old guard, I suppose...) But the notable aspect is that the music is all pretty good, well-chosen and accessible to American ears... Swirly, moody, melodic stuff, with just enough of an exotic sound to pique the curiousity of newcomers, or to make crabby old farts like me happy as well. Surprisingly good.

Various Artists "MUSIC OF THE NILE: THE ORIGINAL AFRICAN SANCTUS JOURNEY -- FIELD RECORDINGS BY DAVID FANSHAWE" (Arc Music, 2003)



Decidedly noncommercial, richly authentic tribal and traditional music gathered from along the length of the Nile River, in Egypt, Uganda, Kenya and the Sudan. Islamic prayers, cattle herding songs, children's tunes and various ritual chants intermingle on this multi-textured, fascinating collection. Not the glossy, pop-tinged world music we've come to know and love, but certainly a fascinating glimpse into several other, very different cultures. Nice.
Various Artists "POMEGRANATES" (Finders Keepers, 2010)



Iranian pop-psychedelic music from the 1960s and '70s... Haven't heard it yet, but it sounds pretty groovy...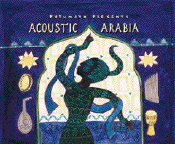 Various Artists "PUTUMAYO PRESENTS: ACOUSTIC ARABIA" (Putumayo, 2008)


A compelling set of modern Arabian pop. Other than Saoud Massi, I'm not that familiar with any of these artists, but I liked how they all fit together. The "acoustic" theme is particularly welcome: it's nice to have a break from the big pop production that has dominated Arabian and Middle Eastern pop music since the 1980s... I'd welcome another collection that goes even deeper into the lyrical, introspective side of the style, while still retaining the modernity that sets it apart from straight folkloric material. Definitely worth checking out.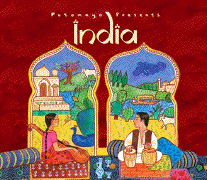 Various Artists "PUTUMAYO PRESENTS: INDIA" (Putumayo, 2009)


Not what I would expect from an overview of Indian music, but certainly a change of pace from the standard-issue Bollywood, bhangra and classical ragas we've come to know so well over the years. This is more of a pop-oriented album, with strong elements of Euro-American pop and soul, although (thankfully) none of the dreadful electro-dance crossovers one associates with Indian music-pop crossovers. This is a rather delicate album, with a variety of styles and tones, only obliquely moving into classical music towards the last few tracks. The various influences reflect not only the cosmopolitanism of contemporary Indian culture, but also the far-flung Indian diaspora, including work by artists such as South African flautist Deepak Ram, and Canada's Kiran Ahluwalia. After listening to this disc a few times, I was won over, although it's still a little on the slick side for my tastes -- nonetheless, it's nice to hear stuff that expands my appreciation of Indian popular music. Worth checking out, particularly if you are looking for something smooth and mellow.

Various Artists "PUTUMAYO PRESENTS TURKISH GROOVE" (Putumayo, 2006)


A solid selection of contemporary Turkish dance music -- modern stuff, borne of the age of electronica -- with flowing crosscurrents of Balkan gypsy harmonies and Iberian flamenco. This album is a bit too club-sceney for me, but I can still recognize that it's good stuff. For y'all who are into world beat dance stuff, this disc will make a good addition to your library.
Various Artists "ROUGH GUIDE PRESENTS: OXFAM ARABIA" (Rough Guide, 2003)


A good cross-section of contemporary Arabian music, drawn from several different countries. Some of these tracks have modernizations that may not appeal to traditionalists -- touches of electronica and the like -- but it's certainly a noteworthy sampler, with several artists on it who are a bit off the beaten track.

Various Artists "THE ROUGH GUIDE TO BHANGRA: ONE WAY TICKET TO BRITISH ASIA" (Rough Guides, 2000)


Hmmm... Well, after taking several stabs at bhangra music, largely through various "best-of" collections, I guess I have to conclude that this genre just ain't for me. I mean, you figure these have to be the best (or at least the most well-known) songs out there, and yet they just hit so many wrong notes for me... Most songs start out with a sound I love -- the loping, alluring melodic rhythms peculiar to Punjabi folk and pop -- and I am instantly drawn in, and then they veer into some woefully garish musical shift -- into the wrong kind of reggae, the wrong kind of rap, or the wrong kind of pop, and I hit the fast-forward button, yet again. This disc has a bunch of the big-name artists of the time on it, artists such as the Safri Boys, Alaap, Punjabi MC and Bally Sagoo... and yet, somehow it manages to exclude those golden, gorgeous tracks I've heard, here and there, that I actually do enjoy. It's too dance and club-oriented for me, although I imagine if that's not a minus for you that this would be an outstanding introduction to the style. Worth checking out, although it left me kinda cold. Oh well, can't win 'em all.
Various Artists "THE ROUGH GUIDE TO RAI" (Rough Guide, 2002)


A top-notch sampler to one of the biggest styles of pop music from Algeria and Northern Africa, with superstars of the genre such as Cheb Khaled, Cheb Mami, Cheba Zahouania, and others. This disc avoids some of the raspier, Arabic-flavored rai out there, but the genre is pretty explicitly "pop," so this is pretty much in keeping with the style. A good introduction for anyone who wants to get their feet wet.

Various Artists "THE ROUGH GUIDE TO THE ASIAN UNDERGROUND" (Rough Guide, 2003)


Generally speaking, I'm not the world's biggest electronica-dance fan, but as the genre goes, I find myself frequently drawn to Asian-oriented releases, since they often seem to have more going on, rhythmically and melodically, than your typical club mix disc. I guess it's because they have to introduce some distinctively "Asian" element, such as a sitar or koto, or readily identifiable Chinese or Hindustani melody...something to set the music apart. Or, maybe, it's just that some of Asian mixmasters have better taste or a wider palatte than their Europhilic contemporaries. At any rate, this collection has plenty of nice, mellow, listenable tracks on it, and makes a worthy contribution to the growing catalogue of likeminded records that are available to inquisitive music fans. Worth checking out!


<! 130 x 130 >

Various Artists "ROUGH GUIDE TO THE MUSIC OF CHINA" (Rough Guide, 2003)


A great selection, covering a wide range of modern and folkloric Chinese music. The album starts out on a shaky note, with a long rock song by Cui Jian that sounds kinda like Sting and The Police -- not my cup of tea, but it certainly lets you know that this is a collection that's going to break up our stereotypes of what "Chinese music" sounds like... And indeed, this set runs a gamut of sound, from the traditional twangy lute music we know and love so well, to many other styles -- folk-rock, anthemic children's choruses reminiscent of the Maoist years, operatic pop, etc. It's an impressive collection representing some of the best music to come from this once-closed society. Informative and thought-provoking, as well as often simply beautiful... This disc is definitely recommended for anyone eager to learn more about the world around us.

Various Artists "ROUGH GUIDE TO THE MUSIC OF PAKISTAN" (Rough Guide, 2003)


To my ears, one of the best Rough Guide collections yet -- a mellow, beautiful, hypnotic set of Sufi qawwali religious vocals, secular-romantic ghazal songs, as well as some modern pop and tribal instrumental tunes. It all flows together quite well -- this disc is nicely programmed for continuous listening, and all the music on it is top-notch and captivating. Includes big-name artists such as singer Abida Parveen and the inevitable Nusrat Fateh Ali Khan entry, but also a slew of lesser-known, but no less talented others. Highly recommended!

Various Artists "ROUGH GUIDE TO THE MUSIC OF THAILAND" (Rough Guide, 2003)


Thailand is, to my way of thinking, about as exotic as you can get, and this disc is packed with music that is quite pleasantly outside of my frame of reference. A wide variety of regional genres are included, from imaginative Western-influenced pop crossovers to more indigenous (though still quite modern sounding) styles. I've never heard of any of these artists before -- which is what makes this collection so interesting -- but the concise, earnest liner notes are helpful with bringing the music into focus. Anyone exploring modern Asian music should be quite happy checking this collection out!

Various Artists "ROUGH GUIDE TO THE MUSIC OF TURKEY" (Rough Guide, 2003)


Pretty straightforward Middle-Eastern pop music, similar overall to Egyptian bellydance pop recordings. Pleasant, though not as far-ranging a sampler of Turkish styles as I was hoping for.


<! 130 x 130 >

Various Artists "SIF SAFAA: NEW MUSIC FROM THE MIDDLE EAST" (EMI Hemisphere, 1995)


Middle Eastern pop music is such a wide field, it may be a bit difficult to know where to start... But this collection of songs from Egypt, Iraq and Saudi Arabia has a very good hit ratio. A strong, well-focused introduction to a big, big subject.
Various Artists "SOUNDS OF THE FAR EAST" (Arc Music, 2003)


An excellent introductory sampler drawn from several earlier Arc Music albums, including some Japanese taiko drumming by the Wa Daiko Matsuri Za ensemble, Chinese classical performances, and folkloric music from Korea, Taiwan, Mongolia and the Philippenes, all sliding from style to style with relative ease. A nice, listenable set!
Various Artists "STARRY NIGHTS IN WESTERN SAHARA" (Rounder, 2003)


A stark set of politically-oriented songs describing the struggle of the nomadic Saharawis, the original inhabitants of the Western Sahara desert, who were dispossessed of their homes in the early 1970s, when Spain ceded their land to Morocco. The plaintive singing style, generally accompanied by hand claps and some percussion, is similar to the tuareg music that's recently gained attention in world music circles. It may be a bit sparse sounding, yet there's an undeniable power to it... If you like tuareg recordings, you might want to check this out as well.

Various Artists "THE STORY OF ARABIC SONG" (Blue Note/Hemisphere, 2000)


An outstanding overview of classical and popular Arabic music, drawn from EMI's early '70s vaults ... some of the best music of its kind available to the West. This is an all-star affair, with Egypt's Oum Khaltsoum and Farid Al Atrache, and Lebanese greats such as vocalist Fairuz and lyricist Wadih El Safi. This disc joins other excellent Hemisphere sets such as the SIF SAFAA collection and several recentretrospectives of individual artists as a nice bridge into the vast Arabic pop scene. It's also very accessible, concentrating on clearer melodic riffs and less on the longer, more difficult passages that some Western listeners might find off-putting. Recommended!

Various Artists "VIBE ASIAN: BHANGRA BEATS AND GARAGE GROOVES" (Music Club, 2003)


Nice set of bouncy Indian/Pakistani pop (much of it recorded inside the UK dance scene) There's plenty of stuff here that's "Asian" enough for me, although there are also several songs that careen into the same old tired rap and raggamuffin tropes that we've all heard a bazillion times before. I know: lots of folks love that stuff... I just ain't one of them. Anyway, this is a fine sampler of a burgeoning world-pop scene, and a good introduction to the style. Recommended.

Various Artists "WORLD LIBRARY OF FOLK AND PRIMITIVE MUSIC: INDIA" (Rounder, 2002)



Another impressive release in Rounder's fabulous Alan Lomax Series. The very nature of this album's title, a hangover from the 1950s field recording era, indicates both the scope and the drawbacks of this disc. It is a sweeping overview of Indian classical and folkloric styles, and as such it is alternately delightful and disappointing. Gathered by French ethnomusicologist Alain Danielou, these well-produced recordings capture many vibrant performances in a variety of styles. Yet as any fan of Indian music will tell you, two-to-three minutes is simply not enough time for most songs to properly develop, and while these are excellent examples of the music, they are not complete performances. But seen as a guide post to steer you into deeper exploration of Indian music, this is a very, very nice record. Recommended.
---
A | B | C | D | E | F | G | H | I | J | K | L | M | N | O | P | Q | R | S | T | U | V | W | X | Y | Z | Comps

---



Asian Music Index
World Music Index

---