! MP3 02/04/11, 03/04/12 > <! update 00/00/00 > <! outside 00/00/00 > <! pix 02/04/11 > <! icons 02/04/11 >
---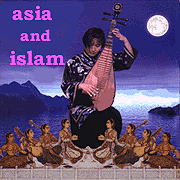 ASIAN & ISLAMIC MUSIC
Miscellaneous Albums
---
This is just the merest sampling of the huge amount of music available east of NATO territory... I can hardly claim that this is a comprehensive, or even representative, sample of what's available. Nonetheless, these are some of the albums which have leapt out at me over the last few years -- hopefully you will find these records as striking as I have. And keep checking this site for more reviews-- it is sure to expand over time. This is the first page covering the letter "E"...
---
A | B | C | D | E | F | G | H | I | J | K | L | M | N | O | P | Q | R | S | T | U | V | W | X, Y & Z | Comps

---

Eliyahu & The Quadim Ensemble "Eastern Wind" (Embarka, 2009)



(Produced by Eliyahu Sills)
A wide-ranging tour of various Middle-Eastern and Asian musical styles, spanning Armenian, Jewish, Turkish and Arabic traditions, much of it either religious material, or based on romantic poetry. Oudist Eliyahu Sills leads this expansive small ensemble from the San Francisco Bay Area, playing several different instruments as well as singing in an impassioned, almost cantorial voice. This performances are lively and heartfelt, a deep exploration into a rich musical heritage.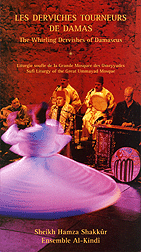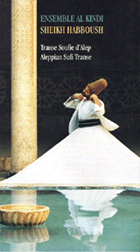 Ensemble Al-Kindi & Sheikh Hamza Shakkur "Les Derviches Tourneurs De Damas" (Le Chant Du Monde, 1999)


Ensemble Al-Kindi & Sheikh Habboush "Transe Soufie D'Alep" (Le Chant Du Monde, 2003)


Beautifully packaged, with classy, luscious graphic design and copious, highly informative liner notes, this handsome pair of 2-CD sets present some of the world's greatest Sufi music from one of the most revered modern ensembles, the Ensemble Al-Kindi of Damascus, Syria. Sufi worshippers and fans of world music alike will find these albums quite compelling -- the music is drenched in transcendant, ecstatic spirituality, quite heartfelt and melodically rich. HIGHLY RECOMMENDED.
---
Asian & Islamic Albums: Letter "F"
---



Asian Music Index
World Music Index


---