! MP3 03/05/12 > <! update 00/00/00 > <! outside 00/00/00 > <! pix 00/00/00 > <! icons 02/04/11 >
---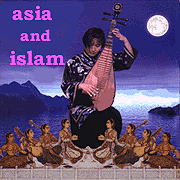 ASIAN & ISLAMIC MUSIC
Miscellaneous Albums
---
This is just the merest sampling of the huge amount of music available east of NATO territory... I can hardly claim that this is a comprehensive, or even representative, sample of what's available. Nonetheless, these are some of the albums which have leapt out at me over the last few years -- hopefully you will find these records as striking as I have. And keep checking this site for more reviews-- it is sure to expand over time. This is the first page covering the letter "M"...
---
A | B | C | D | E | F | G | H | I | J | K | L | M | N | O | P | Q | R | S | T | U | V | W | X, Y & Z | Comps

---

Ronu Majumdar "Young Masters: Ronu Majumdar - Flute" (Music Today/Living Media, 1992)


A beautiful, low-key set of slow, mellow Indian classical ragas, played mainly on flute, with minimal accompaniment on tabla and surmandal. Majumdar plays a style known as Maihar Gharana, and lingers in the graceful, introductory alap mode, but mixes in a bit of the uptempo gat as well. (To be honest, I have only an inkling of what that actually means... All I really know is that this is a gorgeous album... a "keeper" in my collection, for sure.
Ronu Majumdar "Reverie" (Navras, 1996)


Soft, contemplative bansuri flute instrumentals, played live in a London recital. The evocative introductory alap is performed solo; later the percussion of Sukvinder Singh (tabla) and Vinit Vyas (tanpura) add a subtle accompaniment... Nice!

Ronu Majumdar "Hollow Bamboo" (Water Lily Acoustics, 2000)



"Very Marin County..." is how one friend described this disc, and I'll admit it's pretty apt. This is a smooth, mellow, fusion-y effort, with Jon Hassell, Ry Cooder, and Ry's son Joaquim adding their skill to the mix. I know there are those who find it fashionable to sneer at Cooder's contributions to world music, to deride him as intrusive or self-aggrandizing... I think this album is another fine example of how wrong those folks are. Here, he helps sculpt several songs, notably (#4), where his fretwork sounds like a modernized koto, though with an aural depth and darkness that's foreign to that instrument. Yes, his presence is readily felt and and his touch is distinctive; but is that really such a bad thing to say about a master musician? At any rate, Majumdar's gliding bansuri is completely sympathetic to Cooder's contributions. This skirts around the edges of goopy New Age-isms, but retains a substantive feel, and a richness that's quite nice. Maybe not Majumdar's best record, but it's still very good.


<! also: B00004WH85 >

Tejendra Narayan Majumdar "Raga Ahiri" (India Archives, 2001)


Tejendra Narayan Majumdar & Shujat Khan "Raga Lalit" (India Archives, 2001)


More solid, meditative Indian classical music from the India Archives label. Nice to see them back in action: this label has always had the highest quality releases, and these two albums of longer ragas will not disappoint.

Ustad Farida Mahwash "Radio Kaboul" (Accords-Crosses/Harmonia Mundi, 2003)


Well now, here's a record with a real story behind it! Prior to the advent of broadcast radio in the 1940s, musicians in Afghanistan held an indeterminate place in their culture: many were cultivated by the rich as a source of entertainment, yet there were still largely associated with questionable social elements (taverns, houses of ill repute, etc.) and seen as marginal figures, near outcasts. That changed when radio helped democratize culture and brought music into the lives of the masses -- the decades that followed were golden years for Afghani music, with countless composers and performers suddenly in high demand. This album was recorded in honor of the musicians of Radio Kabul, who were persecuted under the Soviet occupation of Afghanistan, and banned under the hyper-Islamist Taliban, which suppressed popular song and banned musical instruments altogether. The set features vocalist Farida Mahwash, whose ascent in the 1970s established her as one of her country's most celebrated singers, and who earned the title of "Master" (Ustad) towards the end of the decade. The ensemble is led by the elder Hossein Arman, one of the original musical composers of the Radio Kabul broadcast station (the others died under deprivation or in exile), and his son, multi-instrumentalist Khaled Arman, who co-founded the Ensemble Kaboul with his father. The music may seem familiar, quite similar to Indian and Pakistani popular song and romantic ghazals; Mahwash still has a lovely voice, and the music, though somewhat formal and restrained is also quite elegant and rich. Worth checking out!

Masters Of Persian Music "Faryad" (World Village, 2003)



A stunning 2-CD set of live performances by the Persian supergroup now known as the Masters Of Persian Music... Kalhan Kalhor (also of the group Ghazal) played the ur-fiddle known as the kamancheh, with rhythmic accompaniment by Homayoun Shajarian on tombak and melodic counterpoint by Hossein Alizadeh on the tar lute. One of Persia's greatest modern vocalists, Mohammad Reza Shajarian leads with lyrical, soulful interpretations of mystical poetry by various classic Persian poets. Both the vocals and the instrumental sections rely heavily on improvisation, and this element of all the artists being fully in the moment adds to the sense of conviction and emotion that characterize all the recordings by this widely lauded group. The first disc is mellower and more introspective, while several songs on the second set build towards a more frenzied, ecstatic release... If you've enjoyed earlier albums by Ghazal or the Masters ensemble, this live album will thrill you as a well. Recommended!
Stephen Micus "Desert Poems" (ECM, 2001)



A gorgeous modern classical/Arabic mix... The Middle East isn't exactly virgin territory for Western classical composers, but it's really been in recent years that the greater subtleties have come out. Stephen Micus' latest work is rich in hush and silence, delving into the lulling, harmonic richness of various Eastern traditions, rather than simply borrowing the belly-dancer melodies. If you'll pardon the stereotype-laden metaphor, this isn't the type of music that would be used to whip the harem girls into a whirling silk scarf frenzy -- rather, it's what a particularly enlightened caliph might relax to, late at night when the palace is alseep and his favorite composer is passing a pipe around. Although Micus primarily draws on Arabic traditions, he also features some typically spectral Japanese shakuhachi flute work, and pushes the mixed tonalities of various non-European scales in unexpected directions. What's most striking about this album is the skill with which he tempers seeming dissonance into smoky melodic accessibility... Although this album is much less ornate, I'm reminded in places of Amitava Chatterjee's equally rich modernizations of Indian classical music. Highly recommended!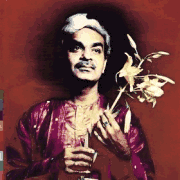 Gopal Shankar Misra "Out Of Stillness" (RealWorld, 2000)



Stately, hypnotic Hindustani classical music, played on the sitar-like vichitra veena, a stringed instruments which is relatively new to Western ears. The vichitra veena actually predates the sitar (it has no frets) but shares much of the same languid, droning resonance. Apparently, the late Dr. Misra was one of its greatest proponents, performing his own arrangements of traditional themes from his native Benares, in Northern India. It's lovely stuff -- simultaneously static and captivating in that unfrenetic manner that can only be achieved by music that isn't obsessed with getting somewhere else, but is content to set a mood and explore it in its own good time.
The Monks Of Sherab Ling Monastary "Sacred Tibetian Chant" (Naxos, 2003)



Although it opens with familiar-sounding throat sings and droning chants, this disc explores a wider range of styles, with songs and arrangements that may be unfamiliar to many world music fans... Not goofy pop remixes, as others have done, but rather a deeper exploration of the real traditional material of Tibet's ancient religious heritage. Unusual and quite pleasant; this is an album whose charms will slowly sneak up on you and then become quite compelling.
Monsoon -- see: Sheila Chandra

Musafir "Gypsies Of Rajasthan" (Blue Flame/Koch International, 1998)



A gorgeous, compelling exploration of North Indian (Rajasthani) classical and folk traditions, ranging from Muslim prayer calls and the playful bounce of Punjabi traditional music to qawwali chants and more modern ambient modes. A trancey latticework, featuring dozens of performers recruited by Musafir's idea man, percussionist Hameed Khan. I picked this up after hearing the group's subsequent album, Dhola Maru, and with repeated listens found this disc to be much more rooted in traditional themes. (Although the group claims allegiance or lineage to gypsy or Romani traditions, I guess my musical palatte is too unsophisticated to catch it -- sounds mostly like Indian-Pakistani music to me... At any rate, it sounds great.) Highly recommended.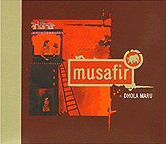 Musafir "Dhola Maru" (Sounds True, 1999)



Even more stunning than their previous album, this disc delves deeper into more overt "world fusion" territory, but not in the icky way usually associated with that phrase. This is a gorgeous, glorious, earthy and expansively rich, Asian-based exploration of culture, sonic texture and musical spirituality. It's really quite lovely, one of the best albums of its kind. Highly recommended.
Musafir "Barsaat" (Blue Fire, 2000)

---
Asian & Islamic Albums: Letter "N"
---



Asian Music Index
World Music Index



---