! MP3 02/04/11, 03/04/12 > <! update 00/00/00 > <! outside 00/00/00 > <! pix 02/04/11 > <! icons 02/04/11 > <! Nabin K. Bhattasai -- Nepalese pop star -- no ASINs 04/11 >
---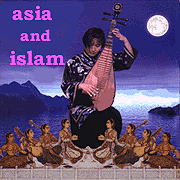 ASIAN & ISLAMIC MUSIC
Miscellaneous Albums
---
This is just the merest sampling of the huge amount of music available east of NATO territory... I can hardly claim that this is a comprehensive, or even representative, sample of what's available. Nonetheless, these are some of the albums which have leapt out at me over the last few years -- hopefully you will find these records as striking as I have. And keep checking this site for more reviews-- it is sure to expand over time. This is the first page covering the letter "B"...
---
A | B | C | D | E | F | G | H | I | J | K | L | M | N | O | P | Q | R | S | T | U | V | W | X, Y & Z | Comps

---

Badma Khanda Ensemble "Mongolian Music From Buryatia" (Arc Music, 2008)



Sweeping, majestic vocal music from Mongolia... The style is what I would, in my infinite limitations, would stereotypically think of as "Chinese music," the sort of thing you'd hear in the background of a foreign film as the ancient castle appeared out of the mist-covered mountains, with an impossibly long road stretching out ahead, with peasants and oxen carrying water, etc. in the foreground. You see what I'm getting at, right? Anyway, the music is not Chinese, at least not originally. Vocalist Badma-Khanda is a folklorist preserving the traditions of her own family's heritage in the southeastern Siberian region of Buryatia. The Buryat culture is originally from Siberia, but like many regional ethnic groups, their culture was repressed under Soviet rule, and was better kept alive on the Chinese-controlled side of the border. Political history aside, it is lovely stuff, and if anyone's feeling in a Last Emperor mood, this might be just the kind of musical backdrop you'd enjoy.

Bapi Das Baul/Baul Bishwa "Sufi Baul: Madness And Happiness" (Arc Music, 2009)



(Produced by Bapi Das Baul)
Lively, joyful, beautiful Indian Sufi music, with the giddy rhythmic bounce of Punjabi music and bhangra pop... Nice flute and vocals, too. Some songs have modern soul/hip-hop production touches, but mostly this is a fairly traditional-sounding set. If you enjoyed albums such as Shujaat Husain Khan's Hawa Hawa, you might want to check this out as well. Recommended!

Bauls Of Bengal "Mystic Songs From India" (Arc Music, 2005)



Bengali music is particular and idiosyncratic, and quite unlike other traditional styles in the Indian subcontinent. It's often improvisatory, reflecting the resistence in Baul religion to organized, well-defined structure and ceremony, and thus it is often evocative and ecstatic. This is an interesting set, with perhaps the most striking feature being a squeaky, semi-melodic percussion instrument that laces through most songs. It's an oddly appealing musical style, and while there is less of a strong, readily identifiable melody than in standard Indian and Pakistani music, it will still be fascinating to those drawn to new and unusual sounds. Recommended!
Ashish Bhadra "Mera Jeevan Kora Kagaz: Hits Of Kishore Kumar" (SCI Super Cassettes Industries, 1991)


This one's a bit deceptively packaged. Bollywood's legendary singer/actor/director Kishore Kumar is pictured on the cover, with his name emblazoned across the title, but this is actually a set of instrumentals, with classic Bollywood hits played on the Hawaiian-style slide guitar by Ashish Bhadra. The tempo often seems a bit slow, although the novelty factor is high... Nonetheless, this is not an album of Kishore Kumar playing slide, as you might have imagined, based on the front cover.
Debashish Bhattacharya "Calcutta To California" (Frequency Glide, 1996)



Indian music with slide guitar...? I'm in!
Debashish Bhattacharya & Bob Brozman "Sunrise" (Sagarika, 2004)





<! over a dozen Debashish Bhattacharya albums 03/12 >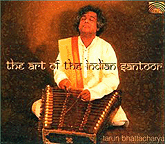 Tarun Bhattacharya "The Art Of The Indian Santoor" (Arc Music, 2002)



Bhattacharya is the master of the santoor, sort of an Indian cross between a harpsichord and a xylophone... This is a lovely all-instrumental album, perhaps a little less mystically charged than his other recent releases, but still quite beautiful and lulling. Recommended!
V.M. Bhatt & Ry Cooder "A Meeting By The River" (Water Lily Acoustics, 1993)



A strong collaborative effort with Indian classical player, Bhatt and multiculti acoustic blues whizkid, Ry Cooder. Cooder is almost out of his depth here, seeking to match his slide style to the uniquely complex tonalities of Indian classical music. But the respectfulness with which he approaches it, and the restraint he shows in his playing place him leagues above any sitar-wielding wannabees you can imagine. Bhatt and Cooder hit a gorgeously sympathetic groove, with Cooder subsuming himself to the classical style for the first half of the disc, then moving in the second part to more overtly define the melodies in terms of the Delta blues riffs that he is a master of. "Isa Lei," the dreamy Hawaiian/acoustic folk instrumental which rounds the record off, is pure beauty. You should give this one a try.

Asif Bhatti "Folk Music From Pakistan: Songs From Punjab" (Arc Music, 2000)



For a long time I've had an affinity for Punjabi music -- there's something about the bounciness of the rhythm and the insistence of the melodies that just makes it irresistable. This album, recommended to me by a friend, is an excellent example of the style, with over a dozen addictive tunes. It certainly holds up to repeated listenings: the first time I checked it out, I wasn't blown away, now I can't live without it. Swirling flutes, soothing harmoniums, a twang here, a boing there, and that universal, bouyant rhythm, and you're off! (NOTE: although Asif Bhatti appears to be the leader of this ensemble, his name does not appear on the album cover. Instead, it goes by the generic title. If you have trouble finding it in stores or online, your best bet might be to contact the label directly.)

Asha Bhosle "Love Supreme" (Times Square, 2006)



A nice 2-CD set that features one disc of newly recorded material and a second of older duets and video clips from this legendary queen of India's Bollywood movie/music industry. Seventy-three years young, Bhosle is still a formidable singer, and while producer Somesh Mathur's smooth, soft-soulish arrangements on the new recordings aren't quite my cup of tea, it's nice to hear her do something that sounds less harsh than the classic, often shrill "filmi" pop music mash-ups... She's always excelled at romantic ghazals, as this disc demonstrates. The second disc gives a good glimpse of Bhosle in her youth (one hesitates to say "in her prime," since she still seems to be there...), singing with R. D. Burman, Mohammed Rafi, Kishore Kumar and her great rival, Lata Mangeshkar... The disc also a couple of videos, giving a flavor of the Bollywood-style music vids. A good introduction to this Indian diva.

Sipra Bose "Bhajan" (Biswas, 1997)
A gorgeous interplay between Ms. Bose's songbird vocals and a light, playful flute (which sadly is unidentified in the liner notes). I love this lyrical, dreamy style of Indian light classical music... Chances are you'll like it, too!

Anouar Brahem "Astrakan Cafe" (ECM, 2001)



A thoroughly lovely, relaxed set of instrumentals from a Tunisian trio, featuring oud, clarinet and percussion. Brahem glides effortlessly through various Arabic styles, tilting slightly towards a Western melodic bounce. The use of the clarinet, which frequently slides into klezmer-like terrain, underscores the closeness of Arabic and Jewish Semitic cultures. This is a very nice album -- easy on the ears for folks unaccustomed to the tonalities of Arab music, but undiluted and uncompromised by outside influences. Recommended!


<! 123 x 108 >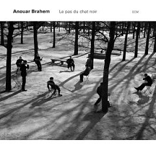 Anouar Brahem "Le Pas Du Chat Noir" (ECM, 2002)



Oudist Brahem branches out to embrace a mellow form of Parisian street music, improvising along with pianist Francois Couturier and accordionist Jean-Louis Matinier. Although the trio often echoes the Argentine tangos of Astor Piazolla, they shy away from the forceful grandeur of the style, mining a mellower, slightly Shadowfax-y, New Age-ish sound. Muted strains of Arabic classical, Argentine tango and Parisian musette mix with equal ease, and while the overall sound may be a bit goopy, it's also quite engaging. Relaxing, amorphous music with considerable richness and depth.
---
Asian & Islamic Albums: Letter "C"
---



Asian Music Index
World Music Index


---