! MP3 02/04/11, 03/05/12 > <! update 00/00/00 > <! outside 00/00/00 > <! pix 02/04/11, 03/05/12 > <! icons 02/04/11 >
---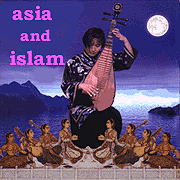 ASIAN & ISLAMIC MUSIC
Miscellaneous Albums
---
This is just the merest sampling of the huge amount of music available east of NATO territory... I can hardly claim that this is a comprehensive, or even representative, sample of what's available. Nonetheless, these are some of the albums which have leapt out at me over the last few years -- hopefully you will find these records as striking as I have. And keep checking this site for more reviews-- it is sure to expand over time. This is the first page covering the letter "R"...
---
A | B | C | D | E | F | G | H | I | J | K | L | M | N | O | P | Q | R | S | T | U | V | W | X, Y & Z | Comps

---

Ramin Rahimi & Tapesh "Iranian Percussion" (Arc Music, 2009)



(Produced by Ramin Rahimi) <! ?>
A contemporary Iranian drumming ensemble with a strong traditional foundation. This is pretty intense stuff, really for hardcore drumming and percussion fans -- technically and culturally rich, but perhaps a little inaccessible to the average world music fan, as there is less overt emphasis on melody or harmony. But it is very high-class stuff for the right listeners to embrace.

A. R. Rahman/Various Artists "The Best Of A. R. Rahman: Music And Magic From The Composer Of Slumdog Millionaire" (Sony-BMG Legacy, 2009)



With the stunning Academy Awards sweep by the film Slumdog Millionaire, Bollywood music stands poised to make new inroads on the global popular culture, particularly in the United States, where the bedroom dance sequence from Ghost World was probably the last time that more than a handful of the uninitiated got a good dose of India's wildly eclectic pop music scene. This is a top-notch collection of songs by composer A. R. Rahman, who got an Oscar of his own that night, and who is one of India's best-known and most highly regarded contemporary songwriters. The disc opens with an irresistible dance number, "Rang De Basanti", performed by Chitra Daler Mehndi, and branches out into a variety of styles. Although rhythmic toe-tappers are clearly a style that Rahman is master of, sweet, lyrical romantic songs are as well... Kavita Krishnamurthy's vocals on "Dheeme, Dheeme" are gorgeous; they give way to the more sedate, cinematic "So Gaye Hain," one of the mellower Lata Mangeshkar songs you'll ever hear. This is a fine introduction to Rahman's work (there are several others to be found as well...) and an enticing doorway into the world of modern Bollywood pop. Recommended!

Dr. N. Rajam "The Enchanting Violin Of Dr. N. Rajam" (Oriental Records)


Apparently, this is the first solo recording of Dr. N. Rajam, a master of Hindustani music who developed new fingering and bowing techniques in order to bring the full range of Asiatic tonalities into play. The result is sublime: Rajam has a gorgeous, supple sound that is richly soulful, and quite captivating. Backing her on this early recording (wish the CD mentioned the exact date!) is tabla master Zakir Hussain, himself the model of restraint. Compared to some later works, Rajam goes a little overboard in a few places, notably on the first raga, "Mian Malhar," where she fiddles around in the squeekiest part of the her instrument's register. Overall, though, this is another fine album by this sublime performer, well worth picking up!
Dr. N. Rajam "Violin" (EMI, 1985)
Another absolutely gorgeous violin music from Dr. Smt. N. Rajam, one of the most striking female musicians I know of working in the Indian classical tradition. Her doctorate is in music, for a comparative study of Hindustani and Karnatic music, both of which she has ably mastered. If you're looking for something beautiful and mellow, then I strongly recommend Rajam's work -- I have yet to hear an album that I didn't greatly enjoy, and this is one of the best.

Dr. N. Rajam "Maestro's Choice" (Music Today, 1994)


One of my favorite Indian classical albums... Rajam's soulfulness and mastery of the violin mature like a fine wine: I wish I could buy a whole case, but the handful of albums I've found so far have been rapturous! This is a spookily transcendent instrumental album, with Rajam delving into the lower register of the violin in order to capture the drone of Indian classical tonalities. If you like music that makes the hairs stand up on the back your neck and your skin tingle, then check this disc out! Highly recommended.
Dr. N. Rajam "Vocals Through Violin" (Omi, 1996)



Dr. N. Rajam "Radiant" (Sense World Music, 2002)



With minimal percussive backup, this disc features Rajam in a starker mode, playing practically solo in a style that's more improvisatory and searching than contemplative and evocative. While this doesn't have the same lulling, ethereal softness of other albums, it certainly highlights her virtuousity and musical depth. Akram Khan plays tabla, a quiet, minimal accompaniment that calls little attention to itself.
Hossam Ramzy "El Sultan: Classical Egyptian Dance" (Arc Music, 2003)



Another set of lively, inventive bellydance instrumentals, from the modern master of the style. Honestly, it's a little hard for me to differentiate this from other albums, nonetheless I can tell it's good stuff.

Hossam Ramzy "Bedouin Tribal Dance" (Arc Music, 2007)



A powerful set of propulsive, uncompromised and utterly authentic acoustic music, drawn from the Bedouin tradition of the Arabian Peninsula... The percussion is solid throughout -- Ramzy's status as a favorite of the tribal bellydancing crowd is kept strong here -- with the vocals providing a soft, understated counterpoint. What's most striking here, though, is the piercing, yet expressive sound of the rababa, a deceptively simple stringed instrument that sounds, for all the world, like a Highlands bagpipe. And, like the bagpipe, it's definitely an acquired taste: this disc will either drive you buggy, or utterly entrance you. I thought it was really nice, filled with engaging, alluring, and infinitely varied rhythms, topped by lively virtuoso playing. The melodic parts are rather shrill, but compelling. Definitely worth checking out.
Hossam Ramzy & Phil Thornton "Egypt Unveiled" (Arc Music, 2011)



As noted elsewhere, I'm not usually a big fan of "world beat" fusion, but this disc definitely has some standout tracks. I'm particularly wowed by the dynamic "Planet Egypt," which has some deft and dazzling interplay between traditional Egyptian wind instruments such as the kawala (flute), arghul and mizmar, which playfully dance between Ramzy's insistent percussion. This album is worth it for that one track alone! A strong traditional current pervades through most of the record, although in the second half, Phil Thornton's gooier New Age pop tendencies start to take over on some songs. All in all, though, a very strong album... Just the thing to groove out on while watching 2011's "Arab Spring" unfold in Egypt and elsewhere...

Hossam Ramzy/Various Artists "Rock The Tabla" (Arc Music, 2011)



A drum lover's delight. Egyptian percussionist Hossam Ramzy convenes yet another all-star world-beat extravaganza, with Indian composer A. R. Rahman, taiko master Joji Hirota and jazz drummer Billy Cobham among the many collaborators. Ramzy anchors the album with his wild, insistent, irresistible rhythms, matched on several tracks by Cobham's incisive, precise snare work (Cobham being no stranger to world music, as a founding member of the Mahavishnu Orchestra in the early 1970s... ) Overall, this album was a bit too manic for me, but the level of musicianship is quite high, and folks who appreciate pure musical chops will find plenty here to make their toes tap and their jaws drop. Some tracks have mellower, more subtle grooves, with highlights including "Rock The Tabla" and "Ancient Love Affair." Definitely worth a spin.
---
Asian & Islamic Albums: Letter "S"
---



Asian Music Index
World Music Index



---