! MP3 03/04/12 > <! update 00/00/00 > <! outside 00/00/00 > <! pix 00/00/00 > <! icons 02/04/11 >
---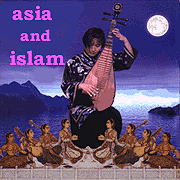 ASIAN & ISLAMIC MUSIC
Miscellaneous Albums
---
This is just the merest sampling of the huge amount of music available east of NATO territory... I can hardly claim that this is a comprehensive, or even representative, sample of what's available. Nonetheless, these are some of the albums which have leapt out at me over the last few years -- hopefully you will find these records as striking as I have. And keep checking this site for more reviews-- it is sure to expand over time. This is the first page covering the letter "C"...
---
A | B | C | D | E | F | G | H | I | J | K | L | M | N | O | P | Q | R | S | T | U | V | W | X, Y & Z | Comps

---
Sheila Chandra -- see artist profile

Amitava Chatterjee "Songs Of Kabir" (Interworld, 1993)


(Produced by Gerry James)
A sensuous treat, with shimmering, insistant vocals, subtle percussion and deft, Western-flavored Pierre Bensusan-ish guitars. The lyrics come from the love poems of the North Indian poet mystic, Kabir (one of the most widely read poets in the world), sung in a compelling traditional keening which is both immediate and lulling; the music is based on the melodic improvisations of the Indian classical alap. The percussive accompaniment from Glen Velez is completely sympathetic, and by and large this album avoids the New Agey meanderings of other efforts by this same crowd. This is a deliriously dreamy album... one of my all-time favorites.


<! 130 x 130 >

Hariprasad Chaurasia/Shivkumar Sharma/Brijbushan Kabra "Call Of The Valley" (EMI, 1968/1995)


A groundbreaking set of contemplative Hindustani instrumental that sounds as modern (and timeless) now as it did in the 1960s... Flautist Hariprasad Chaurasia established his career largely on the strength of this recording, providing firm, subtle accompaniment for santoor (dulcimer) player Shivkumar Sharma, who was a strong exponent of his instrument at a time when it was largely looked down on or ignored. A gorgeous set of moderate-to-long songs, the shortest being six minutes, the longest nearly thirteen. All of them beautiful, and intricately linked, in a well-planned album that unfolds from track to track. Recommended!

Pt. Hariprasad Chaurasia "Immortal Series: Flute" (Super Cassettes, 1990)
Nice live album, with Sabir Khan accompanying on tabla. Beautiful flute work, with a gorgeous, mediative opening alaap and a slow raga... The pace picks up on the later tracks, and even gets a bit too manic but, as always, Chaurasia's work is a delight. Recommended. [Tracks include: "Raag: Jog-Alaap & Gat" (30:09), "Raag: Hansdhwani-Alaap & Gat" (22:33), "Thumri Mishra Pilu" (17:00)].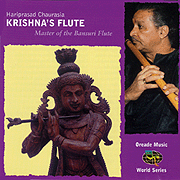 Pt. Hariprasad Chaurasia "Krishna's Flute" (Oreade Music, 1990)



More gorgeous, contemplative music played on the bansuri flute. The opening performance, an hour-long instrumental, takes all the time it needs to weave a thoroughly sweet spell. The second track, featuring tabla accompaniment by Shubankar Banerjee, is much shorter and more upbeat, but lovely as well. Another gem by Chaurasia -- highly recommended! [Tracks include: "Raga Bhoopali: Alaap, Jor, Jhala" (55:13), "Bengali Folksong" (15:51)].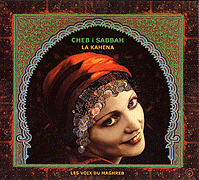 Cheb i Sabbah "La Kahena" (Six Degrees, 2005)



One of the best world music releases of the year! Algerian DJ Cheb i Sabbah adds subtle electronic touches to otherwise very traditional-sounding rai pop... The over-the-top tweaking and generic beat mixing that plagues so many world-dance projects is almost entirely absent on this delightfully restrained album; Sabbah adds a thumping downbeat here, and a keyboard gloss there, but with the lightest of touches, and never in a way that overshadows the basic melody or original song. The female vocals are gorgeous, too -- Cheba Zahounia kicks off the album, followed by less well-known vocalists who are nonetheless quite sublime... Oh, and Karsh Kale and Bill Laswell are also in the creative mix as well, and this marks a high point in everyone's career, if yuh ask me. Nice stuff -- makes Arabic pop very accessible and sesually rewarding... Recommended!
Cheb i Sabbah "La Ghriba: La Kahena Remixed" (Six Degrees, 2006)



Clubby, hiphoppish electronica remixes of Moroccan pop star Cheb i Sabbah's work... It's nice and very skilfully produced, and if you like the style I'm sure this disc has a lot to offer. Personally, though, I'm not into club music, so this isn't really one that grabs me that much. Results may vary.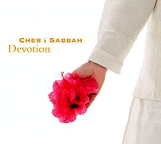 Cheb I Sabbah "Devotion" (Six Degrees, 2008)



Although he's originally from Algeria, multiculti mixmaster Cheb i Sabbah taps into Indian culture with authority and ease... And not just one musical style: this velvet-textured album moves from the unmistakable bounce of traditional Punjabi music into the soaring vocals of both the Carnatic and Hindustani traditions. As the title implies, the theme of the album is devotional, and the searching, ecstatic qualities that implies are readily present throughout. This is a lovely record, with breadth and depth that are equal delights, with classical themes interwoven into a modern, electronic-tinged pattern. Fans of the late Nusrat Fateh Ali Khan will enjoy this aswell... If you're looking for an album that can both lull you or pluck you up and bring you closer to the sky... check this one out!
Ry Cooder & V.M. Bhatt "A Meeting By The River" (Water Lily Acoustics, 1993)



A strong collaborative effort with Indian classical player, Bhatt and multiculti acoustic blues whizkid, Ry Cooder. Cooder is almost out of his depth here, seeking to match his slide style to the uniquely complex tonalities of Indian classical music. But the respectfulness with which he approaches it, and the restraint he shows in his playing place him leagues above any sitar-wielding wannabees you can imagine. Bhatt and Cooder hit a gorgeously sympathetic groove, with Cooder subsuming himself to the classical style for the first half of the disc, then moving in the second part to more overtly define the melodies in terms of the Delta blues riffs that he is a master of. "Isa Lei," the dreamy Hawaiian/acoustic folk instrumental which rounds the record off, is pure beauty. You should give this one a try.
---
Asian & Islamic Albums: Letter "D"
---



Asian Music Index
World Music Index


---