! MP3 02/28/09, 03/05/12 > <! update 00/00/00 > <! outside 00/00/00 > <! pix 03/05/12 > <! icons 02/04/11 >
---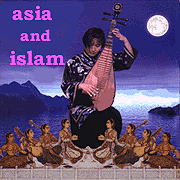 ASIAN & ISLAMIC MUSIC
Miscellaneous Albums
---
This is just the merest sampling of the huge amount of music available east of NATO territory... I can hardly claim that this is a comprehensive, or even representative, sample of what's available. Nonetheless, these are some of the albums which have leapt out at me over the last few years -- hopefully you will find these records as striking as I have. And keep checking this site for more reviews-- it is sure to expand over time. This is the first page covering the letter "N"...
---
A | B | C | D | E | F | G | H | I | J | K | L | M | N | O | P | Q | R | S | T | U | V | W | X, Y & Z | Comps

---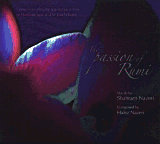 Shahram Nazeri & Hafez Nazeri "The Passion Of Rumi" (Quarter Tone, 2007)



The mystical-romantic lyrics of the great Sufi poet, Rumi, put to music by the father-son duo of Shahram and Hafez Nazeri... Listeners who've enjoyed recent albums by the Persian classical ensemble Ghazal will appreciate this as well... Very stately and richly realized.
Niyaz "Niyaz" (Six Degrees, 2005)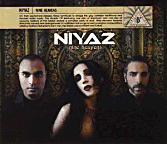 Niyaz "Nine Heavens" (Six Degrees, 2008)



This is the Niyaz band's second album, a rich, vibrant mix of musical styles from Turkey, Iran and India, with modernizations (electronic effects and electronically processed percussion) that perfectly compliment but never overwhelm the traditional elements. Fans of Natacha Atlas and Dead Can Dance will totally groove on this, as well as folks who picked up singer Azam Ali's earlier albums, before she joined the Niyaz troika. This album includes two separate discs, and two separate versions -- there's an acoustic mix and an "electronic" mix (which I would simply call a fuller "pop" mix; it doesn't seem particularly tripped-out to me... ) Each disc plays in a different song sequence and has its own distinct feel. Initially I thought I would prefer the acoustic version, and checked it out first, liked it, then went for the full pop mixes... Wow. I'd expected some kind of loud, clubbed-out, remixxy bombast, but was pleasantly surprised by the restraint and elegance of the enhancement, and by how much power and depth this gave to the songs. The additional production mainly includes light keyboards and other touches that add texture, but not brute force, and the embellishments are in keeping with the musical traditions that Niyaz were working from to begin with, evoking flutes and other instruments heard on old records, rather than the drum machines heard in the 1990s. In short, it sounds great. If you like Middle Eastern and Asian music, this'll give you a real thrill. Nice.
---
Asian & Islamic Albums: Letter "O"
---



Asian Music Index
World Music Index



---