! MP3 02/04/11, 03/05/12 > <! update 00/00/00 > <! outside 00/00/00 > <! pix 00/00/00 > <! icons 02/04/11 >
---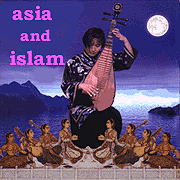 ASIAN & ISLAMIC MUSIC
Miscellaneous Albums
---
This is just the merest sampling of the huge amount of music available east of NATO territory... I can hardly claim that this is a comprehensive, or even representative, sample of what's available. Nonetheless, these are some of the albums which have leapt out at me over the last few years -- hopefully you will find these records as striking as I have. And keep checking this site for more reviews-- it is sure to expand over time. This is the first page covering the letter "P"...
---
A | B | C | D | E | F | G | H | I | J | K | L | M | N | O | P | Q | R | S | T | U | V | W | X, Y & Z | Comps

---

Abida Parveen "Best Of" (Shanachie, 1997)


Although she is one of Pakistan's greatest modern vocalists, Parveen has been almost completely overshadowed by the international stardom of the late sufi qawwal master, Nusrat Fateh Ali Khan. Khan, of course, is one of the few Pakistani musicians whose records are widely available in the West, though this excellent best-of provides a wonderful glimpse into Parveen's own large catalog. If anything, she is much more stylistically diverse, offering romanitic as well as devotional music, and while not as technically dynamic vocalist, she is no less expressive. Highly recommended, especially if you were ever on the Fateh Ali Khan bandwagon, but wanted to hear something a little more diverse.

Abida Parveen "Best Of" (Music Today, 2003)



A 2-CD set...

Perfume River Traditional Ensemble "Music From The Lost Kingdom: Hue" (Lyrichord, 1998)



This Vietnamese classical court ensemble plays in a style which dates from the 11th Century. For a while during the War, the city of Hue retained its sacrosanct, hands-off status, but eventually got engulfed by the conflict. The ensemble, meanwhile, became cultural ambassadors -- a position they continue to fill. The striking thing about the repertoire is how closely it resembles classical Chinese and Japanese music, with koto-like lutes and languid vocals, rather than the quirky and hypnotic folk styles of various Vietnamese provinces. Meditative, stately music.
---
Asian & Islamic Albums: Letter "Q"
---



Asian Music Index
World Music Index



---