! MP3 02/04/11, 03/05/12 > <! update 00/00/00 > <! outside 00/00/00 > <! pix 03/05/12 > <! icons 02/04/11 >
---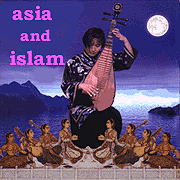 ASIAN & ISLAMIC MUSIC
Miscellaneous Albums
---
This is just the merest sampling of the huge amount of music available east of NATO territory... I can hardly claim that this is a comprehensive, or even representative, sample of what's available. Nonetheless, these are some of the albums which have leapt out at me over the last few years -- hopefully you will find these records as striking as I have. And keep checking this site for more reviews-- it is sure to expand over time. This is the first page covering the letter "V"...
---
A | B | C | D | E | F | G | H | I | J | K | L | M | N | O | P | Q | R | S | T | U | V | W | X, Y & Z | Comps

---

Vadya Lahari "South Indian Instrumental Ensemble" (Music Of The World, 1994)


Led by violinist A. Kanyakumari, this five-member ensemble explores the Carnatic musical tradition of Southern India, combining instruments (such as....) that are usually not played together... While this is a very accomplished group, it may not be all that "accessible" to the casual listener: the combination of Kanyakumari's violin with the shrill tones of the nadaswaram, a long, loud wind instrument, as well as the raucous, bouncy pace of the music, may make this record a little difficult to listen to... At least it's hard to use it as mellow, background music, the way you can with so much other Indian music. This is a little more challenging than that... which may be fine, if that's what you're looking for. For me, even though I love Carnatic music, this was just a little bit grating, but still okay. GREAT liner notes, though, which help explain the performance style and the various compositional elements of the music.
Vadya Lahari "South Indian Instrumental Ensemble" (Music Of The World, 1992)


Oooops! Looks like I've bought (and reviewed!) this record on two separate occasions. Here's my original review: I was drawn to this disc by the lure of the South Indian clasical mode, and by the prominent billing of violinist A. Kanyakumari (who I'd never heard of before; I just dig South Indian violin music...) I was nonplussed, however, to find that the performances were a bit too manic and fast for my tastes... The ensemble is certainly virtuousic and, as the liner notes suggest, this style of rapid, dynamic performance is rare in the Karnatic tradition. But me, I like the slow stuff, it's more evocative and sexy... I suppose, though, it's a matter of temprement -- if you like flashy, drag-racing, zillion-notes-a-minute performances, then this is a disc you might want to check out.

Kunnakkudi Vaidyanathan "Thillana On Violin" (Magnasound, 1994)



Energetic, technically dazzling violin work that's somewhat removed from the normally relaxed feel of Carnatic tradition... A little too zippy for me, though having heard this, I will look for some of Mr. Vaidyanathan's other records, though, to see how his fiddling sounds on other projects.

Kunnakkudi Vaidyanathan & Valayapatti A. R. Subramaniam "Vaidyanathan With Subramaniam" (EMI-Gramophone Company Of India, 1995)



An unusual take on the carnatic style, with violinist Vaidyanathan jauntily zipping along to the somewhat clattersome percussive accompaniment of Mr. Subramaniam, who plays the thavil, a type of drum with a very piercing high end. They have a somewhat playful and kinetic approach, and on one song even improvise their way through a riff on old American fiddling tunes (on the track listed as "Note"). Skillful virtuoso playing, but ultimately not the sort of moody, transcendent music I look for in this style. This album grew on me, though, and ultimately I decided it was a keeper...
---
Asian & Islamic Albums: Letter "W"
---



Asian Music Index
World Music Index



---