<! MP3 00/00/00 > <! pix > <! icons 00/00/00 > <! UPDATES: 10/23/12 - lots of adds >

---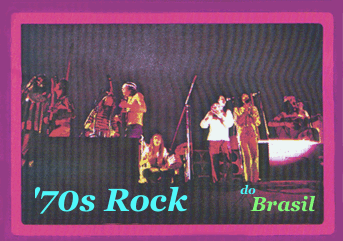 In the 1970s, Brazilian rock'n'roll followed along on several parallel paths, which only occasionally intersected. Many of the groups from the heavily commercialized, early-60s prefab jovem guarda teenybopper scene kept making albums well into the 1970s. Generally speaking, these continued along the pop cover-tunes path of their earlier work, or dipped even deeper into bland pop vocals, as with Roberto Carlos, the king of the scene. Many of the great tropicalia artists who pioneered psychedelic rock in Brazil moved on to become the superstars of the "MPB" scene, which also turned towards an increasingly-ornate pop direction; some -- like Jorge Ben -- delved into funk and soul-flavored groove music.
A handful of artists pursued (more or less) straight-ahead rock music... Many were inspired by the inroads made by the tropicalia movement, but keeping up with the times, they spun off in different directions. Ex-Mutante Rita Lee became something of a stadium rocker, and several prog bands flourished in the mid-'70s, while a few hardcore rockers and psychedelic bands also roamed the land. To be honest, I haven't heard all that many of these records... but as I check them out, I'll add my reviews to the Slipcue site.
---
Brazilian Rock: A | B | C | D | E | F | G | H | I | J | K | L | M | N | O | P | Q | R | S | T | U | V | W | X, Y & Z | Compilations
---
Related Styles: Jovem Guarda | Tropicalia | Disco, Funk & Soul | Other Brazilian Styles
---
Baby Do Brasil/Baby Consuelo - see artist discography

Bacamarte "Depois Do Fim" (Som-Arte, 1983)


A legendary Brazilian prog album, mainly a showcase for guitarist Mario Neto, who wrote or co-wrote all but two of the songs, and also an intriguing change of pace for vocalist Jane Duboc, better known for her work in the world of jazz ballads. There are lyrical, pastoral passages (particularly those featuring flautist Marcus Moura) but also a lot of searching, note-heavy guitar work, reminiscent of guitar heroes such as Jeff Beck and Yngwie Malmsteen. This is really not my kind of music, but I will take the word of the many prog fans who've flocked to this record: good for the genre.
Zeca Baleiro - see artist profile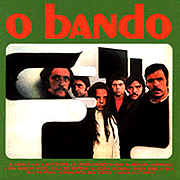 O Bando "O Bando" (Discos Mariposa/Polydor, 1969/2007)


(Produced by Rogerio Duprat)
A welcome reissue of a lively "lost-classic" psychedelic rock album from Brazil's "tropicalia" era of the late-1960s/early-'70s... O Bando were a Sao Paulo band that nakedly emulated the better-known Os Mutantes, mixing clattersome pop-psychedelic rock with jazz, folk and indigenous Brazilian styles, then pushing their performances to furious crescendos. The likeness to Os Mutantes was hardly coincidental: tropicalia's avant-pop producer Rogerio Duprat helmed this project, and brought to it the same basic formula as he had used on the Mutantes records, and some Gal Costa albums of the same vintage. It's a bit shrill and driving, but if you are fascinated with that era and with the whole tropicalia scene, you'll definitely want to check this out. This was O Bando's only album; apparently they also released a single or two, and then went on to work elsewhere are backup musicians in the 1970s and beyond.


<! BANGO >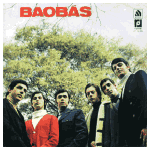 Baobas "Baobas" (Mocambo/Rozenblit, 1968) (LP)


A '60s mod/garage band with an album's worth of cover songs by US/UK acts such as the Kinks, Moody Blues, Doors, et al. The repertoire is kind of standard, but the band itself has a significant place in Brazilian rock history -- one sometimes-member was bassist Arnolpho Lima Filho, aka Liminha, who was a member of 1970's Os Mutantes lineup, and became a prolific rock-pop producer in the '80s.
Arnaldo Baptista - see artist discography & Os Mutantes
Barao Vermelho - see artist profile
Arrigo Barnabe - see artist profile

The Beat Boys "Beat Boys" (RCA-Brazil/Lion Productions, 1968/2010)


Although they were actually from Argentina, the Beat Boys made their names on the 1960s Brazilian rock scene, backing the great innovators of the psychedelic-oriented tropicalia scene -- Gilberto Gil and Caetano Veloso -- as they embraced electrified, American-style rock music. Along with bands such as Roberto Carlos' RC7 and the more notorious Os Mutantes, the Beat Boys were a go-to band if you wanted a hard-edged, solid garage-psych rock backing, and they appeared anonymously on several key tropicalia recordings. This is a reissue (with bonus tracks) of their own full-length release from 1968... You might read elsewhere how this disc is some kind of mind-blowing, hard-psych acid rock Rosetta stone; I think that's kind of an exaggeration... What this is, though, is an unusually cohesive Brazilian garage rock record by a band that was more professional-sounding and grittier than most of the other groups exploring the same music at the time. In the '60s, Brazil didn't have much history with greasy, grimy, longhaired rock music, and there wasn't a big back bench for them to draw on, so a band like The Beat Boys stands out at the front of the pack. If you want to hear a prime example of Brazilian "beat" music, with stylistic debts to melodically oriented groups such as the Beatles and the Standells (and maybe the Seeds, at the freakier end of their spectrum...) this is an album worth tracking down. Some fun songs, too!
Belchior - see artist discography
Jorge Ben / Jorge Benjor - see artist discography
Bide Ou Balde "Bide Ou Balde" (Abril, 2002)

Bide Ou Balde "E Preciso Dar Vazao Aos Sentimentos" (L & C Editoras, 2006)


Generic, fill-in-the-blanks, New Wave-tinged, power-poppy alterna-rock... Atypical for Brazilian pop, but also kind of fun, like a prefab mix of the Dickies and the B-52s. This disc is actually fairly engaging, right up until the handful of remix tunes that close the album... But for folks looking to close up the indie-rock vacuum in Brazil's rock world, this is certainly worth checking out. Not the greatest, but it's interesting to know it's there.
Biquini Cavadao - see artist discography
Blitz - see artist discography

Blow Up "Blow Up" (Caravelle, 1969)
The first full-length album by this dynamic hippie-era rock band, formerly known as The Black Cats... These guys cited the Bee Gees as influences; you can also hear traces of sophisticated but hip pop bands such as the Rascals in their work -- and certainly The Zombies, since they cover "Time Of The Season" here (in English, unfortunately -- I would have loved to hear that song em Portuguese!) Blow Up (named after the Antonioni film) later toughened up their sound and became more of a hard-rock group, but this earlier, twee-er stuff is fun, too. Definitely one of the more vigorous rock bands of the jovem guarda era!

Blow Up "Blow Up" (Caravelle, 1971)
A pretty groovy hippie rock album, with plenty of stylistic influences, running roughly from the country-folkier side of the Byrds to a more heavy rock sound with little bursts of Cream-ish power chords and more jittery stuff that seems more Brit-Mod influenced. It's pretty cool, even on the songs where they sing in English. Apparently these guys had several changes of line-up and in addition to these two albums they also released a few singles, as late as '77... They certainly seem like good candidates for a best-of reissue disc!

Marcelo Bonfa "O Barco Alem Do Sol" (Trama, 2000)



A bouncy solo effort by a former member of Brazil's revered part-punk pop supergroup, Legiao Urbana. As with his old band's work, this album alternates between more-indie and more-commercial leanings... The Velvet Underground-ish undertone of a few songs is nice (but not that prominent), while a other tunes drift into formulaic alternapop. The overall effect is, I suppose, of a Brazilian Morrissey (?) Probably worth checking out, if you're interested in hearing something from the world of modern, international guitar rock.
Marcelo Bonfa "Bonfa + Videotracks" (EMI, 2004)



A 2-disc CD-DVD set...
Marcelo Bonfa "Mobile" (Giz Producoes, 2008)


Ari Borger "Blues Da Garantia" (ST2, 2000)


The blues have never had a particularly large presence in Brazil... The tropicalistas dabbled in them a bit; various rockers have played a riff here and a riff there, but for the most part, the style never seemed to strike the fancy of Brazilian audiences. That makes this a very unusual album -- an accomplished, hard-edged, houserocking blues blast, led by Sao Paulo pianist Ari Borger. He's got the goods: this is a punchy, well-produced set... superior, even, to most of the blues coming out in the United States these days. Vocalist Ivone Williams, who fronts the band on most of these songs, also has serious blues chops, wailing away in a Koko Taylor-y, Francine Reed-like fashion. The only trouble, though, is that most of the songs are sung in English, rather than Portuguese, which makes this merely a good blues album, rather than a rare and amazing cultural artifact. Still, this is worth checking out if you want to hear a completely different kind of Brazilian pop.
Ari Borger "AB4" (ST2, 2004) <! 2007? >

Ari Borger "Backyard Jam" (GRV, 2010)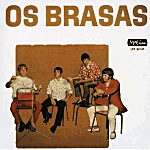 Os Brasas "Os Brasas" (Musicolor/Warner, 1968)


Fun Beatles-y/Herman's Hermits-ish rock-pop that fits comfortably into the jovem guarda sound, but with hints of grungy garage roots. Apparently guitarist Luis Vagner was in this band, well before his days as a samba-rock and reggae pioneer -- he co-authored many of these songs, which, other than a weird cover version of the "Davy Crockett" theme, are pretty cool, at least by contemporary Brazilian standards. There are lapses into some pretty syrupy ballads, and little of the fieriness of their handful of singles, but this is certainly a disc worth tracking down.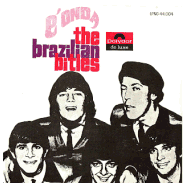 Brazilian Bitles "...E Onda" (Polydor, 1967)
Though they lay claim to the Beatles mystique, this late '60s Rio rock band had a strong streak of soft(er) rock, as much Jan & Dean and John & Paul... Apparently they emerged the nascent Brazilian garage scene and were one of the first bands to cover the Beatles (here, on their full-length debut, with "Qual a Razao," a cover of "Daytripper") as well as the Rolling Stones and others, in addition to some fine homegrown Brazilian rock. This disc hints at their more rugged roots, but also has some pretty soft edges... The Bitles also worked as a backing band for various artists; nice to hear them here on their own. A notable album from the jovem guarda scene, even though they are a bit too restrained overall. Worth a spin!

Os Brazoes "Os Brazoes" (RGE, 1969)



Historically cool, but musically flawed, this fuzz-laden, tropicalia-era acid-rock band hewed closely to the trail blazed by Gilberto Gil and Os Mutantes, in particular to the spacy, improvisational style that Gil fell into in the early '70s. Apparently, these guys were Gal Costa's backup band during her wildest freak-out years; but like her renowned psychedelic albums from 1968-69, this disc actually isn't that much fun to listen to. It's ill-formed, sluggish at times, and dimly concieved. A genuine relic of the times, and amazing in its own way, but not as compelling as the truly great records of the time were. That being said, I'll definitely hang on to my copy!
The Bubbles - see artist profile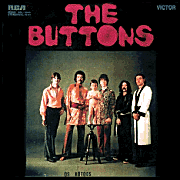 The Buttons "The Buttons" (RCA Victor, 1970)
The Buttons evolved out of a surf-y instrumental group called Os Botoes, recording this psychedelic pop album with English-language lyrics and lots of fuzzy guitar riffs and bouncy rhythms. Although I'm not necessarily a fan of Brazilian bands that don't sing in Portuguese, this disc does have a catchy feel. Very much in keeping with the Youngbloods/Three Dog Night/Turtles pop of the era, and worth a spin, I suppose, although you don't need to kill yourself to track this down. Apparently the band kept changing its name and morphed into an act called The Union, which recorded an album in 1973. They also backed singer Dave Maclean on his first album, which produced a hit song with the (English language) song "Me And You," which was used as the theme to a popular '70s telenovela, "Ossos Do Barao." Go figure. Of course, various members of this band worked with other '70s rockers, though this album was their main claim to fame.
---
Brazilian Rock - Letter "C"
---



Other Brazilian Styles
Main Brazil Index


---