<! MP3 07/17/09 > <! update 07/17/09 - Moe Bandy discography > <! outside 00/00/00 > <! pix 00/00/00 > <! icons 11/06/10 > <! 01/13/20 - DA 03/03/21 - merged B1, B2 > <! PF: Jack Barlow? > <! Jack Bailey "Jack Bailey" (1972) - cool! - Jack Bailey "Keep Me" (GRT, xxxxx) (LP) B00400ARJ0 Jack Bailey "Here's To Lovin' You" (GRT, xxxxx) (LP) B004Q7F4BS KIDD BAKER "Country Music Legend Of New Brunswick" (Cattle, xxxxx) TEX BANES & THE HAYSEEDS "Australian Hillbilly & Western Music" (Cattle, xxxxx) >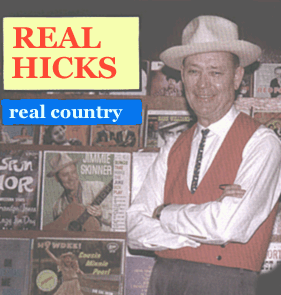 ---
Hi, there! This page is part of an opinionated guide to what I call "hard country" music -- the real stuff -- with a bunch of record reviews and recommendations by me, Joe Sixpack. Naturally, it's a work in progress, and will hopefully be expanded on quite a bit, as time allows.
This is the first page covering the letter "B"
---
REAL HICKS: A | B / B-2 | C | D | E | F | G | H | I | J | K | L | M | N | O | P | Q | R | S | T | U | V | W | X, Y & Z | Comps | Hick Music Styles

---
Bad Bob "Bad Bob" (1983)


Bad Bob "...And His Good Friends" (Self-Released, 2001)
Good-timin' western swing and the local spirit of independent Texas music are alive and well, as heard in this fun album by fiddler and songwriter Bob Rohan. He pays dutiful homage to the spirit of Bob Wills in a rousing version of "Deep In The Heart of Texas," and on his original tune, "When You Play The Fiddle In Texas (You Better Know All The Tunes!)" It was the charm of his original material that caught my attention -- especially on great novelty tunes like "She Took A Blowtorch To My Workbench" and the similarly-themed "Daddy's Pad (When Momma's Mad)," which extols the virtues of sleeping in the cab of your truck when domestic tension looms. Fans of humble, obscuro alt.country greats such as Deadly Earnest, Alvin Crow, Chuck Wagon & The Wheels, or Cornell Hurd will find a lot to celebrate in this album -- this ain't super-slick Nashville pop, it's just a guy with a friendly-sounding voice and a bunch of pals who can pick some nice country music, and it's pretty cool. This is the kind of independently-produced album you used to hear a lot more often; nice to know someone out there still has the magic formula.


<! 144 x 144 >
Bad Bob "Bad To The Bow" (Self-Released)

Bad Bob "Prairie Rose" (Self-Released, 2008)

The Bailes Brothers -- see artist discography
Eldon Baker "...And The Brown County Revelers" (BACM, 2005)
Zippy Southern nostalgia songs, given a jazzy, swingin' update. This CD-R opens on an unfortunate note, with the minstrel-icious, retrograde "Come Along Down To The Old Plantation" (which extols the happy darkies dancing down South... yikes...) but soon moves on to less controversial material. Once you get to the straight-ahead hot country-swing tunes, you'll be won over. There's some sizzling hot, chunky fiddle playing and dazzling acoustic guitar leads, much of it clearly influenced by Django Rinehardt's gypsy jazz style. The gallumphing rhythm and rural repertoire remind me of Wayne Raney's hillbilly boogie recordings -- which came a decade later -- there are also some slower gospel harmony numbers, but mostly this is uptempo and very hip. Most of the recordings come from two session in June, 1938 although about half these tracks were left unissued at the time, due to contractual problems with the radio station they worked for... This is topped off with a few stray singles from '45 and '52 that feature Eldon Baker's brother, singer Wade Baker and guitarist Harry Adams, who were both members of the Revelers band in the 'Thirties... It's great stuff, totally awesome!
Larry Ballard - see artist profile
Michael Ballew - see artist profile
Moe Bandy -- see artist profile
Bobby Bare -- see artist profile
Johnny Barfield "Soulful Country Ballads" (Binge Disc/Bronco Buster)

Benny Barnes "Poor Man's Riches: The Complete 1950s Recordings" (Bear Family, 2007)
Another set of fab hillbilly rarities courtesy of the cultural curators at Bear Family Records... Here are all the '50s recordings of Texas honkytonker Benny Barnes, a contemporary of George Jones who fared from Beaumont, and who had a big hit with his own song, "Poor Man's Riches," which hit #2 on the charts in 1956. This collection gathers all his 1950s singles on Starday, Mercury and a slew of smaller labels, and though it doesn't also include his only other Top 40 track, "Yearning," which came out in '61, it is jam-packed with some of the finest, purest hard country honkytonk you'll hear this year -- or any other! Mighty fine stuff!


<! >


High Sheriff Ricky Barnes - see artist discography



Jeff Bates "Rainbow Man" (RCA, 2003)
Nice one! Mainstream, Top-40 neotrad that opens with a fun Bubbadelic ode to the joys of good ole boy anthems, and Bates doing a pretty good job balancing those low, rumbly George Jones notes with a lighter, growling croon. The songs are pleasantly gimmicky, following the more traditionally-oriented country formulas, mixing Hank Jr.-ish redneck/working man anthems with tough-but-sensitive romantic anthems that recall the best work by Conway Twitty or Alabama. ("Long Slow Kisses" is a bit suspect... who ever heard of a country song where some dude talks about lighting candles in the bedroom. But man, he gets pretty raunchy on "I Wanna Make You Cry," which he promises to do with his masterful lovemaking...) Bates is clearly derivative of innumerable artists, but in a really good way. It's rare that I hear a contemporary commercial country album that I can listen to from end to end without flinching at over half the songs... This one has a pretty good hit ratio, though -- I think it's pretty darn listenable and worth checking out, if you're into old-school rowdiness.
Smiley Bates - see artist discography
Carl Belew -- see artist profile
Delia Bell -- see artist discography
Ray Benson - see Asleep At The Wheel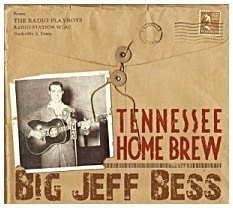 Big Jeff Bess "Tennessee Home Brew" (Bear Family, 2010)
Scrappy, obscure hillbilly oldies from the era before Nashville became a slick show biz town... In the 1940s, singer Jeff Bess was a local radio personality and businessman, notably as the owner of several bars (one of which, Tootsie's, is still around...) He also sang country music and recorded several singles in the late '40s and early '50s... It's fun stuff, lively and raw, with obvious debts to Hank Williams, but also a gangly individuality where Bess's personality comes through clear as a bell. One of his songs, "Tennessee Home Brew," is a real drinking-song gem, but there are a bunch of great goofball novelty songs. Another fine bit of roots music archeology from the fine folks at Bear Family!
Big Sandy & The Fly-Rite Boys - see artist discography
Clay Blaker & The Texas Honky-Tonk Band "What A Way To Live" (Texas Music, 1981)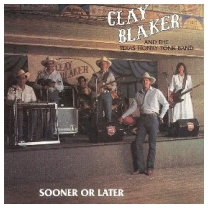 Clay Blaker & The Texas Honky-Tonk Band "Sooner Or Later" (Texas Music, 1986)
One of George Strait's best buddies and favorite songwriters, Clay Blaker originally hailed from Southern California, but when he moved his band to the Lone Star State, he found that he fit in just fine. This is one of several independently released albums that feature his amiable mix of honkytonk and western swing, and it's mighty fine to listen to, especially with a beer or two under your belt. Only two of the songs on here are Blaker originals; bandmembers Bob Kelly and Dan McCoyeach contribute a few as well... Nice disc; ends with a swell version of Johnny Cash's "Big River"... Nice, unpretentious, danceable hard country music.
Clay Blaker "Layin' It All On The Line" (Neobilly Records, 1993)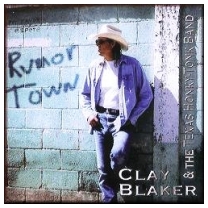 Clay Blaker "Rumor Town" (Neobilly Records, 1998)


Clay Blaker "Welcome To The Wasteland" (Neobilly Records, 2000)
An old-timer on the Texas indiebilly scene, songwriter Clay Blaker has taken on a somewhat more rock-tinged sound this time around, although this album is also packed with rich, pure country tunes. I started noticing a strong similarity to Jim Lauderdale's work in a bunch of these songs, and when I finally looked at the song credits, it turns out he'd co-written two of the songs with Lauderdale, and Lauderdale's quirky, eclectic approach is an obvious influence on several other tunes. All but one of the songs were written or cowritten by Blaker; the lone holdout is a nice version of Rodney Crowell's "Don't Need No Memories," a plaintive duet with Lisa Morales. A mighty fine record, proving once again that there's gold in them thar (South Texas) hills!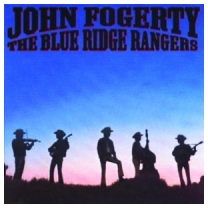 Blue Ridge Rangers "Blue Ridge Rangers" (Fantasy Records, 1973)
After Creedence Clearwater Revival imploded, frontman John Fogerty got so fed up with the fratricidal aspect of actually being in a band, that he promptly went off and recorded an album all by himself -- played all the instruments, picked all the tunes, multitracked the album, and totally rocked out. This is the result, a masterful set of country oldies, covering artists such as Jimmie Rodgers, Webb Pierce and Melvin Endsley, all with a jocular, rolling bounce that can't help but win you over. Highly recommended!


<! - # >


The Blue Sky Boys -- see artist discography





Dock Boggs - see artist discography





Johnny Bond - see artist discography



Margie Bowman "From The Heart Of Margie Bowman" (Ranger Records, 1975-?)
(Produced by Forrest Green)
This gal from the town of Ozark, Arkansas wrote most of the songs on this album, adding a few cover tunes from the likes of Merle Haggard, Kris Kristofferson and Loretta Lynn. Bowman was a rough, rural vocalist -- although she pays homage to Loretta, her roots run a little deeper, back to foremothers such as Kitty Wells and more particularly to Jean Shepard, whose proto-feminist anthems are echoed in Bowman's own lyrics. This is best borne out on the album's second track, "Lord, Did You Think Of Lonely Women," in which she directly confronts God (yes, that God!) about the religious double standards that make it okay for men to seek comfort in sex, but don't allow women to do the same. That's probably the most striking song on here, but there are several that are quite good. Bowman is backed by producer Forrest Green and his band, the Rangers, a veteran of the 1950's country scene and former Arkansan himself, who moved to Michigan and settled into a second act as an indie record producer... His band adds a lively, melodic, steel-driven twang, reminiscent of Lynn's best work from the '60s; the album isn't that well-produced, and Bowman's phrasing sounds a little stiff -- nerves, maybe? -- but it's still a cool record. Not entirely sure when this was made, but I'm guessing it was around 1974-75, based on the album art and on the cover tunes: "Me And Bobby McGee" was from the late '60s, but Haggard's "Holding Things Together" came out in '74. Anyone out there know for sure?
Bill Boyd - see artist discography
Jack Bradshaw "Saturday Night Special" (Honky Tonk Heroes series) (Bear Family Records, 2012)



<! Twenty-two songs from one of Fifties country music's underground legends! The first complete CD reissue of Jack Bradshaw's country and rockabilly recordings! All 22 hillbilly, country and rockabilly sides he recorded between 1954 and 1959. Contains all 16 tracks issued by MAR-VEL and GLENN RECORDS in the '50s, plus 6 songs not originally issued from Mar-Vel! Includes original versions of songs that became hits for Carl Smith (Don't Tease Me) and Kitty Wells (Searching)! The 40-page booklet by Martin Hawkins contains the first ever complete overview of the career of this sadly neglected artist and includes many previously-unseen family photographs! Jack Bradshaw was among the small-time radio and bar-room singers who had a few records on a minor label - and just one shot at the big-time. Jack's came in 1955 when he penned a song that Carl Smith took into the country charts and another that Kitty Wells turned into a big hit, giving him the chance to record for DECCA in Nashville. It was a promising break, but it didn't pan out. Jack started recording in Indiana when the country business was looking for the next Hank Williams and he continued through the years when everyone wanted the next Elvis Presley. But Jack Bradshaw remained his own man. He had a smooth, expressive vocal style, drawing in the listener with deceptively simple rhythms and well-crafted lyrics. Songs like Don't Tease Me, Searching and Saturday Night Special have long appealed to hard core hillbilly music fans. Jo-Jo and Naughty Girls have been rockabilly collectibles for years. Even bluegrass fans will be glad they checked out Jack Bradshaw, too! This is one of BEAR FAMILY's uncovered treasures! >


Elton Britt - see artist discography



Billy Brown "Did We Have A Party" (Honky Tonk Heroes series) (Bear Family Records, 2012)



<! A landmark first-ever CD by one of the best but least celebrated country and rock & roll singers! This was the hard-luck guy who recorded the original version of Jim Reeves' mega-hit, He'll Have To Go! In all, 30 top class rockabilly, hillbilly, country, and rockaballad tracks recorded between 1950 and 1969 in Nashville! Includes all 8 highly collectible rock & roll and country singles recorded for COLUMBIA in the early and late 1950s, 2 singles for DECCA and STARS from the mid-'50s, 3 REPUBLIC discs from the early '60s, and a single on CHALLENGE from 1969! Plus two unissued tracks from CHALLENGE! Includes Brown's classic rockers Did We Have A Party, Flip Out, and Meet Me In The Alley, Sally! Brown was backed by the cream of Nashville musicians, including Jerry Reed and Ray Stevens! A 60-page booklet by Martin Hawkins contains the first ever retrospective of the remarkable career and amazing life of Billy Brown, based on new interviews, and many unpublished photographs! And of course the original recording of He'll Have To Go, one of the most enduring and iconic songs in country music! This important CD fills a gap in the story of '50s and '60s music, bringing together all known recordings by a top drawer singer who never had quite the right break. Billy Brown was a rodeo performer, a hillbilly singer, a rockabilly, an unrivalled balladeer, a country gospel evangelist, and a mainstay of the central Florida music scene. He spent most of his life in the music business, usually just under the radar. He wrote many songs, recorded for the right labels, but never quite made it in his lifetime. For all that, he left a lot of music to enjoy. And the original version of He'll Have To Go, as good in its way as Jim Reeves' recording! >


Junior Brown -- see artist discography





Marty Brown -- see artist discography





Jann Browne -- see artist discography





Ed Bruce - see artist discography



Vin Bruce "King Of Cajun Music: Dans La Louisianne" (Bear Family Records, 2011)
A much-welcomed collection of early recordings by Louisiana country-cajun pioneer Vin Bruce, who broke through as a regional star in the early 1950s, mixing swamp music with pure, raw honkytonk twang. There's some really sweet country stuff on here, about half of it sung in French, which is a nice twist. Add Bruce to your short list of cajun hillbilly singers, alongside folks like Doug Kershaw, Jimmy C. Newman, Steve Riley and Harry Choates. Having studio legends like Chet Atkins and Grady Martin playing guitar on several tracks is a definite plus. Another fine Bear Family release!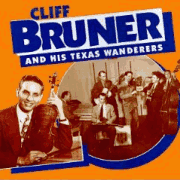 Cliff Bruner "...And His Texas Wanderers" (Bear Family Records, 1997)
A 5-CD set devoted to an outstanding -- but little remembered -- pioneer of classic western swing. Covers Bruner's work between 1937-1950, with bands that included hick music greats such as pianist Moon Mullican, steel player Bob Dunn, and others. Prime stuff!


<! 5 CD set with book featuring 123 tracks by this fine western swing band recorded between 1937 and 1950 for Decca, Mercury and AYO. Includes sidemen like Bob Dunn, Link Davis & Moon Mullican. Includes unissued tracks and alternate takes. With lavishly illustrated 56 page book >


Jimmy Bryant - see artist discography



Buchanan Brothers "Atomic Power" (Bronco Buster Records, 1998)
Whereas other brother acts like the Louvins, Monroes and Delmores tended to be Gloomy Gusses, singing endlessly about lost loves and Mama up in heaven, these two were whooping it up and having a whale of a time. Like the Louvin Brothers, the Buchanans came to the "brother act" scene a little bit late (the real heyday had been in the 1930s, these tracks come from the late '40s...) but that didn't diminish their pep in the slightest. Great novelty songs with an archaic, string band sound -- songs about flying saucers, atomic bombs and undesirable girlfriends, all from a delightfully "hillbilly" perspective. (Available through the Binge Disc label...)
The Buckaroos - see artist discography

Ed Burleson "Comin' Around" (Bar 27 Productions, 1997)
An extraordinary debut by this Texas-bred indiebilly firebrand, aided by an extraordinary cast of musicians -- Tommy Alverson, Clay Blaker, Alvin Crow, Bill Kirchen and Lloyd Maines are among the old-timers who pitch in to give this disc a rich, full, rural sound that'll pin back the ears of any hardcore honkytonk fan in search of for-real country music in these times of push-button, pretty-boy Nashville pop. Those Texas twin fiddles waft up amid the pedal steel and Merle Haggard-style guitars; here's an indiebilly album that has grand ambition, and lives up to it on every song. A nice mix of weepers and honkytonk tunes -- Burleson doesn't have a killer voice, but he's got real country soul, and that counts for a lot. Most of all, the calibre of songwriting and performances by the band are both quite impressive. Most of the songs on here are Burleson originals, and it's always nice to hear someone adding new stuff to the tradition. Four of the other cuts were written by Jim Lauderdale, and Burleson seems to have a nice feel for his idiosyncratic composing style. There are rough edges, to be sure -- Burleson's vocals might not be for everyone -- but, hey, isn't that kind of the point, that we're sick of hearing all this too-perfect pop pablum coming out over the radio? Chances are you won't hear this guy over the airwaves, but if you pick up this CD (or any of his other albums), you'll be mighty glad you did!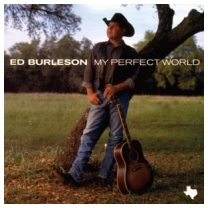 Ed Burleson "My Perfect World" (Tornado Records, 1999)
This is largely the same record as Comin' Around, with two new songs (and two others omitted) and a different track order. And damn, it's good. If you miss the hazy, crazy days of the 1970s, when great bands with small budgets ruled the earth, then this disc will seem like a nostalgic blast from the past... And if you missed out on that kinda sound the first time 'round, be thankful that folks like Burleson are here to keep the flame alive.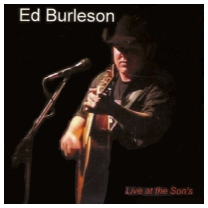 Ed Burleson "Live At The Sons" (Just Released Records, 2001)
Let's hear it for Texas! Another fine album that confirms Ed Burleson's status as one of the most vigorous, vital and roots-oriented country singers out there today. It's just amazing to hear a guy this good and this down-to-earth making records, and singing his songs like he actually gives a damn about the music. Playing live at the Sons of Herman Hall in Dallas, TX, Burleson cusses a little, sings a lot, and lets his band romp through a really tasty set of hard country classics. The show kicks off with a fine version of Johnny Paycheck's "A-11," and cruises into some fine Burleson originals, including sardonic gems like "I Can Be Lonely By Myself" and the refreshingly retro "Bitch And Moan," where the singer admits he'd rather be stuck in traffic than have to hear his girlfriend try and rip him a new one. By the time he gets to a cover of the old Webb Pierce hit, "There Stands The Glass," Ed'll have you won over. Only a few songs come from his earlier albums, like "No Closing Time," and others include well-chosen covers like Waylon's "Rainy Day Woman" and a sizzling version of the Link Davis cajun anthem, "Big Mamou," with some dazzling twin fiddle work. A really nice record -- you really get a sense of Burleson's easygoing charm and his deep country roots. Highly recommended.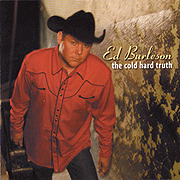 Ed Burleson "The Cold Hard Truth" (Palo Duro Records, 2004)
This is just flat-out one of the best hard country albums of 2004... heck, even of the century (so far!). Sure, Burleson has plenty of rough edges... that's what makes his music so real. He also has a kick-ass band with guys who know how to play country music with real feeling, and a bunch of songs that sound like a real, live human being wrote 'em, not some committee in Nashville. Burleson's other albums have all been really good... this one is really great... His best to date. Highly recommended!
Smiley Burnette "Smiley Burnette Is Frog Millhouse" (King Records, 1997)

Smiley Burnette "The Gentle Genius Of Country Music" (Binge Disc/Cattle Records, 1998)
Jovial post-WWII novelty tunes with that distinctive chugga-chug-chuggin' Los Angeles Hollywood country sound. Burnette really was a Hollywood dude, having played Gene Autry's sidekick in numerous cowboy oaters... (He later appeared as one of the train engineers on TV's Petticoat Junction...) The overlap between his film and music careers brought him into proximity to the Tinsel Town C&W set, including Merle Travis, who plays on several of these tracks. Though overall Burnette's delivery may have been a little effete or sluggish, there are still a bunch of charming tracks on here, particularly the fishing ballad, "Catfish, Take A Look At That Worm."


<! is B000UVPAE0 for Binge Disc edition? >
Smiley Burnette "Collector's Edition" (Simitar Records, 1998)

Smiley Burnette "Country Songs & Comic Cuts" (BACM, 2005)



<! CD D 080 >
Sonny Burns "A Real Cool Cat: The Starday Recordings" (Bear Family Records, 2011)
A rock-solid set of classic Texas honkytonk from the early 1950s... A rugged, agile hard-country singer, the little-remembered Sonny Burns had the same sort of wicked, near-rockin' uptempo vibe as George Jones, and indeed the two performed together and even cut a couple of duets for the Starday label. Burns and Jones also shared a hard-partying lifestyle, and one day when Burns was too hung over to make it to a recording session with George, Starday ended his contract, and his career. Before then, though, he cut over two dozen totally killer honkytonk songs, gathered here with typically high-class Bear Family flair. If you like sizzling old-school country, like the stuff cut by Hank and Faron Young and good old George Jones, then this disc is for you. Highly recommended!
Johnny Bush - see artist discography
Buz Butler "Money Ain't Everything" (BACM, 2006)
Gangly, gallumphing, old-school hillbilly novelty songs with a healthy dose of honkytonk... I wouldn't say that Butler, a fella from South Carolina who recorded about two dozen tracks in the late 1940s and early '50s, was the world's greatest singer, but this is some lively, fun comedic material, and his band was good and twangy. Butler's great claim to fame was that he recorded the original version of "Mule Train," and while others took the song to the top of the charts, his initial recording is pretty fun. Some songs are more strained, such as the goofy "Rubber Ball Bounce" -- there's also a fair chunk of folk-ish material such as "Gambling Fool" that sort puts him in the same territory as later singers such as Rusty Draper and Paul Evans. Still, there's enough grit and twang here to be of interest to hard country fans, even if the vocals are a bit clunky. Certainly worth checking out, especially if you have a weak spot for novelty songs.


<! - #CD D 156 >


Carl Butler & Pearl - see artist discography





Jerry Byrd - see artist discography




---

Real Hick Music -- The Letter "C"


---