<! MP3 07/17/09 > <! update 07/17/09 - Moe Bandy discography > <! outside 00/00/00 > <! pix 00/00/00 > <! icons 11/06/10 > <! PF: Jack Barlow? > <! Jack Bailey "Jack Bailey" (1972) - cool! - Jack Bailey "Keep Me" (GRT, xxxxx) (LP) B00400ARJ0 Jack Bailey "Here's To Lovin' You" (GRT, xxxxx) (LP) B004Q7F4BS KIDD BAKER "Country Music Legend Of New Brunswick" (Cattle, xxxxx) TEX BANES & THE HAYSEEDS "Australian Hillbilly & Western Music" (Cattle, xxxxx) >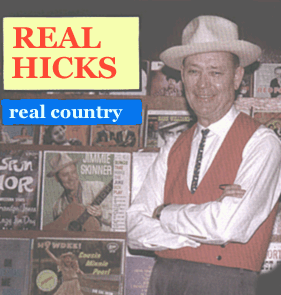 ---
Hi, there! This page is part of an opinionated guide to what I call "hard country" music -- the real stuff -- with a bunch of record reviews and recommendations by me, Joe Sixpack. Naturally, it's a work in progress, and will hopefully be expanded on quite a bit, as time allows.
This is the first page covering the letter "B"
---
REAL HICKS: A | B / B-2 | C | D | E | F | G | H | I | J | K | L | M | N | O | P | Q | R | S | T | U | V | W | X, Y & Z | Comps | Hick Music Styles

---
Bad Bob "Bad Bob" (1983)


Bad Bob "...And His Good Friends" (Self-Released, 2001)


Good-timin' western swing and the local spirit of independent Texas music are alive and well, as heard in this fun album by fiddler and songwriter Bob Rohan. He pays dutiful homage to the spirit of Bob Wills in a rousing version of "Deep In The Heart of Texas," and on his original tune, "When You Play The Fiddle In Texas (You Better Know All The Tunes!)" It was the charm of his original material that caught my attention -- especially on great novelty tunes like "She Took A Blowtorch To My Workbench" and the similarly-themed "Daddy's Pad (When Momma's Mad)," which extols the virtues of sleeping in the cab of your truck when domestic tension looms. Fans of humble, obscuro alt.country greats such as Deadly Earnest, Alvin Crow, Chuck Wagon & The Wheels, or Cornell Hurd will find a lot to celebrate in this album -- this ain't super-slick Nashville pop, it's just a guy with a friendly-sounding voice and a bunch of pals who can pick some nice country music, and it's pretty cool. This is the kind of independently-produced album you used to hear a lot more often; nice to know someone out there still has the magic formula.


<! 144 x 144 >
Bad Bob "Bad To The Bow" (Self-Released)

Bad Bob "Prairie Rose" (Self-Released, 2008)


The Bailes Brothers -- see artist discography
Eldon Baker "...And The Brown County Revelers" (BACM, 2005)


Zippy Southern nostalgia songs, given a jazzy, swingin' update. This CD-R opens on an unfortunate note, with the minstrel-icious, retrograde "Come Along Down To The Old Plantation" (which extols the happy darkies dancing down South... yikes...) but soon moves on to less controversial material. Once you get to the straight-ahead hot country-swing tunes, you'll be won over. There's some sizzling hot, chunky fiddle playing and dazzling acoustic guitar leads, much of it clearly influenced by Django Rinehardt's gypsy jazz style. The gallumphing rhythm and rural repertoire remind me of Wayne Raney's hillbilly boogie recordings -- which came a decade later -- there are also some slower gospel harmony numbers, but mostly this is uptempo and very hip. Most of the recordings come from two session in June, 1938 although about half these tracks were left unissued at the time, due to contractual problems with the radio station they worked for... This is topped off with a few stray singles from '45 and '52 that feature Eldon Baker's brother, singer Wade Baker and guitarist Harry Adams, who were both members of the Revelers band in the 'Thirties... It's great stuff, totally awesome!
Larry Ballard - see artist profile
Michael Ballew - see artist profile
Moe Bandy -- see artist profile
Bobby Bare -- see artist profile
Johnny Barfield "Soulful Country Ballads" (Binge Disc/Bronco Buster)

Benny Barnes "Poor Man's Riches: The Complete 1950s Recordings" (Bear Family, 2007)


Another set of fab hillbilly rarities courtesy of the cultural curators at Bear Family Records... Here are all the '50s recordings of Texas honkytonker Benny Barnes, a contemporary of George Jones who fared from Beaumont, and who had a big hit with his own song, "Poor Man's Riches," which hit #2 on the charts in 1956. This collection gathers all his 1950s singles on Starday, Mercury and a slew of smaller labels, and though it doesn't also include his only other Top 40 track, "Yearning," which came out in '61, it is jam-packed with some of the finest, purest hard country honkytonk you'll hear this year -- or any other! Mighty fine stuff!


<! East Texas country singer Benny Barnes scored a huge hit in 1956 with only his second record, Poor Man's Riches, cut for the legendary Starday label, and would quickly graduate from the beer joints of his native Beaumont (where he often shared the stage with George Jones) to the national spotlight of the Louisiana Hayride. He was boyishly handsome, had convincing stage presence, and an instantly recognizable vocal style that melded influences like George Jones and Lefty Frizzell with that of his early idol, Hank Snow. He had defied current trends and record industry wisdom by hitting with a hard country performance at a time when rock 'n' roll had threatened to consume everything in its path. But there are no sure bets in the record business, as Barnes would bitterly learn when neither these advantages nor the patronage of a major label, Mercury, would help him find a follow-up hit to Poor Man's Riches. While Barnes would release many more singles over the next 25 years, by the time of his death in 1987, he was essentially forgotten by the country music business. In this overdue retrospective, Bear Family gathers together Benny Barnes' complete 1950s recordings, most reissued from the original master tapes for the first time, including two previously unissued performances. It was a prolific four years for Barnes, commencing with a couple of early acoustic demos, and continuing through his singles for Starday, Mercury, Dixie, Faith, D, and finally back to Mercury at the close of the decade. Though there were a few definite missteps during this period, it's equally undeniable that Barnes's talent deserved wider recognition than it received - then and now. >


High Sheriff Ricky Barnes - see artist discography



Jeff Bates "Rainbow Man" (RCA, 2003)



Nice one! Mainstream, Top-40 neotrad that opens with a fun Bubbadelic ode to the joys of good ole boy anthems, and Bates doing a pretty good job balancing those low, rumbly George Jones notes with a lighter, growling croon. The songs are pleasantly gimmicky, following the more traditionally-oriented country formulas, mixing Hank Jr.-ish redneck/working man anthems with tough-but-sensitive romantic anthems that recall the best work by Conway Twitty or Alabama. ("Long Slow Kisses" is a bit suspect... who ever heard of a country song where some dude talks about lighting candles in the bedroom. But man, he gets pretty raunchy on "I Wanna Make You Cry," which he promises to do with his masterful lovemaking...) Bates is clearly derivative of innumerable artists, but in a really good way. It's rare that I hear a contemporary commercial country album that I can listen to from end to end without flinching at over half the songs... This one has a pretty good hit ratio, though -- I think it's pretty darn listenable and worth checking out, if you're into old-school rowdiness.
Smiley Bates - see artist discography
Carl Belew -- see artist profile
Delia Bell -- see artist discography
Ray Benson - see Asleep At The Wheel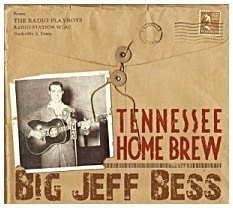 Big Jeff Bess "Tennessee Home Brew" (Bear Family, 2010)


Scrappy, obscure hillbilly oldies from the era before Nashville became a slick show biz town... In the 1940s, singer Jeff Bess was a local radio personality and businessman, notably as the owner of several bars (one of which, Tootsie's, is still around...) He also sang country music and recorded several singles in the late '40s and early '50s... It's fun stuff, lively and raw, with obvious debts to Hank Williams, but also a gangly individuality where Bess's personality comes through clear as a bell. One of his songs, "Tennessee Home Brew," is a real drinking-song gem, but there are a bunch of great goofball novelty songs. Another fine bit of roots music archeology from the fine folks at Bear Family!
Big Sandy & The Fly-Rite Boys - see artist discography
---

Real Hick Music -- More Letter "B"


---