<! MP3 06/21/12 > <! update 00/00/00 > <! outside 00/00/00 > <! pix 00/00/00 > <! icons 02/08/11 >
---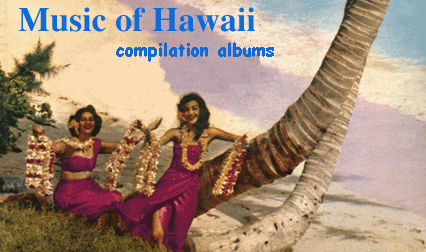 Here's a guide to some of the best collections of classic Hawaiian music... There aren't that many records out there, but pretty much all the ones that are available are top-notch. This page is mainly devoted to the classic Hawaiian steel guitar recordings of the 1920-1950s, which mixed dynamic technique with Tin Pan Alley-inspired showmanship, as well as a few odd records that are even more off the beaten track. (A separate Slipcue page is devoted to albums by individual artists.)
---
Hawaiian Compilation Albums
---

Various Artists "BLUE HAWAII: A VINTAGE ANTHOLOGY 1926-1942" (ASV, 1994)


Typical of other releases on the ASV label, this is a rich, well-selected collection, with plenty of great tunes to enjoy. Although several "authentic" Hawaiian artists such as Andy Iona and Sol Hoopii are included, this set mostly delves into the Howllywood and British "sweet band" variants on the classic island style, with tracks by the likes of Felix Mendelssohn, Al Shaw, Bing Crosby and Henry Hall. Personally, I dig the haole hits as much as any other Hawaiian styles... It's all great stuff, and the cornier, the better. This album is worth picking up because it has a lot of material not included in other compilations listed below. Recommended!

Various Artists "BROADWAY'S GONE HAWAII" (Harlequin, 2005)


An entertaining set that shows how American pop culture -- through Broadway, Tin Pan Alley, radio and Hollywood -- soaked up and exoticized Hawaiian culture. This disc gathers over two dozen novelty tunes featuring stars such as Sophie Tucker, Annette Hanshaw, Cliff Edwards, Rudy Vallee and Fats Waller, as well as Dorothy Lamour, Jo Stafford and Dinah Shore. Little of the material sounds truly "Hawaiian"; it's mostly a pastiche of goofy tropical stereotypes embedded in pop vocals and big band tunes from the 1930s, '40s and early '50s. Fun stuff, but don't expect a lot of steel guitar or hula moves. There are a few surprisingly transcendent moments, though, such as Alvino Rey's dreamy "Stardust" and Blue Barron's "It's Time To Say Aloha." A nice, fun archival set that would help spice up a mix of more authentic island music.
Various Artists "DREAMS OF HAWAII: SMOOTH STEEL GUITAR" (Hana Ola, 2001)






<! Includes some of the greatest & most renowned musicians in Hawaii's history: Alan Akaka, Charlie K. Fukuba, Billy Hew Len, George "Keoki" Lake, Fred Lunt, Casey Olsen, Art Paralius, Bud Tutmarc, & Jerry Byrd. The first 15 songs are pure instrumental magic. As a bonus we have included 4 superb vocal tracks featuring Nina Keali'iwahamana, Gary Aiko, Yvonne Perry, and "Champagne Lady" Myra English. >

Various Artists "FROM HONOLULU TO HOLLYWOOD" (The Old Masters, 2001)


An outstanding collection of Hawaiian and Hawaiianized Tin Pan Alley oldies, complied by Allan Dodge, a founding member of the Cheap Suit Serenaders... and an expert in the field if ever there was one! This collection sticks to a curiously doleful tone -- slower, more bluesy than many classic Hawaiian guitar tunes, although it's all eminently listenable. There are also plenty of oddball cultural collisions, such as the mix of flashy steel guitar picking and cornball Scottish dialect on Sol K. Bright's version of Harry Lauder's music hall oldie, "A Wee Doech an' Doris", which closes the album out. Despite the modest packaging, the sound quality on this disc is quite nice -- better, in fact, than on many of the larger labels whose records are also mentioned here. HIGHLY recommended!

Various Artists "GREETINGS FROM HAWAII -- THE ALOHA STATE" (Bear Family, 2004)


A swell set of Hawaiianized hillbilly music! What with introducing the slide guitar into the American musical palatte and all, Hawaiian music has had a profound influence on the development of country music, and Hawaiian-themed novelty songs have a long history in the hillbilly tradition. This is a fun, frollicking set of island-themed country exotica, with hillbilly hulas from everybody ranging from Skeets McDonald and Cecil Campbell to Hank Locklin, Rex Allen and the Sons Of The Pioneers. Certain artists such as Hank Snow and Marty Robbins,who had longstanding fascinations with Hawaiian-style melodies, have several songs on here, alongside one-off oddities by the likes of jazz singer Teresa Brewer ("Lula Rock A Hula") and rockers Bill Haley ("Me Rock A-Hula") and Buddy Knox ("Hula Love"). Many of these are songs that have appeared elsewhere, but it's kinda fun to have them all together in one place, so you can kick back and dream of the old cattle drives by the ocean's edge. Recommended!
Various Artists "HAWAIIAN DRUM DANCE CHANTS -- SOUNDS OF POWER IN TIME" (Smithsonian Folkways, 1993)



The sparse sounds of hula pahu, the plaintive sounds of Hawaiian hula songs. This is a pretty hardcore folkloric collection, with minimal drumming and bare-bones vocals. It's certainly not for most casual listeners, but invaluable for anyone seeking to make a serious investigation into the roots of Hawaiian music.
Various Artists "HAWAIIAN GUITAR HOTSHOTS" (Yazoo) (LP)


Various Artists "HAWAIIAN MEMORIES: RARE TRANSCRIPTION DISCS 1936-1947" (Harlequin, 1999)


Sprinkled in among its catalog of Cuban salsa and Argentine tango albums, the Harlequin label also has several completely killer Hawaiian oldies compilations, which are all highly recommended. This is one of the later entries in the series, focusing on radio perfomances from many of the greatest (but most Hollywood-oriented) of the Hawaiian bands. Many of these recordings are from the tail end of the Hawaiian craze, when the wild pyrotechnic picking style had given way to smoother, melodies, and the country pedal-seel influence had washed back onto the island shores. It's all great material, just a little mellower than some of the other Hawaiian collections profiled here.
Various Artists "HAWAIIAN MEMORIES: VINTAGE RECORDINGS 1928-1941" (Take Two, 2011)

Various Artists "HAWAIIAN MUSIC - HONOLULU, HOLLYWOOD, NASHVILLE: 1927-1944" (Fremeaux & Associes)


Various Artists "HAWAIIAN NISEI SONGS" (Hana Ola, 2000)



An unusual compilation which gathers rare pop singles from Hawaii's Japanese community (which comprised roughly forty percent of the population, before WWII...) These tracks are mainly from the 1950s and are not very "Hawaiian," per se, but rather play on exoticized Asian themes, while echoing the society dance bands of the pre-war era. There are also several Asian folks tunes (from China, Indonesia and Singapore, as well as Japan), many reworked with a Latin dance rhythm... If you're looking for little grass shacks and hula dancers, this might not be the album for you, but for a glimpse into Pan-Asian popular culture, this is a fascinating collection. Of note to kitsch fans: some of these songs, such as "Sayonara," were later recorded by lounge music icon Martin Denny: this is the stuff he was listening to in his little grass shack by the nightclub, 'way back when... Includes bands like the Club Nisei Orchestra, the Tokyo Serenaders and Sparky Iwamoto & The Japanese Modernaires... Not electrifying, but definitely worth checking out.
Various Artists "HAWAIIANS IN PARIS: 1916-1962" (Fremeaux & Associates, 1997)


Various Artists "HAWAIIAN SLACK KEY GUITAR MASTERS" (Dancing Cat Records, 1995)



This label specializes in contemporary Hawaiian acoustic music, and has several dazzling records by some of the best practitioners of the "slack key" style... Normally, a label sampler such as this is something I'd look askance at, but boy, let me tell you -- this disc is awesome. A lovely, lovely set of super-mellow, but super-tasteful acoustic guitar music. Sure, New Age icon George Winston produced this collection (it's his label...) but don't let that fool you. This is a classy album that fans of John Fahey or Leo Kottke (etc.) could enjoy quite a bit... I know I do!!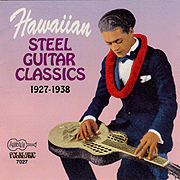 Various Artists "HAWAIIAN STEEL GUITAR CLASSICS: 1927-1938" (Arhoolie-Folklyric, 1993)



Hot picking, Hawaiian style, drawing on rare discs from acoustic revivalist Bob Brozman's private stash of old 78s. When this album first came out in 1981, it was unique - this is one of the early fonts of Hawaiiana for modern listeners. Brozman's passion is for the early acoustic recordings, before amplified guitars gained popularity and likewise, the music itself shifted into poppier terrain; there's a ragtime-y feel on these old tunes that adds a little bounce which later was smoothed out in favor of swaying-palm steel guitar melodies. Over the years, many of the best songs here were anthologized elsewhere -- especially upbeat novelty numbers like Sol K. Bright's "Hawaiian Cowboy" and Sol Hoopii's "Hula Girl" -- but this album still retains it's unique charm and tight craftsmanship. There are plenty of songs on here that haven't been reissued elsewhere, like tracks by cowboy singer Hoot Gibson and the latin-flavored Trio De Hawaii, as well as a couple of sweet tracks that didn't appear on Arhoolie's fab album by the Kalama's Quartet. All in all, a great collection -- highly recommended!

Various Artists "HISTORY OF HAWAIIAN STEEL GUITAR" (Hana Ola, 2000)



Because this disc is organized chronologically -- with one group of songs from the 1920s, another from the '30s, etc. -- it may be a little hard to get into at first. The first featured artist, David Napihi Burrows, sounds pretty stark by modern standards, although his slower, more exploratory breakdowns reveal a clear viruosity. Once you settle into the wavelength of this archival set, though, you'll really get into it. Other artists include M.K. Moke, Mike Hanapi, Jules Ah See, Benny Rogers, one track each by Tau Moe and Sol Ho'opi'i, and a markedly un-PC novelty vocal track by Annie Kerr called "I've Gone Native Now," which may touch a nerve, but does show how the "exotic" sterotypes played themselves out in popular culture (and is also kind of fun...) This colelction draws on a variety of old labels, including 49th State, Brunswick and Bell... The booklet also includes beautiful pictures of a variety of vintage steel guitars and copious information about their technical and tonal qualities... Another nice one from the folks at Hana Ola!

Various Artists "THE HISTORY OF SLACK KEY GUITAR" (Cord International, 1995/2004)



Although the "novelty" act of Hawaiian music swept through the popular culture of the globe during the early 20th Century, it was mainly the zippy steel guitar and ukulele-based music that people knew of, while the softer, sexier slack key style, or ki ho'alu, remained mostly a homegrown affair, played in private and not at nightclub gigs. This started to change during World War Two, where a young generation of slack key players started joinging bands and exposing musicans and audiences to a musical style that had developed over the last hundred years. Foremost among these guitarists was Philip "Gabby" Pahinui, who is universally revered as the great innovator of slack key music. He started playing with dance bands such as Andy Cummings's Hawaiian Serenaders and slowly worked the slack key style into their repertoire. This disc features Pahinui's first commercial recordings, a 1946 single on the Bell label, along with several other rare recordings said to be the first twenty slack key records ever made. The album also includes artists such as Tommy Blaisdell, George "Keoki" Davis, Henry Kaalekaahi, Mama Tina Kaapana (mother of Ledward Kaapana), Tommy Solomon, recording on independent labels such as Aloha, Bell and 49th State, and collects early versions of several songs that have become slack key standards. As the liner notes point out, these early recordings didn't feature the long, luxuriant passages that typify modern slack key -- this may have been because of the space restrictions of 45 RPM singles, or because slack key itself may have been originally much different than it is now, with shorter melodies that lent support to hula chants. Regardless, it won't take long for these old recordings to entrace you every bit as much as more modern records ; it's all lovely stuff. This collection has great historical significance, but plenty of soulfulness and beauty as well. Recommended!
---
Hawaiian Music: (A-C) | (D-J) | (K) | (L-M) | (N-Z)
Compilation Albums (1) | (2) | Links
---



---