<! LA - MZ > <! MP3 06/21/12 > <! update 00/00/00 > <! outside 00/00/00 > <! pix 00/00/00 > <! icons 02/08/11 > <! Jeff Peterson Makapu'u Sand Band - Hana Ola - two albums >
---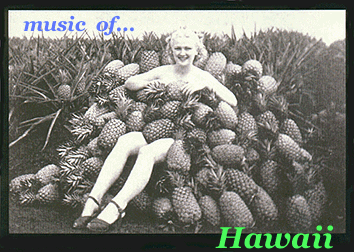 Hawaiian music has a unique charm, deeply rooted in the idyllic feel of the old-time islands. This page is mainly devoted to the classic Hawaiian steel guitar recordings of the 1920-1950s, which mixed dynamic technique with Tin Pan Alley-inspired showmanship. The Hawaiian steel guitar sound spread into country music during the Great Depression era, and eventually became a dominant motif in the hick music scene. The original Hawaiian style is a bit different, taking curious dips and loop-de-loops that sounds as delightful today as did back in the days of yore.
A few modern artists are also reviewed here, and I hope to expand this page to include more contemporary slack-key guitarists. Artists or labels are welcome to contact me about being included on the site.
---
Recommended Records
---

Kahauanu Lake "Hawaiian Style" (Hula Records, 1964)



A popular lounge performer, ukulele player Kahauanu Lake led a trio that serenaded guests at the Royal Hawaiian Hotel in Waikiki throughout the 1950s, '60s, and beyond. The playing on this disc -- a reissue of an LP cut back in '64 -- is smooth and serene, yet also authentic and quite satisfying. There's a little bit of an old-school pop vocals/barbershop feel to the arrangements and vocals, but overall this is quite nice and melodically rich. Definitely worth checking out, and a notch or two above most of the old souvenir albums that came out of the islands back in the old days... Give it a shot!
Kahauanu Lake "The Best Of The Kahauanu Lake Trio, v.1" (Navarre/Surfside, 1992)


Kahauanu Lake "The Best Of The Kahauanu Lake Trio, v.2" (Navarre/Surfside, 1994)


Kahauanu Lake "Hapa-Haole Hulas" (Hula Records)


Melveen Leed "Hawaiian Country" (Lehua, 1975)


Melveen Leed "Hawaiian Country Girl" (Lehua, 1976)


Melveen Leed "Hawaiian Country Hits" (Lehua, 1976)


Melveen Leed "Melveen With The Best Of Slack Key" (Surfside Hawaii, 1980)



Although this disc does indeed feature contributions from several of the all-time greatest slack-key guitarists -- Sonny Chillingsworth, Atta Isaacs, Ledward Kaapana, Gabby Pahinui -- this is hardly a slack-ley lovers dream record. Instead, gloopy pop stylings, with strings arrangements and sluggish tempos, dominate. There are many classic tunes on here as well, and while on occasion Leed sings in a more or less straightforward traditional style, more often she pushes into more tenuous terrain, incorporating mainstream, Vicki Carr-ish pop vocal techniques into the repertoire, and more often than not, these overwhelm the original material.
Melveen Leed "A Part Of Me, A Part Of You" (Lehua)


Bill AliÕiloa Lincoln "Hawaii's Falsetto Poet" (Hana Ola, 1997)






<! Bill AliÕiloa Lincoln shared his musical talents with a grateful Hawaii for over sixty years, composing poetic Hawaiian language songs, performing on ukulele, guitar, bass, & piano, singing, dancing & teaching hula, plus producing & performing in Hawaiian shows around the world. More than all that however it is Bill AliÕiloa LincolnÕs strong & clear voice that will always be remembered, climbing from bass to baritone, then from tenor to falsetto & finally to an even higher falsetto register. Bill AliÕiloa Lincoln was one of those few Hawaiian male singers that mastered the ability to sustain a lofty note to its outer limits, grab a split second grasp of air, soar to an even higher register, & then dance in that rare air with the utmost control & grace. This collection of 20 songs vintage 1930s to 1970s typifies the best of the Hawaiian hula & the best of an amazing Hawaiian falsetto singer. >

Lena Machado "The Hawaiian Songbird" (Hana Ola, 1997)



One of Hawaii's greatest singers of the pre- and post-WWII era, Honolulu's Lena Machado (1903-74) was a master of the leo ki'eki'e (falsetto) singing style... The "songbird" nickname is pretty apt; some folks may find the falsetto vocals offputting, but within the style, it doesn't get much better than this. Machado became famous as a radio singer and nightclub performer starting in the early 1920s, and was one of Hawaii's best-beloved singers for the next four decades. Machado worked with Hawaii's musical elite: in her early career she worked with hotshot guitarists Sol K. Bright and Sol Hoopii, as well as bandleader Lani Macintyre; after World War Two, her band featured slack-key guitar legend Gabby Pahinui. This collection reissues in its entirety Machado's self-released1962 LP, along with five other somngs that give a tantalizing hint of what she sounded like in her early years. Again, the flowery, old-fashioned style might not be for everybody, but this is the kind of record that, if you give it half a chance, can really grow on you. Check it out!

Makaha Sons Of Ni'ihau "Na Mele Henoheno: Cherished Songs Of The Early Years" (Poki Records, 1999)



Selections from three early albums, No Kristo (recorded in 1976), Kahea O Keale (1977), and Ke'ala from 1978. This set includes some of the first recorded work from the late Israel Kamakawiwo'ole (aka "IZ"), who became one of Hawaii's most popular artists. The Makaha Sons drew on the musical traditions of the island of Ni'ihau, the so-called "forbidden island," off the shores of Kauai, where by law only native-born Hawaiians can own land, and foreigners can only visit under strict regulation. The group's warm vocal style and large, dynamic sound incorporated some of the feel of mainland folk music, but little of the cloying, mellowness that came to drag the folk scene down. They also bridged several styles of island music -- galloping '30s-style acoustic music, along with elegant slack key, and dreamy group vocals. They were clearly influenced by groups like Gabby Pahinui's Sons Of Hawaii and the more youth-oriented Sunday Manoa, but the Makaha band had its own magical sound, and this retrospective captures ot well... It's lively yet relaxed, heartfelt and innovative, and filled with unusual, distinctive instrumental arrangements. Nice stuff... highly recommended!

Makaha Sons Of Ni'ihau "Live At Hank's Place" (Surfside Records, 1995)


Makaha Sons "Ke Alaula - The Dawning" (Poki Records, 1994)



The post-IZ remnants of the original Makaha Sons ensemble -- a trio including Louis Moon Kauakahi, Jerome K. Koko and John K. Koko -- many years later and with a too-sweet, vocal-based, folk revival-ish set... DidnÕt really do much for me, though I suppose it's okay.


<! many other Makaha albums, on MP3 too >

Makapuu Sand Band "Makapuu Sand Band" (Mele/Hana Ola, 1992)



(Produced by Irv Pinensky)
A lovely, soulful Hawaiian revival band of the late 1970s, the Makapuu Sand Band was a talented quartet that featured the steel guitar of Andrew Iaukea Bright, who was (I believe) the nephew (or grand-nephew?) of legendary songwriter/guitarist Sol K. Bright, who wrote the hapa haole classics "Hawaiian Cowboy" and "Hawaiian Scotsman." As their name implied, the Sand Band was a Hawaiian party band, at home on the beaches with their guitars in hand... These gentle acoustic tunes are similar in feel to the Sons Of Hawaii or the early Peter Moon Band. Nice stuff!


<! In the late 1970Õs these young native Hawaiian musicians had a unique sound of their own. Makapuu Sand Band was four cousins (one calabash) consisting of Andrew Iaukea Bright, David Kawika Kamai, Joby Harris, and Albert Kaai. These four young men from Waimanalo became interested in their Hawaiian heritage, and more specifically, in Hawaiian music, in their early teens. The group had a modern acoustical sound that was popular with the youth of Hawaii in the 1970Õs, while at the same time they did not sacrifice the feel of traditional Hawaiian music. > <! Sol K. Bright (1919Š1992) >

Makapuu Sand Band "Winds Of Waimanalo" (Hana Ola, 2004)






<! Makana - pop fusion > <! Sam Makia & His Islanders "The Lure Of Hawaii" (Riverside) Sam Makia & His Hawaiian Islanders "Live Hawaiian Party" (Tifton International) 1970s(?) The show was recorded in the Malia Polynesian Room in Asbury Park, NJ. Sam Makia & His Islanders "Hawaii In Stereo -- The Fabulous Fiftieth State" (Kapp, 1959) http://blog.wfmu.org/freeform/2012/09/sam-makia-w-the-makapuu-beach-boys-orchestra-directed-by-frank-hunter-hawaii-in-stereo-the-fabulous-.html > <! The Herbie Marks Trio "Herbie Goes Hawaiian" (Festival Records, xxxxx) (LP) (Produced by Joe Holford) - Australian accordionist Herbie Marks, bandleader doing Hawaiian; vocals by Kon Omaha; Spanish guitar by Dick Carr - repertoire is classic hapa haole material >

Doug & Sandy McMaster "Hanalei Sunset" (Aloha Plenty, 1998)


Doug & Sandy McMaster "Kauai Homecoming" (Aloha Plenty, 2000)



Doug & Sandy McMaster "In A Land Called Hanalei" (Aloha Plenty, 2001)



Dunno much about these folks... but this is a nice, mellow set of slack key 'n' acoustic noodling instrumentals, by some locals in Hanalei, Hawaii. This CD was in the stereo at our friend's house on Kauai, and it was as lovely a soundtrack to listen to while watching the misty clouds on the Northern Shore as any of the albums I had brought with me. The label can be reached at: http://www.alohaplentyhawaii.com, or e-mailed at: aplenty@gte.net.
Doug & Sandy McMaster "Slack Key Story" (Aloha Plenty, 2002)


Doug & Sandy McMaster "Green Flash Slack Key" (Aloha Plenty, 2004)


Doug & Sandy McMaster "Hawaiian Slack Key Guitar & Ukulele Sampler" (Aloha Plenty, 2004)


Doug & Sandy McMaster "Hanalei Tradition" (Aloha Plenty, 2007)



Felix Mendelssohn "...And His Hawaiian Serenaders" (Harlequin, 1997)


A British "sweet band" entreprenuer who got the Hawaiian bug in the late '30s, Felix Mendelssohn helped popularize the style throughout the UK and Europe in the wartime era. Mendelssohn himself was not a musician, or even a singer, but he recruited the best talent available and these recordings are a great mix of pleasantly corny, genteel big band and authentic slack-key steel stylings. Recommended!

Felix Mendelssohn "Paradise Isle" (Harlequin, 2001)


This second disc covers the latter half of Mendelssohn's career, when he found great renown, and great disappointment, leading a large (and quite costly) Hawaiian orchestra across the UK and Europe during the late 1940s. Included here are delirously detailed liner notes from erstwhile bandmember, steel guitarist Kealoha Life, who recounts with great minutae all the ups and downs of Mendelssohn's lavish stage show. The music itself is great -- pure dance band material, but with fine, understated steel guitar work and a flawless repertoire. Among the many musicians in the Mendelssohn entourage, Tau Moe and his family also made their mark in the postwar era. Mendelssohn, sadly, died yound in the early 1950s, but as this disc amply demonstrates, he left behind a lot of great music. Definitely worth tracking down.
Felix Mendelssohn "Dreams Of Hawaii" (Jasmine, 1999)

Felix Mendelssohn "We Got Rhythm: The Swing Side Of The Serenaders" (Jasmine, 2002)

Felix Mendelssohn "...& His Hawaiian Serenaders" (Castle, 2004)


A 2-CD set.

Peter Moon "Tropical Storm" (Panini, 1979)


(Produced by Steve Siegfried, Witt Shingle & Lawrence Brown)
The first solo Hawaiian pop modernist Peter Moon, who started his career playing with the Cazimero Brothers and the Sunday Manoa band, and took a five-year break between that gig and the release of this landmark album. This is a bright, playful album, mixing dazzling acoustic guitar picking with uptempo pop-folk -- Moon gets both styles just right, blending the mellow island vibe with a hip, modern sensibility, but very little in the way of the gooey pop crossovers that later came to weight Hawaiian pop down. There's some traditional stuff here, with sweet slack key and steel guitar work, as well as several jaunty, rock-influenced uptempo acoustic tunes, such as the playful "Island Love," which kicks off this collection off. Moon sings in both English and Hawaiian, and mixes in a little bit of Dan Hicks-ish acoustic swing, as well as a mellow, hippie-ish vibe on tunes like "Ballad Of Keawaiki." Fun stuff -- a nice sampling of what the younger set came up with after the first flowering of the Hawaiian music revival. Recommended!

Peter Moon "The Best Of Peter Moon" (Panini, 1981)


This compilation came out not long after Moon's breakthrough album, Tropical Storm, and almost all the material on here comes from that record. Either one is a good introduction to Moon's work, although this one includes a song on here I just couldn't stand -- the syrupy pop tune, "A Hawaiian Lullaby" -- which of course was a very popular song at the time. Other than that, though, this is pretty groovy. Definitely worth checking out.


<! Peter Moon Band discography 1979 Tropical Storm 1981 Best of the Peter Moon Band 1982 Cane Fire 1988 The Guitar Man 1988 Black Orchid 1989 Full Moon 1990 The Music Makers 1991 Heat Wave 1991 Malie 1992 Midnight Sun 1993 Oasis 1994 Iron Mango >

Sterling Mossman "Happy In Hawaii" (Decca, 1959) (LP)
Book 'em, Danno! Sterling Edwin Kilohana Mossman, a Honolulu police officer by day, amiable hapa haole musical star by night, was known by the nickname, "The Hula Cop," and held down a residency at Waikiki's Queen's Surf restaurant for most of the 1950s and '60s. And he actually did appear on Hawaii Five-O, playing music on the pilot episode, as well as making an appearance on the earlier island cop show, Hawaiian Eye. As far as I know, these two releases on Decca were the only albums he recorded, though I'd be glad to pass along any other info folk out there could share...


<! Decca DL 8833 > <! date per 03/16/59 Billboard review >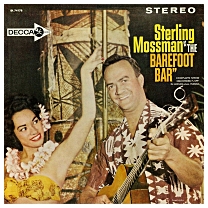 Sterling Mossman "At The Barefoot Bar" (Decca, 1962) (LP)


Book 'em, Danno!


<! Decca DL 4178 > <! date per 06/23/62 Billboard review >

Sterling Mossman & His Barefoot Group "Host In Hawaii (Lokey's Luau)" (Capitol Custom, 1962) (LP)
Apparently this was a "custom" release -- a few hundred copies were pressed by Capitol Records, but only given out to people connected to Earl Thacker's T-Bar Ranch House. Can you say "Holy Grail?" Sure you can. The band is pretty much the same as on the Barefoot Bar album released the same year... Barney Isaacs, Norman Isaacs, VEroa Tiki, et.al.


<! "Lokey's Luau" is the private party recording I referred to (captured at Eedee and Hulsey Lokey's party at Earl Thacker's Ranch House and distributed to fewer than a few hundred people) > <! I got confused when "Happy" was mention because on the LP cover that I have, I says, "Host In Hawaii", not "Happy In Hawaii". Also, there is a Capitol Records label on the top right side, not the Decca label like on the Barefoot Bar LP. At the bottom of the album it says: Featuring: STERLING MOSSMAN & HIS BAREFOOT GROUP Barney Isaacs, Norman Isaacs, Louis Akau, Vera(Veroa)Tiki, Turrere, Tora and Elima Baker. And on the Barefoot Bar LP, Sterling Mossman is heard introducing Barney as the steel player just prior to singing his dad's (Alvin Isaacs Sr.)composition, No Huhu. Smile >

---
Hawaiian Music: (A-C) | (D-J) | (K) | (L-M) | (N-Z)
Compilation Albums (1) | (2) | Links
---
---



---