<! MP3 02/08/11, 10/10/11, 06/21/12 > <! update 00/00/00 > <! outside 00/00/00 > <! pix 00/00/00 > <! icons 02/08/11 >
---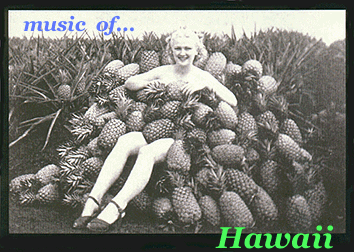 Hawaiian music has a unique charm, deeply rooted in the idyllic feel of the old-time islands. This page is mainly devoted to the classic Hawaiian steel guitar recordings of the 1920-1950s, which mixed dynamic technique with Tin Pan Alley-inspired showmanship. The Hawaiian steel guitar sound spread into country music during the Great Depression era, and eventually became a dominant motif in the hick music scene. The original Hawaiian style is a bit different, taking curious dips and loop-de-loops that sounds as delightful today as did back in the days of yore.
A few modern artists are also reviewed here, and I hope to expand this page to include more contemporary slack-key guitarists. Artists or labels are welcome to contact me about being included on the site.
---
Recommended Records
---

Linda Dela Cruz "The Hawaiian Canary" (Hana Ola, 2005)



Greatly influenced by the legendary Lena Machado's leo ki'eki'e (falsetto) singing style, Linda Dela Cruz was a wartime and postwar singer who performed constantly and recorded sparingly. This disc collects about a two dozen hard-to-find tracks, cut in the 1940s and '50s for island labels such as Bell, Tropical and Trade Winds... Most of these tunes are wonderful -- smooth falsetto crooning that's a little more accessible (but no less authentic) than the standard fare. The style may still be an acquired taste, but if you want to give it a try, this is certainly a fine place to start. Yet another great archival effort from the folks at the Hana Ola label.

El Leo "The Jarican Express" (Turtle Rock Music, 2000)


The Puerto Rican-Hawaiian connection is very much alive in the work of bands such as Pahoa, Hawaii's El Leo, who specialize in what islanders called kachi-kachi at the start of the 20th Century -- the adaptation of Puerto Rican jibaro music to Hawaiian climes. This album features several traditional PR tunes along with some nice originals, including "La Borinque Rap", a bouncy but easygoing, trilingual guaracha rap tune. The band's rhythms and cuatro riffs are solid, with canny slack-key guitar slipped in on the sly... A fun, self-produced album that give a glimpse into a little-known but melodically rich musical tradition.
Ken Emerson "Slack And Steel" (Hana Ola, 1997)



Ken Emerson "Hawaiian Tangos, Hulas & Blues" (Hana Ola, 2004)



Almost by accident, I saw this guy play at a gig he was doing in a posh Kauai hotel lounge... Hearing there'd be some slack-key, we hiked over to the hotel, plunked our scruffy butts down, paid too much for watered-down drinks and took a gander at the white hippie dude with the stageful of guitars... And he was pretty darn good! A very skillful slack key player, Emerson also enjoys playing old, singer-songwriter hippie tunes from the 'Seventies, and this album reflects that stylistic mix... There's some fine island music on here, ranging from Bob Brozman-esque acoustic blues to fine falsetto singing, and a lot of original acoustic reggae and folkie material, which I'm less into but which was still pretty nice. Emerson's history is emblematic of the mellowness and deep alterna-culture roots of the Kauai scene: his family has been involved in musicmaking since the early 20th Century (a relative of his performed Hawaiian music at the fabled 1915 World's Fair Exhibition, which brought "world music" to America) and as a young man he kicked back and forth between Northern California and Hawaii for years and years... His time spent in Santa Cruz during the '70s is pretty apparent; fans of eclectic acoustic music will want to check this one out!

Ken Emerson "A Backporch Slack & Steel Christmas" (Cord International, 2015)


A sweet set of acoustic guitar and slack key versions of classic holiday songs. As always, I admire Emerson's low-key style -- it's always a pleasure to hear when he's got a new album out. Although this album kicks off with a version of "Mele Kalikimaka," it's not a particularly "Hawaiian" and the rest of the songs are standard-issue Christmas oldies such as "Silent Night," "White Christmas," "Blue Christmas," "Jingle Bells," and the like. But nice and mellow, as you'd expect from the islands. (By the way, there is a CD edition of this album available for those of you who are physically-inclined. You might try e-mailing the friendly folks at Cord International to get a copy.)

David Fanshawe/Various Artists "Chants From The Kingdom Of Tonga" (Arc Music, 2008)



Field recordings and original compositions by British-born music ethnographer David Fanshawe, who has devoted himself since 1978 to the music and culture of the Pacific islands... This disc includes "Pacific Song," a sampling of his own original work, Pacific Odyssey, as well as a series of curiously mesmerizing field recordings of Tongan chants. Although thousands of miles separate the Tongans from the more familiar Hawaiians, their shared Polynesian ancestry will be readily apparent to anyone who has listened to traditional hula music -- it is fascinating to hear the shard language and realize how distinct the two cultures are. Fanshawe's intimate connections to Pacific island culture ensure that this disc is packed with some of the most striking, soulful examples of the style, and while the music is mainly sung a capella without much overt ornamentation, it feels lush and expansive. This may surprise you!
Tennessee Ernie Ford "Aloha From Tennessee Ernie Ford" (Capitol, 1967) (LP)


(Produced by David Cavanaugh)
Amid a seemingly endless stream of lackluster gospel recordings, country star Tennessee Ernie Ford took off for the tropics to record this surprisingly genuine aloha album... Oh, to be sure, it's mostly mega-cheesy, but a few tunes are worthy of redemption. What's most remarkable about this album is the wealth of authentic local talent he enlisted, old Hawaiian music pros that included a singer credited as "the beautiful and talented Lani," steel guitar whiz Barney Isaacs, ukulele player Benny Kalama and the remnants of the Kalamas Quartet, playing some mighty fine Hawaiian-style music, underneath Ford's robustly cheesy baritone and Jack Fascinato's pop-vocals arrangements. The opening track, "Pearly Shells," is actually a nice, uptempo number -- too bad he didn't keep up that pace, since the rest of the record is pretty lethargic and snoozy. A couple of other tracks are okay: there are a few songs where the islander back him on vocals as well as playing in the sweet old-style, and those are nice as well. Worth checking out, but you have to be in the right frame of mind. (By the way, anyone know who Ms. Lani was? I'd love to know more!)


<! Lani Custino? Lani McIntire ? Lani Royal? >
Amy Hanaiali'i Gillom "Native Child" (Mountain Apple, 1995)

Amy Hanaiali'i Gillom & Willie K "Hawaiian Tradition" (Mountain Apple, 1997)



Amy Hanaiali'i Gillom & Willie K "Contemporary Hawaiian" (Mountain Apple, 1998)



A fairly stripped-down, acoustic set of Hawaiian-language songs, with modest, plaintive vocals by Amy Hanaiali'i Gilliom, and guitar and ukulele by Willie Kahaiali'i. Robert Cazimero also plays piano on a few tunes... It's a nice enough set; didn't totally wow me, but it wasn't objectionable in any way, either... Worth checking out.
Amy Hanaiali'i Gillom & Willie K "Nostalgia" (Mountain Apple, 1999)


Amy Hanaiali'i Gillom "Pu'uhonua" (Hanaiali'i Records, 2001)


Amy Hanaiali'i Gillom "Generation Hawai'i" (Hanaiali'i Records, 2006)

Amy Hanaiali'i Gillom "A Hawaiian Christmas" (Tiki Man, 2007)


Amy Hanaiali'i Gillom " 'Aumakua" (Ua Records, 2008)


Amy Hanaiali'i Gillom "...And Slack Key Masters Of Hawai'i" (Peterson Productions, 2010)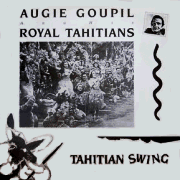 Augie Goupil & The Royal Tahitians "Tahitian Swing: 1936-1938" (Harlequin, 1989) (LP)
A great collection of riotous material from Polynesian bandleader Augie Goupil, who grew up in California and made his mark on the West Coast scene, with a stint in Hollywood that included providing music for the Bing Crosby film, Waikiki Wedding. As far as I can tell the music on this LP -- fourteen tracks from the 1930s -- hasn't been reissued on CD. Alas. A few of the best songs are scattered on some fab Harlequin compilation albums, though, and those are worth tracking down... as is this hot slab of vinyl! Goupil apparently died in 1939, not even thirty years old yet, which is a tragedy since he was such a dynamic and captivating performer.

Halau Hula Ka No'eau "Hawaii Traditional Hula" (Arc Music, 2003)



Traditional hula, drumming and chants, from one of Waimei's premier modern folk ensembles... Might be a little raw and inaccessible for the casual Hawaiian music fan, but great for the hardcore traditional revivalists.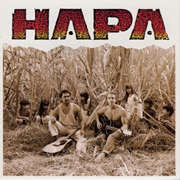 Hapa "Hapa" (Mountain Apple, 1992)



The Maui-based duo of Barry Flannagan and Keli'i Kaneali'i are the core of Hapa, though various sidemen and guest players (such as Kenny Loggins and Stephen Stills) join in on this, their first album. Compared to their later work, this is a pretty down-to-earth album, mainly acoustic and rooted in traditional slack-key styles, with fine Hawaiian vocals and pretty-sounding guitar work, including several "new acoustic" instrumentals. It gets a little gooey around the edges (a hint of things to come), but it's still very nice. Worth checking out!
Hapa "Hapa Holidays" (Mountain Apple, 1995)


Hapa "In The Name Of Love" (Mountain Apple, 1997)



Hapa "Namahana: Contemporary Hawaiian Music" (Mountain Apple, 1999)


This is also mostly nice, at least the acoustic tunes are, though there are some orchestrated tracks which I find icky, and one track with the Irish uillean pipes on it that's a little questionable... Still, this disc is much better than you'd expect if you'd only heard their super-tacky Collection album. A few tunes, particularly "Emme's Island Moments," have a distinctly Ry Cooder-ish feel to them... Worth checking out.
Hapa "Maui" (Hapa World Music, 2005)


Hapa "Hapa Live: The PBS Hawaii Sessions" (Hapa World Music, 2008)


Hapa "Collection" (Mountain Apple, 2000)



A sampling of this modern island band, drawing on several albums recorded between 1992-99. It's too popped-up and perfect for me, and I don't like the high-tech sound (synthesizers, electric guitars, confessional lyrics, etc.) Even the more traditional sounding songs are too slick and too genteel for me, and some of the music is just plain awful. I know they're very popular and commercially successful and all that, but this stuff sounds really boring to me. I have plenty of other records I could listen to instead.

Hawaiian Style Band "Vanishing Treasures" (Top Flight, 1992)


The first album by this popular 'Nineties band... Modern world-beat pop, with reggae, soca, country and folk-rock all woven together, with a hint of traditional Hawaiian music in there too (mostly it's the bilingual lyrics that bring "Hawaiianness" to this record)... The songs are generally mellow odes to the natural and spiritual beauty of the islands, as well as a tune or two in favor of Hawaiian sovereignty... Not really my kind of music, but it's a nice, mellow set and I know (from listening to the radio there) that this kind of reggae-light stuff is pretty popular on the islands...
Hawaii Shochiku Orchestra "Paradise Honolulu" (Hana Ola, 2001)



An impressive archival collection highlighting the post-WWII recordings of the Hawaii Shochiku Orchestra, a big band-ish society dance band that backed vocalists such as Chiyoko Ida, Chiyomi Furukawa, Ted Shimabuhuro, and others in the Japanese- and Okinawan-Hawaiian community. Bandleaders Francis Zanami and Masaji Uyehara, Okinawan nisei whose families came to Hawaii at the turn of the century, during the first wave of Okinawan migration, formed their first ensemble in the 1930s, but somehow the war with Japan sort of sidelined their professional aspirations. In the late '40s, however, they regrouped and formed the Shochiku Orchestra, enjoying considerable commercial success in the years that followed. This music doesn't sound particularly "Hawaiian," but it sure is cool. Japanese vocals, with a mix of modern and traditional compositions, some based on Okinawan folk themes, all framed in a gentle yet persuasive sweet dance band style. This disc isn't simply novelty material... it's true world pop, old-school style! Also includes copious, well-written liner notes which outline an encapsulated version of the history of once-independent Okinawa vis-a-vis Japan and the rest of western Asia.
Hawaii Shochiku Orchestra "Honor Bound" (Hana Ola, 2003)


George Helm "The Music Of George Helm -- A True Hawaiian" (Hana Ola, 1996)



Daniel Ho & George Kahumoku, Jr. "Hymns Of Hawaii" (Aire Music, 1999)


Various Christian hymns are rearranged for the slack key guitar... Some are mainland standards, such as "Amazing Grace" and "Just A Closer Walk With Thee," with lyrics translated by Kahumoku and others... Some songs were written in Hawaii, such as Queen Lili'uokilani's "The Queen's Prayer," and some original material from Kahumoku. It's a nice record, perhaps not as transcendant as other slack key albums (including some by the same artist), and it gets very slow towards the end... But it's still quite nice. Worth checking out!
Daniel Ho "Hawaiian Slack Key Guitar Collection" (Daniel Ho Creations, 2003)


His acoustic guitar playing is quite lovely, but the backing arrangements on much of the album are just too darn gooey for me. I couldn't hang with it.
Daniel Ho & George Kahumoku, Jr. "Classic Hawaiian Hulas, v.2" (Daniel Ho Creations, 2004)


Beautiful acoustic duets, with Daniel Ho on ukulele and Kahumoku on slack key and vocals. Really lovely stuff... highly recommended!

The Ho'opi'i Brothers "Aloha From Maui" (Mountain Apple, 1999)


A nice set of modern leo ki'eki'e (falsetto) singing from the brother duo of Richard and Solomon Ho'opi'i, who were formerly in the late '60s Hawaiian revival band, the Ho'onanea Seranaders, and later recorded several albumas the Ho'opi'i Brothers in the late '70s and '80s. This is pretty nice stuff, plain and down-to-earth renditions of many well-known tunes, including a clownish version of Sol K. Bright's Hawaiian yodel. The steel guitar and ukulele accompaniment are pretty modest and down-to-earth, as are the vocal acrobatics.... Folks who are put off by the more shrill side of falsetto singing should still be able to get into this album; they keep it pretty simple.
Sol Hoopii "Master Of The Hawaiian Guitar, v.1" (Rounder, 1987)


Sol Hoopii "Master Of The Hawaiian Guitar, v.2" (Rounder, 1988)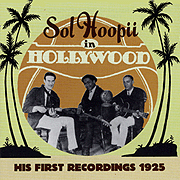 Sol Hoopii "Sol Hoopii In Hollywood -- His First Recordings: 1925" (Grass Skirt, 2007)


There's been an explosion of Sol Hoopii reissues recently, bringing the dazzling showmanship of this legendary Hawaiian steel guitar pioneer back to many happy modern ears. None of the new records dig back as far as this set, which gathers Hoopii's oldest recordings, a series of 78s recorded for the microscopic Los Angeles-based indie, Hollywood Records, in 1925, when Hoopii first moved to California. This disc is a marvel of musical scholarship, since the 78s on Hollywood (and its subsidiaries, Sunset and Silver Screen Records) are among the rarest West Coast 78s, and highly sought-after by collectors. At the time of these recordings, the major labels were just starting to set up shop on the West Coast, and not long afterwards Hoopii signed with the much larger, more powerful Columbia Records. As a result, these first recordings have been out of the public eye for many years, which is a pity, since they show just how good he was, and how advanced his technique and style were, and how seamlessly he fused Hawaiian elements with the jazz and pop of the day. The sound quality is excellent (Grass Skirt, along with Beer Records, put this collection together, and did a stellar job remastering the music) and the musicianship is phenomenal. Also included are several other rare Hawaiian 78s, also released by Hollywood, featuring Dave Mahuka & The Coppock's Hawaiian Quartet, Charles Frederick's Honolulu Syncopators, and guitarist Charles Diamond, whose instrumental "Sleep" is one of the most alluring steel guitar tunes I've ever heard. These records are all extremely rare, and one track, Charles Frederick's "Hello, Aloha, How Are You?", is actually taken from the only known copy in existence, a 78-RPM test acetate that, thankfully, sounds just as good as the records that surround it. This is a wonderful collection, both historically and musically -- collector nerds and Hawaiiana fanatics alike will definitely want to pick it up! (For more info, check out the Grass Skirt label's website.)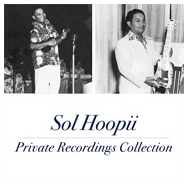 Sol Hoopii "Private Recordings Collection" (Marc Records)
Hoopii's later years are explored in this 9-CD set of live and private recordings, which can be found on the Marc Records website.
Wayne Horsburgh "Songs Of The Islands - Volume One" (Jasmine, 2005)


Hui Aloha "Hui Aloha" (Dancing Cat, 1999)



Dennis Kamahaki and George Kuo (both from the Sons of Hawaii band) join bassist Martin Pahinui on this fine, vocal-heavy collaboration, which also introduces Kamahaki's son, ukulele player David Kamahaki, to the Hawaiian music scene. The music is pretty flowery -- a cheerful mix of island standards and several original new tunes written by Dennis Kamahaki. It's a little less contemplative than your typical slack key set (if there is such a thing as a typical slack key set!), but this disc'll still win you over. Recommended!
Hui Ohana "Ono" (Poki Records, 1976)
(Produced by Bill Murata)
One of many excellent albums by the trio of Hui Ohana, the first band of slack-key guitarist Ledward Kaapana and his brother Nedward, and their cousin, Dennis Pavao, who sang a delicate falsetto. This is their sixth album a sweet mix of traditional and modern sensibilities, with a subdued electric bass, un-flashy Hawaiian-style guitar and just the slightest hints of rock'n'roll in the background. It's not a blow-your-mind kind of album, but it's very mellow and relaxing, though also rootsy and real. Nice stuff from a younger generation of island musicians, innovators who quietly blazed a trail for others to follow. Includes an instrumental version of Mexican composer Augustin Lara's "Granada."


<! Hui Ohana "Young Hawaii Plays Old Hawaii" (Lehua, 1972) Hui Ohana "Hana Hou" (Lehua, 1973) Hui Ohana "Ke Kolu" (Lehua, 1974) Hui Ohana "From Kalapana To Waikiki" (Lehua, 1975) Hui Ohana "Live At Sounds Of Hawaii Studios" (Lehua, 1975) Hui Ohana "Ono" (Poki Records, 1976) Hui Ohana "Hawaii-Tahiti" (Poki Records, 1977) - 7th Hui Ohana "Aloha Pumehana" (Poki Records, 1978) - 8th "Aloha Pumihana," released well over a year after the disbanding of Hui Ohana, probably consists of tracks not placed onto earlier LPs. Hui Ohana " The Best Of Hui Ohana Volume One" (Lehua, 1979) Hui Ohana " The Best Of Hui Ohana Volume Two" (Lehua, 1981) Hui Ohana "The Best Of Hui Ohana" (Lehua, 1986) Hui Ohana "Magic Islands (Rediscovering The Best Of Hui 'Ohana)" (Poki, 2004) > <! Formed by twin brothers, Ledward and Nedward Ka'apana (born: 1950), and their Portuguese-Hawaiian cousin, Dennis Pavao (born: 1952), Hui 'Ohana ("group of the family") was one of Hawaii's leading bands. Accompanying high falsetto harmonies with melodic slack-key guitar picking, the trio took their music from the rural Hawaiian village of Kalapana to the world. Hui Ohana recorded eight LPs in the 1970's. The first five made it onto the CD format in the 1980's or 1990's. "Magic Islands" is a "best of" from the sixth through eight LPs. "Hanalei Moon," "Hele On To Kauai," "Magic Islands," "Kaulana Na Pua," "Ke Kali Nei Au," "Wai Ulu," "Pili Aloha," and "Kaulana Kawaihae" were on the 1976 LP "Ono." "E Maa Kera," "Come On Over," "Kui Lee And Home," "Lehuanani," and "Kuu Home O Kahaluu" are from the 1977 "Hawaii-Tahiti" album. "Happy Anniversary," "Pohai Kealoha," and "United We Stand" were probably leftover tracks released onto the 1978 "Aloha Pumehana" album a year or two after this epic group disbanded (except for two reunion albums in the 1980's). Ledward's professional breakthrough came a few years later, when he was a part of the Hui 'Ohana (means "Family Group"), with his twin brother, Nedward Kaapana, and his cousin, falsetto-great Dennis Pavao. Hui 'Ohana released fourteen albums, each of which was a commercial and critical success. Kaapana left the group eventually, then released six albums as the leader of another trio, I Kona, and performed with the Pahinui Brothers, Aunty Genoa Keawe, David Chun, Barney Isaacs and Uncle Joe Keawe. >

Hula Hawaiians "Hilo March" (Bear Family, 1999)


If you ever pick up a copy of the Bear Family catalog, there's a whole section devoted to dozens of post-war German pop artists. It's the sort of thing where you just scratch your head, and think, "Huh. Wonder what that stuff's like...?" but you quickly put it out of your head, since the attraction isn't that great. So here's one that snuck in by the back door... I actually thought this was a collection of Hawaiian oldies, but it turns out 'taint necessarily so. The Hula Hawaiians were actually a Swiss outfit, led by steel guitarist Walter Roost. Formed in Basel in 1945, the band recorded well into the 'Fifties and 'Sixties -- and man, did they rock! Not only could they play straight up Hawaiian style, they also started to infuse their work with a driving rockabilly undertone... a hint of Speedy West & Jimmy Bryant along with the standard Polynesian fare. Every time I'd play something off this disc on the radio, I'd get someone calling up to ask what it is... Of particular note is the Hawaiian-ized version of Anton Karas' "Third Man Theme." Highly recommended!


<! 10/11: replaced B00000J85B ASIN >

Andy Iona "Hawaiians In Hollywood v. 1: Smooth Sweet & Swinging" (The Old Masters, 2002)


A great collection of classic tunes recorded by guitarist Andrew Aiona Long (he shortened his Hawaiian name when he moved to California in the late '20s). Great stuff recorded when Iona was working in Hollywood on films such as Rhythm Of The Islands and Hawaiian Buckaroo. This disc concentrates on Iona's sessions for the Columbia label; he also recorded extensively for several other companies before and after these mid-thirties dates. As with other Old Masters releases this has superior sound quality and informative liner notes... Highly recommended!

Andy Iona "Volume 4: Songs Of Old Hawaii" (Cumquat Records, 2002)
Another fine set of sweet-sounding oldies, including eight studio tracks and another ten tunes taken from rare old transcription discs. It's really nice stuff. This humble Australian label (Cumquat Records) has a real treasure trove of similar material... A goldmine for serious collectors of Hawaiiana. Check out their website for more details...
I Kona or Ikona -- see Ledward Kaapana
Alvin Kaleolani Isaacs "...And Sons" (Lilinoe Records) (LP)


An album featuring the Isaacs family band, which included guitarists Atta and Barney Isaacs, and their brother Norman, as well as their father, Alvin Kaleolani Isaacs. Sure wish this was available on CD!
Atta Isaacs & Gabby Pahinui "Two Slack Key Guitars: A Livin' On Easy" (Tradewinds, 1969)

Atta Isaacs "Slack Key Guitar" (Tradewinds, 1971)






<! Tracks are: Lei Ohaoha, Kohala March, Kokohi Moani Ke Ala, Kolopa, Na Molokama, Wiliwili Wai, Nu'a O Ka Palai, Hualalai, How'd You Do, Mele Li'i, Ke Anuenue, Sweet Lei Lehua. >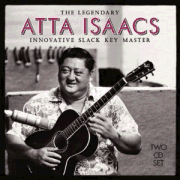 Atta Isaacs "The Legendary Innovative Slack Key Master" (Cord International, 2010)



A gorgeous 2-CD set gathering the work of this legendary Hawaiian slack-key guitarist, known for his pioneering collaborations with Gabby Pahinui... A great chance to hear him in various phases of his career, and playing in a variety of styles... Isaacs is credited with creating his own unique tuning, called Open C, which could be adapted to any other slack key tuning used on the islands, and which revolutionized the style. This collection gathers tracks from several albums, 1971's Atta, Hauoli, the 1975 New Hawaiian Band album, and a 1969 collaboration with Gabby Pahinui, Two Slack Key Guitars. It's all super-sweet stuff!! Great liner notes that shed a light on the early career of Isaacs and his brothers, Barney and Norman, who were all in a family band together, back in the 1940s, and on Atta's progress as a slack key stylist. Highly recommended!
Barney Isaacs & The Kahala Surf Serenaders "E Mau" (Aloha)

Barney Isaacs & George Kuo "Hawaiian Touch" (Dancing Cat, 1995)



A sweet, super-mellow, relaxed, all-instrumental, no-hurries, no-worries set that features beautiful duets from steel guitarist Barney Isaacs and slack key star George Kuo. It's really lovely, really subtle stuff, the kind of record you can have on the stereo for days on end and not mind a bit. Recommended!


<! Alvin Kalanikau "Barney" Isaacs, Jr. (1924-1996) was one of Hawai'i's premier steel guitarists. Barney grew up in a remarkable musical family that included his father, composer and band leader Alvin Kaleolani Isaacs, Sr., and two brothers, slack key master Leland "Atta" Isaacs and multi-instrumentalist Norman Isaacs. Barney remembered being exposed to music from the time he was small. "We had a big house and music was there all the time. Our dad had a dance band that rehearsed on the premises. They played all kinds of music, not just Hawaiian." Alvin, Sr. actively encouraged his ten children to play. He taught Barney, Atta and Norman the rudiments of steel guitar while they were still in elementary school. "When my dad noticed that we were always playing together, he suggested we form a trio," Barney recalled. When the trio was formed, they had to spread out. "As the oldest, I got to pick first, so I stayed with the steel." Atta went to the guitar and Norman played the bass. "We could sing parts and everything. At that time Hawaiian music was very danceable; fox trots, waltzes. We were always trying to keep up, learn as much as we could from the older guys and each other. Pua Almeida, Jules Ah See, the Kalimas, they were all our age. Jules' steel playing probably had the most influence on me. He could really make it sing. He had so many styles and different tunings. He was so adept at picking things up, but he never lost his own recognizable sound." Alvin, Sr. was a very successful band leader and composer, and in 1948 Barney accepted a position in his father's group, the legendary Royal Hawaiian Serenaders. "It couldn't have been a better place to start - in the Monarch Room at the Royal Hawaiian Hotel with that group - my father, Benny Kalama, George Kainapau. They were really terrific." From the late 1940s, Barney was one of Hawai'i's most versatile and active performers, and a globetrotting ambassador of the steel guitar. He spent 25 years with the Hawai'i Calls radio show and enjoyed long associations with Alfred Apaka, Danny Kaleikini and his own groups at numerous nightspots. Also active behind the scenes, Barney served as the musical director for Waikiki Records in the 1950s and even operated his own club, The Palm Tree Inn, turning it into a locally celebrated musician's hangout. Barney's father was well-known for the huge musical gatherings he liked to hold at his house in Kalihi. Following his father's example, Barney loved to bring musicians together to socialize and perform for their own enjoyment. He also taught and served on the governing board of the major steel guitar societies. Barney's recording credits number in the hundreds, including groundbreaking electric steel and slack key duets in the 1950s with Gabby Pahinui and Atta Isaacs, accompanied by a rhythm section on HAWAIIAN SLACK KEY GUITAR, VOLUMES 1 AND 2 (Waikiki Records 319 & 320), which were the spiritual predecessors for Barney's Dancing Cat release HAWAIIAN TOUCH. During the recording sessions, Barney said that he felt a special aloha for that project. "The acoustic steel is the instrument I started on," he said. "Believe it or not, this was the first time I ever recorded on it." >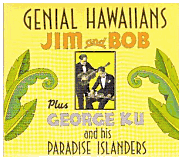 Jim & Bob/George Ku West "Genial Hawaiians" (Grass Skirt, 2012)


Rare, classic recordings of Hawaiian steel guitar music from the 1930s, with twelve tracks from Jim & Bob (all the music they recorded), and an additional twelve from George Ku And His Paradise Islanders, a group that featured guitarist Charlie Opunui.


<! Jim and Bob were perhaps the greatest of the pre-WW2 Hawaiian bands with Bob recognized as among the very best steel guitar players of the era and to some ears the greatest ever. All 12 of the duo's original recordings, some never reissued until now, are collected here for the first time. George Ku's Paradise Islanders, with steel guitar player Charlie Opunui, were also among the leading bands of the time. Their complete output of 12 sides is also included. Digipak includes a 32 page booklet with many unseen photos and ground breaking text on the musicians by experts Cyril Lefebvre, Michael Messer, John Marsden and Bob Brozman. Remastered by Ted Kendall. >

Jim Jensen & The Hawaiian Hotshots "Volume One: Here Is Happiness" (Cumquat, 1991)
Lovely, mellow instrumentals featuring the drifting, dreamy lap steel work of slide guitarist Jim Jensen, along with his pals in the Australian-based Hawaiian Hotshots (a group that also included guitarist Bruce Clarke, owner of the Cumquat label, which is the best source of this fine album...) Originally recorded in 1991, this album is a studious though quite soulful homage to the old-school Hawaiian music of the 1940s -- this really is a beautiful record; I've listened to it for days on end and never grown tired of it. Recommended!
---
Hawaiian Music: (A-C) | (D-J) | (K) | (L-M) | (N-Z)
Compilation Albums (1) | (2) | Links
---



---