<! MP3 06/21/12 > <! update 00/00/00 > <! outside 00/00/00 > <! pix 00/00/00 > <! icons 02/08/11 >
---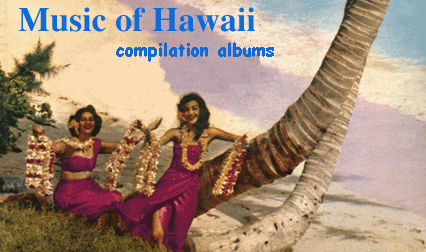 This is my second page of reviews of tasty collections of classic Hawaiian music... There aren't that many records out there, but pretty much all the ones that are available are top-notch. This page is mainly devoted to the classic Hawaiian steel guitar recordings of the 1920-1950s, which mixed dynamic technique with Tin Pan Alley-inspired showmanship. (A separate Slipcue page is devoted to albums by individual artists.)
---
Hawaiian Compilation Albums
---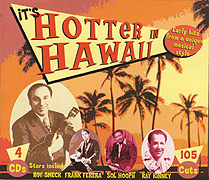 Various Artists "IT'S HOTTER IN HAWAII" (JSP, 2005)



A generously programmed 4-CD set that concentrates mostly on instrumental recordings, and features numerous artists whose names aren't seen elsewhere... The liner notes aren't very specific, but I think that many of these artists were from the UK, presumably recording around the 1940s and '50s, perhaps back in the 'Thirties as well. There are tracks by Ray Kinney, Roland Peachy & His Royal Hawaiians, Lawson's Hawaiians, Jimmy Yates' Boll Weevils, et. al., along with well-known islanders such as George Keoki Davis, Frank Ferera, Sol Hoopii, Sam Ku West, and others... A lot of rare and unusual material... The pacing of these discs threw me off at first (can't put my finger on why, exactly...) but eventually it won me over. Recommended! (For some reason, Amazon has this listed as MP3s as individual discs: Disc A, Disc B, Disc C, and Disc D. Go figure. )

Various Artists "LEGENDS OF FALSETTO" (Hana Ola, 2000)



One hallmark of the classic Hawaiian sound is the distinctive lilt of leo ki'eki'e, or falsetto singing. This disc collects a couple dozen first-rate examples of the style, from old singles on the HTP, Bell and 49th State record labels. A few tracks are of older vintage, dating back to the '30s -- most are postwar recordings, and include several lesser-known performers, along with legends such as Lena Machado and Gabby Pahinui. It's an odd and appealling style; perhaps off-putting to some, but great once you get into it.
Various Artists "LEGENDS OF THE HAWAIIAN STEEL GUITAR" (Hana Ola, 2006)






<! With Benny Rogers, David Burrows, M.K. Moke, Mike Hanapi, Sol Hoopii, Joe DeRigo, Jules Ah See and Tau Moe. The present and near-present are represented by Jerry Byrd, Billy Hew Len, Barney Isaacs, Casey Olsen, Duke Ching, Alan Akaka and Henry Allen. The future of the art-form is represented by Ken Emerson, Bobby Ingano, Bob Brozman and Greg Sardinha. >

Various Artists "LEGENDS OF UKULELE" (Rhino, 1998)


Only tangentially Hawaiian, but certainly worth checking out if you're into the instrument. This set concentrates on the kitschier 'Fifties manifestations of ukumania, with plenty of goofy tunes and hotshot virtuosi up the wazoo. A nice compliment to the more straightforward Hawaiian collections listed here. Arthur Godfrey, George Formby, Tiny Tim and -- of course -- Ike Edwards are among the many performers included here.
Various Artists "LEGENDS OF THE UKULELE -- HAWAIIAN MASTERS" (Hana Ola, 2003)


Various Artists "LEGENDS OF THE UKULELE -- HAWAIIAN MASTERS, v.2" (Hana Ola, 2007)



(Produced by Aloha JOE)
This second collection spotlights a number of younger and more modern ukulele artists, with a generally "poppy" feel -- not the wild stuff of years gone by, but reflective of the music you'll hear in public spaces on the islands, like shops and malls. It's a little too "easy listening" for me, though there is plenty of great musicianship on all the tracks. Includes a bitchin' cover of "Miserlou" by Bruce Shimabukuro, brother of the (now) well-known ukulele superstar Jake Shimabukuro, as well as variations of bossa nova tunes, jazz standards and "The Star Spangled Banner." My favorite tracks are the older-sounding, less showboat-y ones, like Al Canopin's "Lover," Kelly De Lima's "Leimomi," and Moe Keale's mellow "Moonglow". Fans of the mighty uke will find lots to cheer for on here...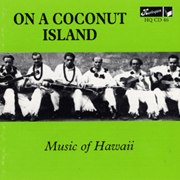 Various Artists "ON A COCONUT ISLAND -- MUSIC OF HAWAII" (Harlequin, 1994)


One of my favorite Hawaiian collections...!! Sprinkled in among its catalog of Cuban salsa and Argentine tango albums, the Harlequin series also has several completely killer Hawaiian oldies compilations, which are all highly recommended. This one is a groovy set of old 78s recorded in Hawaii, the US mainland and Europe, between 1928 and the early 1950s. This whole album is super fun -- wonderfully programmed for recreational listening, combining swank, jazzy tracks alongside hot swing-influenced guitar numbers and steel guitar numbers that should make western swing aficianados or John Fahey fans feel right at home. Then, of course, there are those great Polynesian tounge-twisters tunes -- scat singing for the South Seas crowd. Includes some of the best old-time Hawaiian artists, such as Tau Moe, Sol Hoopii and others... as well as Louis Armstrong on the irresistible title track! Highly recommended.

Various Artists "ON THE BEACH AT WAIKIKI" (Smithsonian-Folkways, 1981)


Includes tracks by Frank Ferera, The Hanapi Trio, Kane's Hawaiians, Yale Hawaiian Trio and others. Different from the Harlequin label CD listed below. (Available through the Smithsonian-Folkways website.)

Various Artists "ON THE BEACH AT WAIKIKI: 1914-1952" (Harlequin, 1995)


This is another impressive set of Hawaiian rarities... Especially striking are the trio of First World War-era recordings, which demonstrate that the flashy pyrotechnic style of Hawaiian steel guitar had been established very early on. This disc is a bit less varied stylistically, though, and may be less rewarding than its companion discs, in terms of enjoying it as an album.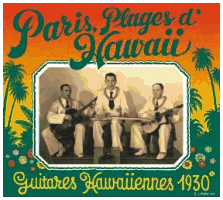 Various Artists "PARIS, PLAGES D'HAWAII: GUITARES HAWAIIENNES 1930s" (Paris Jazz Corner, 2006)


A delicious collection of Depression-era French recordings of Hawaiian and Hawaiian-flavored oldies, including many songs that are Polynesian-themed, and others that are French chanson with steel guitar added in the mix. Most of the tracks are by Parisian guitarist Gino Bordin, mirroring a recent collection of his work on the Grass Skirt label (which is also highly recommended!) There are also a slew of more obscure artists, including several vocal numbers, as well as delightful versions of unlikely tunes, such as classical pieces by Chopin and Rimsky-Korsakoffsky and a gentle, simple rendition of "Amapola," along with waltzes and snippets of French operetta, all given a little steel guitar zing. There are a few other France-meets-Hawaii collections out there, but this is certainly one of the finest. A real winner!

Various Artists "PAU HANA PARTY" (Hana Ola, 2001)



An intriguing odds'n'ends collection that gathers obscure singles from three island labels -- Lehua, Makaha, Sounds Of Hawaii -- with most of the material coming from the 1960s, a transitional time when between the wild vaudevillian showmanship of the steel guitar era and the Hawaiian folk revival of the '70s... Many of these artists played in hotel lounges, and the influence is apparently in the brisk Latin rhythms on many tracks, as well as the sometimes-cheesy arrangements. But there's also a sense of inventiveness and ease, heck, even of just plain lighthearted fun that weaves through here. Not every track on here is great, but this is a nice slice of music from a particular time in Hawaiian musical history, and while it could be derided as "commercialized" (or whatever), it's also "authentic," in its own peculiar way. Don't be put off by the nondescript cover art; if you're really into island music, you may wanna check this out, just for fun.
Various Artists "PUERTO RICO IN POLYNESIA: JIBARO TRADITIONAL MUSIC ON HAWAIIAN PLANTATIONS" (Original Music, 1991)


A fascinating collection, documenting the rich Puerto Rican heritage on the Hawaiian Islands... Who knew (!?) but apparently there was a strong surge of PR immigration to Hawaii early in the 20th Century, and these immigrants -- primarily agricultural workers -- brought their music with them. Fans of Puerto Rican jibaro music should find this enthralling -- mostly the Latin American heritage remain pretty pure, though there are some interesting stylistic permutations on a few songs. Mainly recorded around 1990, these tracks document an ongoing folkloric tradition... a few tracks have a "field recording" flatness to them, though a lot of the music really swings! Well worth checking out... Sadly, Original Music went out of business a few years back, so if you see this album, snap it up.


<! really 108 x 108 >

Various Artists "PUERTO RICAN MUSIC IN HAWAII" (Smithsonian Folkways)



I haven't heard this disc, but apparently there is a connection between it and the Original Music collection reviewed above... Probably pretty cool as well.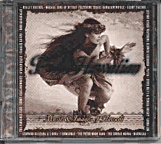 Various Artists "PURE HAWAIIAN: MUSIC AND IMAGES OF HAWAI'I" (Universal/Quiet Storm, 2001)


A bit more modern, but still a nice sampler of styles, including classic artists like Gabby Pahinui and Ledward Ka'apana, alongside some of the newer artists, including Israel K., Steve Ma'ai and others. The postcardy Kim Taylor Reece photography (I'm not a big fan) makes this disc look a lot cheesier than it actually is, but folks looking for a decent selection of modern Hawaiian music might find this disc helpful.
Various Artists "PUTUMAYO PRESENTS: SOUTH PACIFIC ISLANDS" (Putumayo, 2004)

Various Artists "RHYTHM OF THE ISLANDS: MUSIC OF HAWAII: 1913-1952" (Harlequin, 1996)


Another spiffy collection of rare Hawaiian 78s -- slow sugary instrumentals, ripsnortin' fast ones are set side-by-side, along with sweet vocals and Polynesian jive. If you're into it to begin with, this will definitely not disappoint.

Various Artists "RHYTHM OF THE WAVES: HAWAIIAN STEEL GUITAR MP3s - VOLUME II" (Beer Records, 2003)
Man, this digital technology sure is amazing. On the second volume of this impressive MP3-format reissue series, Beer Records crams in a full 234 songs (!) The collection clocks in at over ten hours of music, including dozens of rarities and Hawaiian delights. Ya can't pop it into a CD deck, but if you have any halfway decent computer audio set-up, the sheer listening delight of this disc will astound you. It just... keeps... playing... great... music... all... day... long. Plus, the sound quality is really quite fine, and the song selection can't be beat. You can shuffle the data and make your own playlists, and, I guess, even burn a few albums to hear in the car or whatever as well. Anyway, I'm impressed. If you want to hear a lot of great old Hawaiian music, then go straight to the source, and buy this disc while you can. You won't regret it.

Various Artists "ROUGH GUIDE TO THE MUSIC OF HAWAII" (Rough Guide, 2001)


An outstanding collection of vintage Hawaiiania, ranging from languid slack key and flashy steel guitar wizardry to stellar examples of the distinctive leo ki'eki'e falsetto vocals (particularly a remarkable live performance by Genoa Keawe, who hits the heights of the style). This set is thankfully slanted towards older material, and includes many giants of the island music scene: Gabby Pahinui, Ray Kane, Lena Machado, Sol Hoopii, Tau Moe and others. It's a great introduction to the music, and stacks up pretty well to other similar collections. Highly recommended... another fine entry in the Rough Guide series.

Various Artists "SLIDIN' ON THE FRETS: THE HAWAIIAN STEEL GUITAR PHENOMENON" (Shanachie/Yazoo, 2000)



This disc strays quite a bit into more-or-less straight country and blues terrain, although it's the early Depression-era stuff, where the island influence is still pretty clear. It also has some of the most striking and unusual material of any of these collections -- the trio of tunes that open the album are very distinctive, and even a bit eerie. Plus, once you get into the songs themselves, there's plenty of grrrrrrreat novelty material. Highly recommended!!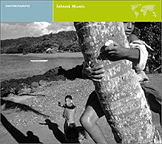 Various Artists "SOUTH PACIFIC: ISLAND MUSIC" (Nonesuch Explorer, 1981)



An odd, vibrant selection of rhythmic and vocal tracks from across the Pacific basin. These field recordings reveal an amazing variety of musical styles and approaches. Drummers and percussionists in particular will find this collection a surprisingly rich resource -- some of the rhythms on here are quite amazing and unusual. If you're looking for a way to branch out into older traditional Hawaiian and Polynesian musical culture, this set will certainly help you delve deeper. Recommended!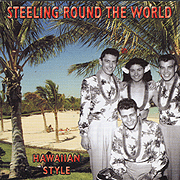 Various Artists "STEELING AROUND THE WORLD" (Harlequin, 2004)


In the early part of the 20th Century, Hawaiian music, typified by the loopy, zingy sounds of the Hawaiian slide guitar, swept across the planet, finding an eager audience among a global population only recently exposed to the idea of "world music" and widespread pop culture. The evidence for that popularity is amply demonstrated here, in this fun, fascinating collection of kooky "Hawaiian" songs recorded by artists all across the world, from South Africa and England to Central Europe, Greece, France, the Balkans, Scandinavia, Japan and the Asian-Pacific basin. In some cases, of course, local musicians were abetted by itinerant Hawaiian ringers, traveling stars like Tau Moe and his family, but in many cases, there were artists such as Wout Steenhuis of Holland or Sweden's Yngwe Stoor who made their entire careers playing in the South Pacific style, and despite the wide divide of ocean and ethnicity, they did it quite well. This is a thoroughly enjoyable, amazing set of rare old recordings... Highly recommended!!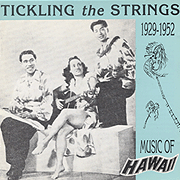 Various Artists "TICKLING THE STRINGS: MUSIC OF HAWAII: 1929-1952" (Harlequin, 1993)


Of all the Harlequin collections, I think this is my favorite -- the material is the most melodic and has the most classically Hawaiian riffs on it. This CD has some delicious classics such as "Hula Girl" and "Oi-Oi-E" by artists such as Sol Hoopii, Tau Moe and Benny Nawahi, and straight-up Tin Pan Alley cornball material such as "Hilo Hattie"... it even closes out with some jazzy big band tracks! This album is a LOT of fun, as are the other CDs in this series, You never see this old stuff around anymore, and I think these albums are all out of print, and should be snapped up immediately if you ever see it.. Great stuff!

Various Artists "VINTAGE HAWAIIAN MUSIC -- THE GREAT SINGERS: 1928-1934" (Rounder, 1989)


Although this set includes plenty of great picking, the emphasis is on Hawaii's unique vocal traditions, including bright, poppy harmonies as well as the more striking (and sometimes inaccessible leo ki'eki'e (falsetto) singing style. Guitarist/archivist Bob Brozman curated this collection, which includes several rare 78s (including a couple that are notably scratchy, but hey, if Brozman says these are the best copies available, I believe him!) Includes stars such as Sol K. Bright, Kalama's Quartet, George Ku, Tau Moe and Sol Hoopii, as well as a few less well-known artists. It's another beautiful, elegant, lively set -- a lot of fun, and well worth picking up. Recommended!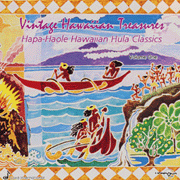 Various Artists "VINTAGE HAWAIIAN TREASURES, v.1: HAPA-HAOLE HAWAIIAN HULA CLASSICS" (Hana Ola, 1993)



The first volume in this outstanding series of old, classic, postwar Hawaiian pop collections. This disc concentrates on "hapa-haole" recordings, nostalgic, novelty-oriented songs mostly sung in English that play on the romantic island-paradise mythology... This particular set of recordings comes from the long-lived 49th State label, which issued innumerable records in the 1940s and '50s. Featured here are mandolinist John K. Almeida, male falsetto singer Joe Kawae, and the harmony vocals of the Lei Momi Sweethearts, who deliver a fine version of "Little Brown Gal." Other standards include "My Little Grass Shack," "Lovely Hula Hands," a modified version of Sol K. Hoopii's "Hawaiian Cowboy," and the original commercial recording of "The Hukilau Song." In general, these recordings are a bit tamer than the tricked-out pyrotechnics of the hot pickers of the '20s and '30s, but it's still lovely nostalgic material... A very pleasant, very listenable set... Recommended!

Various Artists "VINTAGE HAWAIIAN TREASURES, v.2: HULA HAWAIIAN STYLE" (Hana Ola, 1995)



Absolutely gorgeous modern hula and hapa-haole recordings froom the 49th State label, with sizeable contributions from the label's musical director, John K. Almeida, and several vocals by Genoa Keawe and her Hula Maids. It's lovely, classic material from the late 1940s and early '50s -- dreamy and wavelike, perfect for repeated listens and putting on when you want to kick back and mellow out... These songs have already stood the test of time over the decades.. Likewise, if you pick up this disc, you're sure to get a lot of mileage out of it over the years... Recommended! One of my favorites in the Hana Ola series.
Various Artists "VINTAGE HAWAIIAN TREASURES, v.3: TOTI'S TAHITIANS" (Hana Ola, 1995)


Various Artists "VINTAGE HAWAIIAN TREASURES, v.4: MELE HULA HAWAIIAN STYLE" (Hana Ola, 1995)



Various Artists "VINTAGE HAWAIIAN TREASURES, v.5: SHOW-BIZ HULA -- HAWAIIAN STYLE" (Hana Ola, 1995)


A fine set of classic, old-school Hawaiian pop with smooth, sweet tunes galore... There's a little bit of everything here: sweet slack-key guitar, hapa haole pop, some falsetto vocals, a bit of mainland-style swing, and plenty of pretty-sounding melody. Really, this is a lovely little album, great to hear from start to finish. This volume draws on the vaults of the Bell label, mainly stuff from the late 1940s, including some of the earliest recordings of Gabby Pahinui's revolutionary slack-key style, and some fun recordings by the Kalima Brothers band (which has since merited its own, separate disc, also on Hana Ola Records...) Great stuff! Highly recommended.
Various Artists "VINTAGE HAWAIIAN TREASURES, v.6: NIGHT CLUB HULA HAWAIIAN STYLE" (Hana Ola, 1997)



Various Artists "VINTAGE HAWAIIAN TREASURES, v.7: HISTORY OF HAWAIIAN SLACK KEY GUITAR" (Hana Ola, 1997)



Another great archival set in this outstanding series... This collection purports to gather the first twenty commercially-released Hawaiian slack-key guitar recordings, seminal work from Gabby Pahinui, George "Keoki" Davis, Henry Kaalekaahi and others. These late-1940s singles originally came out on the Aloha, Bell and 49th State labels, and include Pahinui's first solo record, 1946's "Hi'Lawe," which closes the album. Fans of the style will be fascinated to hear the comparative roughness of these recordings, as well as the contending influences on the artists, with hints of Spanish flamenco and Latin American music as well as mainland blues -- the formal stylization of the slack-key style hadn't yet been set in place, and the origins of the music are more plainly in sight. Plus, it's great music -- multi-textured and very mellow. Recommended!
Various Artists "VINTAGE HAWAIIAN TREASURES, v.8: SANTA'S GONE HAWAIIAN" (Hana Ola, 1997)


Various Artists "VINTAGE HAWAIIAN TREASURES, v.9: ALOHA HULA HAWAIIAN STYLE" (Hana Ola, 1997)



Various Artists "WAIKIKI IS GOOD ENOUGH FOR ME: HAWAIIAN MP3s: 1927-1938" (Beer Records, 2001)
An amazing use of new technology -- 188 vintage Hawaiian 78s, compressed by MP3 technology to fit into one single disc. Yeah, it's a CD-R, but it's totally worth it -- this thing has hours and hours of great, rare, classic material culled from one guy's record collection. There's a tremendous amount of variety on here, with tracks ranging from jazzy swing to mellow slack key instrumentals, and even some nice examples of the old, pre-European vocal styles. The big coup on this disc is the inclusion of all of Sol Hoopii's earliest recordings made for the teeny-tiny Sunset label in 1925 -- two full years before he signed to Columbia and became a national star. The sound quality is pretty nice; the original 78s used are generally in really nice shape, and the MP3 format doesn't seem to have caused much loss in fidelity. A few odd pops and audible liftings of the needle, but if you ask me, that only adds to the charm. The disc is available online through the label... Take my advice, and snap this one up while you can!
Various Artists "WITH MY LITTLE UKULELE IN MY HAND" (Proper, 2008)

---
Hawaiian Music: (A-C) | (D-J) | (K) | (L-M) | (N-Z)
Compilation Albums (1) | (2) | Links
---



---