<! MP3 02/08/11, 06/21/12 > <! update 00/00/00 > <! outside 00/00/00 > <! pix 00/00/00 > <! icons 02/08/11 >
---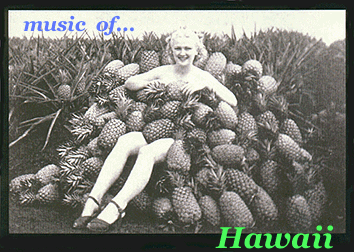 Hawaiian music has a unique charm, deeply rooted in the idyllic feel of the old-time islands. This page is mainly devoted to the classic Hawaiian steel guitar recordings of the 1920-1950s, which mixed dynamic technique with Tin Pan Alley-inspired showmanship. The Hawaiian steel guitar sound spread into country music during the Great Depression era, and eventually became a dominant motif in the hick music scene. The original Hawaiian style is a bit different, taking curious dips and loop-de-loops that sounds as delightful today as did back in the days of yore.
A few modern artists are also reviewed here, and I hope to expand this page to include more contemporary slack-key guitarists. Artists or labels are welcome to contact me about being included on the site.
---
Recommended Records
---

Ledward Kaapana & I Kona "Jus' Press" (Shaka, 1985)


I Kona is the band Kaapana formed after his long tenure in Hui Ohana ended in 1978. This is the group's third album, an award-winning record with bassist Ryan Tang joining Kaapana and I Kona co-founder Alika Odom in a somewhat brisk set of Hawaaian slack key and steel guitar blues tunes. It starts off at a gallop, and may be a bit jarring for folks who've come to this album after hearing some of Kaapana's mellower later work. Still, it ain't bad... They slow down a little as the album goes on, and while this doesn't have the same magical feel as his other records, it's still pretty cool.
Ledward Kaapana & The New Ikona "Nahenahe" (1991)


Ledward Kaapana "Led Live: Solo" (Dancing Cat, 1994)



A gorgeous, delightful live set which matches Kaapana's gentle stage presence with his graceful, relaxing slack-key guitar work. Really nice stuff, with several songs in praise of Maui and the Big Island, all recorded before an appreciative California audience. One of the best Dancing Cat albums, ever... Definitely a keeper!
Ledward Kaapana & Bob Brozman "Kika Kila Meets Ki' Ho'Alu" (Dancing Cat, 1997)



Ledward Kaapana/Various Artists "Waltz Of The Wind" (Dancing Cat, 1998)



A sweet, subtle set with Kaapana playing host to some of the modern roots music and bluegrass elite, including Bob Brozman, Sam Bush, Jerry Douglas, Stuart Duncan, Alison Krauss and Sonny Landreth, coasting along the fluid dividing line between Hawaiian and country music. Nice!

Ledward Kaapana "Black Sand" (Dancing Cat, 2000)



Another lovely album, returning firmly to the delicate slack-key style Kaapana excels at... I was leery of his duet with Dancing Cat/Windham Hill owner George Winston, " 'Akaka Falls," but was pleasantly surprised by how well Winston fit his piano work into the authentic Hawaiian style, playing in sort of a galloping, playful style. All in all, another fine album by this solid acoustic musician -- a sweet, simple stripped-down set of the best Hawaai has to offer.
Ledward Kaapana & Bob Brozman "In The Saddle" (Dancing Cat, 2001)


Ledward Kaapana "Kiho'alu Hawaiian Slack Key Guitar" (Rhythm & Roots, 2005)


Ledward Kaapana "Grandmaster Slack Key Guitar" (Rhythm & Roots, 2006)



George Kahumoku, Jr. "Drenched By Music" (Dancing Cat, 1997)



A bee-yoo-tee-ful, gorgeous set of bright, inventive, super-mellow slack key guitar work. This is simply a stunning album... a must-hear for fans of the style. Bob Brozman sits in playing steel one song, ukulele picker Diane Aki strums and sings on another... Otherwise, this is all Kahumoku's show, and he is a phenomenal player. Highly recommended.

George Kahumoku, Jr. & Daniel Ho "Hymns Of Hawaii" (Aire Music, 1999)


Various Christian hymns are rearranged for the slack key guitar... Some are mainland standards, such as "Amazing Grace" and "Just A Closer Walk With Thee," with lyrics translated by Kahumoku and others... Some songs were written in Hawaii, such as Queen Lili'uokilani's "The Queen's Prayer," and some original material from Kahumoku. It's a nice record, perhaps not as transcendant as other slack key albums (including some by the same artist), and it gets very slow towards the end... But it's still quite nice. Worth checking out!

George Kahumoku, Jr. "Hawaiian Love Songs" (Dancing Cat, 2001)



Nice... A wide variety of styles and a soft, gentle presence. Some fancy picking, but also some soulful vocals. Diana Aki, Bob Brozman and Norton Buffalo (...of all people!) guest on various tracks.... Recommended.
George Kahumoku, Jr. & Daniel Ho "Classic Hawaiian Hulas, v.2" (Daniel Ho Creations, 2004)


Beautiful acoustic duets, with Daniel Ho on ukulele and Kahumoku on slack key and vocals. Really lovely stuff... highly recommended!

Moses Kahumoku "Ho'okupu: The Gift" (Dancing Cat, 1995)



The first solo album by George Kahumoku, Jr.'s brother, who has worked with his brother as a duo act and as part of the hula group Na Oiwi. This set is nice, though I wasn't completely taken in by it... Kahumoku seems to have more of a Spanish classical influence to his guitar work than many slack key players, with brighter arpeggios and crisper melodic runs; the notes don't seem to melt together as much as on other albums. It's still very ornate, very beautiful music... Just a little bit different than the way other players might approach this music.
George Kainapau "Hawaii's Falsetto King" (Hana Ola, 2012)



One of Hawaii's most lauded falsetto singers, George Kainapau was an old pro whose career dates back to the late 1920s, when he made his first recording, working with legendary guitarist Sol Ho'opi'i, working later with folks such as Benny Kalama and George Archer, as well as performing in a few Hollywood films, most notably Bing Crosby's Waikiki Wedding. He had a phenomenal vocal range and charismatic presence, and worked for decades in various hotels and musicl venues. This collection seems to be drawn from live shows he did in the 1950s, with strong accompaniment -- it's not all falsetto, though, so may be easier on the uninitiated ears than recordings like the ones below, which are more strictly in the "high falsetto" style.


<! Documenting an evening in golden era Waikiki in it's finest form with the Hawaiian falsetto giant, he's accompanied by stellar musicians, George 'Kaipo' Miller - bass/vocals, Sonny Kamahele - guitar/vocals, and the great steel guitarist - Jules Ah See. The best-of recording of the evening's two shows is virtually perfect, belying the fact that it was bootlegged by a fan, Douglas Allen, on a night off from his US military service duties while toting a high-end recorder and mics, which with the singer's OK was allowed to place on George's mic stand. >

George Kainapau "Your Musical Holiday In Hawaii" (Decca, 1955) (LP)


Hawaiian falsetto is a lot easier to take when the lyrics are in Hawaiian; when it's all in English, as on this album, it's a bit much. Kainapau is backed by two separate ensembles, Danny Stewart's Hawaiians and Sam Koki and His Paradise Islanders, and both bands have a pretty modest, minimalist approach, basically traditional, though not with a lot of oompf. They don't overshadow Kainapau, but they don't really buoy him much, either. An okay album, I suppose, if you're really into the style, but I couldn't hang with it. The final track, "When The Orchestra Plays Aloha Oe" had a nice, corny feel that could fit into a nostalgic mix, but there wasn't much on here that held my attention.


<! DL 8138 1955? or '62? - '55 matches Webb Pierce Decca #s >

George Kainapau "The Golden Voice Of Hawaii" (Decca, 1961) <! year?? >


A master of Hawaiian falsetto, George Kainapau has a great voice, although the style may be a little hard to take, particularly with the churchy arrangements on this album. The record starts off on a jaunty note, with a bouncy, traditional-sounding version of "Pua Mana," but the ukulele soon drops out, replaced by a drippy, soporific organ that dominates the rest of the record. There's also some nice steel guitar throughout (uncredited on the album; anyone know who it was?) and like Kainapau's vocals, it often struggles to overcome the bland, flat tone of the organ; you can get into it, but it's a lot of work. One other traddy, ukulele-led track, "Naka Pueo (The Owl Song)," that would appeal to more modern fans of the style, but most of this is probably a hard sell for most listeners. By the time this record was made Kainapau was in his mid-fifties, and no longer a young man, although his voice was still quite supple and clear; his earlier work can be found on various CD collections, such as Hana Ola's excellent Legends Of Falsetto compilation.


<! More in INFO > <! includes Pua Mana, Ke Kali Nei Au, Kalua, Mai Poina De Ia'ui, Kuu Ipo, How is the Hour, Imi Au Ia Oe, Naka Pueo, Ua Like No A Like, Blue Hawaii, Old Plantation, Hawaiian Interlude > <! George Kainapau "Favorite Hawaiian Songs" with George Archer and "his Pagans" Album 1 (Decca Label) The Hukilau Song & Hapa Haole Hula Girl Album 2 (Becca Records Label) Lovely Hula Hands & Sing Hawaii Sing Album 3 (Decca Label) On a Honolulu Holiday & Hookipa Paka Album 4 (Bell Records Label) Hookipa Paka & E Mama Ea >

Kalama's Quartet "Early Hawaiian Classics: Historic Recordings 1927-1932" (Arhoolie, 1993)



Lovely stuff. An expanded version of a 1978 LP that led the pack in classic Hawaiian reissues, this collects recordings by one of the sweetest, most melodic Hawaiian acts of the 1920s. The Quartet's sound is distinguished by elegant four-part harmonies and the interplay of two steel guitars. Even though they worked on the mainland, a lot of their repertoire is notably old-school in comparison to their pop-oriented contemporaries; although accomplished, they have a folkloric, 19th Century feel to some of their rougher material. Acoustic revivalist Bob Brozman wrote the original record's liner notes -- and an endorsement like that should be enough to pique your interest! Recommended.
The Kalima Brothers/The Richard Kauhi Quartette "Vintage Hawaiian Legends, v.1" (Hana Ola, 1996)



Another great collection of vintage Hawaiian music... Ukulele wizard Jesse Kalima founded his band in 1939, recruiting "brothers" from Honolulu's bustling musical scene; in 1942 they added teenage piano prodigy Richard Kauhi to the group, and solidified a dynamic style that would help shape the sound of Hawaiian pop in the wartime era. Mixing steel guitar with the piano and uke, with a robust vocal chorus and a diverse repertoire, the Kalima Brothers were a real working band, and this disc gives a great sense of what live Hawaiian ensembles must have sounded like at the time, mixing Tin Pan Alley standards with funky island styles. Later, Richard Kauhi left to found his own band, a mellow lounge act that took its cues from the Nat King Cole. The second half of this disc is devoted to Kauhi's work, which isn't as Hawaiian-alicious as the Kalima stuff, but also has a nostalgic charm. Anyway, this collection is a real gem... worth tracking down!

Rev. Dennis Kamakahi "Pua'ena: Glow Brightly" (Dancing Cat, 1996)



I really love the feel of this album... Dennis Kamakahi is a prolific songwriter who was recruited as a slack key player for the Sons of Hawaii ensemble, back in the early 1970s. Here his soft, subtle playing is matched by his calm, unflashy vocals, each with well-rounded, mediative tones. This is a very gentle, pleasant album, with an understated simplicity that's really a delight. Highly recommended.

Dennis Kamakahi " 'Ohana" (Dancing Cat, 1999)



A beautiful, gentle set of instrumental and vocal numbers by Dennis Kamakahi, accompanied by his son, David, on the 'ukulele... Lovely stuff, very low-key and very lulling. Recommended!
David Kamakaki & Dennis Kamakahi "Paani" (Dennis Kamakahi Productions, 2007)


Israel Kamakawiwo'ole "Ka 'Ano'i" (Discos Tropical, 1990)



Harmless feel-good party music and a few goopy pop tunes. This is an early solo effort from one of Hawaii's most successful pop stars. There are several stripped-down acoustic songs with Iz and his ukulele fronting a small acoustic ensemble. Then there are larger pop arrangements and several reggae songs, all of which shows the his range of interests, and gives an indication of where he was headed with his music. However, the sound mix isn't great and the arrangements aren't as flowery as on his better-known later albums. So, fans who are working their way backwards to this disc should be aware ahead of time that this is really more of a transitional album, with Kamakawiwo'ole still working out some of the ideas he was to pursue in his wildly successful career. I do like the relaxed feel of his vocals and uke work, particularly on the acoustic numbers, though overall, I was a little nonplussed by this album. (See also: Mahaka Sons Of Ni'ihau.)
Israel Kamakawiwo'ole "Facing Future" (Big Boy, 1993)



Israel Kamakawiwo'ole "E Ala E" (Big Boy, 1995)



This disc opens with a call for Hawaiian national sovereignty ("E Ala E") that's musically a little too pop-oriented for me, but interesting thematically; other songs have s simplicity, gentleness and elegance that I found appealing... I came to this early album after having listened to several later albums that I hated, and was pleasantly surprised to find how much I was drawn in by it. I'd even recommend this one to folks who want to check IZ out, but with the caveat that his later albums don't sound much like this one... It's pretty down to earth and easy to listen to, definitely one of his better albums. Recommended.

Israel Kamakawiwo'ole "N Dis Life" (Big Boy, 1997)



This one's a real mixed bag. Generally speaking, the Hawaiian-language songs are nice, and the English-language ones are awful, drifting into tacky, lethargic, New Age-y soft-pop... And the reggae songs? Don't even ask. Still, some songs are quite pretty. IZ strikes me as an artist who'd be ideally suited for folks who download music and store it digitally: keep the stuff you like, toss the rest out. That being said, even his "nice" songs are a bit too sugary for me, and this isn't an album I'd keep around for long.

Israel Kamakawiwo'ole "The Man And His Music: In Concert" (Big Boy Records, 1998)



A posthumous release which features a generous helping of Kamakawiwo'ole's concert performances in the mid-1990s... Not being too thrilled with some of the studio albums I'd heard, I tried this one out, figuring that hearing him in live setting would show his strengths as an acoustic performer... Unfortunately, he brought his whole band with him, and there's some pretty iffy arrangements on most songs, particularly the intrusive synthesizer that hovers over many of the performances. I dunno... Even when he plays slack key, his style is a bit sugary and bland for me. (Sorry! I know his legacy is sacred ground... but I just don't like all the synths and whatnot... Gotta call 'em like I hear 'em.) Plus the spiritual side of his work is a bit gooey for me, and maybe a bit preachy, even if it's meant in the best way.

Israel Kamakawiwo'ole "All Alone In IZ World" (Big Boy, 2001)



Another posthumous release, mixing informal acoustic jams in a couple of more polished, syrupy songs which are typical of his other albums. Mostly, though, it's all acoustic and quite lovely... a pity he didn't get the chance to do more albums like this. It's nice to hear IZ in such informal settings, though the more orchestrated stuff can be a bit much. One note of caution: this "enhanced" CD may wreck havoc with your computer... on mine, it opened up a new window for every song that played and stuttered while playing the enhanced material. Who needs the headache? Other than that, though, this album is really sweet.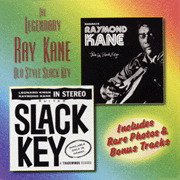 Ray Kane "The Legendary Ray Kane: The Complete Early Recordings" (Hana Ola, 2003)



This disc reissues two early albums on the Tradewinds label by slack key master Ray Kane, Nanakuli's Ray Kane from 1975, and Slack Key, an album from the 1960s that also featured guitarist Leonard Kwan. Kane grew up on O'ahu was the nephew of bandleader Andy Cummings, the composer of "Waikiki," whose heyday was in the 1930s and '40s... In the 1970s Kane emerged as one of the leading exponents of the slack key tradition, and he tends towards a softer, hushed style... There are several nice instrumentals and vocal tracks here; the tracks from the early '60s are less well engineered than they should have been -- there's an echo-y, empty quality that's a little regrettable, although the music is still quite nice. The dozen tracks from the '70s sound fine, though... This is a lovely, low-key set that slack-key enthusiasts will want to check out.

Ray Kane "Punahele" (Dancing Cat, 1994)



Lovely, solid slack key guitar and understated, soulful falsetto vocals from this rock-solid player. This is a nice, low-key album, not too flashy, nor too snoozy. It's just about right.

Ray Kane "Wa'ahila" (Dancing Cat, 1998)



A beautiful set of acoustic slack-key and vocal numbers, including some nice falsetto work by this accomplished, richly melodic, soulful old-timer. Of the Dancing Cat artists, I think Kane is one of the best-rounded and most consistent, performing in the "smooth" (nahenalie) style, which opts to avoid the bounce and frenzy of some of the flashier Hawaiian guitar styles. A very nice, gentle album... recommended!
Genoa Keawe & Her Hawaiians "On The Beach At Waikiki" (Hana Ola, 2008)

Genoa Keawe & Her Hawaiians "Among My Hawaiian Souvenirs" (Hana Ola, 2008)






<! several other Genoa Keawe albums listed. >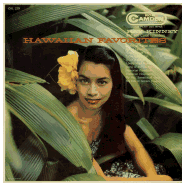 Ray Kinney "Hawaiian Favorites" (RCA Camden, 1957) (LP) <! '59? >


One of the most commercially successful hapa haole Hawaiian artists of the 1930s and '40s, originally working as a vocalist for Johnny Noble, and then as a bandleader himself, Kinney was a major star on radio, stage and record, both on the mainland and in the islands. I'm sure there are still purists out there who will take exception to his genteel, sweet-band approach, where a glockenspiel is as likely to carry the melody as a steel guitar, but it's hard for the nostalgia-minded among us not to be drawn in by these antique-y (and tiki?) old performances. Kinney has a prissy crooning style, much like Rudy Vallee, Al Bowlly, or any number of Great Depression-era singers... The island themes just add to the charm. Sure it's corny, but that's why we like it!


<! CAL 229 >

Ray Kinney "Sweet Hawaiian Moonlight" (Vocalion)
More sweet, sappy old-fashioned hapa haole songs, though it may be that these Decca recordings -- at least some of them from the early 1940s, I think -- are a little more "authentic" than the RCA songs above. Anyone out there know when these were recorded, and who the backup musicians were on any of these sessions?


<! VL-3687 > <! some tracks circa 1940(?)

Ozzie Kotani "Kani Ki Ho'alu" (Dancing Cat, 1995)



Dreamy slack key instrumentals, with a very relaxed, relaxing feel. Kotani, who studied with Sonny Chillingsworth, gets really deep into the softer side of the style, but never sinks into saccharine or sappy cliches. A lovely album... Recommended, especially when you really just want to chill out and let your mind wander.

Ozzie Kotani "To Honor A Queen" (Dancing Cat, 2002)



A beautiful set of instrumental compositions by Queen Lili'oukalani, the 19th Century matriarch who grew up in the court of King Kamehameha III, and who went on to compose many great songs, most notably "Aloha 'Oe." This is a quiet, contemplative exploration of her work, which subtly merged improvisational island-style music with the more formal aspects of European classical music. It's a lovely album, very mellow and very sweet... Recommended!
Ozzie Kotani "Paka Ua (Raindrops)" (Daniel Ho Creations, 2005)

Ozzie Kotani & Steve Sano "Remembrance" (Sharlene Oshiro, 2008)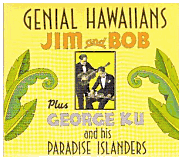 George Ku/Jim & Bob "Genial Hawaiians" (Grass Skirt, 2012)


Rare, classic recordings of Hawaiian steel guitar music from the 1930s, with twelve tracks from Jim & Bob (all the music they recorded), and an additional twelve from George Ku And His Paradise Islanders, a group that featured guitarist Charlie Opunui.


<! Jim and Bob were perhaps the greatest of the pre-WW2 Hawaiian bands with Bob recognized as among the very best steel guitar players of the era and to some ears the greatest ever. All 12 of the duo's original recordings, some never reissued until now, are collected here for the first time. George Ku's Paradise Islanders, with steel guitar player Charlie Opunui, were also among the leading bands of the time. Their complete output of 12 sides is also included. Digipak includes a 32 page booklet with many unseen photos and ground breaking text on the musicians by experts Cyril Lefebvre, Michael Messer, John Marsden and Bob Brozman. Remastered by Ted Kendall. >

Ku'uipo Kumukahi "Na Hiwa Kupuna O Ku'u One Hanau" (Ho'oli, 1993)



Drenched in deep tradition, Hilo native Ku'uipo Kumukahi sings with great conviction and a mastery of various classic styles of Hawaiian guitar music. The first of her solo records, this album isn't as perfect or as fancy as many of the modern slack-key records, and Kumukahi has some rough edges in her vocals... But that's part of the charm; here, you know for sure that you're getting real music from real people... And definitely from real Hawaiians. Worth checking out!
Ku'uipo Kumukahi "E Ku'u Lei, E Ku'u Ipo" (Ululani, 2000)


Ku'uipo Kumukahi "Ho'ulu'ulu 'Ekahi" (Ke-alohi Corporation, 2003)


KUmZ "Reflections" (Kauakoko Foundation, 2004)


Members of a local traditional hula organization, with a wide mix of songs... This alternates between slower, somewhat sluggish, hymn-like Robert Cazimero-style vocal tunes (including one that was written by Cazimero for their group), some lovely traditional hula chants and more playful modern songs. The slow stuff is a drag, but the rest of the album is pretty sweet.


<! also? KUmZ "Listen To You Heart" B0016LKM46 >
George Kuo & Barney Isaacs "Hawaiian Touch" (Dancing Cat, 1995)



A sweet, super-mellow, relaxed, all-instrumental, no-hurries, no-worries set that features beautiful duets from steel guitarist Barney Isaacs and slack key star George Kuo. It's really lovely, really subtle stuff, the kind of record you can have on the stereo for days on end and not mind a bit. Recommended!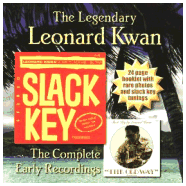 Leonard Kwan "The Legendary Leonard Kwan: The Complete Early Recordings" (Hana Ola, 2003)



The late slack-key guitarist Leonard Kwan, who passed away in 2000, was one of the pillars of modern Hawaiian music. He is famous for his concise, soulful technique as well as for recording the first full album of slack-key instrumentals, back in 1960. That record, Slack Key (aka "The Red Album") is reissued in full here, along with a 1975 followup, The Old Way, both originally on the independent Tradewinds label. Also included are his earliest singles, from 1957, and a number of bonus tracks showing how Kwan established himself as one of Hawaii's subtlest accompanists. It's all gorgeous. The Red Album material, in particular, is impressive both for its restraint and for its depth: Kwan's style suggests as much as it reveals, laying down musical markers that he and others would develop for decades to come... These early recordings are elegant in their simplicity, and as beautiful as anything ever to come from the islands. A real must-hear for any fans of the slack-key style!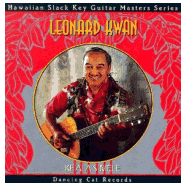 Leonard Kwan "Ke'ala's Mele" (Dancing Cat, 1995)



In the 1980s, poor health forced Kwan to stop performing regularly, but he came out of semi-retirement to make this lovely album for George Winston's Dancing Cat label. Recording in a more modern setting, Kwan delved deeper into the tonalities and textures of the style, taking full advantage of the sonic palette of a 1990's studio. Like all the Dancing Cat releases, this is a very beautiful album, one you'll definitely want to check out.
---
Hawaiian Music: (A-C) | (D-J) | (K) | (L-M) | (N-Z)
Compilation Albums (1) | (2) | Links
---



---