<! NA-ZZ > <! MP3 06/21/12 > <! outside 00/00/00 > <! pix 00/00/00 > <! icons 02/08/11 > <! UPDATES: 10/06/13 - added Santo & Johnny review > <! Sonny Lim Chino Montero Jeff Peterson Raiatea Jack de Mello Presents Steel Guitar Magic B000008NU3 Hugo Winterhalter "...Goes Hawaiian" >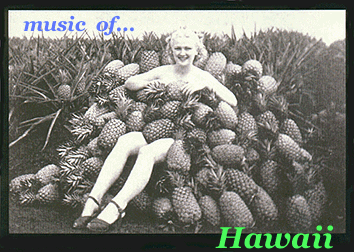 ---
Hawaiian music has a unique charm, deeply rooted in the idyllic feel of the old-time islands. This page is mainly devoted to the classic Hawaiian steel guitar recordings of the 1920-1950s, which mixed dynamic technique with Tin Pan Alley-inspired showmanship. The Hawaiian steel guitar sound spread into country music during the Great Depression era, and eventually became a dominant motif in the hick music scene. The original Hawaiian style is a bit different, taking curious dips and loop-de-loops that sounds as delightful today as did back in the days of yore.
A few modern artists are also reviewed here, and I hope to expand this page to include more contemporary slack-key guitarists. Artists or labels are welcome to contact me about being included on the site.
---
Recommended Records
---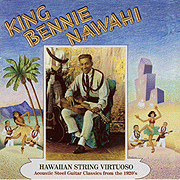 King Bennie Nawahi "Hawaiian String Virtuoso: Classic Acoustic Steel Guitar Recordings Of The 1920's" (Shanachie/Yazoo)



An outstanding collection of rare old 78s featuring this jazz-oriented hotshot picker from Honolulu. As a young man, Nawahi hit the mainland vaudeville circuit, and became one of the most celebrated Hawaiian instrumentalists of the 1920s, initially billed as the "king of the ukulele" (hence the lifelong nickname). Here he is heard in a variety of settings, performing with his own band on famous numbers such as "Tickling The Strings" and "My Girl Of The South Sea Isles," and with various jazzy stringband combos. This album was put together from the collections of several members (and associates) of the Cheap Suit Serenaders, so it's no surprise to hear Nawahi's version of "Singin' In The Bathtub," which the Serenaders covered in the early 1970s. There are plenty of other great novelty tunes, some traditional Hawaiian songs, and even some country material with Nawahi plinking out sweet accompaniment. This album is especially nice for how well it presents Nawahi's personal style, assembling his material as a cohesive whole rather than as a few dazzling gems on a Hawaiian compilation, as it's usually heard. Great stuff, highly recommended!

The New Hawaiian Band "The New Hawaiian Band" (Mele, 1972/Hana Ola, 1992)



Country/pop steel guitar whiz Jerry Byrd moved to the islands in the early 'Seventies, and one of his first projects was this mellow yet soulful set, recorded with Herb Ohta, Atta and Barney Isaacs and other old-school session players. This rides a fine line between classy instrumental music and gooey muzak, but the island music faithful will want to check it out. The reissue on Hana Ola Records includes a few bonus songs taken from a late '70s Nohelani Cypriano EP that featured Byrd playing alongside Peter Moon and some other younger players on some contemporary-flavored material -- one track even dips into disco rhythms, so take that as you will.
The New Hawaiian Band "Hawaii's Greatest Hits, v.1" (MCA, 1990)


The New Hawaiian Band "Hawaii's Greatest Hits, v.2" (MCA, 1990)


Frank Novicki & Ben Bonham "The Waikiki Steel Works" (Self-Released, 2001)


Two San Francisco Bay Area locals with a sweet-tooth for good, old-fashioned Hawaiian music... Playing on a variety of vintage guitars and ukes, the duo tears through an all-acoustic mix of classics and originals that recapture the old island style. Their perky picking may remind folks of Bob Brozman's early work... Definitely worth checking out!

Bla Pahinui "Windward Heart: Live Solo" (Dancing Cat, 2000)



Gabby Pahinui's second-oldest son, James "Bla" Pahinui has much more of an overtly folk- or rock-influenced style than his brothers, often singing in English, and goofing around with both the music and his vocals. His guitar style is also a bit blunter and more forceful... This live set, recorded as part of a tribute to his father, captures him at his best, with plenty of intricate guitar work, and a beaming, playful stage presence. This may be the best introduction to his work... certainly a very strong representation of his style.


<! 06/12: MP3 link not active >

Bla Pahinui "Guava Soul" (Mountain Apple, 2001)


One of the members in good standing of the extended Pahinui clan with a lighthearted set of island-style folk-pop, with the slack key and ukulele woven into an otherwise poppish mix. It must be said that Bla does not have a great voice; he seems to enjoy himself greatly on here, though, and offers some nice portraits of Hawaiian life (especially on songs like "Manuela Boy," an album highlight...) If you have enough good will to put up with the broken, craggy, un-mellifluous nature of his singing, you might get into this; I'm not that charitable, though, and thought this was a little hard on the ears. Notable moments include steel guitar legend Jerry Byrd guesting (quite nicely!) on one track.
Cyril Pahinui "6 And 12 String Steel Guitar" (Dancing Cat, 1994)



Lovely solo explorations by a son of Hawaiian slack-key legend Gabby Pahinui... This is delicate, innovative modern acoustic music. Absolutely gorgeous and highly recommended. A classic.

Cyril Pahinui "Night Moon" (Dancing Cat, 1998)



Another solid, lovely album by this flawless slack-key crooner. Recommended!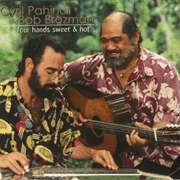 Cyril Pahinui & Bob Brozman "Four Hands Sweet & Hot" (Dancing Cat, 1999)



An amazing, thoroughly gorgeous album, pairing acoustic guitarist Brozman up with the eldest of the Pahinui brothers, Cyril Pahinui, who is himself a master musician, and a player of uncommon elegance and economy. The songs are treasured standards from the Hawaiian slack key repertoire, played the way Pahunui learned them, though often with a bluesy twist courtesy of Brozman, whose background in nostalgic antique-y musical genres fits perfectly with the Hawaiian style. Each musician's contributions can be heard in the rich interplay of notions and styles, and they compliment each other nicely. Attentive listeners will be floored by the level of playing on this album, while folks who just want something mellow to have on in the background will find themselves wowed as well. Highly recommended!
Cyril Pahinui "Ka Ho'oilina Mau... The Legacy Continues" (Tropical Music, 1999)



Cyril Pahinui "He'eia" (RCA/Windham Hill/Dancing Cat, 2007)



An absolutely gorgeous set of twelve solo guitar instrumentals from one of Hawaii's finest slack-key players... Most of the songs are traditional Hawaiian songs, with unique arrangements from Pahinui, drenched in harmony and mellow island vibes. The sound is lush and lovely, but never gooey or forced... Pahinui plays from the heart, and keeps the soulfulness in there as well. Slack-key fans will be thrilled, and anyone with an island-y inclination will want to check this out... It doesn't get much better than this.
Gabby Pahinui & The Sons Of Hawaii "Gabby" (Hula, 1962) (LP)

Gabby Pahinui & The Sons Of Hawaii "Music Of Old Hawaii" (Hula, 1962)


Gabby Pahinui & Atta Isaacs "Two Slack Key Guitars: A Livin' On Easy" (1960s)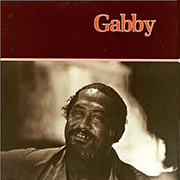 Gabby Pahinui "Gabby" (Panini, 1972)



Gabby's "Brown album," a keystone of the modern Hawaiian music renaissance...


<! right GIF?????? >
Gabby Pahinui "Rabbit Island Music Festival" (Panini, 1973)



Celebrated as one of the great modernizers of Hawaiian music, slide master Gabby Pahinui stretched the "traditional" sound of the Hawaiian slack key style out into a more relaxed, expansive sound, luxuriant and laid-back, as well as the perfect showcase for his dazzling guitar work. The title of this album is kind of an in-joke; Rabbit Island is a protected wildlife sanctuary, so the "festival" heard on this disc is actually a set of 'ewa'ewa terns, recorded on the rocky island (the human music was actually recorded in the Sounds Of Hawaii studios, in Honolulu...) This is a lovely album, sort of a bridge between the older island styles Pahinui grew up on and and the modern sound that he pioneered. Joining him here are the extended Pahinui clan (many of whom have gone onto lengthy careers of their own), and guitarist Sonny Chillingsworth, who is also a powerful force in island music. Really sweet stuff; definitely worth picking up!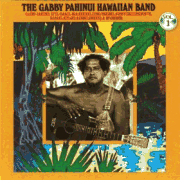 Gabby Pahinui "The Gabby Pahinui Hawaiian Band, v.I" (Panini, 1974)



Gabby Pahinui "The Gabby Pahinui Hawaiian Band, v.II" (Panini, 1976)



Gabby Pahinui "Best Of The Gabby Pahinui Band: 1972-1977" (Panini, 1993)


Slide guitarist Ry Cooder was widely praised in the 1970s for helping make Hawaiian slack-key guitar music popular among the counterculture/roots music in-crowd. His work with Gabby Pahinui and the Pahinui family ranks as some of the best records in the genre, as well as some of the best stuff he ever recorded... not too surprising, since Pahinui was perhaps the single greatest Hawaiian slack-key guitarist ever. As always, Cooder left his own special stamp on the music, a graceful, well-sculpted sense of melody that can instantly be spotted in the mix. Graceful, beautiful, relaxed music which irresistibly, invariably conjures an image of an oceanic sunset every time I listen -- any of these albums are highly recommended.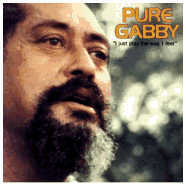 Gabby Pahinui "Pure Gabby: I Just Play The Way I Feel" (Hula Records, 1978)



A gorgeous acoustic set, originally recorded in 1961 under the auspices if Dave Guard (of the Kingston Trio), and sadly left unreleased until 1978, when the Hawaiian music revival was well underway. These recordings feature Gabby Pahinui playing solo, and with minimal backing of bass and ukulele, and includes remakes of some of his old classics from the '40s. It's an amazing record to have been made as far back as '61: the sonic quality is breathtaking, as are the elegance and sophistication of Pahinui's performances. Fans will definitely want to track this album down, not just for a glimpse into Pahinui's sound at the time, but also for the chance to hear some of the finest slack-key music ever laid to wax. It's really lovely stuff. (Note: this was originally released as a 2-LP set, with one disc that included a lengthy interview with Dave Guard. That interview is not included on the CD reissue.

Martin Pahinui "Night Moon" (Dancing Cat, 2003)



Gabby's youngest son, Martin, is a wonderful vocalist and slack key player, steeped in the best song traditions of the island. He's backed here by superpicker George Kuo and others, perfectly framing his sweet, understated vocals. This is fine, old-fashioned material, not as modernized as some of his recordings with the Peter Moon Band or as dynamic as his work with Hui Aloha, but perfect and compelling in its own beautiful way. (By the way, for anyone interested in deciphering Hawaiian pronouciation, the children's song, "C-A-T, Popoki Spells Cat," written by Gabby's old cohort Andy Cummings, might be quite helpful.) Highly recommended.


<! more listed >

Les Paul & Mary Ford "Lover's Luau" (Columbia, 1959)

Al Perry And The Swinging Surfriders "Favorite Hawaiian Chants and Hulas" (Decca) (LP)


A nice, simplified set of Hawaiian tunes, featuring radio host Al Perry and a decent-sounding band, doing folksong-ish renditions of traditional chants (on Side One) and poppier "hulas" (on Side Two) that include pop tunes like Sol K. Bright's "Hawaiian Cowboy" and "Polynesian Love Song." None of Perry's work seems to be in print these days, which is a pity since it's actually kinda fun, in a Burl Ives-y kinda way. No date is given on the album cover, but I'd guess around 1956 or '57.


<! Al Perry --- Hana Ola "vintage v.9" Is is comp, or an artist album? >

Johnny Pineapple "Hawaiian Holiday" (Pickwick, 1965) (LP)


Honolulu native David Kaonohi, aka Johnny Pineapple, was a talented steel guitarist who worked in the mainland nightclub circuit and made several albums in the 1960s... Despite the goofy stage name, there's some good, sweet steel playing on here, as well as solid ukulele, although the rest of the musicians are a bit sketchy, at least from a Hawaiian traditionalist point of view. The piano, drums and guitar are all pretty mainstream pop/jazz, though overall I suppose this is a decent set of hapa haole music. There's better, but this is real enough to make me curious about his other albums.


<! several albums by Johnny Pineapple >

Poly Sua Guitarra Hawaiana E Conjunto "Sentimento Brasileiro" (Chantacler, 1961)
Fascinating! I mean, wow... a vintage album that combines two of my favorite genres, old-school Brazilian samba and classic Hawaiian music?? I am so totally there! Apparently "Poly" was a stage name for a guitarist named Angelo Apolonio who had mastered the Hawaiian steel guitar, and found a way to fit it in the older samba-pop orchestrations. The modest backing band here seems a little less into it than Poly does, but the results are still super-cool, with slide guitar passages that bend to Brazilian melodies rather than the songs of the seas. Particularly cool is how the rhythmic backing by stringed instruments (the ukulele in Hawaiian music, the cavaquinho in Brazil) sounds so similar in both styles, and forms a bridge between the two. A great instrumental music keepsake, with several tracks that stand the test of time.
Herb Remington "Aloha Hawaii" (D Records, 1960) (LP) <! year? >





<! Lonely Isle / Malihini Mele / Kamaiina Waltz / Beachcombing / Blue Holonum / Hula Cha Cha / Wind Chimes / Happy Chant / Song Of Old Hawaii / Rotsarock / Lovely Luana / Island Memories >
The Sandwich Isle Band "The Sandwich Isle Band" (Seabird Sound, 1978) (LP)


(Produced by Peter Moon & Bill Coziar)
A delightful album of lively, good-natured acoustic music, mostly of old-fashioned, 1930s-style Hawaiian pop, with some more contemporary, folk-flavored original material mixed in, reflecting the vibrant, cheerful energy of the 1970s Hawaiian musical renaissance. This band featured Cyril Pahinui playing slack-key and 12-string guitar, along with Eddie Palama on steel, Steve Hall playing ukulele and Brian Hussey on bass, along with some additional slack-key from producer Peter Moon. Really nice stuff that largely sidesteps both the local folk-rock sound of artists such as Peter Moon and Country Comfort, as well as the rich, contemplative slack-key style of elders such as Atta Isaacs, et. al. in favor of a giddier, more nostalgic music. If you can track this one down, definitely give it a spin... It's a fun record!
Santo & Johnny "Hawaii" (Canadian-American, 1961) (CD & MP3)



Born in New York City, Italian-American brothers Johnny and Santo Farina were child prodigies on the steel guitar, playing intricate -- if sometimes showy -- duets in a number of styles. Their 1959 pop hit, "Sleep Walk," established them as major stars and they were able to indulge their interests, including this Hawaiian-flavored gem, recorded with the Hutch Davie Orchestra. It's not entirely "authentic," and parts of it are quite flowery and over-the-top, but it's a fun record with a lot of unexpected sonic textures, widening the style to new sounds and nuances. The repertoire includes new songs composed by mainlanders (including several by Santo & Johnny) along with older hapa haole tunes from folks such as Harry Owens and Johnny Noble, and lots and lots of dreamy, drifty steel guitar. This is one Hawaiian-themed "easy listening" album that's rewarding for fans of island music and exotica aficionados alike,


<! with the Hutch Davie Orchestra & Chorus > <! producer?? >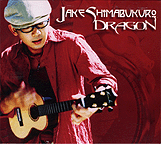 Jake Shimabukuro "Dragon" (Hitchhike/Sony-Japan, 2005)



Twentysomething whizkid Jake Shimabukuro is to Hawaiian music and the 'ukulele what Bela Fleck is to bluegrass and the banjo. A fearless modernizer and virtuoso picker, Shimabukuro dips liberally into lite-jazz and muzak styles, so much so that his 'uke work is sometimes obscured by the flowery pop arrangements... But when he keeps it simple, as on the acoustic-based "Me & Shirley T," his fretwork is nothing short of stunning. This album also includes the rock-flavored "With You Always," a song used in a tourism campaign aimed at Japanese travelers, where Shimabukuro swaps licks with an electric guitarist. This isn't my kind of Hawaiian island music, but after seeing the success that IZ had with similarly florid material, I wouldn't be surprised to see Shimabukuro emerge as a major Hawaiian star.
Jake Shimabukuro "My Life (EP)" (Hitchhike, 2007)



There's a big difference between how Hawaiians and mainlanders think about "easy listening" music. For example, if someone on the mainland says a Hawaiian record sounds like Muzak or mall music, it's most likely a putdown, whereas for an islander, it's a sign of a hometown kid made good. Trust me: if you go to any island in Hawaii for the next year or two and don't hear ukulele prodigy Jake Shimabukuro's gooey-sweet instrumental version of Cyndi Lauper's "Time After Time" wafting out of every mall, stall and gift shop you see, then you may need new batteries for your hearing aid. It's stickier and more more syrupy than shave ice on a lava bed. On this six-song EP, Shimabukuro also covers a couple of Beatles ballads, takes "Somewhere Over The Rainbow" to places Israel Kamakawiwo'ole never dreamed of, and throws in Sarah McLachlan's "Ice Cream" for good measure. It's his cover of Led Zeppelin's "California Song" that has the most grit -- although still quite sweet, his amazing fretwork isn't overshadowed by the cutesiness -- and, man, can that kid play! Not a note out of place, and sometimes he plays about twenty times more notes than you'd think humanly possible. Shimabukuro has a big following, and fans won't be disappointed by this latest offering. If you want to get a better sense of what all the fuss is about, try checking him out live: or, this YouTube video might give you an idea of just how talented he really is. Personally, I'd prefer hearing him do more traditional-sounding material, but then again, I'm not the brilliant, gifted, musical genius, so maybe I should just keep it to myself...


<! other Jake Shimabukuro >

Roy Smeck "Plays Hawaiian Guitar, Banjo, Ukelele & Guitar: 1926-1949" (Shanachie/Yazoo, 1992)



Hotshot trick guitarist/multi-instrumentalist Roy Smeck tore up the Vaudeville circuit in the 1920s and early '30s, playing a dazzling mix of jazz, blues and Hawaiian-style music on guitar, banjo, mandolin and uke. He also became a world-famous author of countless music instruction books... This CD samples some of his best Hawaiian-style recordings of the 1930s, ranging from straight Hawaiian music to ragtime-y material and jazzy flights similar to Django Reinhardt's early stuff. Cool record, though you have to be really into instrumental material to sit through the whole disc. Nice sound quality, too!
Hank Snow "Snow In Hawaii" (Bear Family, 2008)


Country singer Hank Snow had a long fascination with the Hawaiian isles... This CD includes his 1967 album of the same name, along the island-themed songs spanning back as far as the 1930s(!) when he was still shivering away up in Canada, dreaming of hula skirts, palm trees and sea shells. Mahalo plenty!

Sons Of Hawaii "The Folk Music Of Hawaii" (Panini, 1971)


A classic and pivotal album which helped shift interest back towards older acoustic styles... This was also the first album on the venerable Panini label, featuring a 40-something Gabby Pahinui on guitar, along with several other top-flight musicians. Both Pahinui and ukulele whiz Eddie Kamae were longtime pros on the Hawaiian pop circuit, having played in nightclub and variety acts as far back as the 1930s. Here, they teamed up with some younger players to play a relaxed set of backwoods tunes, getting as far away from the "Blue Hawaii" chestnuts as possible, and deep into the folk tunes sung on shady porches across the islands. Kamae's delivery is a bit Burl Ives-y, but that's not really such a bad thing... This isn't as gorgeous or as melodic as Pahinui's later material, but there's a quaint air of familiarity and affection to these perfomances, particularly on cute, musicbox-y tunes such as "Christmas In Hawaii" and "Ka Lae O Ka'ena" (about the girl whose mom owned the candy store...) that makes this hard to resist.
Sons Of Hawaii "Best Of The Sons Of Hawaii, v. 1" (Hawaiian Sons, 1997)


Eddie Kamae kept the band together, and here's a nice selection of their recorded work... This is dominated by Kamae's ukulele work and sounds a bit on the folkie side -- as opposed to the lusher, more melodic slack key style -- but it has its gentleness and charms.
Stars Of Hawaii Orchestra "Hawaiian Guitar" (RCA Victor, 1957) (LP)


A nice, laid-back easy listening set with languid steel guitar framed by minimal ukulele... This anonymous band, made up of "the greatest steel players in the South Seas, the finest ukulele strummers and the best guitarists," was apparently led by Alvin Kaleolani Isaacs, patriarch of the Isaacs musical family and leader of the Royal Hawaiian Serenaders quartet. Sadly, the other musicians on here remain unidentified (although I'm sure there are those out there who have either knowledge of or strong opinions about who was on this album...) This record won't totally rock your world, but it's well-played by some very skilled and confident locals, and it sounds nice and pretty, though perhaps slightly washed out by the mainland pop production. All in all, though, it's a fairly rootsy record, thankfully free of large string sections and whatnot. Definitely worth a spin.
Danny Stewart & Sam Koki "Honolulu At Midnight" (Decca, 1957) (LP)


Another mellow major-label "easy listening" album with top-flight musicians playing laid-back Hawaiian guitar instrumentals. The liner notes identify six musicians in the Paradise Islanders band: Sam Koki and Danny Stewart as the leaders, along with Pua Almeida, Harry Baty, Sam Kaapuni and Freddie Tavares. Sweet stuff with simple melodies and precise, assured performances. Super-mellow and easy on the ears, while still soulful and authentic.


<! - reviewed in Billboard on 10/14/57 >

The Sunday Manoa "Meet Palani Vaughan And The Sunday Manoa" (1967)



<! ...Peter Moon became a founding member of the Sunday Manoa, along with Palani Vaughn, Alfred "Baby" Kalima, and Cyril Pahinui (one of Gabby's sons).... >

The Sunday Manoa "Guava Jam" (1969)
The Brothers Cazimero joined Peter Moon after Cyril and Bla Pahinui left the band; it was this trio that took the group's name to the forefront of the early '70s revival scene...




The Sunday Manoa "Cracked Seed" (1972)


The Sunday Manoa "3" (Panini, 1973)


The title is a little misleading: this is the third album with this particular lineup (Peter Moon, Robert and Roland Cazimero), but there were earlier records made with the Moon-Pahinui lineups as well. Although this starts off on a strongly Hawaiian acoustic footing, it gets more folkie and syrupy as the album goes along... The influence of the Cazimero Brothers is initially balanced by Peter Moon's bouncy musical instincts, but as the album moves along, their goopy inclinations start to take over, and the string-drenched vocal numbers on the end of the album is sheer torture... Plenty of other stuff, though, balances it out. A mixed bag, but mostly on the traditional side, and certainly worth checking out.

Tahiti Here Group "Music From The South Pacific" (Arc Music, 2009)



(Produced by Guy Tourville)
An outstanding set of traditional music from Tahiti, from one of Polynesia's premier music and dance folklore troupes. The album alternates between rough-hewn percussion, in the uniquely brusque, no-nonsense Tahitian drumming style and vocal numbers that combine gruff vocals and sweet, strangely alluring harmonies. The songs will seem most accessible to listeners who have some exposure to Hawaiian music; the words sounds the same, the melodies and harmonies are familiar, and there's a ton of hot ukulele playing as well. (The uke work doesn't offer much in the way of melody or lead, but for rhythm playing, it's incredibly skillful and complex.) This record has a lot to offer: local dance groups in particular will find this to be a rich resource for both songs and innovative drumming tracks. Recommended!
Bill Tapia "Tropical Swing" (Moon Room, 2004)

Bill Tapia "The Duke Of Uke" (Moon Room, 2005)

Bill Tapia "Livin' It Live" (Red Spider, 2009)


3rd Road Delight "Everybody's Talking" (Third Road Productions, 1984)





<! BAND MEMBERS - ANDREW JR. KEVIN-LEE MILTON >

3rd Road Delight "From Now On It's Only You" (Third Road Productions, 1985)

Toti's Tahitians "Vintage Hawaiian Treasures, v.3: Tahitian Drums And Dances" (Hana Ola, 1994)



An excellent collection of hardcore Tahitian drumming and chants, performed by a rock-solid ensemble led by George "Toti" Terorotua, a Tahitian emigre who lived and worked in Florida for much of his life, as well as in Hawaii. Also in this group was Timi Ake, who broke off and led his own group, the Royal Tahitians. This collection is a straight reissue of two albums from the late 1950s, and it's no-nonsense traditional Tahitian stuff, with little in the way of Hawaiian-style hapa haole material to break things up. Students of Tahitian music will find a lot to love here. The only down side to this release is that for the CD liner notes they chose to reprint the admittedly hilarious, culturally horrific liner notes from one of the original albums, which speak patronizingly and suggestively of the passionate native girls dancing with wild abandon to the primitive beat of the island drums, etc., etc. I appreciate the unflinching look back at how mainland audiences looked down at the islanders at the time, but I wish they'd also included some modern liners with biographical information about the band, and more insight into the music itself.


<! This recording is an old 49th State recording called "Tahiti Dances," featuring George "Toti" Terorotua, Timi Ake and Ralph Hoffman. Toti worked for most of his life as musician and drummer at the famed Mai Kai in Ft. Lauderdale, Florida. Timi toured the U.S. with his own show, "The Royal Tahitians." A much better recording of Paea can be heard on their ABC Paramount recording, featuring multiple tracks, called "Lure of Tahiti." >

Bud Tutmarc "Sacred Hawaiian Melodies, v.1" (Word-Sacred Records) (LP)


One of a large number of Christian-themed instrumental albums by steel player Bud Tutmarc... Many others can be found on the Marc Records website.
Bud Tutmarc "Sacred Hawaiian Melodies, v.2" (Word) (LP)

Bud Tutmarc "Hawaiian Sails In The Sunset" (Jasmine, 2002)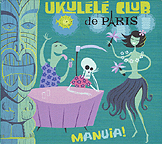 Ukulele Club Of Paris "Manuia!" (Universal-France, 2002)


Well, here's a wonderfully diverse, playful ensemble that commingles odd, cute, ukulelesized versions of old standards such as Hoagy Carmichael's "Hong Kong Blues" and the venerable "Teddy Bear's Picnic" with cool originals and perky covers of old Hawaiian standards. The album opens with a delightful cover on Benny Nawahi's "Girl Of The South Sea Isles," complete with the lyrics translated into French; wisps of Latin and Brazilian music come in as well... Admittedly, you have to be into uke music to begin with, and even so this is probably best taken in moderate doses... But these guys are top-flight... If you like listening to artists such as the Cheap Suit Serenaders and Bob Brozman, or the groups they inspired (Squirrel Nut Zippers, Asylum Street Spankers, etc....) and likeminded modern uke groups such as Petty Booka, then this disc might be right up you alley... Worth checking out!
Johnny Ukulele "Favorite Selections By Johnny Ukulele" (Capitol, 1958) (LP)


(Produced by Bill Miller)
A "solo" set by John Ka'aihue, who became known by the stage name Johnny Ukulele during his long tenure as a featured musician in the Harry Owens show. Despite wafts of genuine Hawaiian music, this is mostly an "easy listening" set, with equal parts pop-orchestral arrangements and loopy Martin Denny-style exotica. The ukulele picking is nice, but ultimately proves a bit peripheral. Not long after this album came out, Ka'aihue moved full-time to the mainland, notably working in Vegas for most of the 1960s... Fans of more authentic Hawaiian pop sounds might not be too into this goofy, gooey album, but it does fit into the continuum... Some of the songs are more Hawaiian than other, naturally.

The Waikiki Steel Works "The Waikiki Steel Works" (Self-Released, 2001)


Two SF Bay Area locals, guitarists Frank Novicki & Ben Bonham, with a sweet-tooth for good, old-fashioned Hawaiian fancy pickin'... Playing on a variety of vintage guitars and ukes, the duo tears through an all-acoustic mix of classics and originals that raggedly recapture the old style. Their perky picking may remind folks of Bob Brozman's early work... definitely worth checking out!


<! really 109x108 >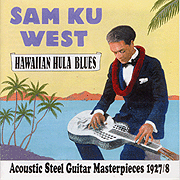 Sam Ku West "Hawaiian Hula Blues -- Acoustic Steel Guitar Masterpieces: 1928/29" (Grass Skirt, 2006)


Steel guitarist Sam Kuanoni grew up in Honolulu, but early in life he jumped on a boat and set out to make his fortune abroad, playing musichalls and vaudeville venues across Asia, Europe and on the United States mainland... This fine disc includes all of his officially released records, old 78s cut for Victor, Vocalion and some smaller labels during a brief period in the late 1920s. Kuanoni died young, apparently from exhaustion from a gruelling tour schedule, but he was one of the most highly regarded steel players of his time, and these two dozen-plus records are an impressive legacy. Several tracks may be familiar to Hawaiian music fans, through various compilation albums, but hearing all his records together in one place is a very different experience. Although he was a very adept player, Sam Ku's style was much softer and more reflective than that of other classic Hawaiian steel players of the era -- he was less of a "trick" player and more of a stylist, prefiguring in many ways the more contemplative feel of postwar-WWII slack key playing. At any rate, this collection, along with its well-researched liner notes, fills in a huge void in the Hawaiian guitar repertoire, serious collectors and fans will definitely want to pick it up. Great sound quality, too. (For more information, check out the Grass Skirt website... )

Speedy West "West Of Hawaii" (Capitol, 1958) (LP)


It's hardly surprising that Speedy West, one of the great session steel players of the 1950s, would have gone to Hawaii to cut an album of pure, Hawaiian-style steel tunes, nor is it surprising that the record was really, really good. What is weird is that this record is out of print, and has been for decades. Oh sure, all the tracks have been reissued as part of Bear Family's 4-CD Speedy West and Jimmy Bryant box set, but ya can't pick this stuff up just on its own, which is really a shame, 'cause it's a treat. West plays it straight and simple, with locals Sam Koki and the Seven Sea Serenaders and falsetto vocalist Sylvia Zara to back him up. It's a fine record, well worth searching out, with some really sweet steel playing, and plenty of well-chosen, well-played Hawaiian oldies.
---
Hawaiian Music: (A-C) | (D-J) | (K) | (L-M) | (N-Z)
Compilation Albums (1) | (2) | Links
---



---