<! MP3 02/08/11, 10/10/11, 06/21/12 > <! outside 00/00/00 > <! pix 00/00/00 > <! icons 02/08/11 > <! updates: 02/08/11 - more Keola Beamer to add... someday... 10/10/11 - added Mahi Beamer > <! Erich Sylvester Bill Tapia Johnny Poi & His Surfboarders The Diamond Head Beachcombers "Aloha From Hawaii" (RCA) Johnny Pineapple "From Hawaii" Shake Those Hula Hips Big Kahuna & the Copa Cat Pack B00005KCH6 Sione Aleki "Pacific Ukulele" (Hibiscus Records) (LP) (Produced by John Ruffell & Tony Vercoe) - from Fiji - recordded at the South Pacific Festival Of Arts in Suva, Fiji - album sponsored by Air New Zealand > <! 07/13: add pix to Country Comfort reviews (and do more research) also add to country Hippiebilly section? >
---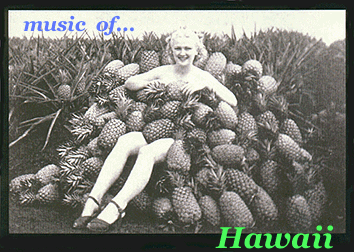 Hawaiian music has a unique charm, deeply rooted in the idyllic feel of the old-time islands. This page is mainly devoted to the classic Hawaiian steel guitar recordings of the 1920-1950s, which mixed dynamic technique with Tin Pan Alley-inspired showmanship. The Hawaiian steel guitar sound spread into country music during the Great Depression era, and eventually became a dominant motif in the hick music scene. The original Hawaiian style is a bit different, taking curious dips and loop-de-loops that sounds as delightful today as did back in the days of yore.
A few modern artists are also reviewed here, and I hope to expand this page to include more contemporary slack-key guitarists. Artists or labels are welcome to contact me about being included on the site.
---
Recommended Records
---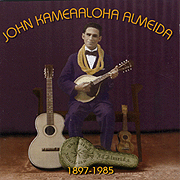 John Kameaaloha Almeida "1897-1985" (Hana Ola, 2003)



A wonderful collection of vintage mele hula pop recordings, pop songs based on traditional hula chants, performed by John Kameaaloha Almeida, a robust singer and multi-instrumentalist who, despite being blind from the age of ten, was one of Hawaii's most popular and prolific bandleaders in the first half of the 20th Century. These are interesting recordings, a bridge between the older styles and the fluid, multicutural pop styles that swept through the islands during Almeida's lifetime. The son of one of the original Portuguese laborers who brought guitar music to Hawaii in the 19th Century, Almeida literally embodied the shifting tides of Hawaiian culture, and over the course of his career he refined over two hundred mele hula songs, an impressive repertoire that is well represented in this 22-song set, which draws on his work in the 1930s, '40s and '50s, for labels such as Brunwick, 49th State and the Hawaiian Transcription Service. It's lovely stuff with sweet, drifting vocals and crisp instrumental work... a bit genteel, but also quite compelling. Definitely worth checking out!
John Kameaaloha Almeida "Polynesian Love Song" (49th State/Hana Ola, 2003)

Alfred Apaka "The Lost Recordings Of Hawaii's Golden Voice" (Hana Ola, 1999)



Early recordings from one of Hawaii's best-known performers... Fans of his later, loungier material may be taken aback by Apaka in his youth, but folks who enjoy hapa-haole hula music will enjoy hearing him do authentic tunes such as "Na Molokama" and "Na Moku Eha". Certainly worth checking out!
Alfred Apaka "The Best Of Alfred Apaka, v.1" (Decca)


Alfred Apaka "The Best Of Alfred Apaka, v.2" (Decca)


Ape "Jungle Gems" (Simian Records, 2003)


Hey, mainlanders wanna get in on the fun as well... Here's some kooky, latter-day loungecore that draws on a variety of sources -- Hawaiian oldies, Tahitian rhythms, manic quotes of old pop tunes and Caribbean calypso. This SF Bay Area ensemble features not one, but two talented steel players, including Frank Novicki of the Waikiki Steel Works (who are also reviewed in these pages...) If this sounds like your cup of tea, cruise over to their website for more info: www.tikimania.com ...Tell 'em Joe sent ya!

Keola Beamer "Hawaiian Slack Key Guitar In The Real Old Style" (Mountain Apple, 1972)


The debut album of Keola Beamer, one of the best modern slack key guitar players to come in the wake of Gabby Pahinui's groundbreaking work. Some songs are sung in English, with naive, almost-embarassingly folkie-oriented lyrics; others are sung in Hawaiian and sound more elegant and serene. The slack key playing isn't as authoritative or as musically rich as his later work, but for a young'un, this is still pretty nice. Maybe this is more of an historical curio album, but it's still got its charms. If you like Beamer's work, this is certainly worth checking out.

Keola & Kapono Beamer "Honolulu City Limits" (Paradise Productions, 1978)



Proof positive that "modernization" can have disasterous effects on just about any type of music... The Beamer brothers went Hollywood -- literally -- and recorded this florid soft-pop outing with LA producer Tony Randazzo, burying their slack key work under a full-on orchestral MOR treatment for about half the album, with results nearly worthy of David Gates or John Denver. It's really pretty awful, although the album did win an award as "contemporary Hawaiian album of the year," and many folks still look back on the record quite fondly. If you're interested in hearing how island music melded with the romantic pop of the disco era, then this album may be of historical interest... But it didn't really float my boat.


<! Keola Beamer >

Keola Beamer "Wooden Boat" (Dancing Cat, 1994)



An embarassingly bad crossover album by slack key guitar master Keola Beamer. A few of the songs on here have the typical elegance of his best acoustic work, but others, full of '80s-ish drums and Jimmy Buffett-style island music crooning, are pretty dismal. I regret the time I spent listening to these songs.
Keola Beamer "Moe'uhane Kika: Tales From The Dream Guitar" (Dancing Cat, 1995)


Keola Beamer "Mauna Kea Mauna Kea - White Mountain Journal" (Dancing Cat, 1997)


Keola Beamer "Island Born" (Dancing Cat, 2001)



Keola Beamer "Kolonahe: From The Gentle Wind" (Dancing Cat, 2002)



Bleahh. One of Beamer's drippier, more New Age-y efforts, closer in feeling to other Windham Hill artists such as guitarist William Ackerman and label founder George Winston. Too goopy for me, and too simplistic musically, compared to Beamer's best slack key work. Skippable.
Keola Beamer "Mohala Hou - Music Of The Hawaiian Renaissance" (Dancing Cat, 2002)


Keola Beamer "Soliloquy: Ka Leo O Loko" (Dancing Cat, 2002)



Nice. A beautiful, mellow set of soft, contemplative slack key instrumentals. Easy listening, perhaps... but my kind of easy listening! Recommended.

Keola Beamer "Ka Hiniki O Ka Hau: The Coming Of The Snow" (RCA/Windham Hill/Dancing Cat, 2006)



Hawaiian meets classical in this mellow outing from slack key guitarist Keola Beamer... with mixed results. The easygoing style that predominates is well suited to many composers -- Dowland, Mendelssohn, Ravel -- but obscures the stylistic individuality and purposeful roughness of others, notably Stravinsky and Astor Piazolla. The best match is with the elegant Erik Satie, as seen in the inclusion of five pieces from Satie's famed "Gymnopedie" and "Gnossienne" series -- slow, honeyed musical studies from the 1880s that can be seen as touchstones for the ambient and New Age styles of the 20th Century... Although Beamer is playing in slack tunings, the picking technique is unusually formal, that is, this sound more like a standard-issue classical guitar set than a Hawaiianized crossfertilization... Still, if you want something mellow and background-y, this is a very solid performance. It's just not as "Hawaiian" as some fans might like. (PS - more classic island music is reviewed in my Hawaiian Music Guide. )
Mahi Beamer "Authentic Island Songs" (Capitol, 1959)


A falsetto singer who became a nightclub star, Mahi Beamer came from a musical family, and was known for his English-language interpretations of Hawaiian traditional songs. He recorded two albums for Capitol Records, and went on to a long stint in Las Vegas, and more work in some of the most prestigious hotels in the islands.
Mahi Beamer "More Authentic Island Songs" (Capitol, 1959)

Gino Bordin "Virtuose De La Guitare Hawaiienne: 1930s Paris" (Grass Skirt, 2009)


In the dawning years of the 20th Century, Hawaiian music hit the shores of France pretty much the same way as it did elsewhere, through showcase performances at grand fairs and exhibitions, swiftly followed by tours by pioneering Hawaiian performers. Although the exotic appeal of the new style clicked with listeners, few French musicians were able to master the style, at least not until guitarist Gino Bordin stepped up to the plate. Born in Vincenza, Bordin was one of the tens of thousands of Italian immigrants coming to France after the First World War -- he swiftly moved up in the ranks of France's musical elite, and when the Hawaiian music bug hit him, Bordin became the dominant figure in a particular musical niche. Bordin was one of the first French players to master Hawaiian-style slide guitar, and he applied it to a variety of popular genres, including waltzes, French chanson and musette, as well as good old "hapa haole" Hawaiian songs (novelty pop songs written to appeal to non-Hawaiian listeners). This disc gathers twenty-five prime recordings from Bordin's extensive catalog, recorded for a variety of labels between 1931-1937. The sound quality is great, the accompanying booklet is both chatty and informative, and the music is a lot of fun (although, admittedly, a bit more prim than some of the tunes being recorded by actual Hawaiians during the same era...) All in all, a great historical document with a lot of groovy vintage music... This is the second release from the fledgling Grass Skirt label: let's hope number three is equally exciting.
Gino Bordin "Reve De Hawaii" (Essential Media, 2011)


The Brothers Kanilau "Mele Oli: Chants From Ancient Hawaii" (Sounds True, 1998)


Authentic, for-real, hardcore traditional hula chants, sung a capella by two brothers who were born in Honolulu but later grew up in Los Angeles. The Kanilau's were both very active in Hawaiian cultural preservation efforts, and they sing these songs with great warmth and sincerity; these recordings are probably much more accessible than other, earlier "field recording" style albums of similar material. Great liner notes, too. Worth checking out!
Bob Brozman & The Tau Moe Family "Ho'omana'o I Na Mele Ka Wa U'i: Remembering The Songs Of Our Youth" (Rounder, 1989)



Guitar whiz Bob Brozman, collector of antique instruments and arcane musical lore, has probably done as much as any single person could to help keep the flame of old-fashioned Hawaiian music burning bright. In the early 1970s, he and his band, The Cheap Suit Seranaders, worked island music into their diverse blues and ragtime repertoire; later in the decade Brozman opened up his extensive collection of old 78s and made possible the first significant LP collections of classic Hawaiiana, issued on Arhoolie and Rounder record labels. He's kept at it over the years, and here is one of his most intriguing and endearing albums, a late '80s collaboration with the surving members of the Tau Moe Family, one of the hottest Hawaiian acts of the 1920s and '30s. Like Sol Ho'opii, Tau Moe took a lively, energetic approach to Hawaiian guitar music, though, outside of a few tunes on a compilation album here and there, his classic recordings are pretty hard to find. Thank goodness for this great album, recorded in the same style that took the Moes overseas and made them huge stars during the golden age of Hawaiian popular music. There's plenty of traditional material as well as original songs that the family has been singing for decades, all delivered with the same robust, playful kookiness that made them great to begin with. Brozman's accompaniment is great, of course, but it's also remarkable to hear Tau and Rose Moe singing their hearts out at age 80 and sounding as charming now as they did back then. Recommended!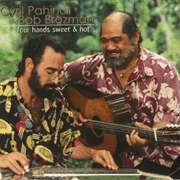 Bob Brozman & Cyril Pahinui "Four Hands Sweet & Hot" (Dancing Cat, 1999)



An amazing, thoroughly gorgeous album, pairing acoustic guitarist Brozman up with the eldest of the Pahinui brothers, Cyril Pahinui, who is himself a master musician, and a player of uncommon elegance and economy. The songs are treasured standards from the Hawaiian slack key repertoire, played the way Pahunui learned them, though often with a bluesy twist courtesy of Brozman, whose background in nostalgic antique-y musical genres fits perfectly with the Hawaiian style. Each musician's contributions can be heard in the rich interplay of notions and styles, and they compliment each other nicely. Attentive listeners will be floored by the level of playing on this album, while folks who just want something mellow to have on in the background will find themselves wowed as well. Highly recommended!
Jerry Byrd - see artist discography
Cecil Campbell "Greatest Hawaiian Instrumentals" (Winston, 1958) (LP)
Veteran hillbilly artist Cecil Campbell played steel guitar for numerous stars of the 1940s, and also led his own Tennessee Ramblers western swing band. In the postwar years, he became known as a virtuoso steel guitar soloist, with an ear for Hawaiian-style music. Although it's nice to hear his sweet licks in these late-'50s recordings, the accompaniment is anything but authentic Hawaiian: the roller-rink organist, in particular, is pretty distracting, and even kind of a drag. This one's probably only for hardcore steel enthusiasts, less so for Hawaiian music fans, though it is cool to hear this country music veteran getting all island-y.

Brothers Cazimero "The Best Of The Brothers Cazimero" (Mountain Apple, 1987)



Hmmm... Really? This is the best stuff of this ubiquitous, commercially popular duo? Seriously? I mean, I can kind of see why people would be drawn to them... They sing nice songs about sunsets, Island pride and the ocean waves, and they sing in English as well as Hawaiian, so everyone can share the love... But the New Christy Minstrels-y folk-pop sound seems hopelessly dated and dorky to me... Granted, there are several tracks on this generously programmed, 16-song collection that sound fine... They're generally the ones where the Brothers sing in Hawaiian, and where the melody goes a little deeper into the island sound, and sheds some of the perky folk scene stylings. But for the most part, this isn't music I need to go out of my way to listen to... There's a lot of great, magical Hawaiian music I'd rather spend the time with. Sorry. But hey, if there are some Cazimero fans out there who could suggest an album I might like better, I am all ears. I'd love to give them another chance.
Brothers Cazimero "The Best Of The Brothers Cazimero, v.2" (Mountain Apple, 1988)



Brothers Cazimero "The Best Of The Brothers Cazimero, v. 3" (Mountain Apple, 2000)



Sorry... I still don't get it. I mean, they play some stuff nicely, but a lot of it just has that '60s folkie, Kingston Trio-ish sheen to it that just makes my attention wander... The bits of straightforward slack-key playing are buried under waves of iffy vocals... and while I realize there's more to Hawaiian music than just slack-key guitar, this particular brand of Hawaiian pop doesn't really appeal much to me.
Cecilio & Kapono "Cecilio And Kapono" (Columbia, 1974) (Mountain Apple, 2000)


Cecilio & Kapono "Night Music" (1976)



Cecilio & Kapono "Lifetime Party: Thirty Years Of Friends" (C&K Records, 2003)


A live concert set, celebrating their thirtieth year of musicmaking... The connection between artist and audience comes through quite well, even if the feelgood vibe is a little too hippied-out for me. Fans'd be super-happy to pick this one up, though!
Sonny Chillingworth "Waimea Cowboy" (Lehua, 1964)



(Produced by Bob Lang)
A classic of the slack-key revival... This was Chillingworth's first solo album, after about a decade as one a disciple and collaborator of the great Gabby Pahinui... The songs are noteworthy for both their shortness and elegance -- Chillingworth doesn't get into the same lushly textured, lazy, slow-jam mode as Pahinui, but it's equally soulful and drenched in tradition. Chillingworth's vocals are also nice, a little rugged for the style, but heartfelt and robust. Great record.

Sonny Chillingworth "Sonny Solo" (Dancing Cat, 1994)



Beautiful modern slack-key guitar, with a solid foundation in the past. Chillingworth intersperses his gorgeous instrumentals with spoken introductions and delicate vocals that come out of the Hawaiian leo ki'eki'e, falsetto tradition. The mark of this album, though, is Chillingworth's confident, unhurried delivery, as calm and relaxed as you'd imagine these musicians to be. Recommended!

Sonny Chillingworth "Endlessly" (Dancing Cat, 1999)



Hmmmm. well, for some reason, this album didn't work as well for me... I guess it's the preponderance of vocal tunes, and the way Chillingworth sounds so morose on so many of the tunes. The guitar work is nice, but it's sort of sidelined on much of the album.
Cindy Combs "Land Of Endless Summer" (Better Days, 1998)



Cindy Combs "Slack Key Lady" (Dancing Cat, 2001)



A lovely set by a talented guitarist from Kaua'i... Her vocal numbers are a little iffy, but the guitar work is uniformly beautiful, particularly on the all-instrumental numbers. A good mix of original compositions and older, more traditional material. Worth checking out.

Cindy Combs "Sunny Rain: Guitar Solos" (RCA/Windham Hill/Dancing Cat, 2007)



A delicious set of relaxed, inventive Hawaiian slack-key instrumentals from this Kaua'i-based guitarist. This best-of set, covering the last ten years, this shows how Ms. Combs expands the boundaries of the style without sliding into patterns other guitarists have already explored: these recordings aren't completely traditional-sounding but they also don't give way to blues or folk/new acoustic mannerisms... The exploratory, improvisational side of slack-key remains intact, and keeps its distinctive feel. Although her compositions and interpretations have a unique feel, they don't go so far afield that they seem showy or call undue attention to themselves... This is a very lovely, listenable set that you can just space out on (like the best slack-key music) but that also can really wow you if you give it a critical ear. Highly recommended! (For more info, check out Cindy Combs' website. )
Country Comfort "Volume One: We Are The Children" (Hana Ola, 1995)



(Produced by Irv Pinensky)
Country rock/AOR pop, Hawaiian-style. Country Comfort was one of the first popular bands to showcase a new generation of Hawaiian artists -- younger performers who were ready to move beyond hapa haole novelty songs as well as more traditional music, and embrace pop styles from the mainland. They wrote songs in English that dealt with contemporary topics, including the evocative "Waimanalo Blues," a beautiful acoustic-based song that lamented the commercial development of Hawaiian lands and the alienation that many native Hawaiians felt as they saw hotels and houses sprout up along local beaches. Musically, this '70s set was island music's answer to mainland bands such as America, Bread and Seals & Croft, including covers of some popular songs, original material and a little bit of slack-key guitar. It's mostly straight-up soft pop with too-smooth vocal harmonies and some slight hints of twang, and a smattering of boogie rock. Not my cup of tea, but probably a good reflection of the kind of music popular at beachside jam sessions; it was certainly a popular record on Hawaiian radio at the time, and was one of the biggest-selling albums of the early '70s.
Country Comfort "Country Comfort II" (Hana Ola, 1995)



(Produced by Irv Pinensky)
Better produced, slicker but with the same basic soft-pop sound, though more focussed musically and more distinctly country-rock... Kenny Loggins would be proud. Interesting to hear the slide guitar and pedal steel really come so completely full circle, traveling first from the islands into early hillbilly music, then into Nashville pop, then LA's session scene and '70s country-rock, which is the style being imitated here by islanders who largely let go of the "Hawaiian" sound that brought steel playing to the world. Some songs are nice, but overall I can't get really into this album. Nonethless it is interesting historically, and for folks who were there at the time, having this music reissued decades later is doubtless a real blessing.
Country Comfort & Billy Kaui "The Very Best Of..." (Hana Ola, 1992)



(Produced by Irv Pinensky)
This retrospective combines tracks from the two Country Comfort albums, as well as several songs from singer Billy Kaui's 1977 solo album... The general trend is towards the soft-pop sound that Kaui came to specialize in, but there's a little bit of their folk and country leanings as well, particularly on their classic "Waimanalo Blues," "Honky Tonk Wines," and "Hello Waimanalo." A nice introduction to their work, although you might also just want to try each of the three original albums.

Bing Crosby "Blue Hawaii" (Decca)



As a true child of the '20s, Bing Crosby played around with his fair share of island music and, being Der Bingle, he was pretty good at it. Although it draws heavily on Crosby's 1937 sessions with the Lani McIntyre band (presumably made around the same time as the film, Waikiki Wedding...), this LP came out sometime in the 1950s, and seems to have had some connection to the Hawaiian tourism board... It's apparently been out of print for a long time, which is a shame since it's all such fun stuff. Crosby really had a feel for this material, even if everything is sung at a languid, barbershop crawl. Worth looking for -- hopefully someone will reissue it someday!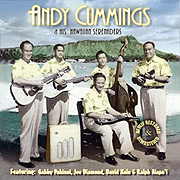 Andy Cummings "Andy Cummings And His Hawaiian Serenaders" (Hana Ola, 2004)



Bandleader Andy Cummings grew up in Kauai, but headed off for the bright lights of Honolulu, and later for the mainland, where he pursued a long, fruitful career in music... It was while on tour during a freezing Michigan winter that the homesick bandleader wrote "Waikiki," one of the most famous Hawaiian pop songs of the pre-WWII era... Cummings formed his own postwar band, which is featured here, and wrote prolifically throughout the 1940s, later moving away from touring and into advertising work... But -- oh!! -- those great recordings from his heyday as a bandleader... A wonderful blend of authentic Hawaiian showbiz hulas and lively steel guitar music, with big band and other non-island styles in the mix... Plus, his band included the great slack key legend, Gabby Pahinui, early in Pahinui's career... Folks looking to fill in some knowledge of Gabby's early years will do well to check this disc out! Nice stuff from the golden era of Hawaiian music, and still plenty of fun to listen to... Recommended!
---
Hawaiian Music: (A-C) | (D-J) | (K) | (L-M) | (N-Z)
Compilation Albums (1) | (2) | Links
---
---



---