<! MP3 09/25/08, 6/12/09, 02/13/12 > <! update 00/00/00 > <! pix 00/00/00 > <! icons 12/05/10 >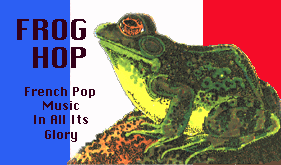 ---
FRENCH POP ALBUMS
---
Welcome to my French pop and rock section... Here are a few recommendations to albums I've enjoyed that I think you might like as well, ranging from 1960s ye-ye to a few more contemporary albums from France's blossoming indie and electronica scenes. There is also a separate section for older musical styles, such as chanson and musette, if you like the old stuff, too!
---
French Rock & Pop: A | B | C | D | E | F | G | H | I | J | K | L | M | N | O | P | Q | R | S | T | U | V | W | X, Y & Z | Compilations | Chanson
---

Eiffel "Abricotine" (Virgin-France, 2001)


Pretty cool. Eiffel are a rock band that the French press compares to the Pixies, and the comparison stands up, with plenty of odd, angular hard edges and wide stylistic variety. This early album is more far-ranging and experimental than later albums, which seem tempered by the demands of the rock'n'roll fame industry. This is more challenging, more satisfying, and more interesting. Definitely worth checking out.


<! Amazon.fr En douze titres emballŽs par V 23, partenaire officiel du label Arty 4 AD (maison de Cocteau Twins, Dead Can Dance et autres Pixies), Eiffel dŽmontre tout le savoir-faire de Romain Humeau, producteur, chanteur, guitariste, auteur et compositeur. Humeau et ses coŽquipiers des ex-Oobick & The Pucks, recyclŽs accompagnateurs de Michel Houellebecq le temps de quelques concerts mŽdiatisŽs, ont enregistrŽ Abricotine entre cave et grange normandes. Comme leurs mentors les Pixies, dont la chanson "I Like Eiffel" n'Žtait pas tombŽe dans l'oreille d'un sourd, ils aiment les mŽlodies torturŽes et les distorsions Žlectriques. Aprs avoir fait leurs preuves sur le maxi autoproduit "Abricotine & Quality Street", ils ont appris ˆ embellir leurs guitares acides et leurs paroles crues, de subtils arrangements de cordes "Dragqueen", voire de basson "Hype". EmmenŽ par un hit en puissance "Te revoir", Eiffel, combo ˆ l'assurance mŽlodique et ˆ la prŽcision de jeu exceptionnelles, pourrait bien devenir le groupe flamboyant et radical, absent du paysage musical depuis que Frank Black est parti vivre d'autres aventures. Hors norme. --Sabrina Silamo Compact Cocorirock. Eiffel nous avait gratifiŽs voilˆ peu dÕun maxi pop assez savoureux et vif qui, on le voit maintenant, posait les jalons dÕun album encore plus pŽtillant. Si nos quatre petits Franais se rŽclament des Pixies, Clash ou consorts, ils ne semblent pas non plus avoir oubliŽ de mettre dans leurs besaces ces riffs affžtŽs et ces vocaux apprtŽs qui nous rappellent certaines belles rŽalisations du Òglam rockÓ. Ajoutons que la plupart de leurs compositions sont impŽriales, que leurs collages sonores sont du plus bel effet (Òï toiÓ) et que les lyriques, concis et intelligents, couronnent le disque dÕune tonalitŽ flamboyante (ÒHypeÓ), dŽlicieusement dŽcadente (ÒDragqueenÓ) et moins futile quÕon pourrait le penser (ÒJe voudrais pas creverÓ). Abricotine conjugue ainsi avec bonheur dextŽritŽ ÒpopesqueÓ et Žnergie rock-and-rollienne, peut-tre prŽfigure-t-il ˆ cet Žgard la renaissance espŽrŽe des mŽlomanes vibrants. >

Eiffel "Le 1/4 D'Heure Des Ahuris " (Virgin-France, 2002)


Noisome, impassioned, brainy-political alt-punk. Not entirely my cup of tea (a bit too modern and corporate) although I could see the appeal to fans of contemporary hard-alt rock. A few songs, like the title track, have a softer side that's kind of intriguing. Singer Romain Humeau also has recorded some solo work as well...


<! singer Romain Humeau > <! "Aubiblenarcotic"? B00005RGQ3 ?? same band? >
Eiffel "Les Yeux Fermes" (EMI-France, 2004)


A 2-CD live album. Kinda headbang-y and gallumphingly unsubtle, although I'm sure that for many that would be the main appeal.
Eiffel "Live Aux Eurockeennes De Belfort: 06/07/2003" (DVD) (EMI-France, 2004)


A concert video.
Eiffel "Tandoori" (Labels/Virgin-France, 2006)



Another grinding, mannered, repetitive and overproduced corporate rock set. Doesn't do much for me.


<! Elli & Jacno (of Stinky Toys fame) >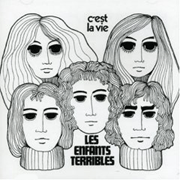 Les Enfants Terribles "C'Est La Vie" (Magic, 2006)


Kooky group vocals from the 1960s -- French chanson intersecting with the pop-inflected folk-vocals of American groups such as We Five or the Mamas & Papas. The groovy B&W artwork made me thing this would be some sort of tweaky prog-rock extravaganza or chamber-folk experimentalism, but -- although this has its weird aspects -- it's much tamer terrain than that. Kind of irritating, though, for those of you who are into the whole "difficult listening" thing... Less cool than it looks.


<! Leny Escudero "Les plus grands succs - vol.1" B0014EU6FA MP3 super-cheesy pop vocals. the kind of stuff we used to make fun of Europeans for making >
Eux Autres "Hell Is Eux Autres" (Bon Mots, 2004)



Bilingual (French and English) indiepop... Although they aren't actually French, or Belgian, or French Canadian, this Portland, Oregon brother-sister duo does dabble in Frenchie pop with a nice, light, jangly touch... Most of their stuff is in English, but here's a quick list of all their French-language songs, off all three albums: