<! MP3 09/25/08, 02/13/12 > <! pix 00/00/00 > <! icons 12/05/10 > <! update 00/00/00 > <! Olivier Goulet Gazoline - punk band >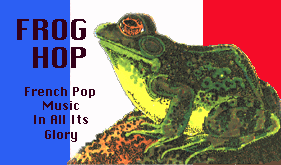 ---
FRENCH POP ALBUMS
---
Welcome to my French pop and rock section... Here are a few recommendations to albums I've enjoyed that I think you might like as well, ranging from 1960s ye-ye to a few more contemporary albums from France's blossoming indie and electronica scenes. There is also a separate section for older musical styles, such as chanson and musette, if you like the old stuff, too!
---
French Rock & Pop: A | B | C | D | E | F | G | H | I | J | K | L | M | N | O | P | Q | R | S | T | U | V | W | X, Y & Z | Compilations | Chanson
---

Charlotte Gainsbourg "Lemon Incest" (Phonogram, 1984)


Ever the provocateur, in the early 1980s Serge Gainsbourg turned his Svengali-like attentions towards his daughter, Charlotte, producing this scandal-seeking pop album. It features, of course, the title track, an incest-tinged father-daughter duet, as well as several other similarly-themed songs. Charlotte, who has become one of the best-known modern French actresses, is also perfect in the role of coo-ing pop chanteuse. The arrangements are generally pretty good (a bit drippy in places, but mostly solid and concise...) Definitely worth checking out, even if the transgressive undertones are a bit icky, and gimmicky.
Charlotte Gainsbourg "5:55" (Phonogram, 2006)



This album is supposedly very good...I'll try and track a copy down and let you know!
Serge Gainsbourg - see artist profile
France Gall - see artist profile

Les Gams "Twistin' The Rock" (Universal, 2002)
An all-female band, singing in French, named The Gams. I am so in! Well, okay, so they turn out to be some husky-voiced quartet from the 'Sixties doing rhythm-challenged covers of various girl-group tunes... But that's okay by me-- it's like having four Sylvie Vartan clones in one room at the same time! This disc gathers nearly two dozen tracks from these long-forgotten lesser lights... A nice, hefty dose of retro kitsch, if you feel in the need!
Gary/Moustique "Twistin' The Rock" (Universal, 2002)


Yeah, baby. This is just the kind of super-clunky, super-white, super-desperate attempts to approximate American-style R&B and soul that folks who like to mock the French live and die for... Moustique delivers chunky covers of songs such as "Stagger Lee" and Arthur Alexander's "Anna," delivered with the vocal finesse of a water buffalo. Meanwhile, Gary has a peppier, but no less limited sound, dipping into New Orleans soul and uptempo teen tunes... Groovy!
Gaston Fervent "Marjolaine" (Believe, 2008)


Spazzy ska-tinged indie-dance rock and reggae, with some occasional darker, artier overtones... Mostly too manic and kooky for me, but others may enjoy it more.


<! Danyel Gerard >

Danyel Gerard "Twistin' The Rock" (Universal, 2002)
Solo stuff from a singer who also recorded with the band, Les Champions... Like Johnny Hallyday and many other early French rockers, Gerard has one of those interminable, inexplicably extended pop careers that will amaze ousiders: government funding for the arts, maybe?




Danyel Gerard "1958-1959" (2010)

Danyel Gerard "1961-1962" (2010)

Danyel Gerard & Les Champions "1963" (2010)

Les Golden Stars/Joey & The Showmen "Twistin' The Rock, v.14: Les Orchestres De Johnny Hallyday" (Universal, 2002)

Eddy (La) Gooyatsh "Chaud" (Artdisto, 2009) <! label >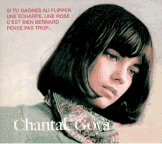 Chantal Goya "Les Annees 60" (Magic, 2005)


Best-of collection of early work by a ye-ye singer and actress who later, appropriately enough, went into singing children's songs... Well-known among the retro-hipoisie for a few groovy tunes that pop up regularly on various ye-ye collections.
Chantal Goya "Masculine Feminine" (Magic, 2005)


Short songs taken from the soundtrack of the Jean-Luc Goddard film, which Goya starred in...
Chantal Goya "C'Est Bien Bernard" (Magic, 2005)


CD reissue of a 4-song EP from the mid-1960s...


<! La Grande Sophie >

La Grande Sophie "Le Porte-Bonheur" (Sony, 2001)


<! Ringing, chime-y modern rock, with a faint hint of Patti Smith in the mix. This is a little sharp-toned and densely produced for my taste, although there are some lovely tunes... Produced by Phil Delire, who has also worked with Alain Bashung and Noir Desir >
La Grande Sophie "Et Si C'Etait Moi" (Universal, 2003)

La Grande Sophie "La Suite" (Universal, 2005)

La Grande Sophie "Des Vagues Et Des Ruisseaux" (Decca International, 2009)

Guesch Patti "Labyrinthe" (1988)

Guesch Patti "Nomades" (Capitol, 1990)


Guesch Patti "Blonde" (XIII Bis, 1995)


Bleahh. I'd heard a few really nice tracks by Guesch Patti on French compilation albums, etc. that I liked, and was eager to check this full-length album out when I found it. But, man, did it disappoint me. This was pretty clunky, very late-'80s sounding rock, with the drums mixed way too hot, and some truly torturous guitar work. It reminded me a lot of the "post-punk" stuff I suffered through as a college radio DJ in the '80s (Danielle Dax, et al...) I'll try out her other albums, too, but this one was a real turn-off.
---
More French Rock & Pop > Letter "H"

---



French Music Index
French Chanson & Musette



---