<! MP3 09/25/08, 06/14/09, 12/05/10, 02/13/12 > <! pix 00/00/00 > <! icons 12/05/10 > <! update 00/00/00 > <! "L" http://www.myspace.com/lmusique lmusique.blogspot.com/ 06/10: album "...in preparation" Stephanie Lapointe CANADIAN La Patere Rose "Waikiki" (xxxxxxxxxxx, xxxxxxxx) B003XQE0O0 (under P?) La Patere Rose "La Patere Rose" (La Grosse Boite/Naive, 2010) B0040EZMA0 - MP3 only FormŽ du claviŽriste et Žchantillonneur Thomas HŽbert (alias Roboto), du batteur et DJ Julien Harbec (alias Kilojules) et de la chanteuse-pianiste Fanny Grosjean (alias Fanny Bloom), La patre rose est un groupe Žlectro-pop ˆ l'univers colorŽ, passionnŽ et au son sensible. Aprs une participation remarquŽe aux FrancoFolies de MontrŽal en 2008 et au Festival Osheaga, La patre rose a participŽ aux Francofolies de Spa en Belgique, puis assurŽ la 1re partie de Mika sur toute sa tournŽe franaise. > <! Lola Dutronic B000M2E3EU B0002VEWCY B001BJ66ES B001NH4JHE Vocalist Frankie Hart and producer Richard Citroen Lombric - tot ou tard >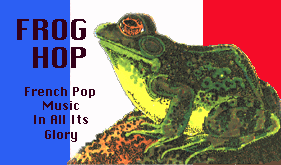 ---
FRENCH POP ALBUMS
---
Welcome to my French pop and rock section... Here are a few recommendations to albums I've enjoyed that I think you might like as well, ranging from 1960s ye-ye to a few more contemporary albums from France's blossoming indie and electronica scenes. There is also a separate section for older musical styles, such as chanson and musette, if you like the old stuff, too!
---
French Rock & Pop: A | B | C | D | E | F | G | H | I | J | K | L | M | N | O | P | Q | R | S | T | U | V | W | X, Y & Z | Compilations | Chanson
---

Marie Laforet "Tendres: Annees 60" (Universal, 2004)


Meh. Color me unimpressed. I mean, yeah, I know she's had a long, many-storied career, but this set of fluffy, chirpy pop from the mid-1960s is pretty lightweight... Didn't make much impression on me, and seems of limited camp value. I just didn't have much fun listening to it, and felt that many of the performances were bland and insincere. Maybe you just had to be there, or maybe it makes better sense seen in the context of her full career. I doubt I'll ever really figure it out.
Bastien Lallemant "Les Premiers Instants" (Tot Ou Tard, 2003)



(Produced by Bastien Lallemant & Dominique Ledudal)
A strummy, all-acoustic folkie album that is pleasant but didn't really grab me. This only hints at his indie side, sticking more to bare-bones acoustic guitar accompaniment, and it's all about his lyrics, which, I assume, are quite clever. Not quite as much fun as his stuff with a band backing him.


<! all acoustic, with some challenging, Drake-ian guitar accompaniment, other songs with galloping folkie riffs >

Bastien Lallemant "Les Erotiques" (Tot Ou Tard, 2005)



(Produced by Albin de la Simon)
Finally tracked this one down, and it's pretty fun. An eclectic, twee pop romp from French indie artist Bastien Lallemant, with help from a few familiar names: producer Albin de la Simon also plays piano and organ throughout, Emily Loizeau sings on several tracks, and Pascal Parisot puts in an appearance as well. Fun, creative material, sometimes elegant, sometimes daft. If you like Mathieu Boogaerts, you might dig this, too!


<! some songs with fuller arrangements >

Bastien Lallemant "Cowboy" (2007)





Bastien Lallemant "Le Verger" (L'Autre Distribution, 2010)


Jena Lee "Vous Remercier" (Mercury-France, 2009)





<! 2009 debut album from the French singer/songwriter. Born in Chile, Jena Lee was adopted by a French family at the age of nine months. She grew up in Oloron-Sainte-Marie in the Pyrânâes-Atlantiques and was passionate about music from the age of 4. She wrote songs for Popstars (Season Four) winner Sharyfa Luna's debut album which, in turn, led to more songwriting work. Vous Remercier sees Jena stepping out on her own for the first time. When this album's first single, 'J'aimerais tellement', was released, it spent 11 weeks on the top of the French charts! The French might be rude, but they sure do know their Pop music! >

Valerie Lemercier "Chante" (March, 1997)



(Produced by Bertrand Burgulat)
Cute, but glib. To my way of thinking, this retrofest is a bit too glib and self-congratulatory... 'Sixties easy listening kitsch is referenced to a fare-thee-well, as producer Bertrand Burgulat meticulously recreates riff after riff, and actress-cum-vocalist Lemercier dutifully sings as flatly and in as blase a manner as possible. I suppose as a technical exercise this is quite impressive, but as a work or art -- or even a work of play -- this doesn't offer much in the way of emotional immediacy or depth. It's just a protracted in-joke, a too-cute, too-coy going-through-the-motions pop pastiche that wears thin pretty quickly. Then again, maybe my uptight, Anglo-Saxon, stick-up-the-butt humorlessness is ill-suited to appreciate something so frothy and unapologetically just-for-fun. Anyway, I remember feeling nonplussed when my pals at my college radio station went ga-ga over this disc when it first came out, and I'm still not that into it, returning to the record nearly a decade later. Results may vary.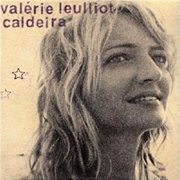 Valerie Leulliot "Caldeira" (Le Village Vert, 2007)



A warm, mellow solo album from the lead singer of Autour de Lucie, who drapes herself here in a gauzy, acoustic reverie... If, perhaps, you thought Autour de Lucie had gone a bit overboard with the pop production on their last few albums, you'll find welcome relief in this unabashedly unchallenging, dreamy, laid-back set. All the songs sound the same - whispery, reserved, come-hither vocals and light orchestrations around a decidedly sparse acoustic background. It's lovely though. If you like how it sounds on paper, you'll love how it sounds in your ears.

Lhasa "La Llorona" (Tot Ou Tard, 1997)



Odd, arty stuff from Lhasa De Sela, a French Canadian gal with a Mexican father... Lhasa mixes American folk, blues, Latin American themes, French chanson and other disparate elements to craft an odd, haunting style... Folks who like Jolie Holland's genre-warping style will find a kindred spirit here... Very distinctive and arresting. (Even if the album art is completely butt-ugly...)
Lhasa "The Living Road" (Tot Ou Tard, 2003)


Lio "Lio (Premier Album)" (Warner, 1980)






<! CD? B000BWF7GY > <! French New Wave >

Lio "Suite Sixtine" (Warner, 1981)


Lio "Amour Toujours" (Warner, 1982)



(Produced by Alain Chamfort)

Lio "Pop Model" (Polydor, 1985)


Lio "Des Fleurs Pour Un Cameleon" (Polydor, 1990)


Lio "Je Suis Comma Ca" (Ades, 2000)
An album featuring the poems of Jacques Prevert...
Lio "Coeur De Rubis" (WEA, 2003)



A concert album featuring her Jacques Prevert compositions...
Lio "Dites Au Prince Charmant" (Recall, 2006)





<! date? >

Lio "Je Garde Quelques Images Pour Mes V" (2008)



A 2-CD set...


<! date? >

Lio "Les Pop Songs" (ZE, 2006)


Lio "Les Ballades" (ZE, 2006)


A best-of set...




Lio "Hit Collection" (2008)



<! date? 12/10: Amazon de-listed B0018NVZXO ASIN > <! Lio: This singer was the best thing the french New Wave had to offer. Her records combine child-like vocals with techno/new wave musical arrangements. Plus sheŐs looking really gorgeous. Lio started out ca. 1980 as a protegee of belgian punk heroes Elli&Jacno (of Stinky Toys fame), covering their (belgian) hit "Amoureux Solitaires". A classic. Check out Elli& Jacno as well. Jacno and Elli did some interesting solo albums in the eighties... Lio released many albums over the decades. Her third album "Amour Toujours" was produced by Alain Chamfort (more about him later) and this is LioŐs best album, it has very good songs and sophisticated arrangements. However, I think that Lio began to repeat herself in the mid-eighties, and subequently I lost interest, but sheŐs still active, having released a very good CD with songs by classic french poet Jacques PrŽvert ("Je suis comme a") in 2000 from ROLLING STONE'S CRAPPY DISCOGRAPHY: Le Banana Split ReMix Album 2008 Les Brunes Comptent Pas Pour Des Prunes EP 2007 Pop Model Remix 2007 Premier Album 2005 http://www.rfimusique.com/musiquefr/discographies/001/discographie_132.asp >

Les Lionceaux "Twistin' The Rock" (Universal, 2002)





Les Lionceaux "En Direct Au Bilboquet" (Mercury)





<! The Little Rabbits "Dans Les Faux Puits Rouge Et Gris" (Barclay, 1991) B00004UPPN The Little Rabbits "Dedalus" (Virgin, 1993) B00004UQIL The Little Rabbits "Grand Public" (Barclay, 1995) B0000084HT The Little Rabbits "Yeah!" (Barclay, 1999) B00000G611 remixes The Little Rabbits "La Grande Musique" (Barclay, 2002) B000056EUO The Little Rabbits "Radio" (Barclay, 2003) The Little Rabbits/Vanesse Paradis "Atomic Circus (Soundtrack)" (Barclay, 2005) B0002ANRRQ >

The Little Rabbits "Dans Les Faux Puits Rouge Et Gris" (Barclay, 1991)

The Little Rabbits "Dedalus" (Virgin, 1993)

The Little Rabbits "Grand Public" (Barclay, 1995)

The Little Rabbits "Yeah!" (Barclay, 1999) remixes


A set of remixes...
The Little Rabbits "La Grande Musique" (Barclay, 2002)

The Little Rabbits "Radio" (Barclay, 2003)

The Little Rabbits/Vanesse Paradis "Atomic Circus (Soundtrack)" (Barclay, 2005)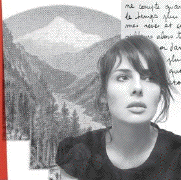 Loane "Jamais Seule" (Virgin-France, 2008)



(Produced by Fabrice Dumont & Frederic Fortuny)
The French indie scene just keeps getting better and better... Singer Loane Rathier has a distinctive vibe, a bit rougher than your typical French alt/pop stuff, with hints of folk and blues and American-style lo-fi rock, all of which accentuates the plaintive beauty in her voice. This is a very pleasant, listenable record, which has stood up to many rotations in the CD player, thought there's some grit in there as well... If you're looking for some hip, new stuff from France, this one is definitely recommended.
Emily Loizeau "L'Autre Bout Du Monde" (Fargo, 2007)






<! 2-CD? two different editions - one single disc -- MP3 to other edition is: B0014S695M>

Emily Loizeau "L'Autre Bout Du Monde" (Special Edition) (Fargo, 2007)

Emily Loizeau "EP Bonus" (Fargo, 2008)






<! Tapsit label ? > <! Lo'Jo "Sin Acabar" (1996) - an album, or just a song? track included on Mojo Radio album >

Lo'Jo "Mojo Radio" (World Village, 1998)


Lo'Jo "Boheme De Cristal" (World Village, 2000)


Lo'Jo "Au Cabaret Sauvage" (World Village, 2002)






<! (issued in France as L'Une des Siens) >

Lo'Jo "Ce Soir La..." (World Village, 2004)



Fans of this uber-electic French world-band will be thrilled by this live concert album... All their elements come together -- the acoustic musette, the dark cabaret jazz, moody electronica and the more manic rock influences... It's a bit too serious and self-serious for me, but very accomplished in its way, and an excellent representation of what this band does... Worth checking out if you're Lo'Jo curious; a must-have if you're a fan.
Lo'Jo "Tu Connais Lo'Jo?" (AZ, 2007)

The Lolitas "Fusee D'Amour" (New Rose, 1989)
(Produced by Alex Chilton)



<! Les Lolitas were a Berlin-based band who sang primarily in French. Their sound was a combination of influences that included American garage rock, rockabilly and French yŽ-yŽ, played with a punk sensibility. They formed in the mid-1980s and split around 1993. Lead singer Franoise Cactus met Brezel Gšring soon after, and they founded the fabulous multi-lingual French-German electronica pop/rock duo, Stereo Total. 'FusŽe d'amour' was the third Lolitas LP, recorded in Memphis, Tennessee in August of 1988 and produced by music biz chameleon Alex Chilton. Chilton plays just a bit of piano on the album, as does his friend and fellow Memphis legend Jim Dickinson. > <! Lolitas : SŽrie amŽricaines (LP-1988) Toute La Nuit / Sexy sex / Avec ma valise / J'ai tuŽ tout ce que j'aimais / La chatte de gouttire / Le malheur c'est moi / SŽries amŽricaines / Fant™mes / Coup de fil / Cannelle / Jolly Jumper Lolitas : FusŽe d'amour (LP-1989) Mummy / La fille qui se promne sur les rails / Tout a changŽ / Joli Johnny / Lit / Aline / FunŽrailles / Le chat noir / Le mec d'hier soir / Les cactus / Je suis une fille / Animal sauvage / Tu me plais / FusŽe d'amour / Tes oublis Lolitas : Hara Kiri (MLP-1989) Hara Kiri / Julie / Dans le train / Johnny Guitar / D'yer mak'er Lolitas : Bouche-Baiser (LP-1990) Bouche-Baiser / Le cadeau / Pas de chance / Ne me regarde pas comme a / Mon robot / Il s'en fout / Sylvester Stallone / Ce que je veux / Dans le jardin / Hot number / I've been loving you too long / Zeitbombe / Ton cheval bonus : Franoise Cactus : You can't put your arms around a memory / Lolitas : Tell me >

Long Chris & Les Daltons "Twistin' The Rock" (Universal, 2002)





Long Chris & Les Daltons "Tendres Annees 60" (Universal, 2006)


Louise Attaque "Louise Attaque" (Sony/Atmospheriques, 1997)



Apparently, French indie rockers are not immune from the irritating trend in which all-male bands give themselves names which make it sound as though they are female artists, and drape their albums in nondescript, photo-less artwork which contribute to the misdirection. So... that's one strike against these guys, although far less disappointing is the music itself. This is a lively, likeable set of clattersome, rambunctious acoustic rock -- sort of a French version of Camper Van Beethoven, with a few unexpected passages of long, proclamatory, half-spoken monologues... Honestly, I wasn't really that moved by these guys, but I recognize their energy and good humor: apparently so did the French record-buying public, as this debut record sold over two million copies (!), which is a pretty impressive sales figure for such a small, backwater country. So, why listen to me? I'm sure after a few more listens, I'll be singing their praise as well...
Louise Attaque "Comme On A Dit" (Sony/Atmospheriques, 2000)


Louise Attaque "A Plus Tard Crocodile" (Musicor/Atmospheriques, 2005)



Luke "La Vie Presque" (RCA, 2001)



Languid, electronica-tinged alt-rock, rather similar to Autour De Lucie's later albums, but with male vocals. It's okay, pretty at times, easy on the ears, although it sounds a little drab and prefab after a while.


<! songwriter/singer Thomas Boulard >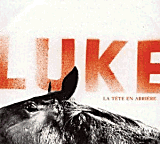 Luke "La Tete En Arriere" (RCA, 2004)



A transitional album that finds the band moving into some fairly tedious alt-rock/postpunk/punk. It just sounds too studied and contrived, like the band felt it had to move into a more "punk" direction, and did. Some of the softer songs are nice, though, particularly "L'Espece Humaine" and "Seveso." The more aggro rock numbers fall flat, though. Maybe if they're recorded this twenty years earlier (and been Ted Destroyer) it would have been more impressive. As it is, this seems like an exercise in corporate marketing, rather than an album you'd really want to crank up loud.
Luke "Les Enfants De Saturne" (RCA, 2007)



Well, it seems like they got where they were going... Here's some loud, slashing, impassioned punk, with clear echoes of early Wire. The intensity is there, the wall of noise as well. Seems pretty believable, if you're into it.
---
More French Rock & Pop > Letter "M"

---



French Music Index
French Chanson & Musette



---