<! MP3 09/25/08, 06/14/09, 02/13/12 > <! pix 00/00/00 > <! icons 12/05/10 > <! UPDATES: 02/13/12 - updated, added Tom Poisson > <! Renaud >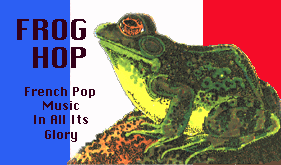 ---
FRENCH POP ALBUMS
---
Welcome to my French pop and rock section... Here are a few recommendations to albums I've enjoyed that I think you might like as well, ranging from 1960s ye-ye to a few more contemporary albums from France's blossoming indie and electronica scenes. There is also a separate section for older musical styles, such as chanson and musette, if you like the old stuff, too!
---
French Rock & Pop: A | B | C | D | E | F | G | H | I | J | K | L | M | N | O | P | Q | R | S | T | U | V | W | X, Y & Z | Compilations | Chanson
---

Radiomatic "Ce Soir Apres Diner, Nous Passerons Des Disques..." (Self-Released, 2006)


This tongue-in-cheek homage to '60s ye-ye is an independently-released album from Pascal Parisot, Frederique Dastrevigne (aka "Fredda"), and a bunch of their buddies... Includes covers of a lot of cult classics. I would love to hear the whole album... anyone know where I can score a copy?
Radiomatic "Volume Two: Cocktail Party" (Traffix, 2010)


Raphael "Hotel De L'Univers" (EMI, 2001)


The debut album by a highly-regarded modern rock star... Raphael's sound owes a fair amount to lush, louche '70s stars such as David Bowie and Bryan Ferry, although the ching-ching-ching, ching-ching-ching drone of the the tinny electric guitars also anchor him to the contemporary style of groups such as Coldplay and numerous flavor-of-the-week bands whose music winds up as wallpaper in teen-oriented TV shows. The emotionality sounds manufactured, and it's all a bit contrived and overly-controlled, although there's a definite appeal as well. Worth checking out; it might sound really nice in a mix of music.
Raphael "La Realite" (EMI, 2003)

Raphael "Caravane" (EMI, 2005)







Teddy Raye/Gabriel Delar "Twistin' The Rock" (Universal-Mercury, 2002)



<! Renaud >

Revolver "Music For A While" (EMI/Astralwerks, 2009)



Although they sing in English (which kind of ruins the fun of hearing a French band...) their music is nice... Quiet, modest, moody, mid-tempo rock-pop which reminds me a bit of early solo John Cale, with a dash of Belle & Sebastian in there as well... Definitely worth a spin, though not notably Gallic, per se.


<! Julien Ribot - sang a duet with Francoiz Breut Product Description A luxurious 24 page book edition. Julien Ribot has always loved both music and image. At the end of the nineties he was a professional illustrator. He had always composed from his early years on for his own pleasure and out of a natural need related to his being a man of many ideas. The triggering event was the meeting with a Japanese pop star seeking new songs for her new LP. He wrote her two songs and met a few people in the small French pop world. As the buzz around his mysterious personality increased, Julien Ribot gave up his job in order to devote himself entirely to music. >

Julien Ribot "Metamorphose De Caspar Dix" (Ici d'Ailleurs, 2004)


Julien Ribot "Vega" (Ici d'Ailleurs, 2007)


Julien Ribot "Hotel Bocchi" (Ici d'Ailleurs, 2008)


Dick Rivers "L'Essentiel" (EMI-France, 2002)


Singer Dick Rivers originally hailed from the rock'n'rollin' combo, Les Chats Sauvages, who brought the gospel of Elvis Presley, Sam Cooke and Chubby Checker to eager French fans at the dawn of the 'Sixties... Rivers split the band and went solo in '62, pursuing a more "serious" interest in soul and, later, more introspective pop-rock. This collection is mostly pretty lively and includes fun covers of stuff like Bobby Freeman's "Do You Wanna Dance," Roy Orbison's "Blue Bayou" and "Tobacco Road," dutifully (and loosely) translated into French... The presence of two early Beatles tunes sugegsts that Rivers, like Los Shakers in Uruguay, was given first crack at Lennon/McCartney material, for hometown consumption, before other artists who weren't on EMI had a chance to cover them... There's one terrible song on this disc, but it's a lamentably incongrous later song, an awful track from the 1980s that sounds like a reject from an Olivia Newton-John session... Other than that, though, this is an enjoyable record. Fans of Nino Ferrer's soul discs might want to check Rivers out as well... There's also another L'Essential disc featuring Les Chats that's pretty fun.


<! Dick Rivers - almost 300 MP3 tracks as of 09/08! >

Roger Rodier "Upon Velveatur" (Columbia, 1972)



Psychedelic folk music from Montreal, with a heavy hippie-mystic bent. It's pretty cool, mostly mellow and melodic, but he does get loud and challenging at times: fans of Tim Buckley, Nick Drake and Tom Rush will probably dig this, too. Only two songs are actually in French, the spacy "L'Herbe" and "Tu Viendras," which are from Rodier's first single, recorded in 1968 in a duo with Germain Gauthier... More French-language material would have been welcome, but the English-language stuff sounds pretty much the same, anyway. A nice, weird hippie-era gem.




Alexandra Roos "Quand A Tokyo Un Papillon Bat Des Ailes" (2000)



<! Un premier album pour cette jeune artiste ˆ l'univers trs personnel. Alexandra Roos nous raconte ses Žtats d'‰me. Elle chante "avec assez d'arrogance pour croire que d'autres l'entendrontÉ" (dixit le dossier de presse). On l'entend, mais on ne l'Žcoute pasÉ, la premire fois en tout cas. Peut-tre parce que les textes sont difficilement abordables. Alexandra ne raconte pas des histoires, elle Žnumre une succession d'idŽes, d'images, toutes trs personnelles. Ë la deuxime Žcoute, son univers semble dŽjˆ mieux se dŽfinir. Noir, rŽaliste voire pessimisteÉ ƒvidemment, cela ne suffit pas ˆ imposer cette artiste en marge ˆ un public populaire. Pour trouver le sien, la chanteuse aura besoin d'un titre fort. "Et parfois"et "Ë moi" semblent tre ceux ayant le plus de potentiel. Ë ses atouts personnels, viennent s'ajouter Dominique Grimaldi pour la rŽalisation et les arrangements, Julien Schulteis Ð fils de Jean ("Confidence pour confidences") Ð ˆ la batterie et au piano, le chanteur Arno pour le choeur. Le disque sonne live avec une formation musicale comprenant mme des cordes, un bandonŽon et un vibraphone. Alexandra Ross coŽcrit ou cocompose la plupart des titres (avec un mystŽrieux GDG). Ë noter, la signature musicale de Vivien Savage ("Ma p'tite Lady") sur "LŽger vent du sud". PhotographiŽe par FrŽdŽrique Veysset (Patrick BruelÉ), la belle Alexandra nous donne envie d'aller plus loinÉ Peut-tre mme jusqu'ˆ la Ginza, au coeur de Tokyo. --Thierry Cadet. >

Alexandra Roos "Fanfares" (Barclay, 2004)






<! "Il me semble que la misre serait moins pŽnible au soleil" chante Aznavour. Il semble que la mŽlancolie, rŽchauffŽe au soleil de Tucson Arizona (le producteur Craig Schumacher, complice de Calexico est derrire la console) n'a rien de pŽnible. Alexandra Roos est allŽ confier ses chansons folk ˆ l'homme du studio Wavelab, qui en a fait des complaintes country ou des sarabandes pour mariachi. La voix ŽbrŽchŽe de la chanteuse s'Žpanouit dans des paysages musicaux dŽsechŽs par le soleil. Alexandra a, tout comme l'AmŽricaine Hope Sandoval (Mazzy Star), le don de "dŽchirer" les mots, c'est ˆ dire de les rendre dŽchirants, ou au contraire de les faire durer en bouche, avec sensualitŽ. Elle chante "m'faut l'AmŽrique". Pas besoin de chercher : elle l'a bel et bien trouvŽ son Eldorado. Mieux que Concorde, cet album vous expŽdie en moins de deux chez l'Oncle Sam. Mais les mots restent EuropŽens, c'est ˆ dire sensibles et sensŽs. LK: a little strained >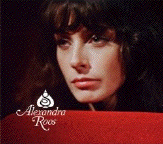 Alexandra Roos "Huit De Pique" (Naive, 2007)



(Produced by Ian Caple)
A moody, moving set of sometimes-sparse, sometimes-piercing French-language space-rock. A groovy, well-realized album, with an atypical, distinctive mood. Roos is a postmodern art-rocker: her previous album, Fanfares, featured contributions from a member of the Calexico crew, and this disc continues along in that vein, incorporating trippy, American indiepop-style soundscapes and surprising wisps of folk-country twang. For some French rock music that's a bit different than the rest, this is a disc well worth checking out. Also features a groovy duet with french pop elder, Julien Clerc.


<! Depuis Fanfares en 2004, sublime d'ambiances folk-country-mariachi, Alexandra Roos revient enfin avec un beau disque, conjuguant rock, chanson un peu trash ( "prends moi" ) et des ambiances trs country alternatives ( "Centre Commercial" ). Une femme qui se promne entre une PJ Harvey franaise, une Catherine Ringer et une puretŽ digne d'une Emmylou Harris. > <! MARY ROOS - related?? Mary Roos "Amour Toujours -- French Song Collection: 1972-1975" (2009) B002LVS4TA Kind of Anne Murray-esque. Wimpy, mainstream pop. >

Rose "Rose" (EMI, 2006)



<! pretty-sounding, tres femme vocals, with an acoustic base. ear candy. all sounds the same. mix of pop, blues and folk >
Rose et Noire "Rose et Noire" (EMI, 2004)



Anyone know if this is the same Rose as listed above...?

Les Rosemary's Babies "Lutte De Classe" (Island/Boucherie, 1991)
French-language '77-style punk and some softer, pub-rockish stuff as well... Not bad!


<! La Rue KŽtanou - stagey, theatrical >

Olivia Ruiz "J'Aime Pas L'Amour" (Universal, 2003)



The debut album from a younger French pop-alt singer with family roots in Spain... She has some interesting arrangements (mixing in old-school musette accordion, a dash of gypsy violin, etc.) but there's an underpinning of standard-issue, commercial alt-rock, and a bit of Alanis Morrisette-ish vocal yowling that I don't find terribly interesting. The softer songs are alluring, in a Kate Bush-like way, but the loud passages are too grating for me. On the last track, she nods towards her Spanish-speaking heritage... but this is basically just a modern rock album.
Olivia Ruiz "La Femme Chocolat" (Universal, 2005)


Les Rythmos "De Frisette A Candy" (Self-released)
Delightfully cute, early '60s Quebequois rock'n'roll, with a distinctive '50s sound that moves from Everlys-ish ballads to catchy upbeat Eddie Cochran-style numbers and back again with equal ease. These 1959-1967 recordings apparently originally came out on the Canadian wing of the Cadence label, but sadly seem to be out of print. Pity, since in many ways this duo puts the great Johnny Hallyday to shame. Many thanks to Mssr. Guy Lapointe, one of the original members of the band, for making this CD-R available for review... Anyone who likes this kinda stuff will be pretty happy getting in touch with him through their website, and picking up a copy for themselves.
---
More French Rock & Pop > Letter "S"

---



French Music Index
French Chanson & Musette



---