<! MP3 09/25/08, 06/11/09, 02/12/12 > <! pix 00/00/00 > <! icons 12/05/10 > <! update 02/12/12 > <! Cowboys Fringants - MANY albums >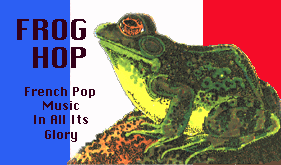 ---
FRENCH POP ALBUMS
---
Welcome to my French pop and rock section... Here are a few recommendations to albums I've enjoyed that I think you might like as well, ranging from 1960s ye-ye to a few more contemporary albums from France's blossoming indie and electronica scenes. There is also a separate section for older musical styles, such as chanson and musette, if you like the old stuff, too!
---
French Rock & Pop: A | B | C | D | E | F | G | H | I | J | K | L | M | N | O | P | Q | R | S | T | U | V | W | X, Y & Z | Compilations | Chanson
---

Rita Cadillac "Souvenirs, Souvenirs" (Magic, 2005)


Mild, perfunctory pop vocals, with a little nightclub bounce. Husky and musky, Cadillac's voice seems better suited to the world of burlesque than to rock or ye-ye proper, although there are some rock-ish moments, including covers of songs such as "Hully Gully." This is fairly sleepy, though, probably of marginal interest to listeners coming at this from a rock'n'roll perspective. A couple of fun tune, though, notably "Il NY A Qu'a Paris" and "Chaque Fois Qu'on Aime." Even includes a nod towards the 1930s dance style of the java... Definitely B-list material, despite the semi-cool, American-flavored name.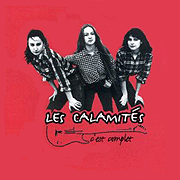 Les Calamites "C'est Complet" (Last Call, 1999)



The Calamities, or Les Calamites, were an all-gal power-pop band from Burgundy that released one awesome LP and a handful of singles between 1984-87. Their last single, "Velomoteur," was a big pop hit in France, but it's their album that hit American shores in the mid-'80s, and that I've gleefully scooped out of the bargain bins on more than one occasion. I used to play them on my old radio station all the time, and they fit in perfectly with the various jangly Britpop bands that came in their wake -- My Bloody Valentine, The Primitives, The Flatmates, etc. There are several covers of American oldies, and these generally fall flat, but their original tunes are awesome, especially the propulsive "Toutes Les Nuites," which is as explosive and joyful a rock song as you'll ever hear. And here's the best news: they're out in digital form, too! If you like power-pop and chick-pop too, then this band is for you! This retrospective CD gathers all their recordings, the nine-song A Bride Abattue album along with all the songs from their singles... Fun stuff!! (For more about the band, check out their website, which is translated into several languages...)
Les Calamites "A Bride Abattue/The Calamities" (New Rose, 1984)

Les Calamites "Les Calamites" (New Rose, 1988)

Cali "L' Amour Parfait" (EMI, 2003)


Camille "Le Sac Des Filles" (EMI, 2002)






<! former vocalist for Nouvelle Vague >

Camille "Le Fil" (Virgin-France, 2005)


Camille "Live Au Trianon" (EMI, 2006)


Camille "Music Hole" (EMI, 2008)


Camille "Ilo Veyou" (EMI, 2011)





<! Jil Caplan "A Peine 21" (1987) B00004UI1H Jil Caplan "La Charmeuse De Serpents" (1990) B00004UI3N B006MH5FZ0 Jil Caplan "Avant qu'il ne soit trop tard" (1993) B00000DY1A B004GMDD0C Jil Caplan "Jil Caplan" (1996) B0000562A4 B006NKPICQ Jil Caplan "Jours De Fete" (compilation, 1998) B00004UO5S B006MON3J8 Jil Caplan "Toute Crue" (2001) B00005BAKH Jil Caplan "Comme Elle Vient" (Warner, 2004) B0001NNL6G Jil Caplan "Derrire La Porte (2007) - #119 in France[4] Jil Caplan "Revue" (2011) B004XDYE7U - MP3 >

Jil Caplan "A Peine 21" (1987)


Jil Caplan "La Charmeuse De Serpents" (1990)


Jil Caplan "Avant Qu'il Ne Soit Trop Tard" (1993)


Jil Caplan "Jil Caplan" (1996)


Jil Caplan "Jours De Fete" (1998)






<! compilation >

Jil Caplan "Toute Crue" (2001)

Jil Caplan "Comme Elle Vient" (Warner, 2004)


Jil Caplan "Derriere La Porte" (Odeon, 2007)



(Produced by Jay Alansky)
A lovely, downtempo French pop album, with hints of electronica laced in with moody acoustic neo-chanson and perky, modern-day indiepop. I think some of her records are pretty overproduced, but this one seems more restrained and elegant. Slick, but sweet - definitely recommended!
Caracol "L'Arbre Aux Parfums" (Indica, 2008)


Caracol "Shiver" (Indica, 2012)






<! English language album? > <! Caracol CARACOL DE DOBACARACOL A CARACOL.... L'expŽrience acquise en tournŽe avec DobaCaracol, 425 concerts dans 16 pays dont 145 en France, un disque d or, prs de 200 000 albums vendus dont 40 000 en France. FƒLIX musique du monde 2005 (victoire de la musique quŽbŽcoise), Carole alias Caracol revient avec un album trs attendu. Le nouveau projet de Caracol est, avant tout axŽ sur l'Žcriture de chansons gorgŽes d'Žmotion brute. Son premier album solo, L ARBRE AUX PARFUMS se situe au croisement de la chanson, des musiques Ç folk È du son Ç vintage È 1960, et du vieux Ç Rocksteady È. De facture Ç indie-pop È cet album a ŽtŽ grandement influencŽ par la dŽcouverte du ukulŽlŽ et de l'auto-harpe ainsi que par un retour aux sources avec une bonne vieille guitare ! Les chansons imprŽgnŽes d imageries surrŽalistes explorent les coins d ombres de l ‰me la subtilitŽ des relations humaines, les paradoxes, le doute, les affres de l amour, la colre le mŽpris et la recherche d absolu en une dŽmarche d une grande sincŽritŽ et honntetŽ. L EFFET CARACOL LA DEFERLANTE CARACOL ARRIVE EN FRANCE La "RƒVƒLATION RADIO-CANADA MUSIQUE" et gagnante du Prix des diffuseurs europŽens SODEC / Rideau en fŽvrier 2009 et du Prix Miroir du Festival d'ŽtŽ de QuŽbec (meilleur spectacle). Elle obtient Žgalement des nominations aux JUNOS pour le meilleur album francophone et ˆ l'ADISQ pour la chanson populaire de l'annŽe avec "Le MŽpris". En 2009, elle donne une centaine de spectacles partout au QuŽbec, au Canada anglais, aux ƒtats-Unis avant de prŽparer la sortie de l album en Europe pour ce mois d aožt 2010 avant une sŽrie de promotions sur toute la fin d annŽe >
Jean-Michel Caradec "Tendres: Annees 70" (Universal, 2004)


Hmmm... Now, I know this music is actually rather cheesy, but there's just enough of a tweaky freak-folk vibe to make it interesting. Caradec strikes me as a fairly sincere folkie who just got caught in the pop music machinery: the arrangements go over the top, but he has a core acoustic sound that's still fairly compelling. He's not quite a French Nick Drake, but if that's something you're in search of, you might want to check this out, even with the irritating string arrangements.

Patricia Carli "Tendres Annees 60" (Universal, 2004)


Pleasant, mid-tempo pop vocals, with a vague grounding in the world of rock ballads... Sounds a lot like Francoise Hardy's early work, though with discernably less of the sparkle and special something that Hardy had, and the songs almost all sound the same-- light rhythm, gentle string arrangements, Carli's whispery vocals up front and center. Nice enough, though, restrained and not too syrupy... Worth checking out if you're on a serious ye-ye kick.
Patricia Carli "Ses Plus Grands Succes" (2006)






<! Carlospop w/ Armelle Pioline (?) and Holden (?) >

Barbara Carlotti "Chansons" (Microbe, 2005)


A 7-song EP which came out prior to her 4AD albums below... French indiepop auteur Bertrand Burgalat helped produce this record; some of these songs emerged in fuller, brighter form on the Les Lys Brises album.

Barbara Carlotti "Les Lys Brises" (4AD, 2006)



A delicious, delicate indiepop set, with a languid, mostly-acoustic feel... Lovely stuff, really, with the usual French cool leavened by an obvious delight in the music being made. Carlotti's original material is quite nice, but what really won me over was her Frenchified cover of the Zombies classic, "A Rose For Emily." I am a sucker for anything off their Odessey And Oracle album, and this rendition is particularly subtle. Great record, definitely recommended!
Barbara Carlotti "L'Ideal" (4AD, 2008)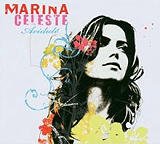 Marina Celeste "Acidule" (The Perfect Kiss, 2007)



A solo album from the singer of Nouvelle Vague. Gooey, indie-ish, easy-listening, with tres femme come-hither vocals, and minimalist, electonica/acoustica pop arrangements. Pretty, but facile. And, as a 2-CD set, it offers lots of goodies for fans who are on her wavelength.


<! Alain Chamfort: He had an impressive career spawning several decades, starting out as songwriter for Claude Franois in the early seventies. At that time, he did rather schmaltzy stuff. But in the early eighties he did a string of classic albums: ÇRockÕnÕRoseÈ (1977) recorded in LA with a little help from american studio musicians, among them some Porcaros, with great lyrics by Serge Gainsbourg... ÇAmour Annee ZeroÈ (1981) contains more Gainsbourg lyrics and sentimental, languishing melodies. Great arrangements by Wally Badarou (Grace Jones sidekick). ÇPosesÈ (1979) is strongly influenced by New Wave/Techno. At the end of the seventies, Alain Chamfort managed to modernize his musical style in a very convincing way. ÇSecrets GlacŽsÈ (1983) is a very good pop album and reveals ChamfortÕs melodic talents. Alain Chamfort released many more albums, but at the end of the eighties he ran out of fresh ideas and I ceased to buy his albums. Nevertheless, this is one great singer/songwriter/producer. http://en.wikipedia.org/wiki/Alain_Chamfort Alain Chamfort, born Alain Govic, is a French singer of Breton origin, born on March 2, 1949 in Paris. He was a promising pianist in his youth, and the piano became his instrument of choice. His first band, "The Dreamers" had minor success as a repertory jazz outfit, and was followed by a time in a typically sixties rock music group "Murator". He met famed writer and producer Jacques Dutronc who proposed to accompany Chamfort on future works for television and film, and it is with Dutronc that Chamfort's career expanded. After being discovered by Dutronc, it was with Claude Franois and ultimately Serge Gainsbourg who will see leading of marvellous albums and the first album of Alain Chamfort: "Manureva". This song remains one of the most famous to date of Chamfort. Alain Chamfort composed for the cinema; he worked with Jean-Pierre Mocky and with Arnaud SŽlignac. As an actor, he was in front of the camera in "Men/Toys/Girl" in 2001 ([1]). In 2004, he becomes member of the board of directors of the SACEM. Studio Albums Alain Chamfort "Je Pense A Elle, Elle Pense A Moi" (Flche, 1973) Alain Chamfort "Mariage A L'Essai" (CBS, 1976) Alain Chamfort "Rock'n Rose" (CBS, 1977) Alain Chamfort "Poses" (CBS, 1979) B000EOUS8G Alain Chamfort "Amour, AnnŽe ZŽro" (CBS, 1981) B000EOUS9A Alain Chamfort "Secrets GlacŽs" (CBS, 1983) B00004S79F Alain Chamfort "Tendres Fivres" (CBS, 1986) Alain Chamfort "Double Vie" (CBS, 1988) live B00008FX81 Alain Chamfort "Trouble" (CBS, 1990) B00004UI1X Alain Chamfort "Neuf" (Epic, 1993) B0000020G9 - OOP? B000EOUS8Q - in print? Alain Chamfort "Personne N'Est Parfait" (Epic, 1997) B000EOUS90 Alain Chamfort "Le Plaisir" (Delabel, 2003) B0000AKP46 B000T2IWUE Alain Chamfort "Impromptu Dans Les Jardins Du Luxembourg" (XIII Bis, 2005) live B000BTQGU8 [edit] Compilations Alain Chamfort "Best Of Alain Chamfort: Ce N'Est Que Moi" (Sony-Epic, 2000) 1977-2000 B00004VMRA Alain Chamfort "Le Chemin Est Le Bonheur: 1976-2006" (XIII Bis, 2006) 1976-2005 B000GCFAUM Alain Chamfort "Les Indispensables De Alain Chamfort" (2006) B000G04SHU Alain Chamfort "L'Integrale, v.1: 1966-78" (2007) B000LSBX0W Alain Chamfort "L'Integrale, v.2: 1979-87" (2007) B000LSBX16 Alain Chamfort "L'Integrale, v.3: 1988-97" (2007) B000LSBX1G (multi CD box set - all albums? ) >

Les Champions "45 Tours Collection" (Musicdisc/DCA, 1990)
A half-charming collection of early '60s rocker material. This CD starts off at a gallop, with a smoking "twist" version of "Her Latest Flame" ("Sa Grande Passion"), and a quaint take on "Jailhouse Rock"... but it quickly devolves into more standard fare: Cliff Richards-style instrumentals, clumsy teenybopper ballads, and the like. This collection both manages to surprise with its brief ferocity, and then disappoint with its typical Gallic lack of ooompf. Still, it's got definite kitsch value...!




Les Champions "Complete '60s Instrumental (Pan Dans Le 1000)" (Magic, 2004)

Les Champions "...Avec Jean-Claude Chane" (Magic, 2006)


Les Charlots "Anthologie, v.1" (Anthology's, 1999)
This collection of vintage 1960s singles looks cool, and has historical cachet, but it didn't hold my attention, in fact it was downright disappointing. The backstory is cool: these guys were actually what they look like on the cover photos, a nattily-dressed, top-flight French mod/garage/psych band, originally named Les Problemes, who backed the Dylanesque rocker Antoine on his debut recordings. Somehow, they got roped into recording a few novelty-oriented rock'n'roll parody discs, lampooning the psychedelic pretensions of rising tide of Gallic hippie-mod rock (a scene they were stars in...) Apparently these 1966-67 singles struck a chord, because here we have enough material to fill at least two generously-programmed CDs. There's an obvious affinity for what Ray Davies and the Kinks were doing, mixing old English music-hall into their music; Les Charlots did something similar with French musette and chanson, adding an accordion on some songs and singing with an exaggeratedly old-fashioned rural French accent. It's the pinched-nose, nasal vocals that wear thin the quickest, and they help underscore the fact that, despite the band's obvious electric rock chops, these recordings lack sincerity or a true emotional core. It might have been funny at the time, but it doesn't hold up. Oh, well.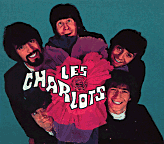 Les Charlots "Anthologie, v.2" (Anthology's, 2000)


This second set is more listenable, largely because the pop/rock scene was changing and getting musically richer as the '60s came to a close, with more complex psychedelic music and sunshine-pop to parody. The one-note joke still wears thin, but with lusher orchestrations and more stylistic variety, it feels less tiresome; at times there's a similar feel to the avant-psychedelic pop/classical blend of Brazilian tropicalia bands such as Os Mutantes. Worth checking out, although it might not hold your imagination for long. But at last they don't always sound like the world's most burnt-out wedding band, as they did on Volume One.

Etienne Charry "36 Erreurs" (Kindercore, 2000)



A somewhat episodic set of blips'n'bloops and a quirky, lounge-tinged mix of irony-laced indie-pop and electronica. This is certainly a clever, catchy and creative album, although I can't say it's something I would return to frequently, or listen to for sheer musical pleasure. Fans of bands like Stereo Total, etc., though, should enjoy this disc quite a bit.

Etienne Charry "Aube Radieuse Serpents En Flamme" (Tricatel, 2002)


Chat "Folie Douce" (EMI, 2009)






<! Kate Bush-y >

Les Chats Sauvages "L'Essentiel" (EMI-France, 2002)


Groovy early '60s rock, lively Gallic imitations of Elvis Presley, Eddie Cochran and Chubby Checker... These guys followed in the same path as Johnny Hallyday, but because they were less famous, I think there might have been less pressure to get all cheesy the way he did... Anyway, this is a fine best-of collection, capturing an enthusiastic, lively, pleasantly dorky French rock band, with cover tunes galore, including songs like "His Latest Flame," "What'd I Say," "Pony Time," "Let's Twist Again" and "Twistin' The Night Away." Not the greatest rock music you'll ever hear, but it's still good, clean fun. Lead sing Dick Rivers split the band and went solo in '62 and Les Chats broke up in '64... Also check out the Dick Rivers collection in this same series...
Les Chats Sauvages "EP Box, v.1-2" (Magic, 2004)


This multi-disc box set replicates the original EP releases of the Cats; it's probably too much for the casual listener to take in, but for the diehard fan or uber-collector, it's a real treasure trove.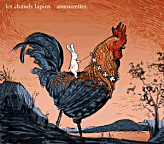 Les Chauds Lapins "Amourettes" (Barbes, 2010)



(Produced by Les Chauds Lapins & Pat Dillett)
A delicious update of old-school French chanson and musette from Brooklyn acoustic hipsters Meg Reichardt and Kurt Hoffman, whose affection for this antique music comes through on every track. The repertoire leans towards the songbook of 1930s diva Mireille, and echoes her lighthearted approach. The arrangements include some instruments that are unusual for the genre, such as cello, viola, banjo and ukulele -- they sound cool but also signal that Hoffman and Reichardt aren't tying themselves down to a fossilized, museum-y idea of what French Chanson has to sound like. Indeed, they readily admit that they aren't all that fluent in French itself; they just really like the music. New York jazz/klezmer luminary Frank London chimes in on trumpet, adding his talent to a very satisfying, freewheeling romp through classic French pop.





Les Chaussettes Noires - see artist profile


<! Mathieu Chedid aka '-M-' MANY albums! >
Jeanne Cherhal "Jeanne Cherhal" (Tot Ou Tard, 2002)



<! The debut album from this fiery, theatrical performer was actually a live album, with Cherhal playing a galloping, cabaret-inspired piano, her vocals trotting alongside. It's a dynamic, humor-filled performance that showcases her lively wit and dexterous singing style. Pretty cool! Cherhal also performs with the duet Red Legs, which performs mainly cover tunes of various artists; Red Legs has only recorded a few tunes, for compilation albums and tributes.>
Jeanne Cherhal "12 Fois Du An" (Tot Ou Tard, 2004)






<! Jeanne Cherhal "Ma Vie En L'Air" (Tot Ou Tard, 2005) ? >

Jeanne Cherhal "Jeanne Cherhal A La Cigale" (DVD) (Tot Ou Tard, 2005)
A concert movie, available through the Tot Ou Tard label...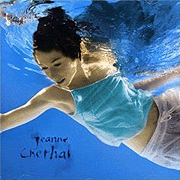 Jeanne Cherhal "L'Eau" (Tot Ou Tard, 2006)



An enchanting record. The gamin-like Ms. Cherhal has a strong whiff of the performance artist about her (if you can find her videos online, particularly ones from this album, they are a lot of fun) and her music is appropriately flashy and dramatic. The opening tracks, "Canicule" and "Je Suis Liquide," are Cherhal at her best, with catchy melodies that build up slowly into bold, playful crescendi. There's a lot about Cherhal that reminds me of Kate Bush (particularly on "Je Suis Liquide," which sounds very Hounds Of Love-ish) but this is a pretty common observation for a lot of modern female artists: of the modern French crop, Cherhal is one of the artists who most deserves the comparison... The first half of this album has the most conventional, pop-oriented material, including the equally hook-laden "Voila"; the second half has more diversity and goes off on some odd tangents, such as the title track, which is a lively Cuban-style rumba, sung in French, as well as the last few tracks which go onto a darker, more introverted tack. All in all, a powerful, catchy album that lives up to repeated listens. Recommended!

Jeanne Cherhal "Charade" (Universal/Zoom, 2010)


(Produced by Jeanne Cherhal)
One of the most dynamic and puckish of the new crop of French indie artists, the pixie-like Jeanne Cherhal has gone overboard on this new album, on which she plays all the instruments(!) as well as produced several videos (currently being hosted on her website...) I have to confess, I'm a little on the fence about this one... I've been ga-ga over earlier Cherhal albums, particularly 2006's L'eau, but I do think perhaps Cherhal got a little too into her own head on this one, which includes some playful, melodically tuneful pieces, along with several goofy, more amorphous tunes that lean on the instrumental side and, while she was clearly having fun making the album, aren't quite as compelling as her more structured avant-pop material. If you liked her previous albums. you'll still want to check this out; and who knows, perhaps with time and more examination, this one'll grab us in as well...
Liz Cherhal "Il Est Arrive Quelque Chose" (La Rue Dez'Arts, 2011) <! L'Autre Distribution >





<! eclectic but spazzy >

David Christie "Deux Petites Perles Bleues" (Magic, 1999)


<! shrill, heavily orchestrated pop vocals. kind of a latter-day Brill Building sound, perhaps? >


<! Christophe - - electro/new wave-y stuff. kinda wanky. >

Clarika "J'attendrai Pas Cent Ans!" (Boucherie/Chantons Sous Truie, 1993)

Clarika "Ca S'Peut Pas" (1996)
<! OOP 1. Beau Comme Garcon 2. Mes Petites Vacances 3. Manger Les Fleurs 4. Avec Luc 5. Le Cimetiere Des Choses 6. J'suis Game Over (La Saga) 7. Non Ca S'peut Pas 8. Rien Qui Va 9. La Vieille Au Chat 10. Leo (Petite Princesse Mirage) 11. Je Veux Ci 12. Je Veux Ca >
Clarika "La Fille, Tu Sais" (Podis, 2002)


Clarika "Moi En Mieux" (Universal-France, 2009)





<! Petula Clark MP3s! 186 hits on 09/08 >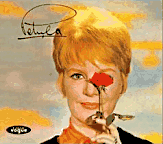 Petula Clark "Anthologie, Vol. 1: The French Recordings (Rendez Vous Avec Petula)" (Wagram, 1998)


A child star in movies and on TV, England's Petula Clark began to focus on her singing career in the early 1950s, but it still took second place to her acting career until the decade's end. Then, in a surprising career move, Clark shifted her attentions almost entirely to recording French popular music, and after her French-language recordings became international hits, she moved to France in the early 1960s. This is the first of nine volumes gathering her extensive legacy of French pop songs... It covers the years 1961-1962, when she burst upon the French scene and landed several #1 chart-toppers, four of which -- "Ya Ya Twist," "Chariot," "Coeur Blesse" and "Romeo" -- are gathered here, as well as several lesser hits.
Petula Clark "Anthologie, Vol. 2: Hello Paris" (Wagram, 1998)

Petula Clark "Anthologie, Vol. 3: 1963-1964" (Wagram, 1998)

Petula Clark "Anthologie, Vol. 4: 1964-1965" (Wagram, 1998)

Petula Clark "Anthologie, Vol. 5: 1966-1968" (Wagram, 2000)

Petula Clark "Anthologie, Vol. 6: 1958-1961" (Wagram, 1998)

Petula Clark "Anthologie, Vol. 7: 1968-1970" (Wagram, 1998)

Petula Clark "Anthologie, Vol. 8" (Wagram, 2004)

Petula Clark "Anthologie, Vol. 9: 1968-1970" (Wagram, 2004)


Coralie Clement "Salle Des Pas Perdus" (Nettwerk, 2002)


(Produced by Benjamin Biolay)
Whispery-voiced, winsome, '60s-style retro lounge-pop which is studiously faithful to the original ye-ye style of Francoise Hardy, Jane Birkin and their cohorts, yet also takes full advantage of modern recording technology and ambient musical ideas. Clement's languid sound is in large part sculpted by her brother, songwriter/producer Benjamin Biolay, an up-and-coming youngster who has worked with several other singers, as well as older artists such as Henri Salvador and Alain Bashung. This is a beautiful, dreamy album, admittedly unchallenging yet completely delicious, and recommended for those in a mellow mood. Check it out!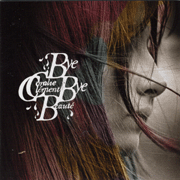 Coralie Clement "Bye Bye Beaute" (Nettwerk, 2005)


A great record; one of the best French pop albums of recent vintage. Indie-popster Coralie Clement -- a protege of her brother, up-and-coming pop producer Benjamin Biolay -- really cuts loose here and sinks her teeth into some electrifying rock riffs, big, fun beats and catchy pop hooks... She sings with passion and conviction, and more energy and presence than many modern rockers these days seem able to muster. Although this is a slick, compact studio production, it feels like a real rock record in a way that many of today's factory-made, multitrack monstrosities do not. The pacing of the disc, and the subtle, dynamic shifts from song to song are also quite nice; this is a record that plays like a real, live cohesive piece of work, and not a few extra tunes draped around a catchy hit or two... Congratulations to Clement for recording such a majestic, magnetic and flat-out sexy album. Highly recommended!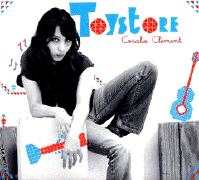 Coralie Clement "Toystore" (Compass, 2009)



(Produced by Benjamin Biolay)
Yummy! Once again, French indie singer Coralie Clement acts as a conduit for her brother, composer-producer Benjamin Biolay, who wrote or co-wrote all but one of the songs on this album (the sole exception comes from Alain Chamfort) and produced the album as well. Although I find Biolay innovative and intense, his own records have an artificiality and hermetic, cerebral feel to them, while his sister is able to have fun with the music, and makes it come to life. Although her earlier albums had a pleasant, standard-issue guitar-rock feel to them, this one is a more puckish, playful, idiosyncratic outing, with unusual instruments and sounds, and challenging, oddball arrangements. Ukuleles, Farfisa organs, toy pianos and coronets scamper about; the melodica, a uniquely irritating keyboard instrument, is rehabilitated after its years at the hands of reggae star Augustus Pablo, and becomes just one more kooky sound in an oddly entrancing mix. What holds it all together and makes it work, of course, is Ms. Clement and her gorgeous, ingratiating voice. It'd absolutely listen, any day, to her sing the names in the telephone book (provided of course that it was a French phone book...) The songs, although a bit goofy, are mesmerizing as well, with dips into Brazilian bossa, lyrics in French, English and Italian, and a wonderful duet with French pop elder Etienne Daho. Altogether, another triumph for Ms. Clement... Although this isn't an album you could put on in the background for guest, listening alone can be enchanting.

Julien Clerc "Si J'Etais Elle" (Virgin-France, 2000)


A somewhat bombastic, frommage-laden offering from this long-lived pop star, whose career began in the late 1960s. This album is notable as the musical debut of model-turned-auteur Carla Bruni, although she makes her mark as a songwriter, not as a performer. Six of the dozen songs on here were written or co-written by Bruni, although they all bear the unbearable stamp of Clerc's schmaltzy, puffy, I've-been-in-show-biz-too-long crooning, along with big, bad, forceful pop arrangements courtesy of folks such as Umberto Gatica, a producer who has worked with Celine Dion, Michael Buble and Mariah Carey. The results are somewhat monochromatic, and mask whatever spark Bruni's early work might have had. (She later took matters into her own hands, and recorded some stunning material on her own... I would suspect that many music fans will come to this album after first having fallen in love with Bruni's music. Trust me: just stick with her albums and leave well enough alone... )

Coeur De Pirate "Coeur De Pirate" (Universal/Zoom, 2009)


(Produced by Eli Bissonnette, David Brunet & Beatrice Martin)
French-Canadian indie-pop rocker Beatrice Martin emerged as a teen sensation, recording this debut album before she turned twenty... It's melodic, pretty, it should be catchy and fun, but for some reason it struck me as generic and unengaging. It's not "bad": it's not painfully bland, overproduced or overly synthetic; it's not bombastic or overly theatrical, it's not amateurish or awkward... It's so close to the "sweet spot" that it really should wow me, but it just doesn't. Perhaps it's just too careful or controlled, a little too precious or a little too calculated and lacking in emotional immediacy. I suspect, however, that many fans of French pop will delight in this disc -- it's got plenty of nice-sounding elements, not the least of which is Ms. Martin's bright, young voice.


<! Debut album from French-Canadian chanteuse Beatrice Martin (AKA Coeur de Pirate). Although this album was recorded when she was just south of 20 years old, the music contained on Coeur De Pirate's debut far belies her years. Martin, who has played the piano from the age of three, started composing her own songs in 2007. Members of Bonjour Brumaire noticed her and asked her to join their group as singer and keyboardist. Once she had established her own unique musical vision, Beatrice left the group to concentrate on Coeur de Pirate. Martin's songs are whimsical, magical and seem to have been inspired by music recorded in the early part of the 20th Century while still retaining a modern sensibility. Universal. >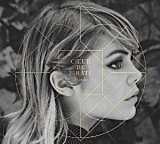 Coeur De Pirate "Blonde" (Barclay, 2011)


As on their first album, this features straight-up, better-than-average indiepop with French-language vocals; I find Martin's work to be pleasant, but not magical, less generic than some French-language indie/alt rock but still a little same-sounding after a while. See what you think.
Pascal Comelade "Traffic D'Abstraction" (Discmedi, 1992)


Pascal Comelade "L'Argot Du Bruit" (Discmedi, 1998)


Pascal Comelade "Swing Slang Song" (Discmedi, 1999)

Pascal Comelade "Live In Lisbon And Barcelona" (Discmedi, 1999)






<! if you liked the whole toy piano sound on the Velvet Underground's "Sunday Morning"... well, buddy, here's an album for you! >

Pascal Comelade & Robert Wyatt "September Song " (Discmedi, 2000)


Pascal Comelade & Jose Manuel Pagan "La Isla Del Holandes " (Discmedi, 2001)

Pascal Comelade "Danses Et Chants De Syldave" (Because, 2004)

Pascal Comelade "Metode De Rocanrol" (Because, 2007)






<! MANY albums! > <! http://www.because.tv/artistes/index.html >

Louise Cordet "The Sweet Beat Of Louise Cordet: Complete UK Decca Records" (RPM, 2011)


Sort of like Petula Clark in reverse, Louise Cordet was a French singer who went to England to find fortune and fame, singing pop and rock during the Merseybeat era, mostly singing in English, rather than her native French... This generously-programmed collection has the bulk of her material, sung for Decca Records between 1962-64. Only about a third of the two dozen tracks are in French, but it's all very much of its time. Nice overview of a little-known Brit-Beat second-stringer.
Charlelie Couture "12 Chansons Dans La Sciure" (Self-Released, 1978)





<! blues - rock dark, difficult, decrepit, moody, arty, also edges into cock-rock territory ("Dans la lavande et les couleuvres de montpellier") and Stones-y boogie ("Dans les bars le soir") >

Charlelie Couture "Le Pecheur" (BMG, 1979)


Charlelie Couture "Pochette Surprise" (Island/PolyGram, 1981)


Reggae-tinged French New Wave (the music, not the cinema). I gotta say, I wasn't very impressed by this one: he's kinda spazzy and all over the place, unfocused and overreliant on the novelty of the genre, rather than on a coherent musicianship. Don't get me wrong: it's not that I'm anti-New Wave or don't know what I'm talking about, I just think Couture doesn't do it very well. Co-produced with Island label head Chris Blackwell.
Charlelie Couture "Poemes Rock" (Island, 1981)

Charlelie Couture "Quoi Faire" (Island, 1982)

Cri De La Mouche "Cri De La Mouche" (Trema, 1989)


A rock band that included future dub-reggae player, keyboardist Camille Bazbaz...
Cri De La Mouche "Insomnies" (FNAC, 1991) <! (date, label - ??????????) >





<! 1987 : SP "Plus fort que le vent" 1989 : "Le cri de la mouche" (TrŽma) 1991 : EP "La Mouche" (Fnac Music) 1991 : "Insomnies" (Fnac Music) > <! Pauline Croze - several albums - pop-commerical - husky voice - emotionally flat? >

---
More French Rock & Pop > Letter "D"

---



French Music Index
French Chanson & Musette



---