<! MP3 09/25/08, 06/14/09, 02/13/12 > <! pix 00/00/00 > <! icons 12/05/10 > <! update 02/13/12 - some Katerine adds > <! Jeremie Kisling "Monsieur Obsolete" >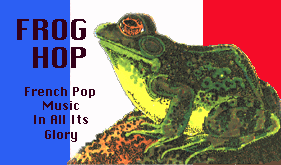 ---
FRENCH POP ALBUMS
---
Welcome to my French pop and rock section... Here are a few recommendations to albums I've enjoyed that I think you might like as well, ranging from 1960s ye-ye to a few more contemporary albums from France's blossoming indie and electronica scenes. There is also a separate section for older musical styles, such as chanson and musette, if you like the old stuff, too!
---
French Rock & Pop: A | B | C | D | E | F | G | H | I | J | K | L | M | N | O | P | Q | R | S | T | U | V | W | X, Y & Z | Compilations | Chanson
---
Mademoiselle K - see Letter "M"

Marcel Kanche "Henriette" (Barclay, 1992)


Oh, god, make it stop. A mix of jazz-tinged, Kurt Weill-ish, theatrical meanderings and gypsy motifs... If I could stand the music, I suppose I might be more interested in the text, but frankly all this Nick-Cave-by-way-of-Serge-Gainsbourg wailing and intoning simply bores me to tears. Whatever.
Marcel Kanche "Lit De Chaux" (Emarcy, 2007)





<! dates? >

Marcel Kanche "Dix Automnes Sous Les Paupieres" (Emarcy, 2007)

Marcel Kanche "Dog Songe" (Irfan, 2008)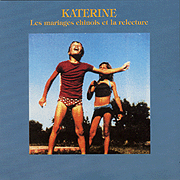 Katerine "Les Mariages Chinois Et La Relecture" (Rosebud, 1992)


One of France's leading indie musicians of the 1990s, Philippe Katerine transposes the giddy frivolity of the American lo-fi scene into a more cerebral Gallic context. On his debut album he proved himself the master of many styles -- spazzy indie-rock, fuzzy space-rock, acoustic chanson, '60s-ish pop, folk and blues, etc. Still, this album is too clever by half. Typical, I suppose, of French culture, the musical points he scores are more intellectual than emotional -- the songs are short and showy, and rarely does he let a song play out or settle into anything approaching sensuality or a prolonged groove. The idea is to dazzle us with his range, and not to fall into the "trap" of just plain rocking out. Still, some of us prefer to rock out, or at least to enjoy music itself, and not merely the idea of music. This is fascinating in certain respects, but a bit arid. Worth checking out if you want to delve into the real Parisian indie scene; just don't count on playing this one over and over.

Katerine "L'Education Anglaise" (Rosebud, 1994)


While this album is still rather episodic, the feel is much more satisfying. The production is richer and the songs more melodic, and less disjointed and artsy-fartsy. Also, there's a strong dose of Brazilian bossa nova throughout the album, which is quite pleasant. Katerine doesn't sing at all on the album, instead leaving the vocals up to his sister and girlfriend, who alternate from track to track... And who can complain about the sound of whispery gals singing in French? A nice record... If I were to really recommend any of his albums, this would be the one.

Katerine "Mes Mauvaises Frequentations" (Rosebud, 1996)



Bubbly, cheerful, lounge-y pop from one of France's best modern indie musicians... Katerine is also known as songwriter for the Japanese indie icon Kahime Kahari; here he does his own material, gathering four early EPs onto one CD... It's fun stuff, a mix of '60s kitsch and '90s pop... Still, it does all start to sound alike after a while, so it may be best to take this in small doses.

Katerine "Les Creatures" (Rosebud/Universal, 1999)



A much darker, denser, more electronica-oriented release... This may have more substance and depth than his bouncy earlier material, but it's also a bit foreboding and impenetrable. A 2-CD set of unsettling modern pop. (Also issued as two separate discs, Les Creatures and L'Homme A 3 Mains. The album covers "connect" as seen here...)


<! MP3 link only to second disc? >

Katerine "8eme Ciel" (Barclay, 2002)



(Produced by Philipe Katerine)
Another strong offering from French indierock artist Philipe Katerine. He sounds, for all the world, like a Gallic version of Beck, a mad, half-chaotic, historically conscious blender of popular culture... He's all over the map with this manic mix of rock, pop, indie, soul and psychedelia -- the experience is alternately thrilling and grating. Honestly, it's a bit much when taken en toto but a song here and there in a wide-ranging freeform mix would be pretty rewarding. Definitely worth checking out, if you're looking for some interesting contemporary French rock.
Katerine "Robots Apres Tout" (Universal, 2006)


Katerine "Studio Live" (Universal/Barclay, 2007)





<! Katerine & Fran¨is Et Ses Peintres "52 Reprises Dans L'Espace" (Barclay, 2011) B005F1QGU2 >

Stacey Kent "Raconte-Moi" (EMI-France, 2010)



(Produced by Jim Tomlinson)
A Petula Clark for the 21st Century? American jazz singer Stacey Kent bears more than a passing similarity to Blossom Dearie, with a touch of twee as she goes Gallic on this sweet, no-frills set. The repertoire covers classics by Georges Moustaki, Henri Salvador and others, as well as a French translation of Antonio Carlos Jobim's bossa nova standard, "Aguas De Marco"). It's a nice, low-key album, not dazzling, but classy... Worth checking out!
Sandrine Kiberlain "Manquait Plus Qu'a" (EMI-Virgin France, 2006)


(Produced by Michel Coeuriot)
A fabulous, low-key, acoustic-based album from French actress Sandrine Kiberlain. I got hipped to this disc by a standout track on the Putumayo Presents Acoustic France collection (reviewed last month) and ordered a copy of this album as fast as I could. I was thrilled to find that the rest of the album was equally hypnotic and alluring: I've been listening to this album, nonstop, in auto-repeat for about three weeks straight and have yet to grow tired of it. Every song has a unique and distinctive feel, each with a different stylistic tone, and all of them (except for an English-language Beatles cover at album's end) are sensually fulfilling and memorable. This is easily one of my new favorite albums, and a real find, as far as I'm concerned. Naturally, I ordered her follow-up album, , and I look forward to reviewing that disc here as well. (Also, since many of the songs were co-written by French pop star Alain Souchon and his son(?) Pierre, I expect to go on a big Souchon kick soon, too...)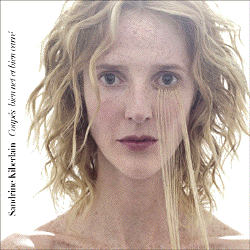 Sandrine Kiberlain "Coupes Bien Net Et Bien Carre" (EMI-Virgin France, 2007)


(Produced by Dominique Blanc-Francard)
Well, the good news is, this is also a quite pleasant, subtly addictive album. It doesn't have the same singularly magical feel as Kiberlain's first album, but it's still pretty sweet. The first time I heard it (after listening to the acoustic-based Manquait Plus Qu'a about a bazillion times in a row) I was put off by the fuller, electrified rock-pop production: oh, this sounds just like any other French pop album, I thought. But that initial impression faded fast as I left it in the play queue for a week or so, and sure enough it grew on me, too. Kiberlain has a wonderful voice and a playfulness that comes through on every song. Like the previous disc, this has a lot of stylistic diversity, so each song has a distinctive feel and a personality of its own. Pierre Souchon co-writes several songs, as does Etienne Daho, and Kiberlain herself has writing credits on every song (one suspects she is the lyricist?) Highlights include a winsome duet with a guy named Bazbaz (Camille Bazbaz... apparently my next French pop pit stop...) although, as before, this disc is simply packed with songs that keep you coming back, time and time again. Recommended!
---
More French Rock & Pop > Letter "L"

---



French Music Index
French Chanson & Musette



---