<! MP3 09/25/08, 06/14/09, 12/05/10, 02/13/12 > <! pix > <! icons 12/05/10 > <! UPDATES: 02/13/12 - updated, added Tom Poisson > <! Pollyanna "On Concrete" (Songs & Whispers/Cargo, 2010) - sings in English >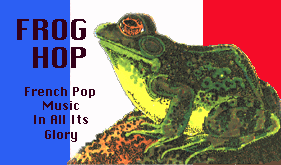 ---
FRENCH POP ALBUMS
---
Welcome to my French pop and rock section... Here are a few recommendations to albums I've enjoyed that I think you might like as well, ranging from 1960s ye-ye to a few more contemporary albums from France's blossoming indie and electronica scenes. There is also a separate section for older musical styles, such as chanson and musette, if you like the old stuff, too!
---
French Rock & Pop: A | B | C | D | E | F | G | H | I | J | K | L | M | N | O | P | Q | R | S | T | U | V | W | X, Y & Z | Compilations | Chanson
---
Melanie Pain "My Name" (Cinq 7, 2009)



A solo-ish album from one of the singers in Nouvelle Vague... Backed, apparently, by Nouvelle Vague.
Nicole Paquin/Hedika "Twistin' The Rock" (Universal, 2002)

Paris Combo "Paris Combo" (Tinder, 1998)


Paris Combo "Living Room" (Tinder, 2000)


Paris Combo "Attraction" (Ark 21, 2001)


Paris Combo "Live" (Ark 21, 2002)



Paris Combo "Motifs" (Universal/DRG, 2004)



Nice and mellow. In the past, I've found the Combo to be a bit precious and self-consciously clever, but on this album they hit a sweet, soulful groove -- in particular, singer Belle Du Berry seems tapped into the poised sophistication of the best old-school bossa nova, and takes her most serious turn as a vocalist to date. It's quite a lovely album... worth checking out!

Emmanuelle Parrenin "Maison Rose" (CBS/Ballon Noir, 1977)



(Produced by Bruno Menny & Emmanuelle Parrenin)
Beautiful, delicate French folk music, with a '70s folk-freak flavor. A classically trained harpist and vocalist, Ms. Parrenin -- who is sometimes referred to as the French Sandy Denny -- was in the thick of the Gallic folk revival, having performed in influential bands such as Gentiane and Melusine, which took old folk forms and interwove modern, sometimes brash musical ideas into the old sounds. Although she is joined her by some of her cohorts from those bands, this disc mostly features Parrenin performing on a variety of instruments - hurdy-gurdy, spinnet, dulcimer and percussion, with her ethereal vocals laced in among the gauzy, entrancing musical beds. There is a slight hint of sugary folkie twee in the more overt melodies, but overall this is a lovely, lulling album, the kind of record you can get a little lost in, and then, when it ends all-too suddenly, wonder where you'd been for the last half hour. It's very pretty, and very easy on the ears, and very much worth checking out.


<! The musician : Emmanuelle Parrenin is a well-known female singer and musician from the french folk scene. After studying classical harp, she also learnt to play dulcimer, spinet, hurdy-gurdy, and participated to a lot of folk experiences (Melusine, Gentiane,É). "Maison rose" is her eighth album, initially released in 1977. From 1978 onwards, she has performed tours and shows in Europe, and contributed to numerous shows, choreographies, TV movies,ÉThe album: ItŐs a delicate and refined progressive folk, with elegant melodies. EmmanuelleŐs fragile, clear, sensitive, incredibly pure and beautiful voice soars above this subtle music. These dreamlike melodies, full of crystal clear dulcimer and spinet sounds, only can charm the listener. The sound engineerŐs work is also to mention, as he underlines the vocals and transforms many sounds. MagnificentÉ >

Pascal Parisot "Rumba" (Sony-France, 2000)





Pascal Parisot "Wonderful" (Sony, 2003)

Pascal Parisot "Clap! Clap!" (Traffix, 2006)


Pascal Parisot "Les Pieds Dans Le Plat" (Sony, 2009)





<! a twofer? cover says "2 titres inedits" >

Pascal Parisot "Betes En Stock" (Naive, 2010)


Pascal Parisot "La Vie De Chateau" (Naive, 2013)






<! kids album(?) >

Nicolas Peyrac "L'Essentiel" (EMI-France, 2002)


Okay-sounding folk-rock and pop from the mid-to-late 1970s... The earlier stuff is best, sort of in the same general style as Georges Moustaki. et al., with a slight sheen of California country-rock bubbling up in the margins. I'm not wild about this in general, and the later stuff definitely gets more formulaic and bland, bit some of the earlier songs are pleasant, and a few have interesting, unusual arrangements... Not really rock music, per se, though, so it may be of limited interest to folks reading this section...
Annie Philippe "L'Integrale Sixties" (Magic, 1999)


A 2-CD set...
Annie Philippe "Tendres Annees 60" (Universal, 2004)

Annie Philippe "Portrait: 1964-1967" (Magic, 2005)


A focussed representation of her earlier work, which tends towards light, bubbly ye-ye kid's stuff, with dips into folk-tinged pop ballads. Not bad, although essentially pretty lightweight and rinky-dink. If you were going to check her out, this is where I'd start.
Annie Philippe "Ticket De Quai" (EP) (Magic, 2005)

Annie Philippe "Baby Love" (EP) (Magic, 2005)

Les Pirates/Dany Logan "L'Integrale Sixties" (Magic, 2005)


A 2-CD set featuring the complete work of Les Pirates, along with twelve solo tracks by bandmember Dany Logan...
Claude Piron "Mon Cour Bat" (Magic, 2005)


A 4-song EP, originally released in the 1960s...

Gerard Pitiot "Vues D'Ailleurs, Pour Mots D'Ici: Poesies Francophones" (Gallimard)


I was seduced into Pitiot's orbit by a sweet, dreamy waltz that showed up on a couple of compilation albums ("Couplet De La Rue Bagnolet...") Then I checked out a few albums and was disappointed. They were mostly bland, overwrought mainstream Europop, pretentious and slow-moving. However, this is the album that has "Couplet De La Rue Bagnolet," and if you were drawn to Pitiot by that song, this is the album to look for... Other songs have similar instrumentation (with accordion, etc.) and a similarly mellow vibe. If you're into it, you might also want to check out stuff by poet Robert Desnos, who wrote the song (and has been writing lyrics for several decades now...)
Les Players "L'Integrale Sixties" (Magic, 2000)


<! The complete recordings of this '60s-era band... another Shadows clone? >
Tom Poisson "Fait Des Chansons, v.1" (Tripsichord, 2004)


Tom Poisson "Fait Des Chansons, v.2" (Rue Stendhal, 2005)


Tom Poisson "Riche A Millions" (Naive, 2008)


Tom Poisson "Fait Des Chansons, v.1-2" (Rue Stendhal, 2006)

Tom Poisson "Trapeziste" (La Familia, 2010)





<! country-tinged pop >


Michele Polnareff - see artist profile




Poney Express "Daisy Street" (Atmospheriques, 2007)



Real-live French indierock, with lots of light, jangly electric guitars... I haven't heard much of this band, but I am quite curious.


<! ****** Presque Oui - cute, folkie-ish, acoustic B001DY24H4 "Peau Neuve" (2008) (other albums in France: "sauvez les meubles" (2005) >

Presque Oui "Sauvez Les Meubles" (2005)

Presque Oui "Peau Neuve" (2008)


Presque Oui "Ma Bande Originale" (2011)


Pussy Cat "L'Integrale Sixties" (Magic, 2002)

---
More French Rock & Pop > Letter "Q"

---



French Music Index
French Chanson & Musette



---