<! MP3 09/25/08, 06/13/09, 02/13/12 > <! pix 00/00/00 > <! icons 12/05/10 > <! UPDATES: 02/13/12 - probably should add more B. Fontaine >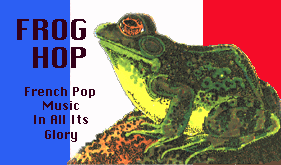 ---
FRENCH POP ALBUMS
---
Welcome to my French pop and rock section... Here are a few recommendations to albums I've enjoyed that I think you might like as well, ranging from 1960s ye-ye to a few more contemporary albums from France's blossoming indie and electronica scenes. There is also a separate section for older musical styles, such as chanson and musette, if you like the old stuff, too!
---
French Rock & Pop: A | B | C | D | E | F | G | H | I | J | K | L | M | N | O | P | Q | R | S | T | U | V | W | X, Y & Z | Compilations | Chanson
---
Fabulous Trobadors "Ma Ville Est Le Beau Park" (Universal, 1998)

Fabulous Trobadors "Era Pas De Faire" (Bond, 1999)

Fabulous Trobadors "On The Linha Imaginot" (Universal, 1999)

Fabulous Trobadors "Duels De Tcatche Et Autre Trucs De Folklore Touousain" (Tot Ou Tard, 2003)


Lili Fatale "Lili Fatale (CK80296)" (Sony, 1998)


Nicely-produced modern alt-rock, with electronic overtones. Fans of Autour De Lucie should dig this Quebequois band, too.


<! "CK80296" (?) > <! Lili Fatale is a Quebec-based band whose members are lead vocalist Nathalie Courchesne, Richard Valmont Binette and Uranian Valcéanu. Martin Beaulieu is a former member. They perform in the pop music domain with electronic stylings. >

Lili Fatale "Panavision" (Sony, 2001)





Marianne Feder "Le Nombril Du Monde" (Lepic & Colegram, 2005)


Nino Ferrer "Je Veux Erte Noir" (PolyGram/Barclay, 1966)


France's Number One fan of James Brown and American-style R&B, Ferrer has great cachet among frog-pop enthusiasts... His style is admittedly rather comical -- another instance of French artists aping American music without the same degree of vigor and abandon as their harder-rocking role models. To his credit, though, Ferrer did push harder and more insistently, and got his sidemen to wail away in a most unreserved and un-Gallic manner. Almost through sheer stubborness, his organ-and-horn heavy ensemble muscle their way into a credible version of JB- and Jimmy Smith-style sock-it-to-me soul. This early album is one of his best (and one of very few Ferrer imports currently available in the States...). Goofy, but good.

Nino Ferrer "Metronomie: Veritables, Varietes, Verdatres" (PolyGram/Barclay, 1972)


Further down the road, Ferrer got all spaced out and psychedelic... sort of. This spaced-out, druggishly ethereal, bongo-laden, bluesy jam session LP is more along the lines of a proggy Hammond organ sampler album; Nino could have just as easily been hanging out with Emerson, Lake and Palmer, and his muscular R&B riffs are pretty much cut out of the picture. Torturous in parts, but livelyl I can't say as I'd recommend you run right out and snap this one up, but it's worth checking out. Cool cover art.


<! Nino Ferrer "Veritables, Varietes, Verdatres" (CBS, 1975) was this a separate album than Metronomie? >

Nino Ferrer "L'Indispensable" (Universal, 1998)


A 2-CD set...
Nino Ferrer "Tendres Annees 60" (Universal, 2004)

Nino Ferrer "Les Plus Belles Chansons" (Warner, 2001)

Nino Ferrer "Nino Et Radiah Et Le Sud " (Universal)

Nino Ferrer "Sacre Nino..." (Universal, 2006)


A 3-CD set...
Nino Ferrer "Nino Ferrer" (Universal, 2006)


A 14-disc set -- thirteen CDs and one DVD -- sacre bleu!


<! B001A7BQGO MP3 single disc - best of or later album? Seems to be a single-disc version of 12-CD box above >
Nino Ferrer "Les 50 Plus Belles Chansons" (Universal-Decca, 2007)



A 3-CD best-of set.
Thomas Fersen "Le Bal Des Oiseaux" (Tot Ou Tard, 1993)


Thomas Fersen "Les Ronds De Carotte" (Tot Ou Tard, 1995)

Thomas Fersen "Le Jour De Poisson" (Tot Ou Tard, 1997)


Thomas Fersen "Qu4tre" (Tot Ou Tard, 1999)


Thomas Fersen "Triplex" (Tot Ou Tard, 2001)


Thomas Fersen "Piece Montee Des Grands Jours" (Tot Ou Tard, 2003)


Thomas Fersen "La Cigale Des Grands Jours" (Tot Ou Tard, 2004)


Thomas Fersen "Le Pavillon Des Fous" (Tot Ou Tard, 2005)

Thomas Fersen "Bonne Fete Hyacinthe" (DVD) (Tot Ou Tard, 2006)

Thomas Fersen "Best Of De Poche" (Tot Ou Tard, 2007)

Thomas Fersen "Trois Petit Tours" (Barclay, 2008)

Thomas Fersen "Je Suis Au Paradis" (Tot Ou Tard, 2011)


Dany Fischer "Twistin' The Rock" (Universal, 2002)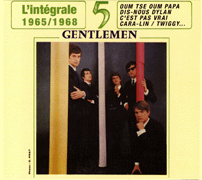 Les 5 Gentlemen "Complete 1965/1968" (Magic, 2005)


A lively, thrilling set of Mod-tinged psychedelic rock from this fab French fivesome. The Gentlemen stand out from their pop-oriented ye-ye contemporaries for their originality, aggressiveness and raw rock'n'roll power: although their songs were somewhat shambolic and rough-edged, the rhythm had real drive and the melodies were clever and unique. The band was also heavily steeped in the freaky counterculture of the times, more in touch with Swinging London than with cerebral Gay Paree. It's the sort of band you might find a track or two of on psych-garage collections of the Nuggets and Pebbles variety, but here you have a whole album's worth of groovy tunes culled from six EPs they released between 1963-68, including their first release, under the name Le Ambitieux. It's pretty cool. If you're looking for a French Kinks/Yardbirds/Remains-style band, check these gents out!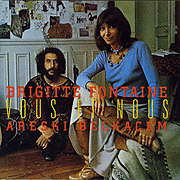 Brigitte Fontaine & Areski Belkacem "Vous Et Nous" (Saravah, 1977)



Many of the more knowledgable French music aficionados tout Brigitte Fontaine as the groovy, insider-cool artist to check out... I have to say, I found myself nonplussed by several of her "classic" albums, such as her collaboration with the American avant-jazzniks in the Chicago Art Ensemble. But this disc kept my attention, and struck me as genuinely weird and enchanting. It's sort of a distorto-folk/world music outing, a blend of acoustic ballads, Arabic-and-Balkan influences, spacy avant-garde noodling and standard-issue pop chanson. It's also one of the records in which Fontaine's longtime partner, Areski, seems to have had his strongest influence. Recommended!


<! several Brigitte Fontaine albums, also a lot of MP3s > <! Claude Franćois died in 1978 of an accident in his bathroom (having touched a lamp while sitting in his bathtub), but every French man and woman still loves him dearly (I'm not exaggerating. Ask any one in France and they will confirm this). They fonldy call him «Cloclo». He had many, many hits during the sixties and seventies. All his hits are great. Sure enough, his music was bubble gum, but he had a very good voice. Most of his albums are called «Claude Franćois», this makes it difficult to pick out any one... Suffice it to say that he did write Frank Sinatra's «My Way»... though he called the song «Comme d'habitude», originally http://en.wikipedia.org/wiki/Claude_Francois http://www.rfimusique.com/siteEn/biographie/biographie_6147.asp >

Fredda "Toutes Mes Aventures" (Le Pop Musik, 2008)



(Produced by Pascal Parisot)
Moody modern French indie-pop, mixing rock'n'roll attitude with the ironic, hip cool of the neo-chanson scene. Fredda, aka Frederique Dastrevigne, is the longtime collaborator of producer Pascal Parisot, and she croons her way through a wide variety of styles, from the smoky, slinky "Barry White" to a tinge of Dixieland on "Le Rose Des Filles," and a healthy dose of sometimes-mellow, sometimes-clanky guitar-based rock. Fredda's voice is declarative, yet unhurried, friendly though not overtly kittenish or coy... Plus, she plays the banjo! Although it ain't "Foggy Mountain Breakdown" bluegrass, there's a little deftly-placed plunking lacing through the album, adding something a little different into an already-diverse mix. A fine new entry into the booming nouvelle chanson scene -- definitely worth checking out! (Also see Pascal Parisot's albums, as well as their retroriffic Radiomatic record... )
Fredda "Marshmallow Paradise" (Microsillon, 2009)

Fredda "L'Ancolie" (Le Pop Musik, 2012)

---
More French Rock & Pop > Letter "G"

---



French Music Index
French Chanson & Musette



---