<! MP3 07/23/10, 03/20/13 > <! outside 07/23/10- BB, PF, WK > <! pix 00/00/00 > <! icons 10/31/11 > <! UPDATES: 06/20/09 - info gathered, but profiles not updated 07/23/10 03/20/13 - tweaks, no major updates >
---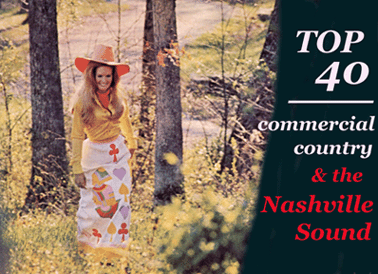 Are you a George Jones guy in a Garth Brooks world? A Loretta Lynn gal trying to understand why people still call Shania Twain a "country" artist?
Well, then this website is for you! Here's your chance to read all about Nashville pop, from the late-'50s "Nashville Sound" and the "countrypolitan" scene of the '70s to today's chart-toppers and pretty-boy hat acts, seen through the lens of DJ Joe Sixpack, a hick music know-it-all with a heart of gold...
Your comments and suggestions are welcome, particularly suggestions for artists or albums I might have missed. Other types of twang are reviewed elsewhere in my Hick Music Guide.
This is the first page covering the letter "G"
---
A | B | C | D | E | F | G-1 / 2 / 3 | H | I | J | K | L | M | N | O | P | Q | R | S | T | U | V | W | X, Y & Z | Comps | Other Country Styles | Hick Music Index
---

Pam Gadd & Porter Wagoner "Something To Brag About" (Gusto, 2004)


Hillbilly old-timer Porter Wagoner had a soft spot for singing duets with purty gals -- first he had Norma Jean as his partner, then Dolly Parton, and later Pam Gadd, of the band Wild Rose. Porter sounds pretty washed-up here, but Gadd puts in a good performance. Good songs, but you can easily find better records by both of these artists singing solo, and they never really click as duet partners. You could pass on this one, unless you're really a super-duper dedicated fan.
Pamela Rose Gadd & Porter Wagoner "22 Country And Gospel Duets" (Tee Vee, 2007)









Chris Gaines - see Garth Brooks


<! Byron Gallimore - primarily a producer, released one single in 1980 http://en.wikipedia.org/wiki/Byron_Gallimore >

Pat Garrett "Pat Garrett And The Straight Shooters" (Golddust, 1980) (LP)





<! way at the bottom of the Top 100 > <! Side A... Lovin' Me, In My Dreams, How Can I Please You, Sexy Ole Lady, Everlovin Woman Side B... Jimpin' John, The Goo Goo Song, Humpty Dumpty, Tryin To Out-Run The Wind, Makin Love On A Gravel Road >

Pat Garrett "Dancin' With A Cowboy" (Golddust, 2008)


Glen Garrison "Country! Country!" (Imperial, 1967) (LP)


(Produced by Scott Turner)
An ex-rockabilly rebel-gone-West Coast country singer who sounds stylistically and vocally very much like Buck Owens, Garrison only had two songs chart in the Top 100, including "Goodbye Swingers," off this album, which hit #72. Despite the lack of commercial success, this is still fun stuff. If you like vintage Buck Owens, there's no reason not to like this album, too... Even Buck agreed: he wrote the liner notes, opining on the differences between Hollywood and Nashville country. Garrison certainly seems like an artist ripe for reissue, particularly if anyone wanted to collect his earlier rock'n'roll records, which for years have only been available on far-flung rockabilly comps.
Glen Garrison "If I Lived Here: The Country Soul Of Glen Garrison" (Imperial, 1968) (LP)


(Produced by Scott Turner)



<! Gotta Travel On; If I Lived Here (I'd Be Home Now); Sing Me Back Home; Yesterday; You Can't Win 'Em All; Tobacco Road; Wild Wild Rose; Just For You; With Or Without Your Love; Silver Threads And Golden Needles; Your Side Of Me; Take Me Home Ð 03-68 >

Matt Gary "I'm Just Sayin' " (EP) (Quarterback, 2010)


I could see this guy making it big. This indie-released EP is very faithful to generic, guy-oriented, modern Nashville pop-country conventions: there are the ringing, vaguely U2-ish electric guitars, the appeals to nostalgia and simple virtues (as on "The Days You Live For" which evokes milestones such as buying your first car and saying "I do" at the altar...) and even a novelty number that's so dumb that it might just be a hit ("Can't Take Her Anywhere" in which his girlfriend isn't very portable not because she's difficult or weird, but because she's so freakin' hot, that everyone always flips out whenever she's around...) Gary doesn't have the world's greatest voice, but he sounds about as "okay" as most of the other dudes in the Top Country charts today; a little bit of extra ooompf on the mix, and he's golden. I'm sure there are about a bazillion well-produced demos just like this out there these days, but I'm still curious to see how things go for this guy. Only time will tell!


<! 11/05/10: no ASIN other than old song MP3 > <! no producer info >


Larry Gatlin & The Gatlin Brothers - see artist discography



Keith Gattis "Keith Gattis" (RCA, 1995)


(Produced by Norro Wilson)
Well, alright!! Now and then you hear this-or-that modern country singer praised as a neo-trad, back-to-basics kinda guy, but Keith Gattis really delivered the goods. On the opening track, appropriately titled "Real Deal," he goes full-on George Jones, and spends the rest of the record splitting his time between his sounding like early-'70s Jones and hinting at a bit of Buck Owens. The music's great, the songs are great, his vocals are strong and the commitment is there... All around, this disc is as potent a twangfest as you could expect from modern-day Nashville, be it in 1993 or any other year. A surprisingly strong record that lives up to its reputation.
Keith Gattis "Big City Blues" (Smith Music, 2003)





<! 03/13: B0010WZYBM MP3 asin kaput >
Crystal Gayle "The Best Of Crystal Gayle" (Curb, 1993)


Think how scary it must have been to be Crystal Gayle... You're Loretta Lynn's kid sister, and in the mid-1970s ya emerge out of the lower rungs of the Country Top 40 to become a super-duper superstar in your own right, epitomizing the height of 70's pop-country cheesiness... Then, when you make a few sad little stabs at sounding country again (as heard here on songs like "Heart Mender" and "River Road"), you're brutally punished in the sales charts... This disc is an interesting collection, which hopscotches back and forth between her pre- and post-"Brown Eyes Blue" recordings, including a few less well-known tracks from the early '70s that show a slightly rootsier side to her work than we normally hear... In a sense -- a very limited sense -- I guess this could be considered her "true" country record... At any rate, it was thoughtfully assembled with an ear for material that Gayle's regular fan base might not know that well. The sci-fi-ish "We Must Believe In Magic," which closes off the disc, is a real disaster, though... But other that that, this disc has some interesting surprises.
Crystal Gayle "The Best Of Crystal Gayle" (Rhino, 2002)


The ultimate, horrible conclusion of the whole super-posh, pretentious torch song tendencies of the countrypolitan scene. Yeesh. If you've heard "Don't It Make My Brown Eyes Blue" (which, I hate to admit, I still sort of like, in a pit-of-my-stomach sick kinda way...) well, then you've heard the best she can do. The rest of her hits follow the same formula, but they aren't as good. I am horrified to find out how many of the other songs I actually dimly recall hearing at one time or another. And they called this stuff "country"? Brrrrrrr. Scary.


<! Crystal Gayle "Crystal Gayle" (United Artists, 1975) Crystal Gayle "Somebody Loves You" (United Artists, 1975) Crystal Gayle "Crystal" (United Artists, 1976) Crystal Gayle "We Must Believe in Magic" (United Artists, 1977) Crystal Gayle "When I Dream" (United Artists, 1978) Crystal Gayle "We Should Be Together" (United Artists, 1979) Crystal Gayle "Miss the Mississippi" (Columbia, 1979) Crystal Gayle "These Days" (Columbia, 1980) Crystal Gayle "Hollywood, Tennessee" (Columbia, 1981) >

Ashley Gearing "Maybe It's Time" (Squeeze Records, 2006)



(Produced by Cliff Downs)
The lone record by this youthful performer... Sort of a "lost album" of early 21st Century top-country, this came out on an indie label but has all the hallmarks of the major label chart-toppers in an era when Sara Evans and Martina McBride still reigned supreme: plenty of gooey romantic ballads slathered with bombastic pop arrangements, sounding more influenced by contemporary R&B than by old-school C&W. Even the twangy numbers go overboard, with American Idol-style soul vocalese and really bad electric guitar solos. I'm sure for some super-fans of the style this is a real gem, but for me it was real torture. Terrible music combined with no sense of restraint or self-editing, although Gearing does seem like a very earnest performer.
Bobbie Gentry - see artist discography
Gary Gentry "Greatest Hits" (Saico, 2005)



A Texas songwriter who had a couple of Back Forty singles in the early 1980s... Not sure what vintage these recordings are, but he sure is looking long in the tooth on the album cover... Guess he went kind of novelty/outlaw... and indie, too... as these albums would suggest.
Gary Gentry "Biker Songs: Biker Heroes And Hell Raisers" (Laughing Hyena, 2008)


Gary Gentry "Trucker Songs" (Laughing Hyena, 2008)


---
Commercial Country Albums - More Letter "G"
---